Are you trying to figure out which platform is right for your website? This detailed article, Wix vs WordPress: which to choose?, will help you figure out if Wix or WordPress is better for your site.
For our comparison, we will look at the features of each. We'll start with a brief presentation of both platforms and then analyze each aspect from customization options, ease of use, ability to adapt to the creation of ecommerce and blogs, to cost comparison.
Differences between Wix and WordPress
First in this article, Wix vs WordPress: which to choose?, we're going to look at the main differences between Wix and WordPress, after which we're going to look in detail at the features of the two systems with a point-by-point comparison.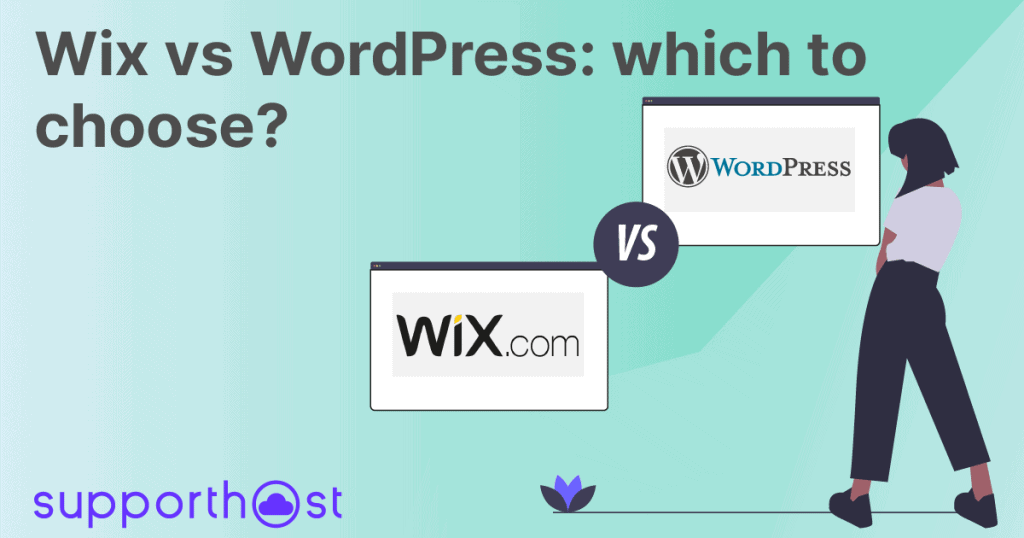 WordPress
What is WordPress? A CMS or a content management system that allows you to create your own blog or site. WordPress is open source and free, but in order to use it, you must first choose a hosting that will provide you with the space and resources necessary to operate your website.
Of course, you will also need an internet domain that may or may not be included in the price of the plan. With SupportHost you will never have any surprises: the price of the domain is always covered, you only need to order the domain together with the plan subscription. You mainly have two options available to install WordPress and start creating your site right away:
As we will see, having a WordPress site gives you enormous possibilities and allows you to create the site according to your requirements: from a blog to e-commerce.
With a WordPress site you'll also have to take care of backups and updates. These operations are necessary to ensure the security of WordPress and to keep your site running at its best.
These routine maintenance tasks take some time and practice. However, you can always delegate the technical management of your site by choosing a managed WordPress hosting.
However, note that we will be referring to WordPress.org in this comparison. You can read our article on the topic to learn more about the differences between WordPress.org and WordPress.com.
Wix
Wix is a website creation platform and unlike WordPress, it is a hosted solution. This means that in this case, you won't need a hosting service to lean on because Wix hosts your site itself.
Having a hosted solution means you don't have to worry about backups and updates. From a maintenance point of view, especially for the less experienced, this is a major advantage.
As we'll see when we talk about pricing and plans, Wix also allows you to choose a free domain.
The downside is that doing so will make the address of your site look like this:
username.wixsite.com/namesite
This may be fine for a personal blog, but it's not really suitable for a professional site.
Now that we understand what the basic difference between the two platforms is, let's start comparing Wix vs WordPress based on the features and functions made available.
User friendly and customizable
In this section, we will compare Wix vs WordPress based on the ability to customize your site.
Both platforms allow you to create your site from a basic template which is referred to by Wix as a template and in the WordPress ecosystem, it is referred to as a theme. Let's see what the differences are, what kind of changes you can make to your site and which of the two platforms is easier to use.
Wix

Wix allows you to start creating your website through drag and drop. This means that you will be able to arrange elements across pages, such as images, paragraphs, menus, and buttons, by simply selecting and dragging them to the location you want them.
The interface that will let you do this is simple and above all it is WYSIWYG (What You See Is What You Get), meaning that the editor lets you see the changes you're making by already showing you what the final result will look like.
When creating your new site, Wix allows you to choose between two design systems.
Wix ADI is a simplified system that allows you to create your site by simply answering questions. You provide the information and the system directly creates the site based on your needs.
Wix Editor is the classic editor that allows you to start from one of the available templates to begin customizing your site.
Even after choosing one of the two options, you can always switch between the two.
When creating your site, you can start with a blank template or a pre-made template and customize it. There are over 900 Wix templates to choose from, and you can view them on the site by category (blogs, restaurants, travel, and so on).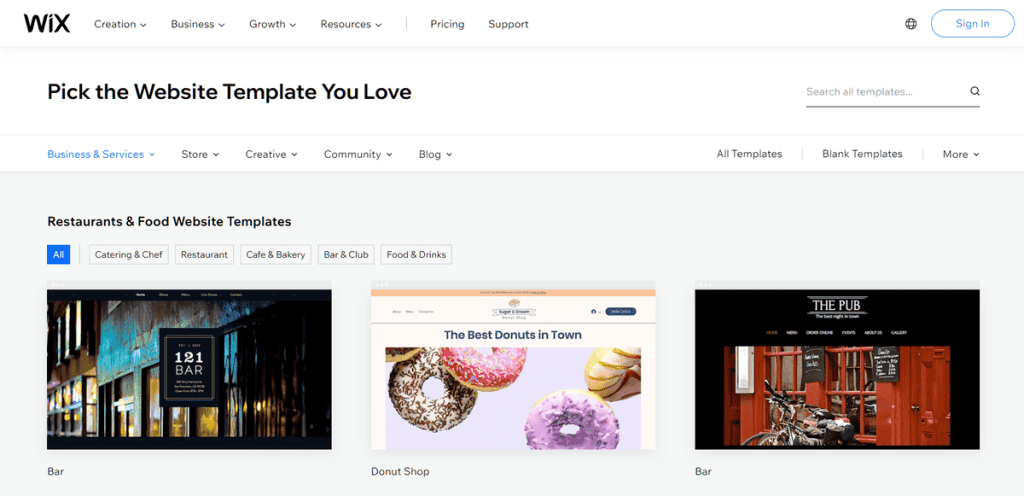 Remember, however, that once you select a template you can not change it, you can only make changes to the one you choose.
The only way to change the template is to create a new site with a different template. Wix allows you to create multiple sites with a single account and transfer your Premium Plan from one site to another.
WordPress
To create your site with WordPress you have several options. The first is to use the block editor integrated into the CMS, or Gutenberg.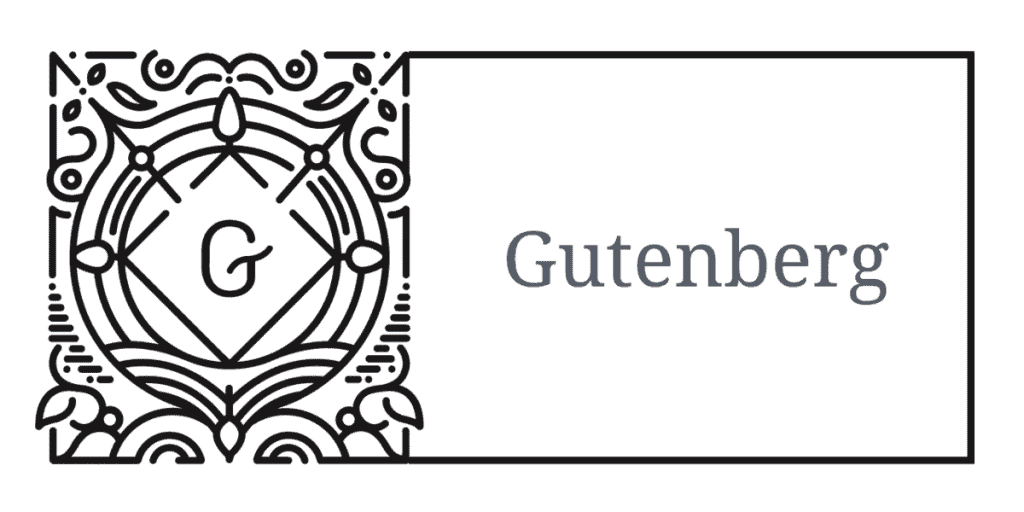 In the pages, each element, such as images, paragraphs and galleries, is added as a separate block and can be edited. In this case, to see how the final result will look you can click on the preview before publishing the page.
When you install WordPress you can choose a theme to start laying the groundwork for how the site will look. Later from the dashboard, you can customize the theme to your liking and most importantly you can also replace it with another theme whenever you want.
WordPress also allows you to use visual page builders like Elementor or Divi. These are plugins that allow you to edit your site by adding elements with simple drag & drop.
There are over 8,400 WordPress themes in the official directory and you can download these themes from the site or directly from your dashboard.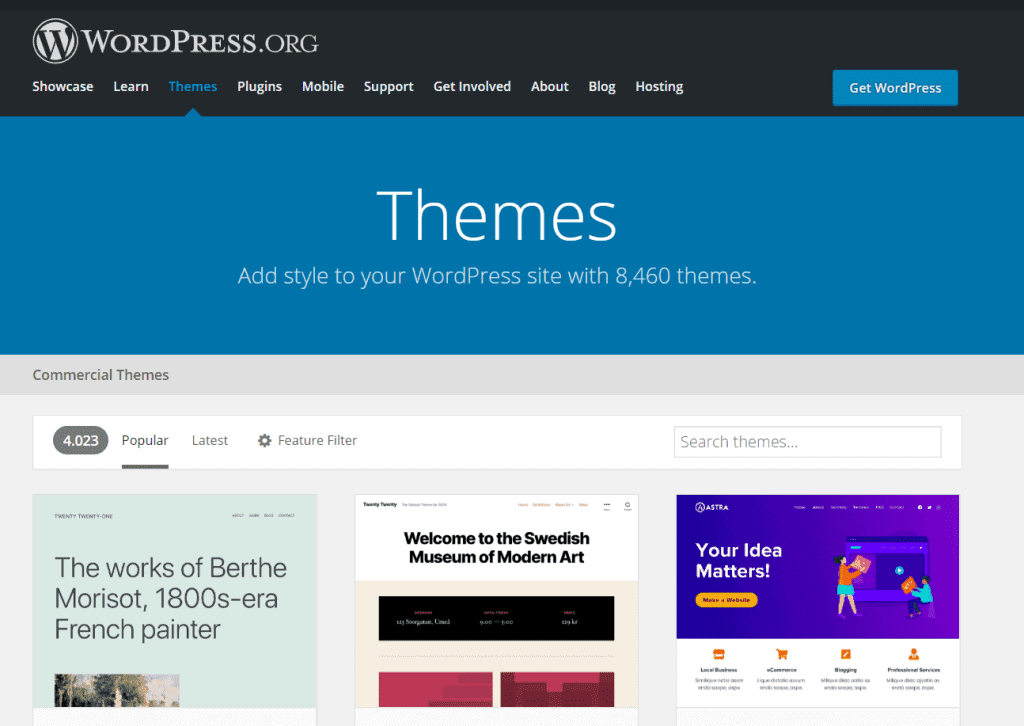 Besides these, there is also a wide selection of premium themes that you can find on dedicated marketplaces like Themeforest or Template Monster.
Wix vs WordPress: which to choose for simplicity of use and customization
In this case, Wix and WordPress play almost on equal ground. I say almost exactly because if at first glance Wix may seem easier to use, it actually loses points immediately when we talk about customization.
Page builders make WordPress as easy to use as Wix and moreover with WordPress you are not limited to one template, but you can choose to change it whenever you want.
If we then want to talk about options between free and premium themes, WordPress gives you thousands of opportunities. With Wix, however, you have a lesser choice and especially after selecting a template, you can not change it.
Functionality
Site functionality can be expanded on both platforms through extensions.
On WordPress, we have plugins that allow you to optimize SEO and images, protect your site from spam comments and so on. Wix on the other hand has apps that allow you to add contact forms and more.
Wix
Apps on Wix are built by the platform team or by third parties.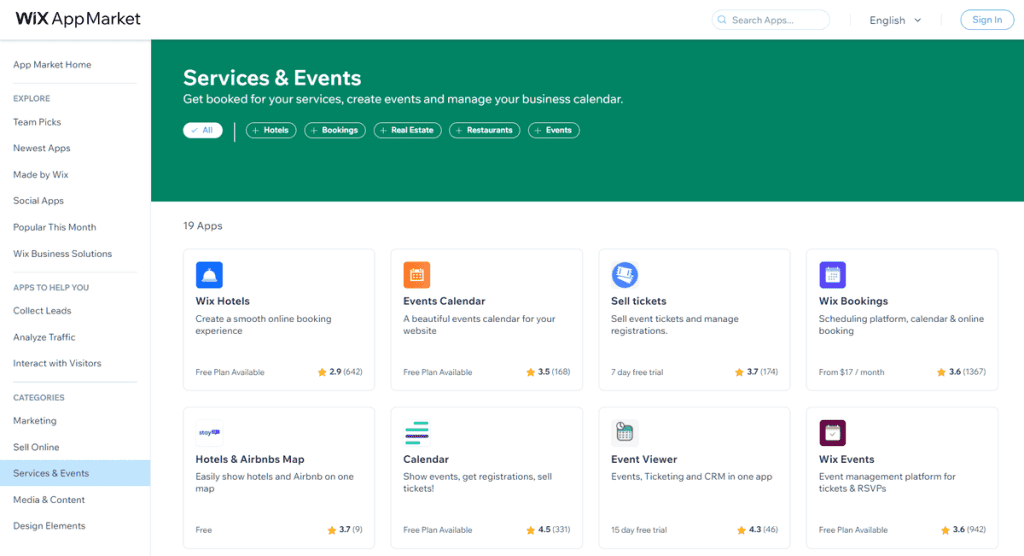 In the Wix App Market, you can find over 300 different apps for email marketing, booking systems, forums, chat, social integration and so on.
Some apps are free, others are premium, but they often allow a 7-day trial period that lets you try out additional features before signing up for a monthly plan.
WordPress
There are over 58,700 plugins on WordPress in the official directory and they are increasing in quantity by the day.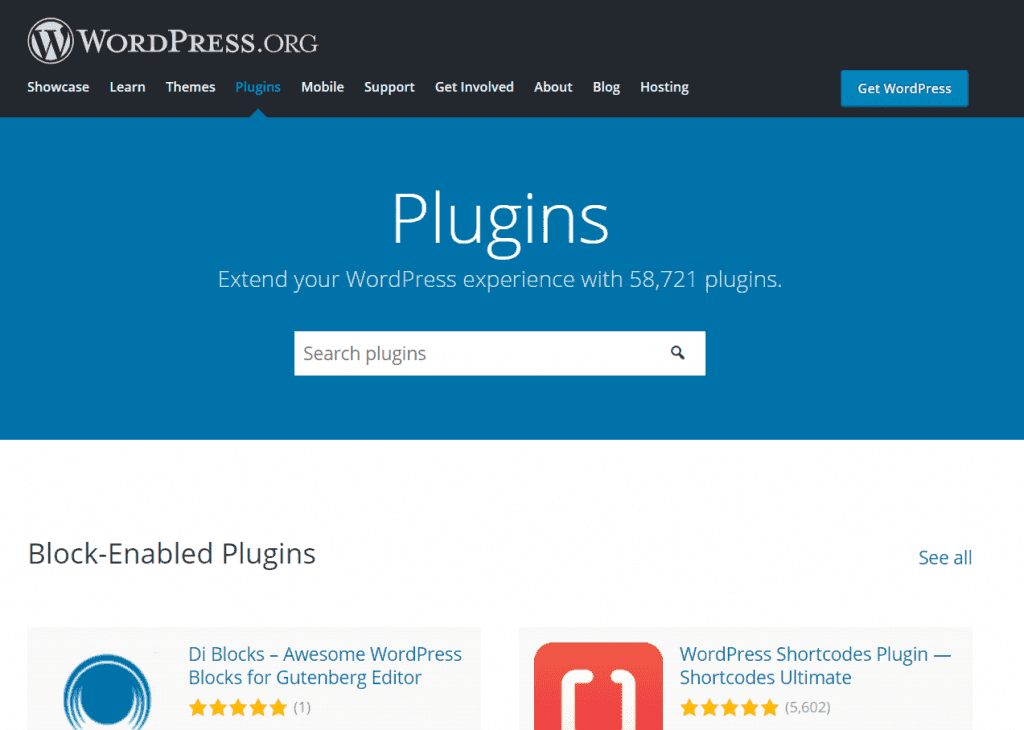 Oltre ai plugin gratuiti ci sono anche in questo caso numerosi marketplace di WordPress plugin come Codecanyon.
WordPress provides you with a plugin for everything. A few examples: You can create a multilingual WordPress site, add a contact form or optimize WordPress images with plugins designed to make these operations accessible to everyone.
Who wins the Wix vs WordPress comparison for additional features?
Wix has many applications, but the amount of plugins offered by WordPress is incomparable. If you're concerned that you've used plugins on your site that slow down WordPress you can lean on the huge community supporting the CMS and find someone to create a site-specific plugin for your site.
Data export
The possibility of exporting site content from one platform to another is a separate issue. Let's compare Wix vs WordPress and see what possibilities they offer us.
Wix
This is a sore point for Wix since the options it offers in terms of migrating and moving content are restricted.
In case you decide to transfer the site from Wix to WordPress you would be confronted with the need to transfer all the content from one platform to another.
Wix allows us to export our posts in XML format, however, it does not allow us to transfer pages and other content as easily.
WordPress
WordPress already includes a built-in feature that allows you to export all of your data into an XML file. This data includes media, articles and pages and it is just as easy to import all data into a new WordPress installation again from the built-in Import feature.
There are several options for transferring a WordPress site from one hosting to another as well: from manual transfer to using a plugin like Duplicator.
Wix vs WordPress: which to choose for migrations and data transfers
Wix is expanding its features and also allows you to import posts published on your WordPress site directly to Wix.
As for exporting, however, its functions are still limited, for example the export of pages must be done manually by copying the content on the new platform.
WordPress, on the other hand, allows you to easily move content with built-in features and plugins that help you change hosting, transferring all the content of your site.
Ecommerce
If you want to create an online store, which is the right platform for you? Let's see what possibilities Wix and WordPress offer us when creating an ecommerce.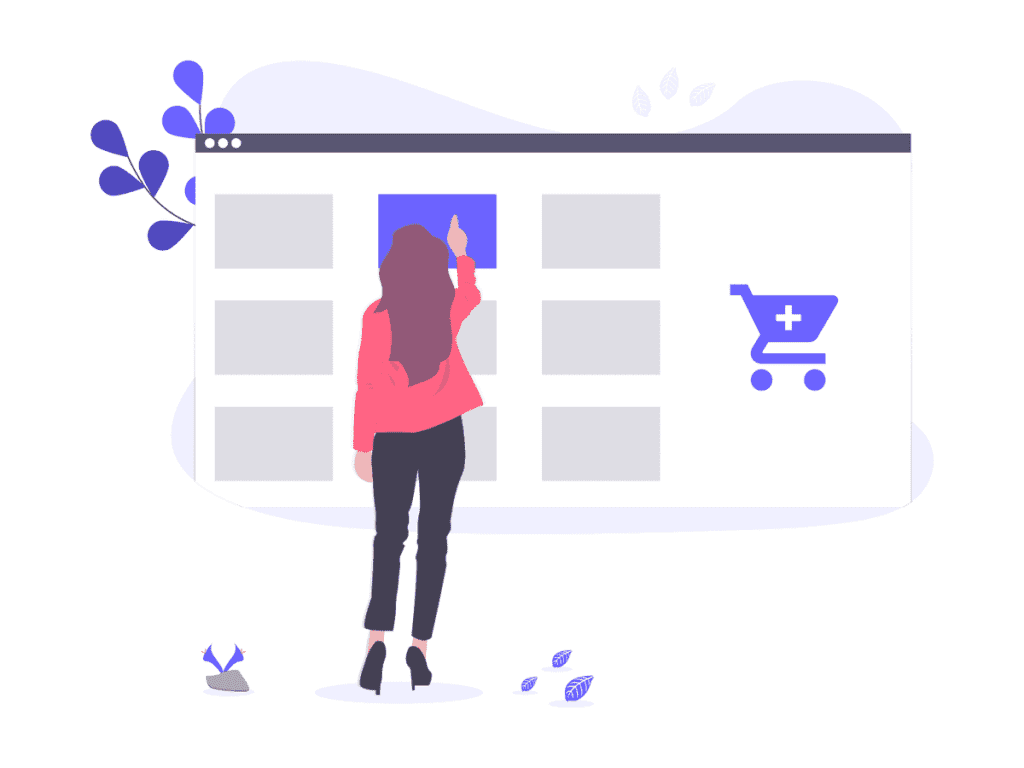 Wix
Wix offers dedicated business plans for those who want to create an eCommerce site. You can start setting up Wix Stores on any site. However, in order to allow you to finalize purchases and accept payments, you must use premium packages.
Premium plans remove advertising and depending on which one you choose, Business Basic, Unlimited or VIP, you get access to different services such as the ability to show prices in different currencies.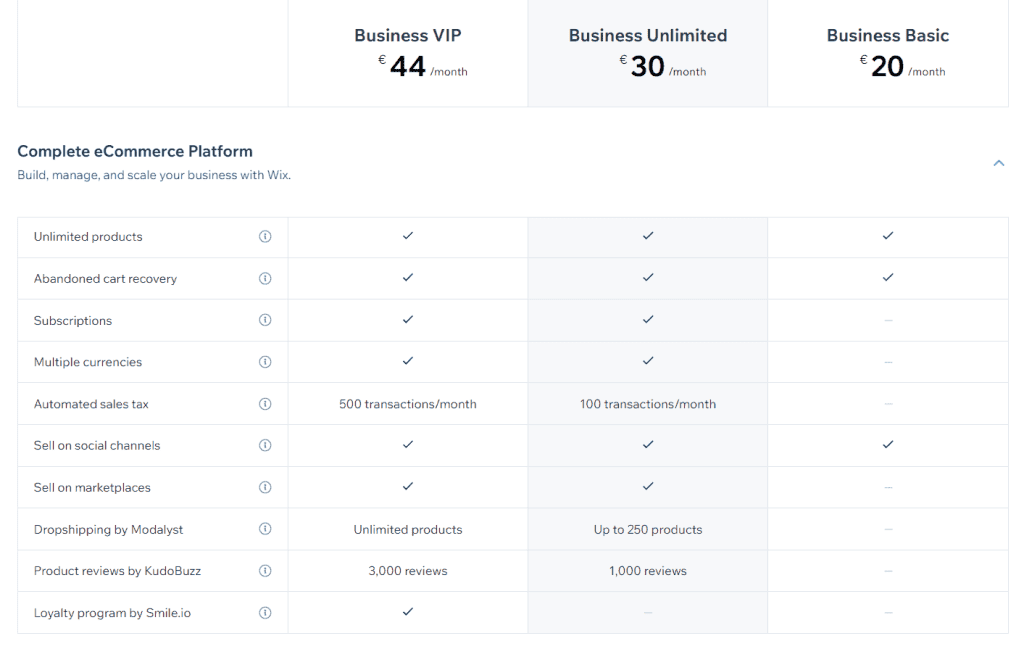 There are three payment methods allowed: credit card, PayPal and "manual" mode for offline payments. In addition, there are Wix Payments that require a commission to be paid for each transaction.
In addition, with the Multiorders app you can connect different sales channels such as eBay and Amazon.
WordPress
With WordPress, you can create your own eCommerce with WooCommerce, a free and open-source plugin that is used on about 30% of online stores.
The functionality of WooCommerce can be expanded thanks to the many extensions. For example, WooCommerce Subscription also allows recurring payments (subscriptions). For bookings management, you have WooCommerce Bookings, while Stripe allows you to accept other payment methods.
Which is better for eCommerce Wix or WordPress?
WordPress with WooCommerce is better suited for growing online stores and offers more functionality than Wix. WooCommerce performance is great, however, store setup and payment system integration require more experience.
Create a blog
Do you want to know how to create a blog and are you looking for a platform that can provide you with all the necessary tools and is also user-friendly? Let's see what is the best alternative in the Wix vs WordPress comparison in this case.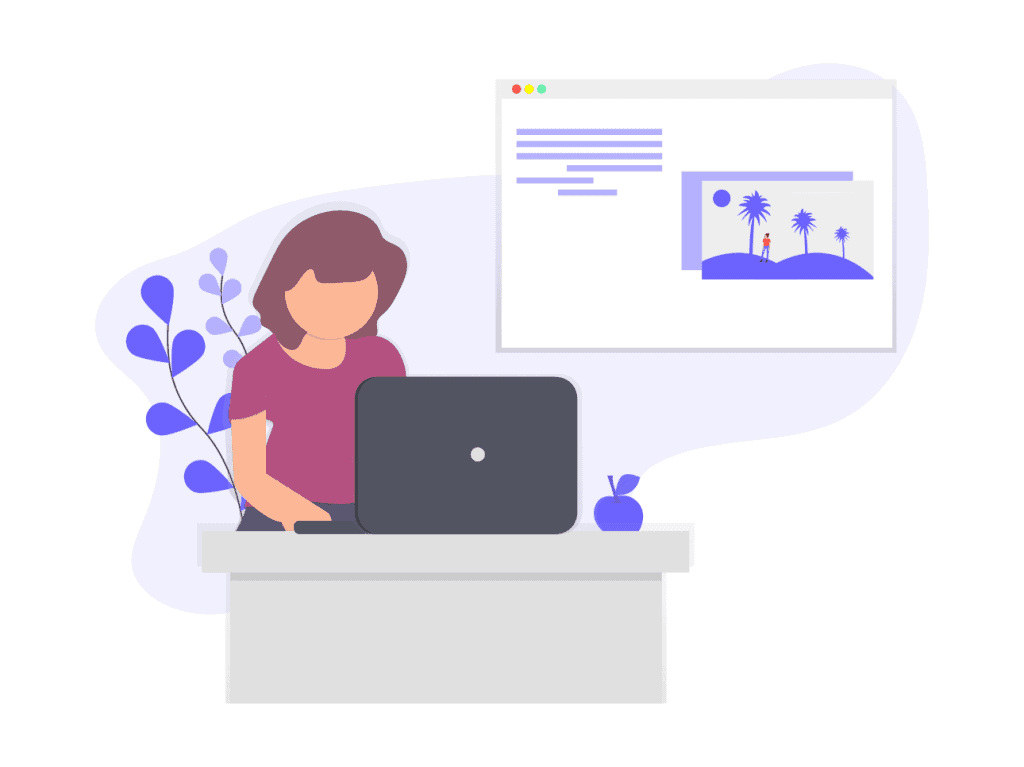 Wix
Among the different apps it provides, Wix also allows us to create a blog. The Wix blog app in fact allows us to add a blog section to our site.
You can create categories to divide blog posts by themes, add tags and create an archive. By default the blog is associated with a single author, you can also create a multi-author blog by adding other users and assigning them a role, similar to what you can do on WordPress with user roles (such as author, editor and administrator).
By default, your reader can comment on the posts you create, but you can also disable this option. If you are not satisfied with the comment management system, you can also use third-party applications to manage them.
Wix allows you to schedule posts, scheduling them for a future date. You can also change the date and backdate articles.
If you want to share your content with a wider audience, Wix Multilingual allows you to include translations of your posts and categories (but no tags).
In this way, you can let your readers enjoy the contents in their own language. The application allows you to add a switch to change the language, naturally, you have to take care of the translation of the content.
WordPress
WordPress was born as a blogging platform and is currently used by more than 28 million sites as it emerges from the data collected by Built With on the current active installations.
Wix, on the other hand, has 4.5 million active sites.
With WordPress, the creation of posts is within everyone's reach thanks to the block editor (Gutenberg). In addition, the environment is ready to be used by multiple users, each of which can be assigned a specific role and certain responsibilities.
For example, a user with the role of Author can edit and publish his own posts, but he cannot act on those of other users, such as the role of the Editor.
Thanks to plugins, the possibilities offered by this CMS are unlimited. A WordPress multisite installation gives you the ability to manage multiple sites (or blogs) from a single administrative area.
You can create a multilingual WordPress site thanks to a plugin, a perfect solution if you're planning to create a blog in several languages. Also, with a simple plugin like Akismet, you can manage comments and steer clear of spam.
Wix vs WordPress: which to choose for blogging
A blog with Wix gives you access to basic functionality, but in the long run, you may find the management and functions to be limiting.
Conversely, with WordPress you can always expand your horizons, you have more control over management, and you can fully customize your blog both in appearance and functions.
SEO
If your goal is to reach the top positions in search engines, you need a platform that can get your site off the ground. Let's see what WordPress and Wix can offer you in terms of SEO.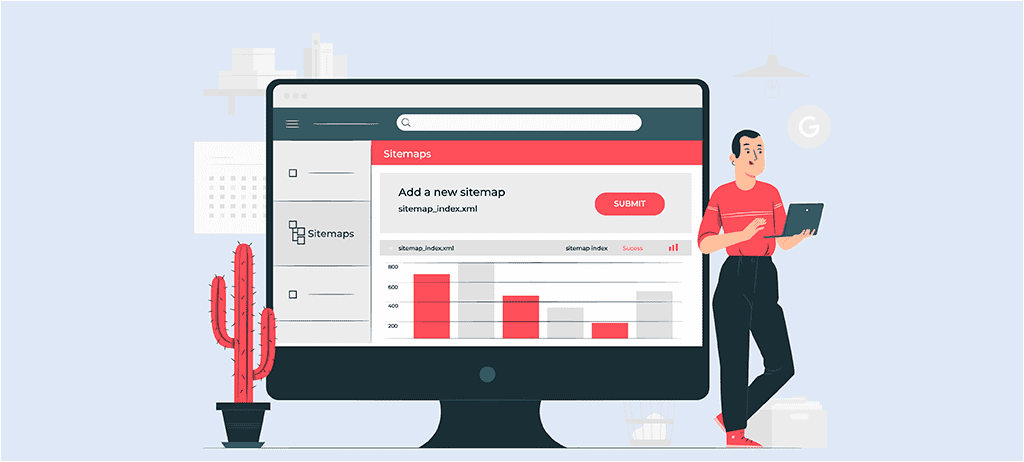 Be aware, however, that the work of optimizing a site can not be delegated to any plugin (or any app). Above all, it is a job that does not end in a single step, but that requires continuous reviews, a periodic SEO analysis to aim for better and better results.
Wix
Wix offers integrated SEO tools such as XML sitemap creation and image optimization with conversion to webp format.
It also allows you to set 301 redirects and edit the canonical tags (which are set automatically). From the control panel you can send the sitemap directly to Google Search Console.
In addition to the built-in features, you'll also find several SEO apps in the Wix App Market. If you're a beginner, Wix offers the Wix SEO Wiz plan to help you optimize your website with a wizard.
WordPress
Built-in WordPress features include the ability to choose URL structure, set alternative image tags, and use header tags. Anything you can't do directly you can expand with SEO plugins like Yoast SEO or Rank Math SEO.
The plugins help you optimize texts for one or more keywords, set SEO titles and meta descriptions. They also allow you to improve the form of your content and make it more readable, in some cases providing you with a real readability score (Flesch Reading Ease).
These same plugins allow you to set up 301 redirects and send the sitemap of your site to search engines with one click. And another advantage is that these are not necessarily paid plugins!
Wix vs WordPress: which is better for SEO?
WordPress allows you to set up an SEO friendly URL structure and customize the addresses of each post and page. To top it off, it offers you a wide range of free plugins for SEO.
Wix, as we've seen, has a lot of built-in functionality, but is lacking in apps, which are not always free.
Support
Which of the two platforms offers the best in terms of customer support and assistance? Let's compare Wix vs WordPress and find out.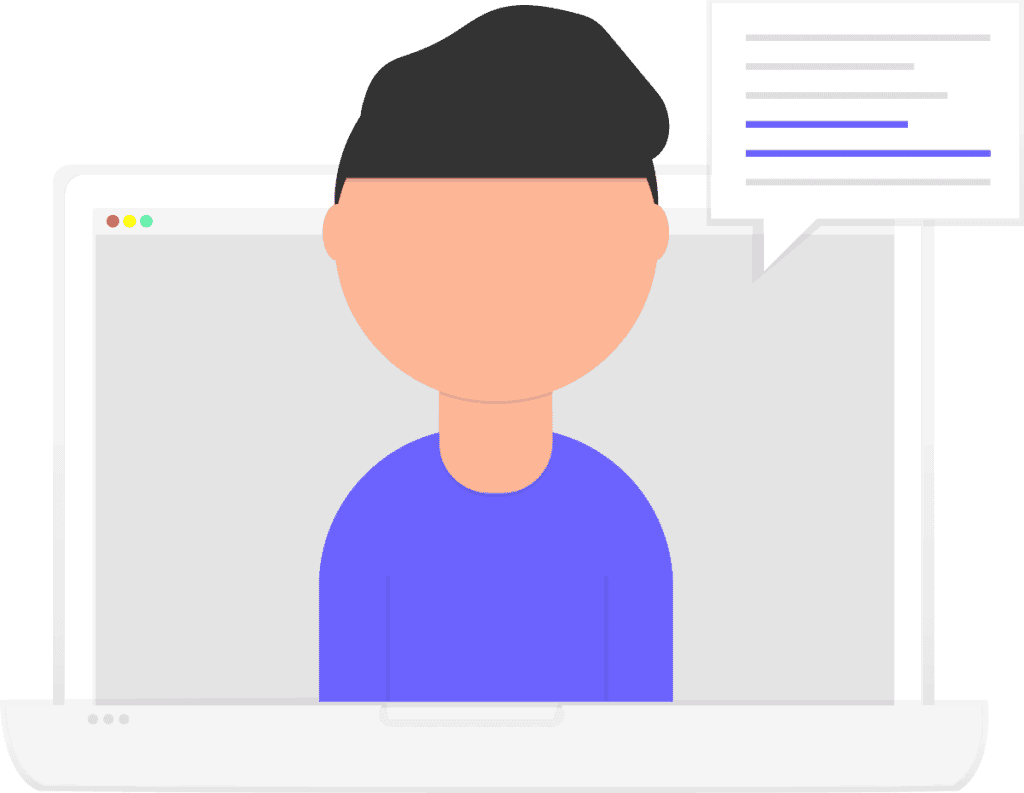 Wix
Since this is a hosted solution with Wix you can request support by opening a ticket or booking a phone call. You can also rely on the guides and tutorials made available at the Wix support center.
WordPress
WordPress is an open-source software and gives you access to official support resources with guides ranging from basic features to maintenance, security, and troubleshooting. Many resources are also available in Italian, but for a more extensive and complete version, you can always consult the Codex in English.
In addition to the documentation you can also count on the huge community that is the real pillar of WordPress, you can find answers to your questions on the forum and you can consult the discussions of individual themes and plugins.
Wix vs WordPress: who wins regarding support?
The WordPress user community is so vast that you'll easily find answers to all your questions with guides, tutorials (just like our WordPress tutorial) and videos. Millions of users don't just join the community, they support it by improving WordPress every day.
On the other hand, Wix focuses on ease of use and allows you to rely on the tutorials provided by the official support.
Prices
This is not a real comparison as creating a WordPress site or a Wix site has several variables and you have to consider hosting, paid plugins (or apps) and so on. Let's try to understand what price range we're talking about anyway.
Wix
As we have seen Wix also allows us to create a site with a free plan with some limitations. In this case, in fact, you won't be able to have a fully customized domain name, your site will show Wix ads and you won't be able to create an eCommerce.
Let's start by looking at the main Wix plans starting with the premium packages.
Basic package: At €5.50 per month, you can link your custom domain to your site.
Combo: €10 per month allows you to remove advertisements, provides 2GB of bandwidth and 3GB of space.
Unlimited: €17 per month offers unlimited bandwidth and 10 GB of space.
VIP: €29 per month with 35 GB of space, unlimited bandwidth and priority for support.
In addition to the premium packages, there are also business packages and those designed for eCommerce. In fact, premium packages do not allow you to accept online payments.
In this case, it starts from 20€ per month for the basic package to 44€ per month for the VIP one.
WordPress
WordPress is free and you can start creating your site right away without having to purchase anything. To bring your site online you need a hosting with resources to choose from based on the needs of your site.
One of the advantages of hosting is scalability, this means you can start with shared hosting or WordPress hosting and then upgrade to a higher plan like semi-dedicated hosting only if you need more resources.
In practice, you can start with an expense of €2.41 per month and have a SSL certificate and domain included in the price and at each renewal.
Wix vs WordPress: which one is better?
Comparing prices and features it seems that WordPress has the better deal. You can create a professional website and have no limits to expanding the features available with a low investment.
Conclusion
In conclusion, in they article, Wix vs WordPress: which to choose? we've understood that there's one certainty: both are two great platforms for creating a website. If WordPress adapts well to any kind of site, Wix on the other hand has on its side the ease of use.
The choice of Wix vs WordPress for your site depends on your needs. If you want to aim high and have no limits in customizing your site and extending features, WordPress is better. If you do not need special features and want to focus on ease of use you can use Wix.
Have you made your choice yet? Are you happy with it or maybe you're trying to transfer your site from one platform to another? Let me know which solution you have chosen for your website and how you feel about it in the comments below.