The Certified Mail was created about 12 years ago and today it transmits about 4 million messages per day.
In this article we will see the similarities and differences between certified email and certified mail.
We'll also see how it works and we'll explain how to send a message from email to certified email and from certified email to email.
How does certified email work?
Certified e-mail has the same legal validity of a registered letter with a return receipt. To establish it is the DPR n.68 of 11 February 2005. It works very simply. When we send an email certified email, we will receive a reply from the manager of the certified email with a receipt of acceptance, that means the acceptance of the sent email.
At a later time, we will receive a second notice, always via an email on our certified email, which will be the delivery receipt. The delivery receipt notifies us that the email has been delivered to the recipient.
At this point, it doesn't matter if the recipient opens it or not, they have received it and it is valid. The two receipts, called acceptance and delivery, are essential to prove the validity of a certified email email. It will therefore be necessary to store them carefully.
You can use a generic address like:
name@pec.it
Or an address that includes your domain name, for example:
name@pec.mydomain.it or name@mydomain.it
Is it better to send a certified email or a registered mail with return receipt?
In addition to having a legal value, a certified email offers other advantages that registered mail does not. For example, it is possible to prove the exact time and day when the email was sent and we can also provide evidence of the content in it. In fact inside the receipts there will be the text contained in the certified email sent. With the registered mail is not possible to verify the content of the letter.
We can therefore consider the Certified E-Mail a valid alternative to the classic registered letter, since it also has a recognized legal value. Another advantage is the possibility to use this service comfortably from home without having to go to the post office and thus avoid waiting and queuing.
The delivery is also immediate and does not require days of waiting. We can use the service both as private citizens and as companies. There is the possibility to download the app to send certified email from our smartphones without having to use the PC. The convenience is therefore evident.
The certified email also allows us to save money since its annual cost is negligible, we can find many offers from the managers of the certified email. If we consider that the cost is around the same as sending of two classic registered letters, but this service allows us to send an unlimited amount of certified email for one fee, for a year. The saving is therefore clear and obvious..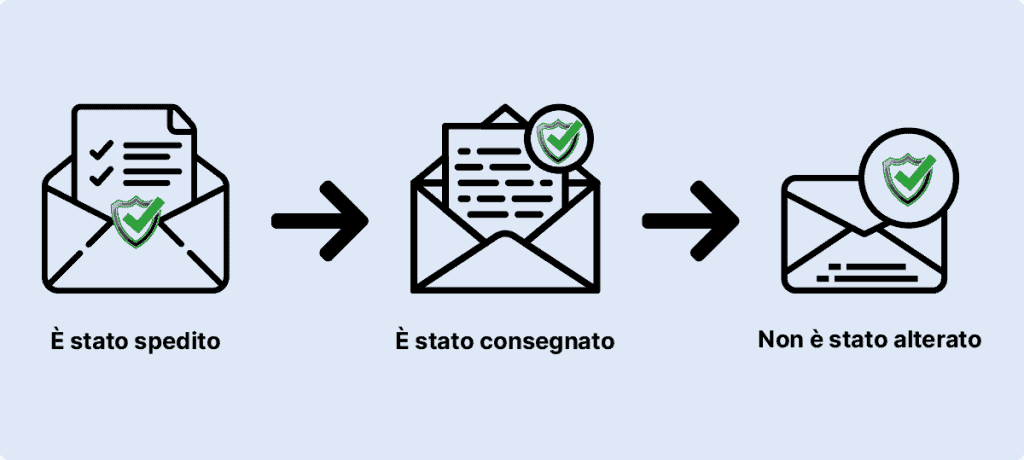 The purpose of certified email
Certified email has many functions that can be useful to each of us. Precisely for this reason it is important that you are aware of it, so you can take full advantage of this service.
Send documents quickly
Certified email allows us to send any type of documentation quickly and with a recognized legal value. This means that we can use it in case of litigation, disputes, withdrawals, complaints, cancellations and much more. The certified email arrives instantly to the recipient, and no waiting time.
It is requested by many online portals
As you may have realized, Italy is evolving towards the digital world. There are more and more services, procedures, requests that can now only be done online. Often the services we need require a certified email where we can send the required documentation or receive the service we have requested. One of these services, for example, is the registration for public competitions that require a certified email email.
Monitoring of the certified email receipt
A certified email allows us to monitor the receipt of documents that we have sent. This enables us to have several advantages, as we have already seen in the previous paragraph. In addition, the certified email mails will be stored within the portal and therefore we won't have hundreds of receipts or letters around the office or home. Everything will be stored neatly for as long as necessary.
Who is obligated to have a certified email?
Anyone can have a certified email, you do not need anything to open one. All you will need is your documents; your identity details and you will have to pay the required annual fee.
What you don't know, however, is that the certified email has come to be so popular only in recent months. However, this tool has been available for a few years now and has been made mandatory for certain professions. Let's see which ones they are:
Public Administrations. All of them must have one, and if they don't have one, they must get one as soon as possible. It has been mandatory for them for several years now.
Professionals who are members of orders and colleges. For them, it has been obligatory since 2009.
Sole proprietorships, since 2013, are required to have a certified email email and submit it to the business register. Among the sole proprietorships we also find the new VAT numbers, and this category also includes craftsmen. We could simplify it by saying that all companies and professionals registered on the business register are required by law to have a certified email and communicate it in a timely manner.
Companies, both old and newly established, are required to have a certified email, for them it has been obligatory since November 2011.
For all other professionals, freelancers and owners of a VAT number who are not enlisted into the register of companies, a certified email is optional. So, they can choose whether to have one or not.
Sending a message from certified email to certified email
Basically when you send a certified email, or a certified message, we have a guarantee of origin and inalterability of the message. The origin is certified through a digital signature and the owner of the box, the inalterability instead is proven through the storage of the message in the system.
The certified email has legal value because it contains certified information such as the date and time and the sender is always identified. We can say that the Certified E-Mail is equivalent to send a registered letter, because in the case of exchange mail from Certified E-Mail to Certified E-Mail the system returns to the sender the confirmation of delivery.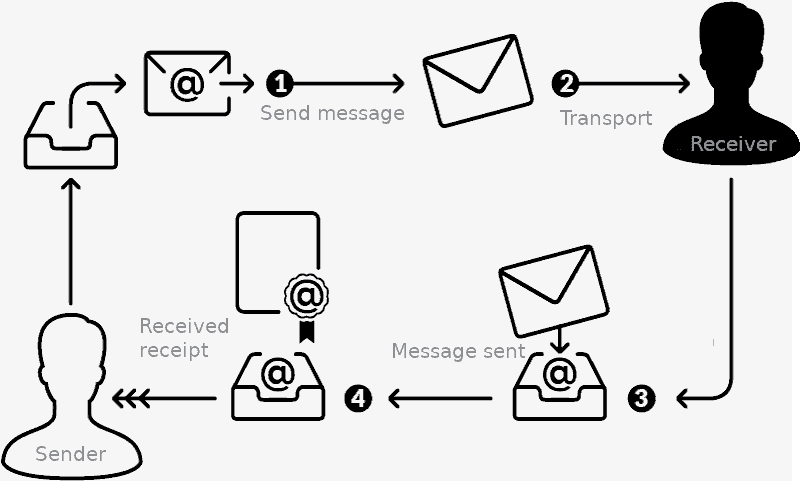 How to send a certified email
Sending a Certified E-Mail is very simple, nothing different from a normal email. If you have a certified email you have access to a. The operation is identical to a normal webmail: log in through the browser, create a new message and send. These interfaces are designed to be easily used by everyone.
There is also a second option that consists in using an email client. With a certified email you have https://supporthost.com/it/che-differenza-ce-tra-email-imap-e-pop3/access to the IMAP server and you can synchronize emails with your client by email as if it were a normal email address.
Access settings of the most common providers
For simplicity I've grouped the access parameters to the most used certified email providers, so you can configure your email client with your certified email.
Aruba
Server mail POP3: pop.securemail.pro
Server mail SMTP: authsmtp.securemail.pro
Incoming port: 993
Outgoing port: 465
Register.it
Server mail POP3: pop.securemail.pro
Server mail SMTP: authsmtp.securemail.pro
Incoming port: 993
Outgoing port: 465
Postecert
Server mail IMAP: mail.postecert.it
Server mail SMTP: mail.postecert.it
Incoming port: 993
Outgoing port: 465
Legalmail
Server mail POP3: mbox.cert.legalmail.it
Server mail SMTP: sendm.cert.legalmail.it
Incoming port: 995
Outgoing port: 25 o 465
KOLST
Server mail POP3: pop.mailserver.it
Server mail SMTP: smtp-out.mailserver.it
Incoming port 110
Outgoing port: 25
MailPEC Libero
Server mail POP3: mail.postacert.it.net
Server mail SMTP: mail.postacert.it.net
Incoming port 995
Outgoing port: 465
How to send a certified email with Gmail
If you use Gmail you can use Gmail to manage your certified emails. Gmail has a feature that allows you to use it as an email client, that is, you can use it to send emails via SMTP and receive emails via IMAP or POP3.
What we have to do then is configure Gmail to download certified email via POP3 in order to receive the certified email on Gmail. Keep in mind that as I'm going to explain it is possible to leave messages on the server even if you use POP3, thanks to one of Gmail's settings.
Obviously, you also need to configure Gmail to send certified email via SMTP. Let's see how to do it.
Receiving certified email on Gmail
To receive certified email on Gmail you must add a new account from the settings.
Open Gmail webmail on your favorite browser. In the top right corner you will see a gear icon. Clicking on the icon opens a dropdown that contains a link to the settings page.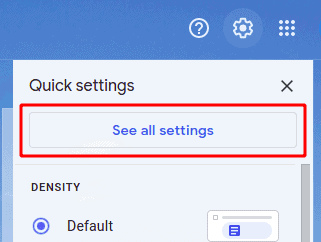 From here go to the "account and import" section.

And click on "Add an email account".

From here we follow the wizard that will allow us to add the account using POP3 in order to receive certified emails on gmail. Enter the certified email address and continue.

In the next screen we have only one option available, so let's continue.

Now let's enter the server data to download the mail via POP3. Make sure you enter the correct data, and most importantly make sure you check the box so that a copy of the message is left on the server.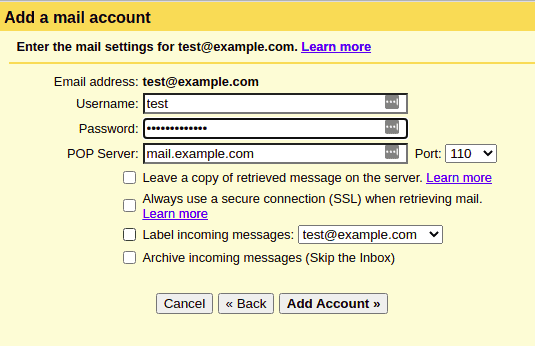 Now we can download our certified emails to Gmail, but how do we send certified emails using Gmail?
Sending a certified email with Gmail
If we want to send a certified email with Gmail we have to configure it for sending. Let's go back to the screen from before "account and import". At the section send a message as click on "Add another email address".
Enter the name and email address, make sure to check the "Consider as an alias" box.
We then enter the SMTP data for sending and we are done with the configuration to send certified email emails via Gmail.
Basically we can use Gmail as an email client, receive emails via POP3 and send them via SMTP.
Sending a message from certified email to an ordinary inbox
When a message is sent from a certified email to "normal" email, the delivery takes place just the same but we can not say that the value is legally identical. The digitally signed message in fact is not decrypted by the recipient and therefore, there is no guarantee that the message is inalterable. Precisely for this reason the sender will not receive the message of successful delivery. Basically, sending a message from a certified email to an ordinary email inbox is possible, but it's like sending a message from a simple ordinary email inbox.
Sending a certified email to an ordinary email address, we'll receive only an ACCEPTANCE notification from the Certified Mail Manager, but we won't receive the DELIVERY notification that is the final confirmation that gives it legal value. So in these cases it has no legal value.
On the contrary instead we have seen how sending a certified email to another certified email will give us two receipts, one called ACCEPTANCE and one DELIVERY that will give to our email the legal value that has a registered letter.
Another factor to be particularly careful about is the possibility of receiving an error message when sending a certified email to a normal email address. This error notification comes because of the settings of the email server, so you can not be sure that it has arrived.
What happens when you receive a certified email from an ordinary email address and you decide to reply? Let's see below.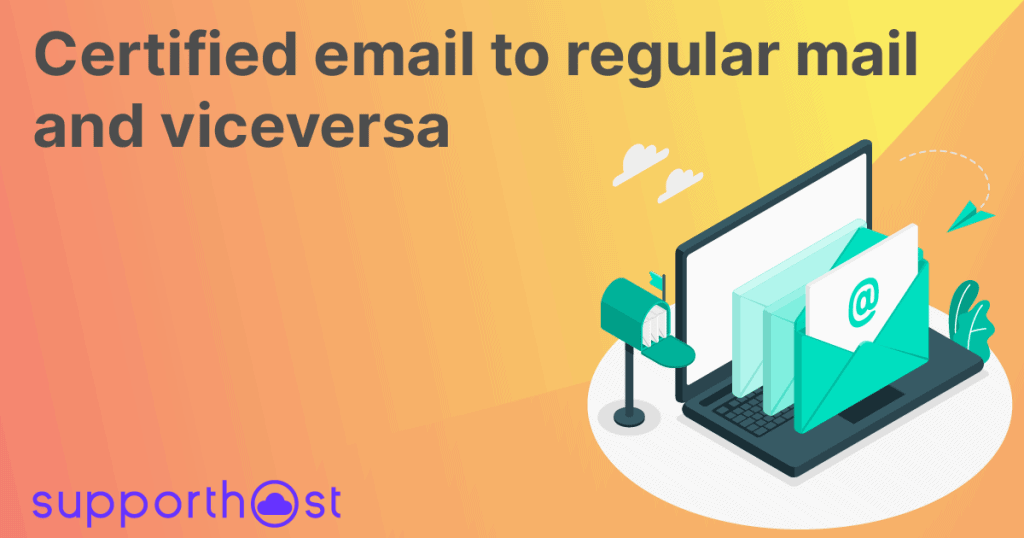 Can I send a message from an ordinary email to a certified email?
The answer is: it depends, you can send an ordinary email to a certified email. However, there is a good chance that the user will not receive it since many people when they install the certified email choose to limit the receipt of emails only to certified email. It should also be considered that sending a normal email to a Certified E-Mail has no legal value, and therefore it will be good to use other means.
Traditional mail on our certified email? No thanks!
It is better not to receive traditional mail on your certified email, here are some of the main reasons why:
Less chance of receiving SPAM from all sorts of email addresses.
No confusion inside the archive, we will find only certified email.
All e-mails stored will have a legal value and will therefore be useful. Those received from traditional mails on the contrary no, they have no legal value.