In this article, Themeforest: the guide to choose a theme, we will discover what Theme Forest is, it is actually one of the most popular marketplaces to buy themes and templates for your site. We'll see how to search for the most suitable theme for your needs and what elements to focus on to choose the most reliable one.
We'll look at the average prices and the type of support that comes with buying licenses, and see some of the most common problems that come with buying themes.
What is Themeforest
Themeforest is one of the marketplaces that is part of the larger network known as Envato Market. It is one of the most popular marketplaces to buy (or sell) themes for WordPress and other CMS as well as HTML templates.
In the Envato network we can also find other sections for stock photos, mock-ups and more. Here's a brief overview of the resources featured:
Codecanyon: a section completely dedicated to code, scripts and plugins
Videohive: video template
Audiojungle: music and audio tracks for your projects
Graphicriver: logos, assets and vector files
Photodune: stock photos from 2$
3Docean: 3d models and assets.
Just like any marketplace, Theme Forest acts as an intermediary between supply and demand, allowing you to find affordable themes for every need.
Theme Forest not only collects and categorizes themes, but also reviews all the themes before making them available for purchase. This way, it manages to ensure that the products meet the quality standards.
Support on themes is not provided by the platform, but is entrusted to the theme developer and, for a limited time, it is included in the cost of the license.
Every week is updated the ranking of the best selling themes, as far as WordPress is concerned the podium always belongs to Avada with its record sales that currently amounts to over 700 thousand.
Themeforest: the guide to choose a theme - how to search for one.
To understand how to find the theme that best suits your needs on Themeforest we will see what elements to take into account and how to use the search filters.
Categories and search filters
In addition to being able to use the classic keyword search feature, you can take advantage of the category breakdown. We have 12 main categories from WordPress themes to those for eCommerce, marketing and blogging.
Each category in turn includes subcategories as you see in this example below for WordPress subcategories: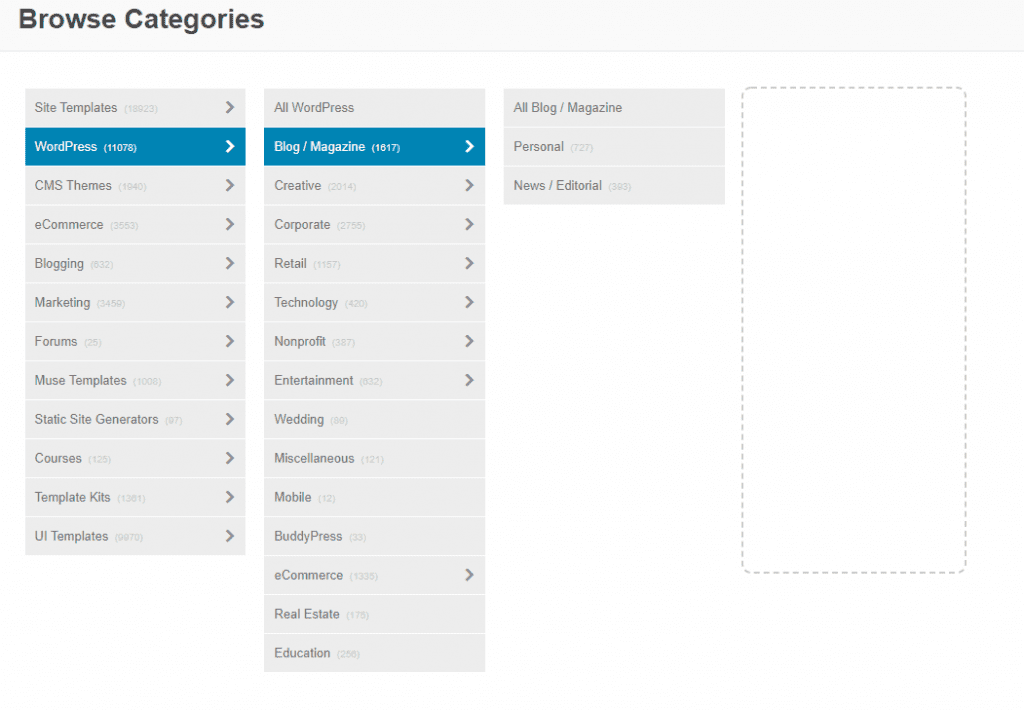 After doing a search you can further narrow the results thanks to the filters that appear in the menu on the left. First you'll be able to select categories and tags and set a price range.
You'll also be able to set filters on sales starting from themes that never sold (no sales) to those with the most sales (top sellers). Similarly, you can narrow your searches to themes that have had the best reviews (more than three stars, more than four, etc.).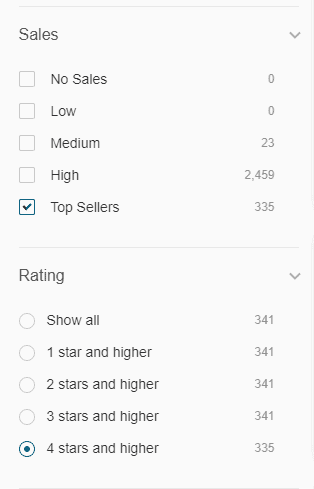 You can also choose to show only the themes that have been added in the last year, month or the last week. One of the most useful filters is the one that allows you to select themes that are compatible with one or more plugins.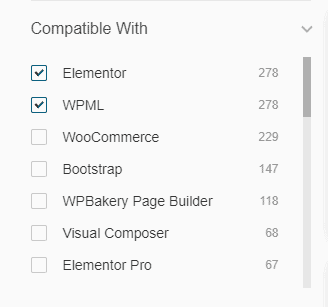 For example, you could restrict the field to themes compatible with Elementor and WPML as in the selection you see above.
If you're doing a generic search like the one for a WordPress theme for a blog you'll have thousands of results. Here's a practical example: searching for "blog" in the WordPress category without applying any other filters would give you 4681 results.

We just need to get into the details by applying filters on sales, reviews or even plugin compatibility to greatly reduce the search. In this example from over four thousand initial results we narrowed the search down to 130 results.

To finish, you can sort your search results by these different criteria: best-selling, new, best reviewed, trending or you can sort them by price in ascending or descending order.

How to choose a theme on Themeforest
We've come to a crucial moment: choosing a theme for your site. How do you know that the theme you are choosing is really right for you? Here are what elements you should take into consideration while choosing.
Watch the theme demo
The theme demo allows you to get an idea of what the final look of your site may be using that theme. Spend as much time as you need to take a thorough look at the sample pages, menus, and various features.

Try not to be swayed by the images and see if you can try different types of layouts or test customization.
Check other users' reviews
As is often the case when choosing products on other marketplaces, you can also rely on reviews on Theme Forest.
When you've found a theme that interests you in the top bar you'll be able to see the average user rating and the number of reviews received.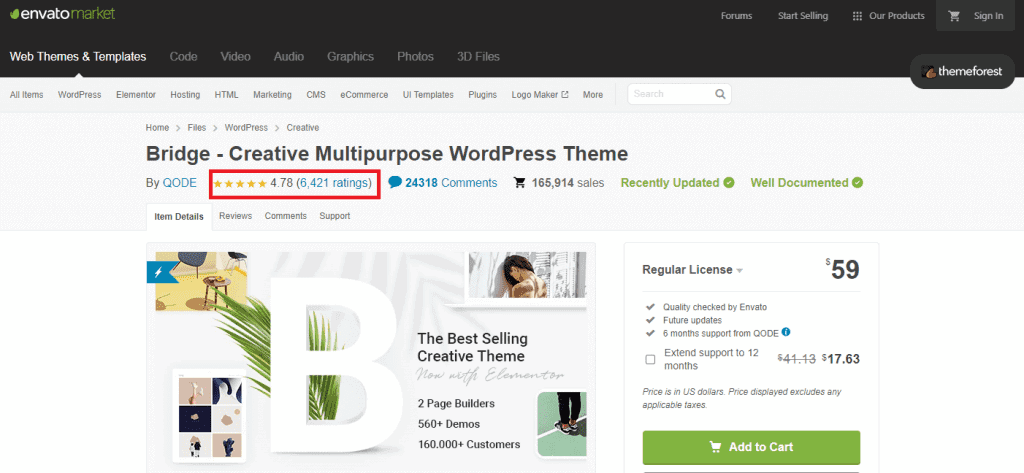 Obviously you'll need to take both into consideration. To give you an example, one or two 5-star reviews will be less valuable than hundreds of reviews and an average of over 4 stars.
Basically, the ideal theme will have to have a lot of reviews and on average they will have to be very positive. This doesn't assure you that the theme will be the right one for your project, but it is a good indicator of reliability that you can take into account when choosing.
Read user comments
Next to the reviews you'll also find a comments section that collects opinions and questions from users already using the theme, as well as those of potential buyers.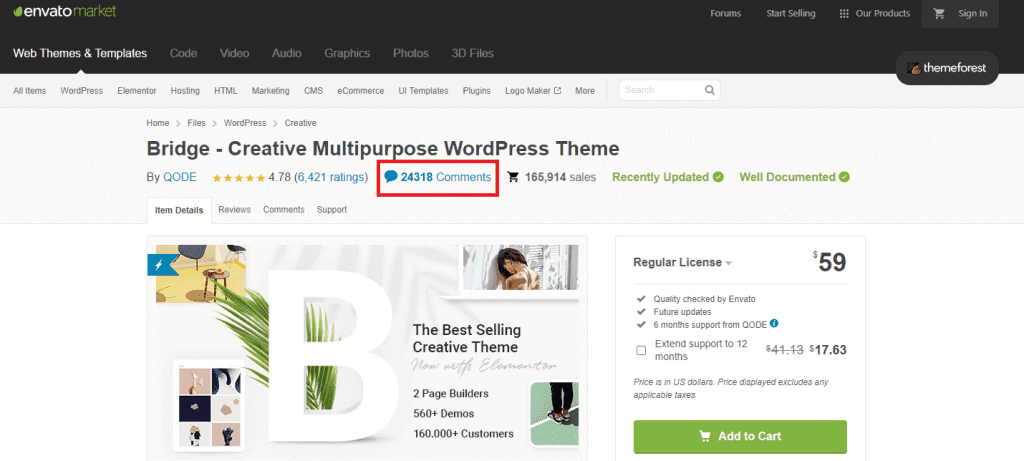 Remember that theme developers often use the comments section also to answer questions from users who have purchased the theme.
Checking this section, therefore, can also be a great way to understand the timeliness of response and the quality of assistance provided by the theme authors.
When checking the comments remember to take into account the labels that are used and that allow you to understand which comments have been posted by the developers and which by customers who have already purchased the theme.
You can also check the box next to From buyers and authors only as seen below.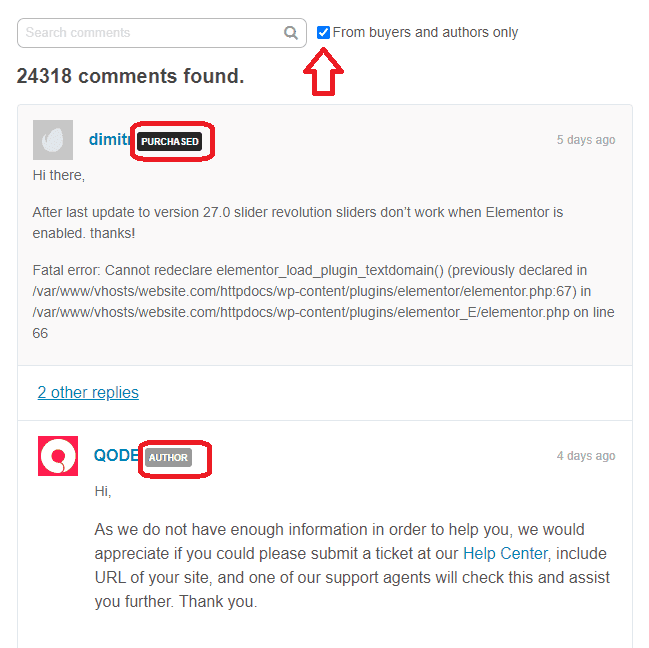 In this way you will not see the comments of those who have not yet purchased the theme, but only those posted by the buyers and the author of the theme.
Check the number of sales of the theme
Remember to play it safe and choose a good theme based the number of sales. The best selling themes will not necessarily have a higher quality than those with fewer sales.

The number of sales, however, still gives you a parameter to work from, along with the elements we've already discussed. Also, a popular theme is more likely to be kept updated more frequently than one with very few sales.
Check the date of the last update
Let's dwell on the topic of updates. As I'll explain later when we consider the pitfalls of buying a theme on Themeforest, it's hard to have guarantees about the updates you'll receive after your purchase.
Generally speaking, consider that usability and security updates should be guaranteed (not surprisingly, you can request a refund in case of any problems).
In any case, to be on the safe side, it can be useful to check the date of the last update to make sure that the theme has been updated in the last few months. To make sure, open the theme's page and check the box on the right where you'll also find information about the theme's compatibility and publication date.

Prices
One of the string points of this rich marketplace is having the right solution for every budget.
Let's take a look at some real-world pricing examples: WordPress themes in the Best Selling category range starting from $39 (about 33€) from The 7 to $69 (about 59€) from Houzez. In the WordPress category, prices generally start from a base of $13 (about 11€).
If you're on a tight budget, it can be helpful to use the search filters by price.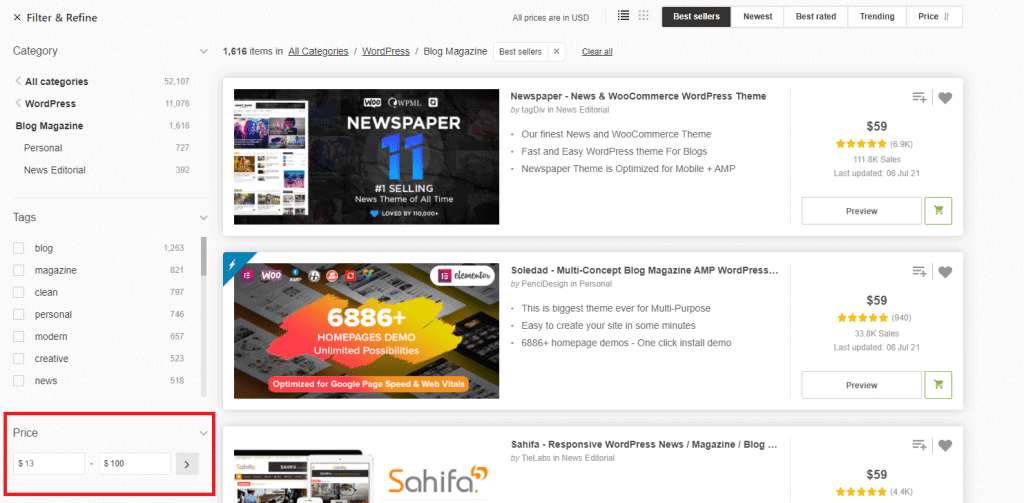 After that you can sort the results by best-selling, new, top reviewed, trending or by price.

Also, remember that the license is valid for one website only. This means that if you want to use the same theme for more than one site you will have to buy a license for each site. About the license keep in mind that it is not convenient to download cracked themes. Apart from being illegal, using these themes also endangers your safety on WordPress.
Free themes Theme Forest
You can also find free themes and other resources on Theme Forest. You just log onto the main page of the site and scroll down until you find a section like the one I'm showing you in this screenshot: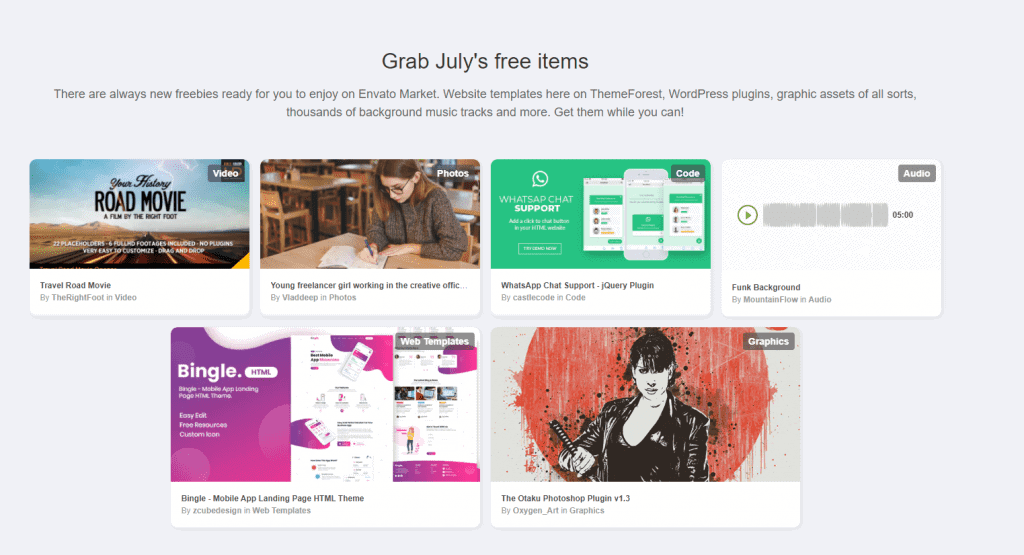 Free themes as well as other resources are available for a limited time and they generally change from month to month. It can be useful to check back periodically to find some interesting resources.
Keep in mind that themes and other free products do not include support and updates. Also, in order to download resources, you need to register and then sign in.
Support
Regular licenses generally always include six months of developer support. In some cases, you can also purchase a support extension up to a maximum of 12 months. The cost of the extension depends on the base price of the Themeforest theme you are purchasing.

The media extension can be purchased at a lower price if it is included in the purchase order of the theme itself.
It is also possible to purchase the extension after the purchase, but at a higher price. The cost is calculated as a percentage of the basic license price and ranges from 62.5% during the support period up to 87.5% in case you purchase the extension after the end of the included support period.
For the duration of the support period, the author undertakes to answer questions about the use of the purchased product and compatibility with third-party elements. Support does not include customization of themes and their installation.
Please note also that if your theme includes or requires third-party applications, such as a plugin, the plugin author is not obliged to provide you with support. So, in this case, what you can do is to ask for support from the theme author only, even for problems involving third-party plugins.
The type of support that is provided depends on the developer. There are those who choose to use the comments section of the theme page and those who use an external website, ticket or email system.
To get in touch with the developer just open the Support tab related to the theme you are interested in and click on Go to item support.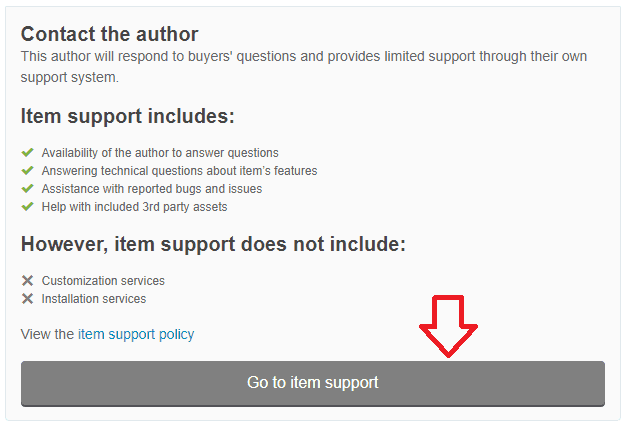 After that, you will need to follow the directions to submit your request. Often, as in the example I show you below, there are also recommended steps you can take to solve common problems. For example, make sure you have updated your theme to the latest version available.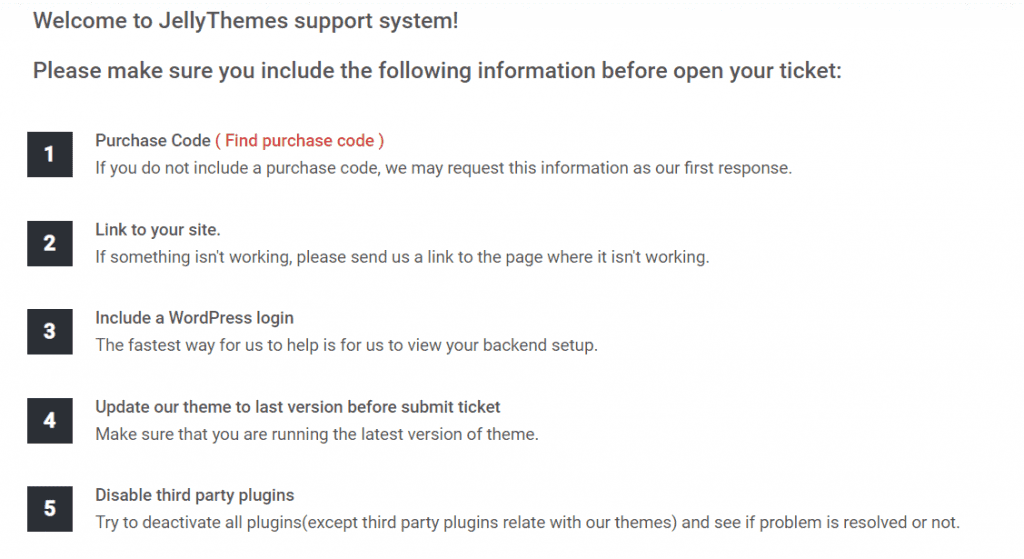 Themeforest: disadvantages and common problems
Keep in mind that each issue is a separate matter, in this section we have collected the possible problems you might encounter, but obviously you will have to consider case by case.
For this very reason, I'll also explain what elements to consider in order to curb these problems as much as possible and thus choose the most reliable themes.
Dependency on shortcodes and plugins
Many WordPress themes you can find on Themeforest require plugins and page builders to add features and options. They may not necessarily be plugins that slow down WordPress, but they definitely become redundant when they add features that you don't actually need and will never take advantage of on your site.
In most cases these WordPress plugins will be offered bundled together with the theme. This means that the plugin will only work with that theme and you won't be able to use it if you decide to change themes.
Most importantly, though, you won't be able to update the plugin yourself. To update it, you'll have to wait for a theme update to be released that also includes the updated version of the plugin.
In other cases to ensure all the functions of a theme it is possible that the developer uses tailored shortcodes, which will be useless should you decide to change the theme.
Themeforest: the guide to choose a theme - updates
Periodically WordPress is updated to introduce new features, make sure sites are secure and to fix any bugs. Following a core update, themes may also need to be updated to avoid compatibility issues with the new version.
Releasing theme updates is up to the developers, but unfortunately there are no guarantees of timely updates.
In the support page of Themeforest we can, in fact, read:
The authors of the products may provide updates from time to time at their discretion to improve functionality or resolve minor issues.
It is understood that developers are required to release updates if necessary to fix security issues or to ensure that the theme works properly.
As we have seen when choosing the theme you should pay attention to the date of the last update. You can use this information precisely to get a precise idea of how often updates are released.

To help you in selecting themes, in addition to indicating the date of the last update, in the detailed tab, Themeforest also uses the recently updated badge in themes that have recently received an update.

Problems with theme configuration
As said before in this article, Themeforest: the guide to choose a theme, on Themeforest, every theme is accompanied by a demo that gives you a precise idea of how your site will look like. In some cases, however, there may be difficulties in obtaining the desired results and it may be that the theme applied to your site ends up not looking like the one in the demo. Why does this happen?
The reason may be due to the fact that in order to get the same look as the demo you have to spend time on customization. And that's where the documentation comes in.
Check the documentation
Ideally, the theme you purchased should have a manual to assist you in this step. To make sure that the documentation is comprehensive you can check if a preview of the documentation is already available or if there are FAQs on how to use it.
Always take a look at the Support section of the theme before purchasing it.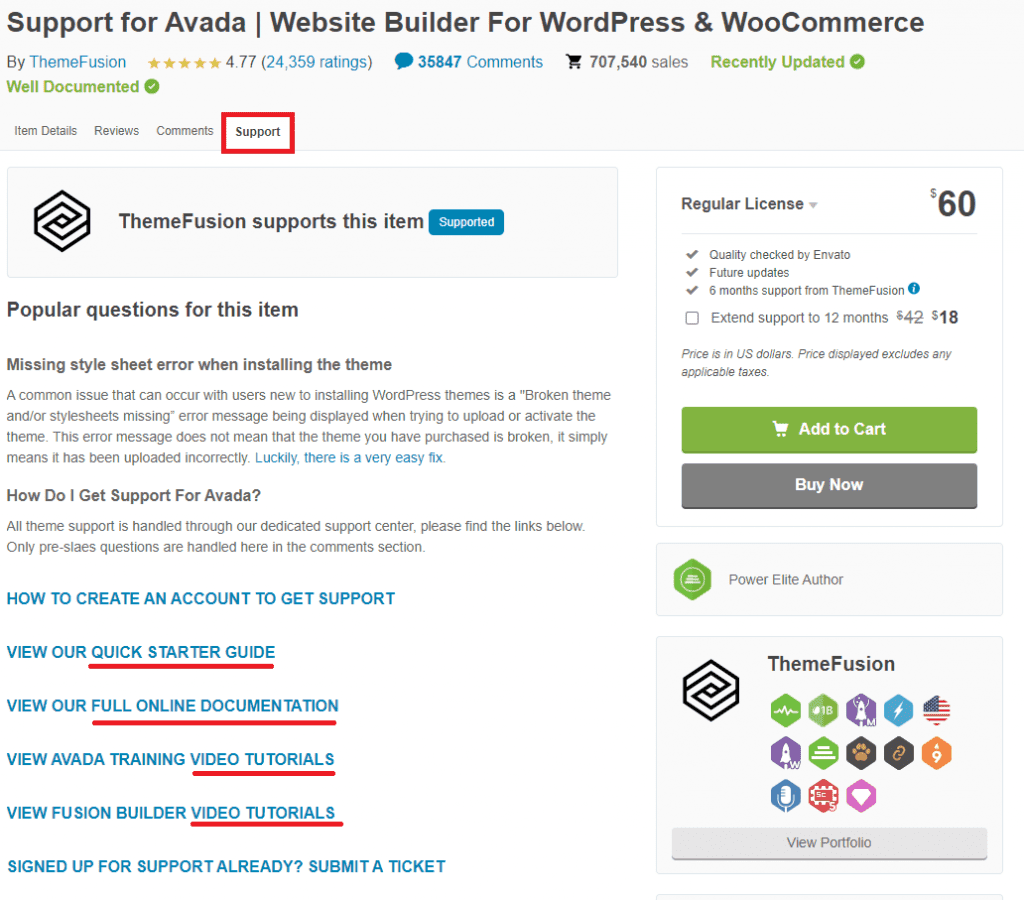 In this example from Avada, one of the best-selling themes on Themeforest, we can see a series of links that point to the introductory guide, as well as full documentation and a series of tutorials.
In any case, when a common problem with a theme is reported, the FAQ section is updated and can be found in the Support tab of the theme. In some cases, like the example I'm about to show you, the FAQs refer to guides written by Envato itself.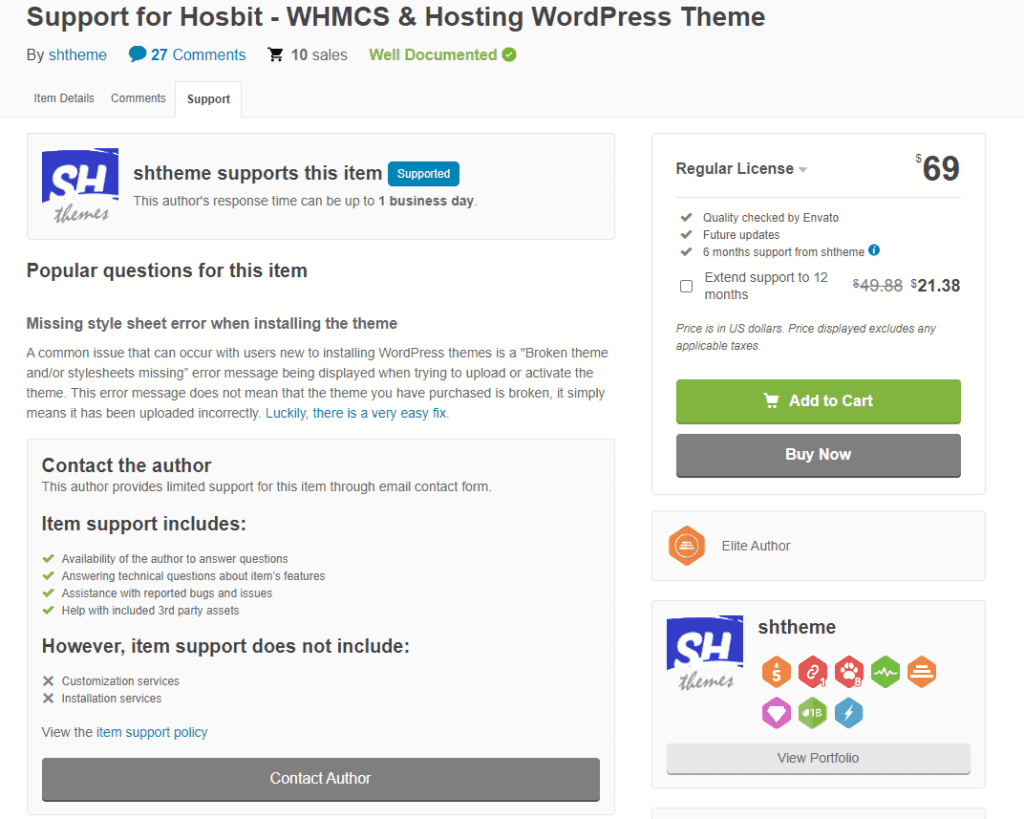 This shows a rather frequent error that can occur during the installation of a WordPress theme, namely the absence of the stylesheet.
If you can't find the solution to the problem in the FAQ or theme documentation, you can always contact the developer.
Use the demo
In many cases along with the theme comes the demo content. This means that you just need to upload the demo files to the site as well so that you can easily reproduce the structure and go only to edit the content.
To understand which themes offer this possibility refer to the tabs of the individual themes. Some as in this example below highlight the possibility to import the demo easily specifying in the description "One click demo import".

Consider, too, that to make it extremely easy to use, some themes allow you to choose from several available styles.
When theme is no longer available
One uncomfortable situation you might find yourself in is the event that the theme you purchased on Themeforest has been suddenly removed and can no longer be downloaded.
As you can read in the Envato Support FAQ, there are several reasons why a theme or other product may not be available. In some cases, it's possible that the developer has to release an update, so the theme may not be available for download just temporarily.
In other cases, however, it is possible that the author of the theme has decided to remove it permanently. The decision to remove a product or close an entire category on the Envato market has permanent effect.
This means that after a theme has been removed from the store, it will no longer be possible to download it in any way. For this reason, Envato stresses that it cannot guarantee that purchased products will continue to be available.
The best (and also the only possible) thing to do, therefore, is to download the theme immediately after purchasing it and keep a backup copy to have on hand in case of need.
Alternatively you could contact support, but the return and reimbursement policies explicitly state that it is repeatedly recommended that customers download products immediately after purchase.
However, there is an exception, in case you have purchased an item less than three months ago, but have not downloaded it yet. In this case you have to provide a proof of purchase to the author of the theme and, after proper verification, you will be entitled to a refund.
However, the fact remains that when a theme is removed there will be no more updates and support will no longer be assured. However, if the theme has security flaws and problems, you can always request a refund.
Conclusion
If you're looking for a WordPress theme or template to use for your site, it's worth taking a look at Themeforest. With thousands of themes available choosing carefully is key, and with our advice you should have no trouble finding the best theme for your needs.
Have you ever purchased a theme on Themeforest before? Did it live up to your expectations? Let me know in the comments below.