In this article, Domain: the definitive guide we will see what an internet domain is and why it is important for your web visibility. Since we often risk confusing domain, URL and hosting, we'll see what the differences are.
We'll find out why we talk about first, second and third-level domains, we'll see what rules you have to respect when choosing an internet domain name and how to register a new domain.
What is a domain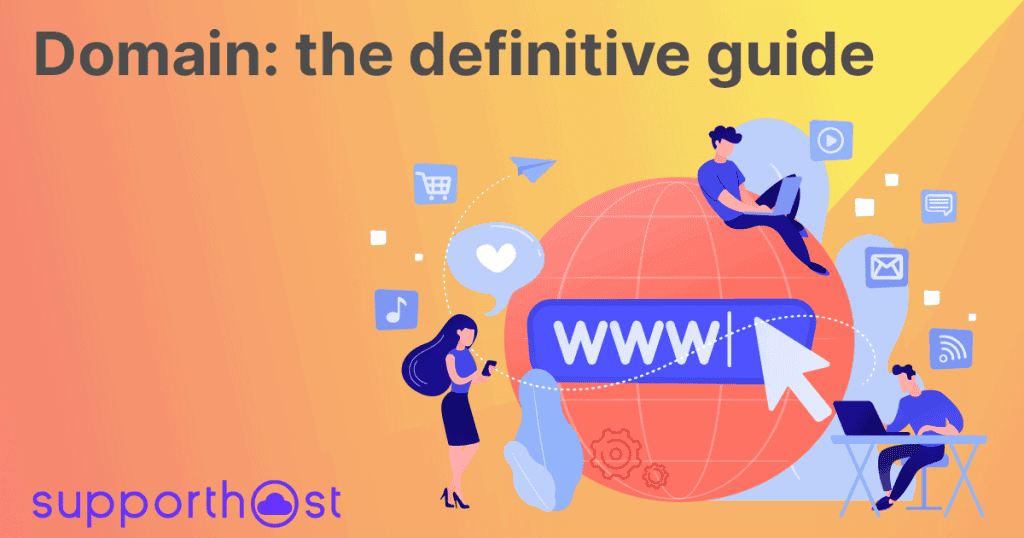 The Internet domain, also known as the domain name, enables an IP address (e.g. 192.168.1.1) to be associated with a string of characters.
The Domain Name System (DNS) was created to make it easier to find information. Each unique IP address of a web service is in fact associated with a domain "readable" and easier to remember.
The DNS is therefore a registry that works like a sort of phone book that allows you to connect to sites knowing the name of their domain, instead of having to remember numeric IP addresses.
Each domain is unique, so when you register a new domain you should check that the one you choose is among the available domains.
So we've talked about an internet domain and a site address, but what's the difference?
Domain: meaning and the difference between URL and internet domain
Often there is a mix-up between the terms URL and internet domain and we may think that they are synonymous. However URL and domain are not the same, let's see why.
The URL is a complete address that includes the protocol used (http or https), the domain name and the path to the page or resource you want to reach.

The domain instead is the alphanumeric string used to identify a site.
A domain name will be of this type:
supporthost.com
google.com
wikipedia.org
Instead, some examples of URLs will be as follows:
https://supporthost.com/
https://www.google.com/
https://it.wikipedia.org/
Note that by now most sites have adopted a secure connection by switching from http to https.
The difference between hosting and domain
Registering an Internet domain is just one of the steps you need to take to create a website. The internet domain, in fact, is simply the name of your website.
In order to create the website and make it accessible to all users, you must also have a space in which to store the website files. This space is known as the hosting.
It is good to know that you can also choose to buy a domain and hosting with different providers. However, as we have seen in the guide on how to choose a hosting, l the most practical solution is to choose only one provider for domain and hosting.
If you are thinking of changing hosting or starting a new project, it will be useful to know that with all our plans such as shared hosting, WordPress hosting, semi-dedicated hosting, VPS cloud hosting and dedicated servers the domain is always free.
Simply place an order with the hosting plan you have chosen and it will always be included in the price, even for subsequent renewals.
Internet Domain Types
The domain name system follows a tree structure: top-level domains (TLD) branch into second-level domains which in turn are subdivided into third-level domains.
In an address, the levels are considered starting from the rightmost portion. Each level is separated from the other by a dot and, if you read from right to left, we have first, second and third-level domains.

Top level domain
The top-level domain is also called TLD (Top-Level Domain) or domain extension. In fact, the top-level domain is the last part of the address, i.e. the text to the right of the last dot.
In an Internet domain example: www.dominio.com, "com" corresponds to the top-level domain.
There are different types of TLDs, classified into three different categories:
National TLDs
Generic Top-Level Domains
Infrastructure TLDs.
The infrastructure TLD category actually contains only one TLD, arpa, which is used for technical purposes only.
Initially, there was only a small group of extensions. Let's see what they were, before looking at the differences between national and generic TLDs
Original Top Level Domains
Originally, in 1984, there were only five top-level domains, which are still the most popular today: gov, edu, com, mil and org. These were soon joined by .net (introduced in 1985) and .int (created in 1988).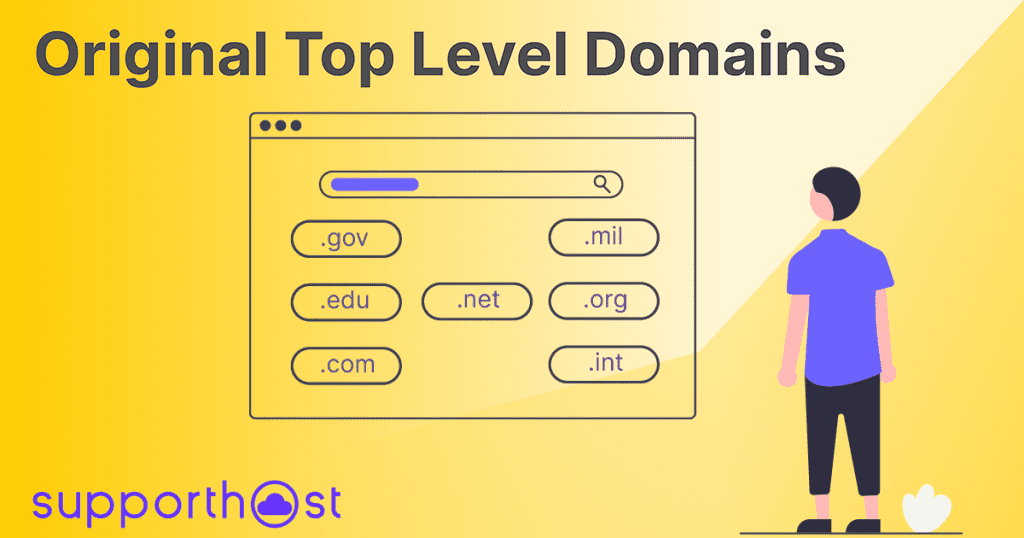 Let's see what these extensions were (or still are) used for.
.gov can be registered only by governmental bodies, it is widely used especially in the USA. It is often adopted in Italy, but also in other countries, as a second-level domain in the form .gov.it.
.edu reserved for educational institutions such as schools or universities.
.com is a purely commercial Internet domain, it is open to anyone. This means that any person or entity can register it.
.mil reserved for sites of the United States military structure.
.org used by non-profit organizations, it is always an open Internet domain.
.net whose suffix stands for "network", it's a TLD that was originally used by ISPs, and today it's an open internet domain for generic use.
.int internet domain reserved for international organizations, it is also used by NATO after .nato domain was cancelled in 1996 to be grouped with this new extension.
Types of TLDs
TLDs are divided into national TLDs and generic TLDs, as well as infrastructure TLDs that as we mentioned before, contain only one internet domain (.arpa).
National Top Level Domains
Country Code Top Level Domains (ccTLD) are used to specify a geographical area of interest and are managed by individual countries. This means that regulations vary from extension to extension depending on specific guidelines.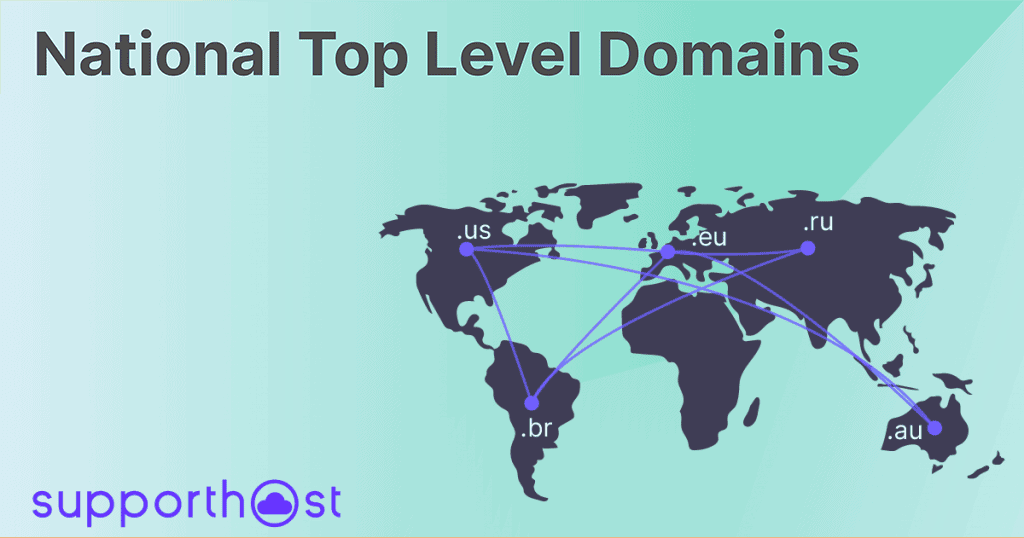 These domains are made up of two letters that indicate the country, as is the case with "it" domains for Italy, "us" for the United States or "eu" for European Union countries. In most cases, the two-letter encoding is based on the ISO 3166-1 codes.
It is good to specify that ccTLDs are not only reserved for individual states, but also for independent territories, such as islands or autonomous territories. For example, the "au" domain for Australia includes the Coral Sea Islands, the Ashmore and Cartier Islands, while for the Cocos Islands, which are also part of the Australian territory, we have the "cc" domain.
Similarly, next to "cn," the national top-level domain for China, there are also specific domains reserved for Hong Kong (hk) and Macao (mo).
Generic Top-Level Domains
Generic Top Level Domains (gTLDs) instead of referring to a geographical area, refer to a specific domain.to.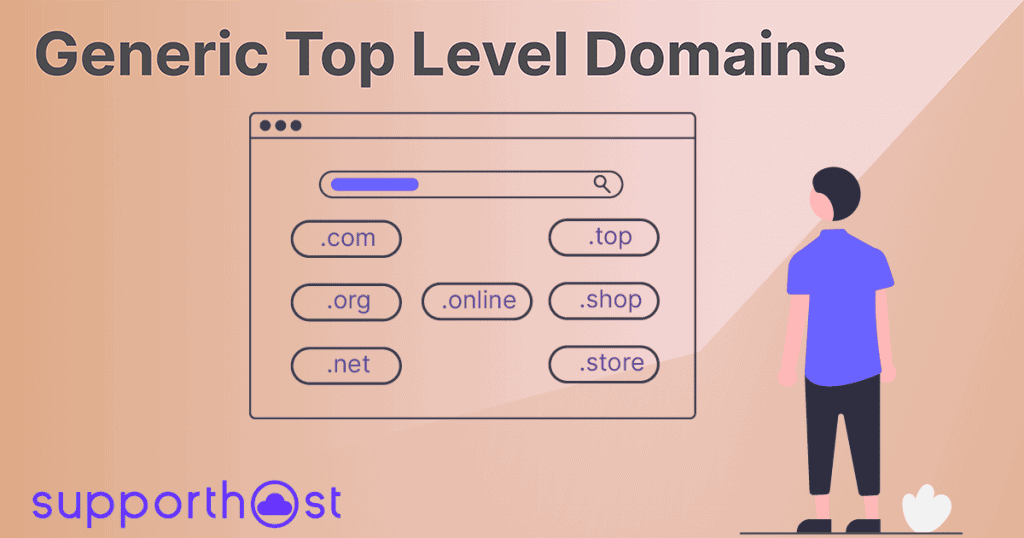 Examples of these are com (commercial), biz (business) and info (information) domains, as well as reserved domains, also called sponsored TLD or sTLD)
In this case, the registration of the Internet domain is restricted to some categories of entities, as we saw at the beginning when we talked for example about gov, mil, int or edu domains. Just as it happens for the national top-level domains, also in this case the management is assigned to a single organization.
On the other hand, we will have the unsponsored TLDs or uTLD that is all those internet domains essentially open or any way without the restrictions which is typical of sTLDs. All uTLDs are managed by ICANN.
New gTLD domains
On January 12, 2012, ICANN started the liberalization of generic Top-Level Domains. In doing so, companies have the option to register a custom top-level domain.
In addition to extensions that represent corporate brands, new gTLDs (also called NgTLDs) linked to specific activities such as .shop, .store, .blog, .tech, .wiki, .news or .press have been created. Among the most popular new extensions are .online, .shop, .top, .store and .tech.
The adoption of the new extensions is having a remarkable success if we consider that already 0.2% of sites have adopted the .online TLD, approaching the percentage of sites that use national top-level domains such as .us or .eu (0.3%). You can find a complete overview of the use of top-level domains thanks to the data collected by W3techs.
Second Level Domain
The second-level domain (SLD) is also called a domain name because it is equivalent to the name you choose during registration.
There are national second-level domains born from the association of second and first-level domains. Some examples are gov.it for the sites of public administrations in Italy, gov.uk for the United Kingdom or europa.eu for the institutions of the European Union.
Generally, as a second-level domain is used the name of the brand, product or service that you want to promote through the site. In some cases, you choose to use keywords related to the sector of interest.
In the choice of the Internet domain name, you have to respect the rules regarding the maximum and minimum length and the allowed characters.
Internet domain: rules for the name
If you want to register a new domain it is useful to know the basic rules to respect starting from the type of characters you can use to the length.
In addition, to continue with the registration of the domain you must make sure that the domain you want to register is available. You can quickly check the availability in the section dedicated to domain registration of our site.

Every internet domain must be unique, if the domain you are looking for is not available you can try to register it using another extension.
Domain name length
You must respect a minimum length of 3 characters and a maximum of 63 characters for the domains: .it, .org, .info, .biz and .us.
For the domains: .com, .eu and .net the minimum length is 2 characters, while the maximum length is always 63 characters.
Please note that the presence of special characters in the domain name increases the length because the length of the ACE string is considered. Domains with special characters, such as accents and umlauts, are called IDN (internationalized domain names).
In order to use IDN domains, the special characters must be converted into a form that the DNS can understand, i.e. an ACE string.
For example, mañana.com corresponds to the string xn-maana-pta.com.
In the conversion in this case the number of characters increases from 6 to 12.
It is no coincidence that with the introduction of internationalized domains (IDN) in 2004, the length limit was increased to 63 characters, whereas originally there was a maximum of 24 characters.
Characters that are allowed
Numbers 0 - 9, letters a through z, and the hyphen (-) are allowed in the domain name. The dot (.) can only be used to separate domain levels, while the hyphen can never be used at the beginning or end of the domain.
Likewise, the hyphen cannot be used twice consecutively. These are generic rules valid for all domains, there are also specific restrictions for some domains.
Domains with .it extension can't have in the first 4 characters in the following string: "xn--" and can't start or end with a hyphen (-).
For domains with .eu extension, the hyphen cannot be at the beginning or at the end of the domain name. Also, the hyphen cannot be in the third and fourth position at the same time, with some exceptions such as domains starting with "xn--".
For the IDN domains, we were talking about before, the special characters allowed vary according to the extension. For example, for .it domains you can use these non-ASCII characters:
à, â, ä, è, é, ê, ë, ì, î, ï, ò, ô, ö, ß, ù, û, ü, æ, œ, ç, ÿ.
Third-level domain
The third-level domain, also called subdomain is commonly used to create an internal structure of the site and organize it into categories.
The most common example is to use subdomains to allow users to reach the different language versions of the site, for example creating a multilingual WordPress site.
In this case, the subdomains will look like this:
en.sitoesempio.com
es.sitoesempio.com
de.sitoesempio.com
The subdomain can also allow reaching dedicated content, for example, a blog section or an internal area of the site as in these examples:
blog.sitoesempio.com
areacustomers.sitoesempio.com
For example, my.supporthost.com gives you access to the customer area of our site.
How to register an internet domain
To register an Internet domain you have to go to an ICANN accredited company, called a registrar. ICANN (Internet Corporation for Assigned Names and Numbers) is the body that manages the Domain Name System (DNS).
By registering an internet domain with SupportHost you can manage it independently thanks to the control panel. With SupportHost the domain registration also includes:
Domain with DNS management: web domains registered with SupportHost always include free DNS management.
Privacy protection: all our domains include free privacy protection, so your personal data will not be visible to anyone.
Blocking the transfer: you have the possibility to block the domain transfer so that the transfer does not happen accidentally or without your knowledge.
URL and email redirects: you can manage redirects to another internet domain and you can set up email redirects for free.
With the registration of the domain, moreover, you are entitled to our free support. If you have already registered a domain and want to transfer it, check our guide on domain transfer.
Remember that when you register a new domain the activation is not instant. In the first hours after registration, your domain might not even be visible yet. The reason is due to DNS propagation times. The timeframe ranges from a few hours to 48 hours maximum.
Conclusion
In this article, Domain: the definitive guide, We've seen what an internet domain is and what the differences are with URLs and hosting. We started by looking at what the original top-level domains were and then got to the new extensions.
We then focused on second level domains and found out what rules to follow when choosing a domain name while also examining the possibility of using internationalized domain names. After looking at third-level domains we examined the steps needed to register an internet domain and understood what DNS propagation times are.
What about you, have you chosen a domain for your site yet? Let me know in the comments below.