Are there too many PrestaShop themes and you don't know where to even start to choose the most suitable one for your site?
In this article you will find out what elements to consider when choosing.
At the end, you will also know where to find free and paid PrestaShop themes and how to understand which one is the best for your ecommerce.
Let's start right away with some suggestions!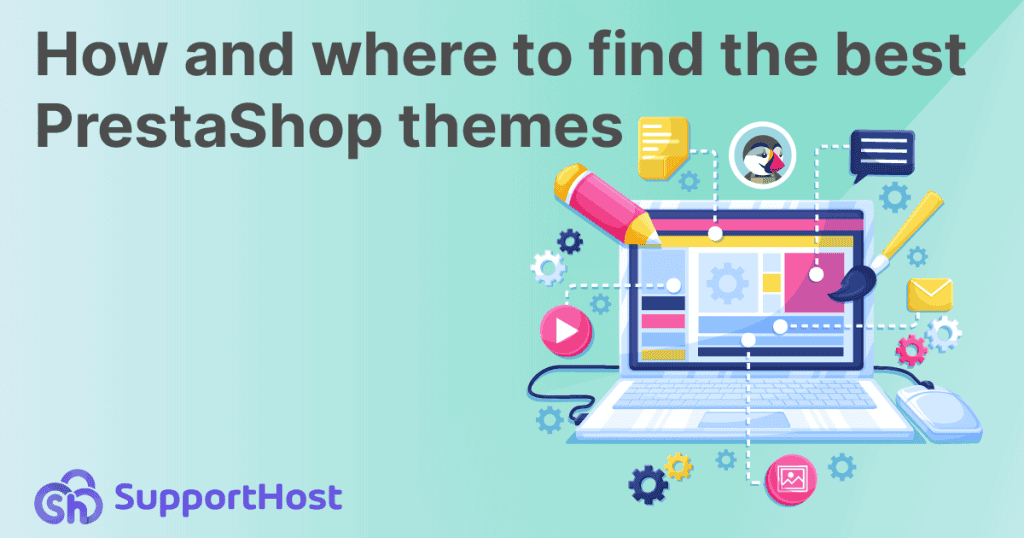 PrestaShop themes: advice on how to choose them
Before starting, let's clarify one thing right away: what is a PrestaShop theme? The theme allows us to define what our ecommerce will look like.
As we also saw in our guide to choosing WordPress themes, there are several factors to consider when it comes to choosing a theme for your site.
The appearance and layout of the site understood as the combination of colors and arrangement of elements and so on, are just one of these factors. You will also need to keep in mind other functions. For one thing: if you want to create a shop in multiple languages ​​you will need to make sure that the theme you choose is designed for the multilingual function.
So let's start our article by going to see which key features we need to evaluate.
At the end of this chapter you will find a checklist that will help you choose the theme that best meets your needs.
Key points to consider when choosing a PrestaShop theme
As you already know PrestaShop is a CMS to create an ecommerce. When it comes to online stores we shouldn't overlook factors such as page loading speed and usability from mobile devices.
These are two crucial factors that can also make the difference between success and failure.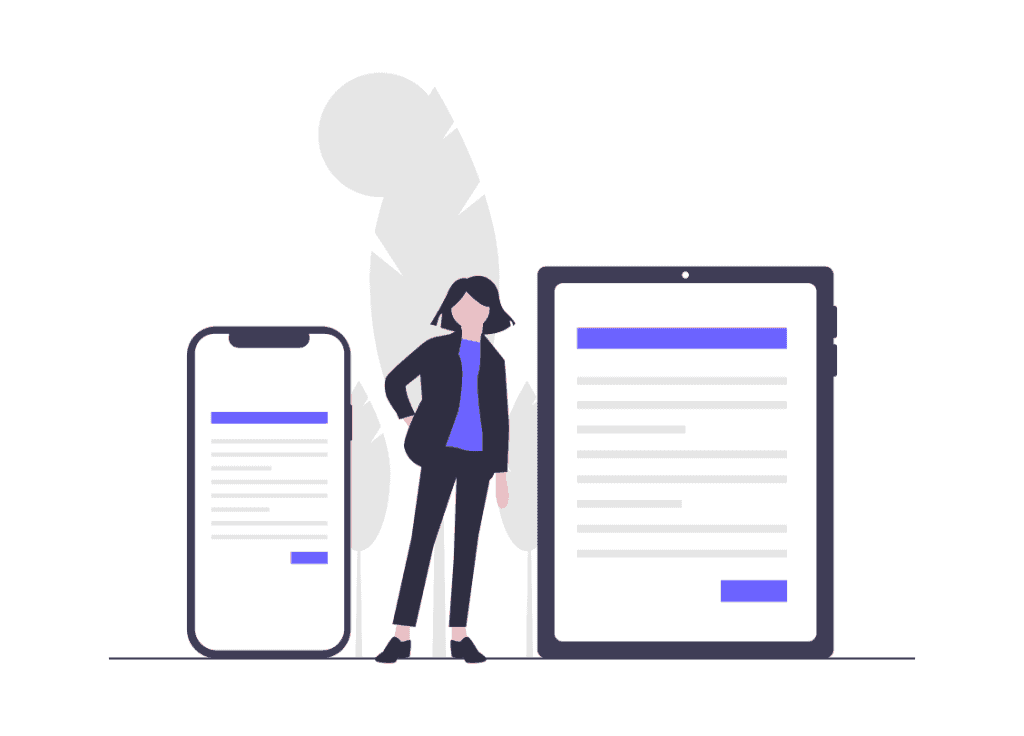 Since marketplaces and directories are full of free and paid PrestaShop themes, how do you choose the best one?
Let's start with some questions you should ask yourself to find the perfect theme.
Will I be able to make changes and customize?
Imagine that you have already found the PrestaShop theme you like. You install it and start shaping your ecommerce, but then you realize that you can't change some elements that you deem essential for the success of the project.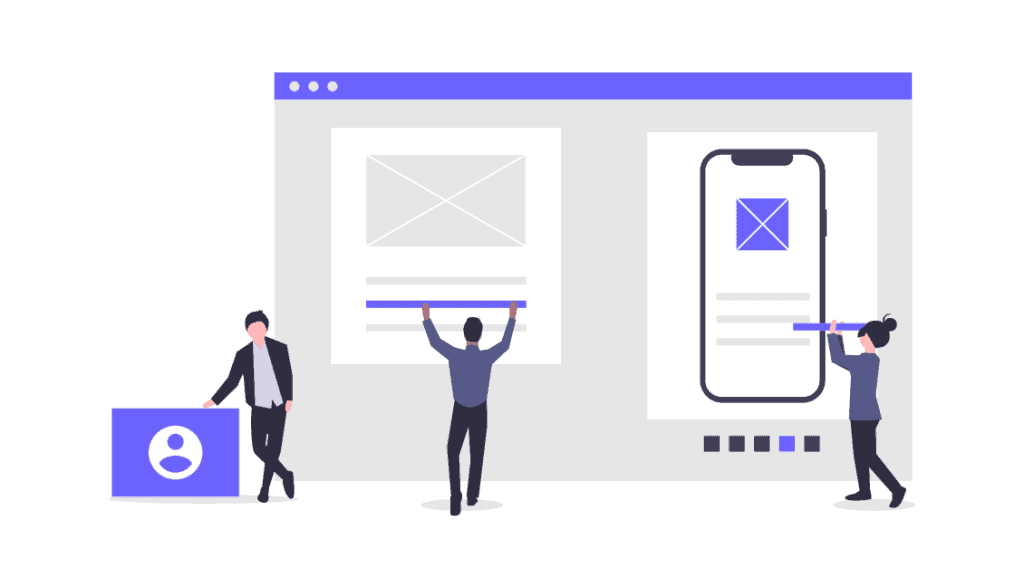 To avoid finding yourself in this situation, there is one thing to do before buying a theme: make sure it can be customized.
Want to learn more about installing and managing themes? Check out our PrestaShop tutorial to learn how.
You can start by looking carefully at the features of the theme.
For example if you are looking for a PrestaShop theme on Themeforest, open the tab of the theme you have selected and check the description.
Often, as in this example that I show you below, the link that refers to the theme demo is also inserted.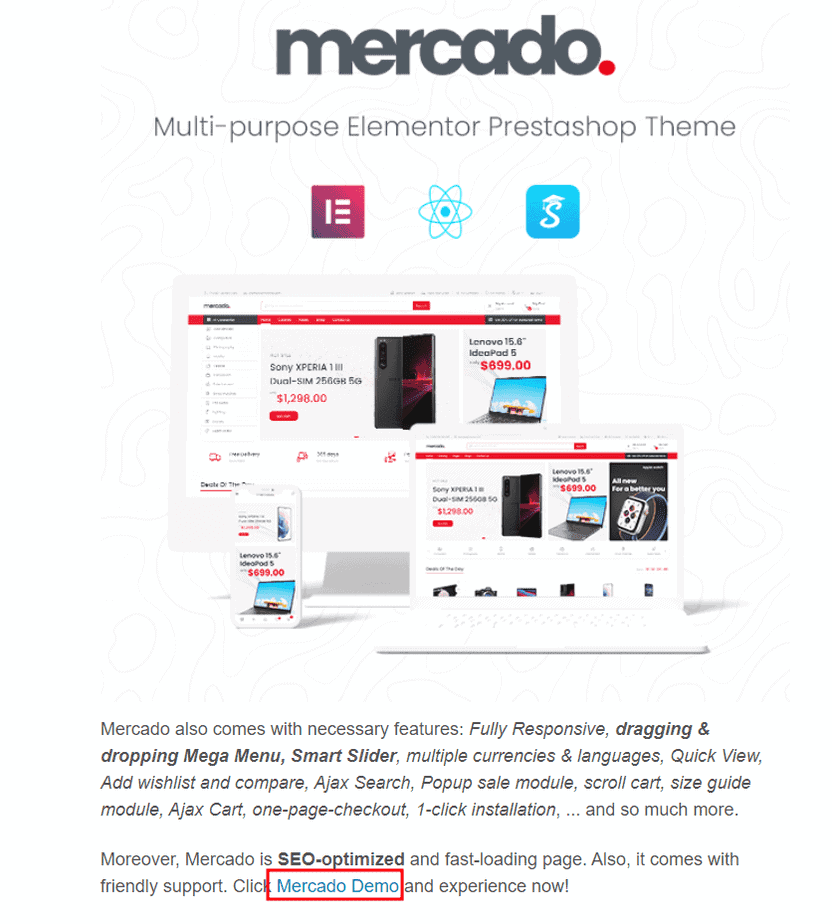 Is the theme responsive?
Did you know that the number of online purchases made from smartphones and tablets is increasing day by day?
In 2022 it is unthinkable to have a website that is not optimized for mobile devices. Even less if it is an ecommerce.
When choosing the theme for your PrestaShop site you should make sure that it is already designed to adapt to any type of screen.
On Themeforest you can easily check that this is the case.
Open the theme tab and check that the Responsive option is listed. Generally you can find this indication in the summary box immediately below the one for purchasing the theme, as I have highlighted below.
Practical tip: when you search among all the PrestaShop themes present on Themeforest, you can use the filters. In this case, just select the responsive tag.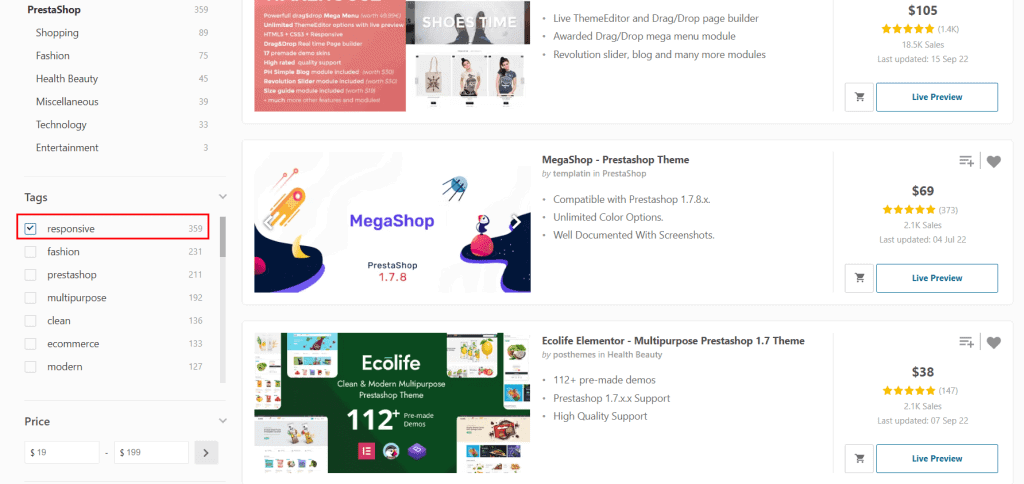 What do those who have already used it say?
The reviews of other users who have already purchased the theme can help you understand if you are making the right choice.
By reading the opinions of those who bought the theme, you can understand if the developers offer support in case of problems and if they frequently release updates when a new version of PrestaShop is available.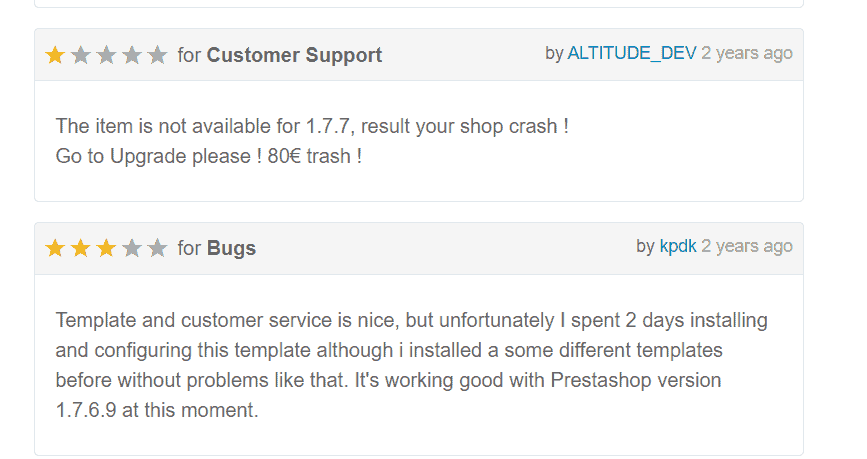 Is the theme updated? Is it compatible with all browsers?
To see if the theme is up to date you can refer to the last update date. On Themeforest it is shown in the side box, as you see in this example: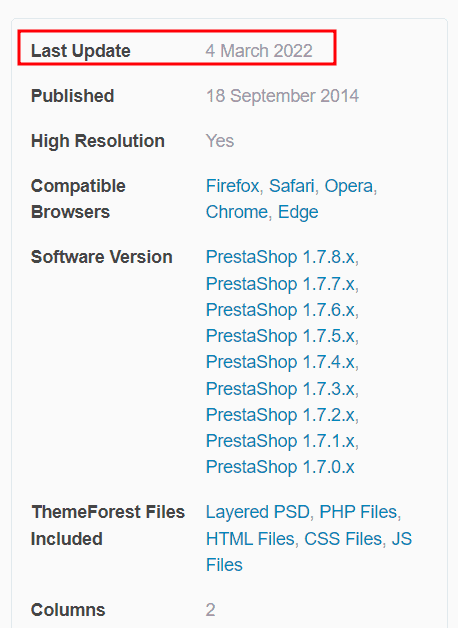 Please note that PrestaShop updates are released periodically. When you update your CMS core files, you may also need to update the theme you're using.
For this reason it is advisable to try to choose themes that are updated with a certain regularity to be compatible with the new versions of PrestaShop.
Before buying a PrestaShop theme, check that it is compatible with the version of the CMS you are using. On Themeforest you can find this information in the box we saw earlier, here:
You should also check that the theme works correctly with all browsers, or at least with the most used ones like Google Chrome or Firefox. Again, Themeforest reports all the specifics in the theme tab: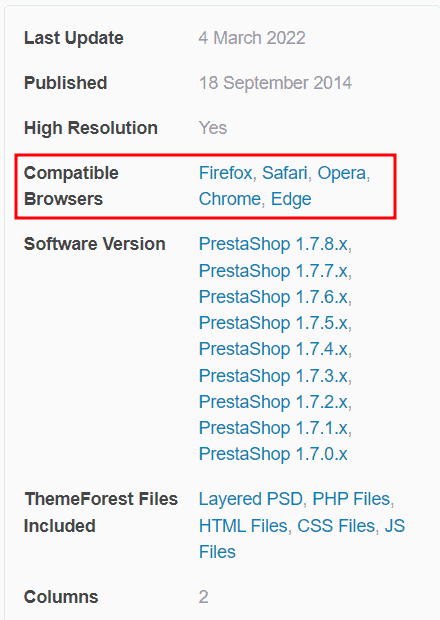 Will I get support for using the theme?
If you're having trouble setting up the theme, you may need support. If you bought a premium PrestaShop theme, usually the first thing to do is contact the developer's support.
Again, taking a look at the reviews can help you understand if the developers are active and responding to requests or not.
Don't forget to look at two items:
the presence of documentation that accompanies the topic;
the length of support included in the license.
On Themeforest you can see them at a glance:
check if there is a "well documented" tag
check how many months of support will be included.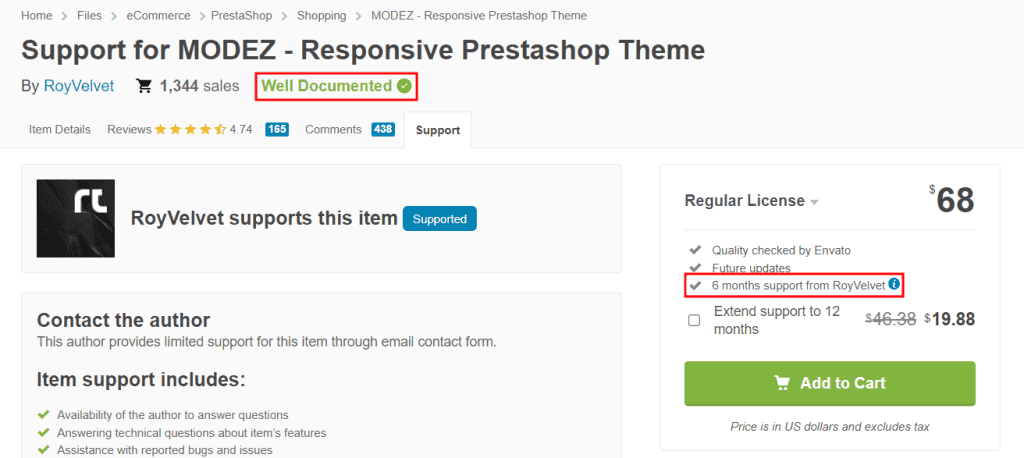 Why is upload speed important?
In our blog you will find an article on the importance of having a fast site. As a provider we know how important site performance is and we often focus on this aspect.
It is no coincidence that our PrestaShop hosting plans all include LiteSpeed, a web server that allows you to get the most out of your ecommerce.
Of course, hosting is only one factor affecting site speed. The size of the pages and the number of requests cannot be underestimated, along with other factors that depend on how the site was created.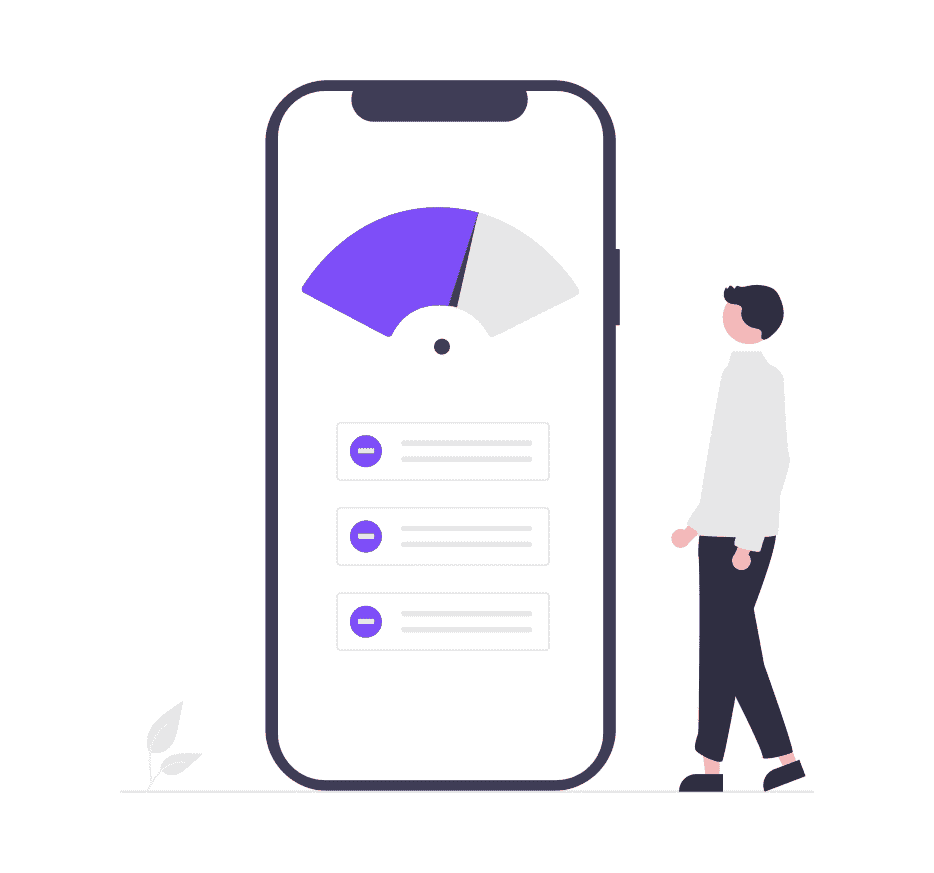 So what does the choice of theme have to do with speed?
The theme can have an impact on loading times, so you should do some testing and choose not only a responsive theme, but also a fast theme!
Handy Tip: Tools like Pingdom and GTmetrix allow you to test site speed.
Will my theme be SEO-proof?
When it comes to SEO (Search Engine Optimization), every detail in the "tuning" of the site can make the difference.
We talked about it in depth in our practical guide on how to do SEO with PrestaShop.
User experience (UX) must be at the center of your thoughts when creating an ecommerce site. However, you also have to take into consideration what search engines "think".
Using breadcrumbs, for example, is a way to please both:
users can use them to go back and switch for example from product to subcategory,
and crawlers can use them to go from page to page and find new pages on the site.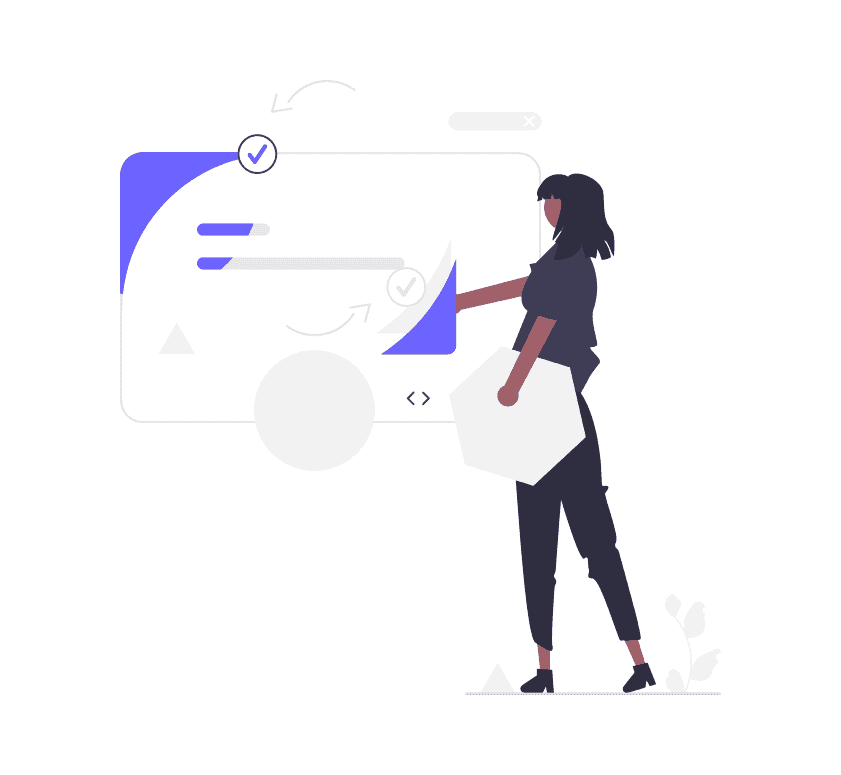 Not all themes have SEO-friendly features like breadcrumbs. This is just an example, other features you might be looking for include the ability to customize navigation menus, headers and footers and add ad hoc functions to product pages.
Practical tip: before choosing the theme for your site, it may be useful to make a list of the functions that you deem essential.
How do I choose the most suitable PrestaShop theme for my site?
Now that we have seen what to consider when choosing a PrestaShop theme, here is an outline that can help you find the most suitable theme based on your project.
Following this checklist will make it easier for you to find the best theme for your PrestaShop site.
1. Choose a responsive theme: make an initial selection, excluding themes that don't adapt to all screens.
2. Check that it is compatible with the version of PrestaShop you are using.
3. Make a list with the functions you need: you know what we said earlier about SEO? There are several features you may want on your site and these often depend on the theme you choose.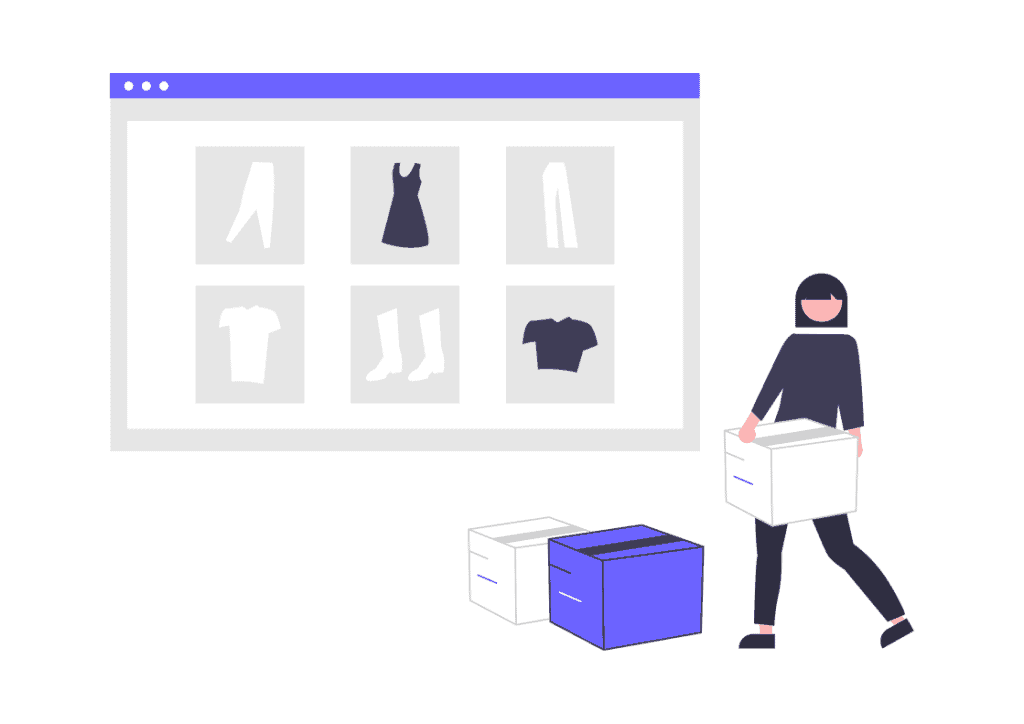 4. Check if there is a demo of the theme before purchasing. Remember that the combination of colors and images of the demos can be misleading. In this case, also make sure you can customize the theme as much as possible to match the colors you want to use.
5. Test everything: evaluate the loading speed, make sure that the features you wanted are present and that everything works properly. Remember that if you have purchased a premium PrestaShop theme you can always take advantage of the refund if applicable.
Where to find PrestaShop themes
Now that we have seen how to choose the best PrestaShop theme for your ecommerce, let's move on to a list of sites where you can find the best free and premium themes.
Best marketplaces for premium PrestaShop themes
There are several marketplaces that gather hundreds of PrestaShop themes in one place.
In most cases these templates are paid, but as we will see in the next chapter there is also the possibility of finding free themes.
Some of the more well-known marketplaces are:
Official addons marketplace: it is the official CMS marketplace where you can find templates and plugins. There are over 2000 themes.
Themeforest – you can find more than 900 themes.
TemplateMonster – Collects over 1300 themes.
LeoTheme: You can choose from nearly 500 themes (even free ones).
Official PrestaShop marketplace for addons
The official PrestaShop marketplace is certainly one of the first places to go looking for the perfect template for our ecommerce.
We currently find 2185 themes, but there are no free templates in this directory.
How can you find what you are looking for more easily?
Use the filters in the left sidebar to refine your search, for example:
Set the theme language.
Filter by features included (for example, choose to only display themes with customizable fonts).
Filter by average customer reviews.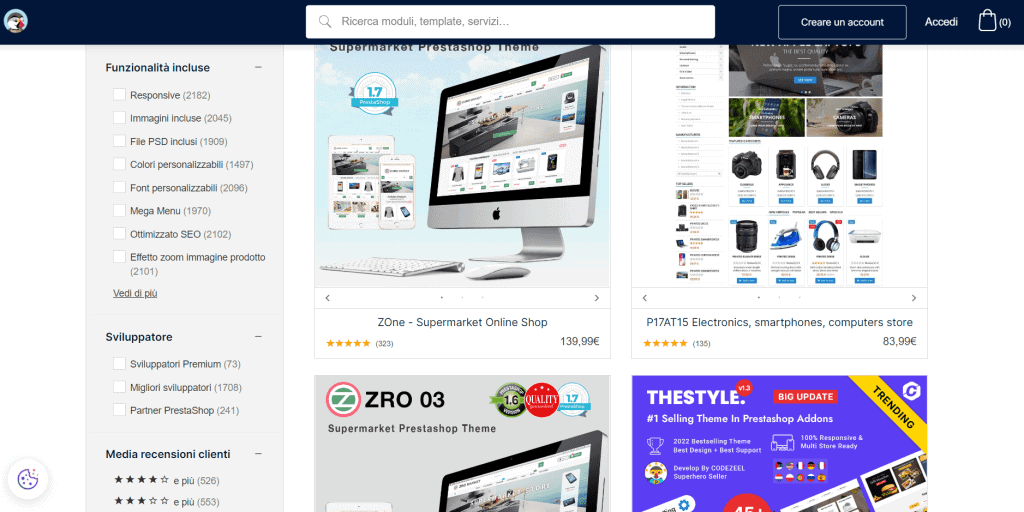 Themeforest
Themeforest is part of the Evato Market and includes a category dedicated to PrestaShop templates as a sub-category of ecommerce themes.
In this section you will also find themes for other platforms designed to create ecommerce sites such as Shopify, Magento and OpenCart.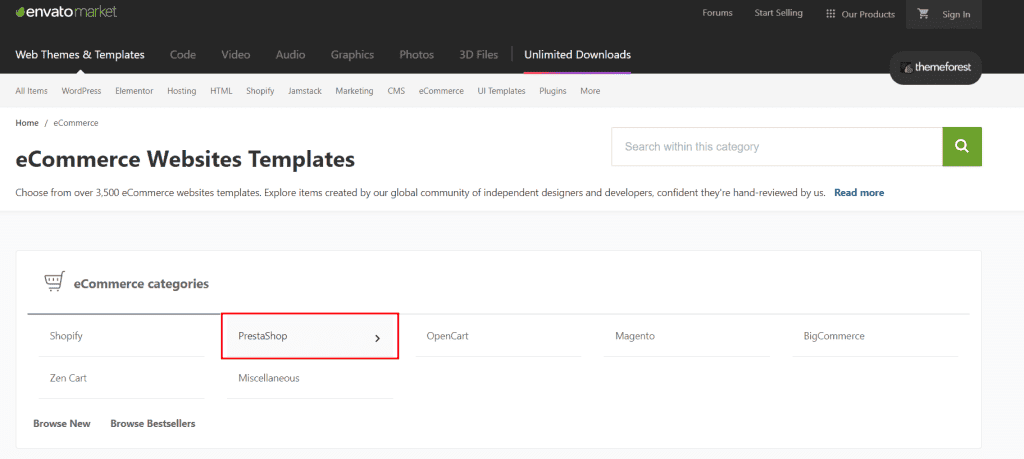 On Themeforest, themes are grouped by categories such as shopping, fashion, technology, health and beauty. Featured you will find the latest offers on PrestaShop templates, the best selling themes of the week, the cheapest ones and so on.
By accessing the whole list of themes, which are currently 927, you can use the filters to sort the PrestaShop themes by price or see the most recently added ones.

From the left menu you can also set a price range or filter based on compatibility with a specific version of PrestaShop.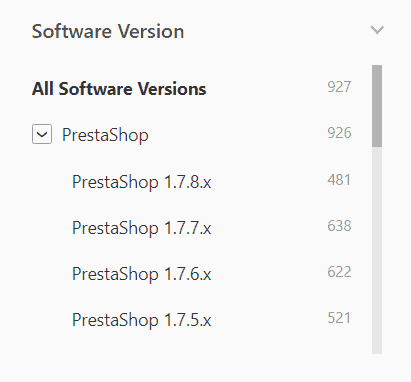 Template Monster
TemplateMonster is another resourceful marketplace for PrestaShop. At the moment you can find 1319 PrestaShop themes divided into categories.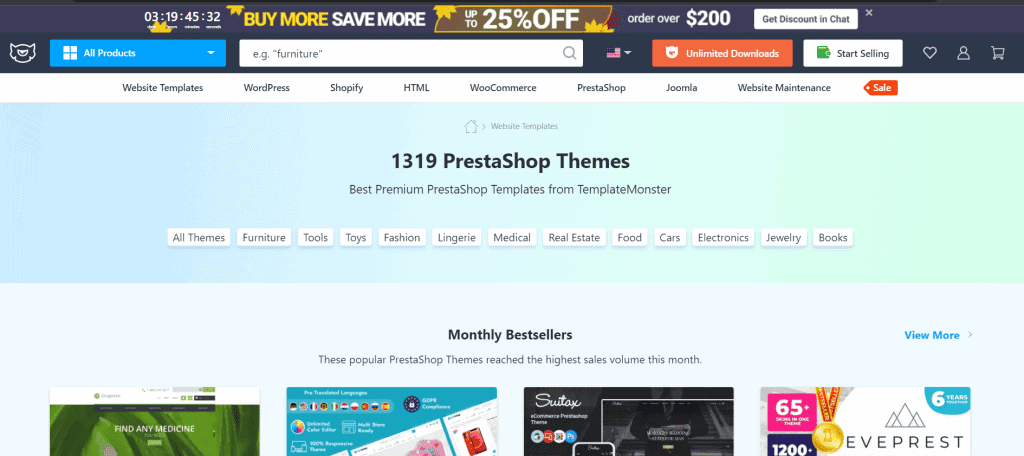 By accessing the list of all the themes, you can filter them in order to see the best sellers, the new ones or sort them by price.
You can also apply filters to select only themes that have certain features. For example, you may only want to see responsive or HTML5 compatible themes.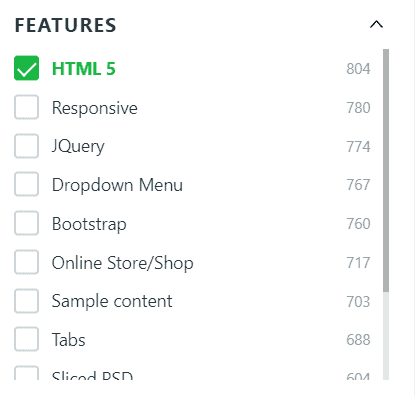 Interestingly, TemplateMonster in addition to selling individual PrestaShop template licenses, also offers a subscription plan. It can be an ideal solution if you are a developer or web designer and need a certain variety of premium themes and addons.
By subscribing to MonsterOne you will be able to access a selection of ecommerce themes and other resources including plugins, assets and 3D models.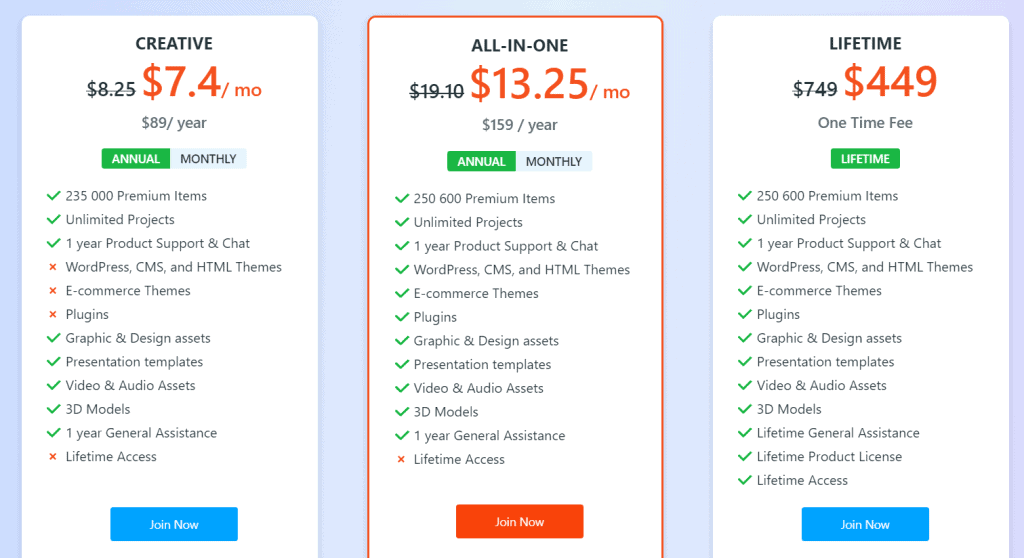 The All-In-One plan, which also includes themes for PrestaShop and other ecommerce platforms is available starting at $19.10 per month, currently discounted at $13.25.
Where can I find free PrestaShop themes?
There are many free PrestaShop themes that you can use for your ecommerce.
If you don't want to invest in a premium PrestaShop theme, you have two alternatives:
use the default theme;
look for a free theme.
Default theme
The simplest thing to do is to use the basic theme, called "Classic", which is activated when you install PrestaShop.
The Classic theme was used as the basis for two child themes:
Classic Rocket which you can find here on GitHub;
Modern Starter Theme that you always find on GitHub, here.
Consulting the two pages that I have linked you can see the list of changes compared to the default PrestaShop theme and see the list of all the available features.
Marketplaces and sites with free themes for PrestaShop
Alternatively, you will have to look for free themes on the marketplaces that we have seen in the previous chapter.
Any examples?
TemplateMonster has the Free template section where you can find 18 free themes.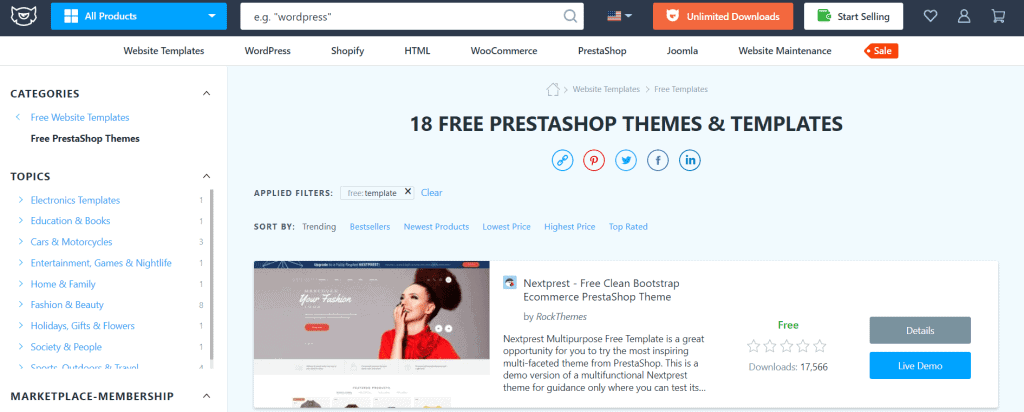 On LeoTheme you will find an entire section reserved for free themes (about 15).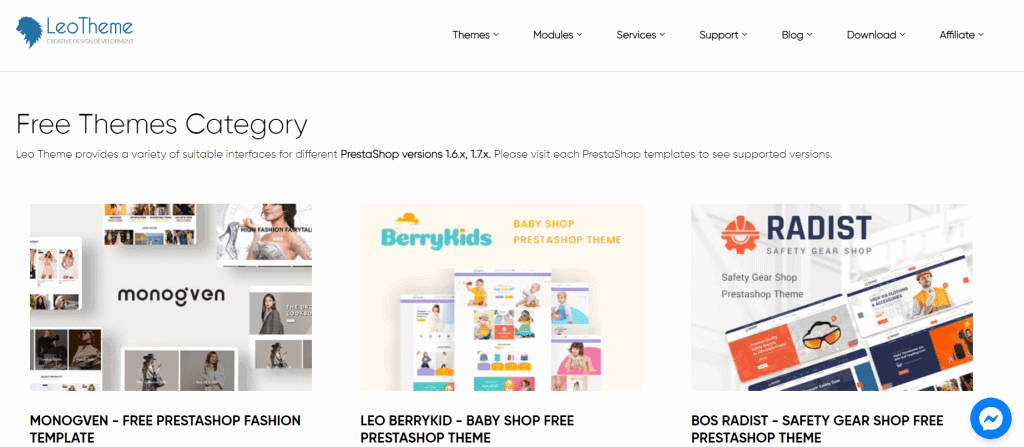 MyPrestaModules provides 8 free templates for your ecommerce.
PrestaHero has a dedicated section with 24 free templates.
If you choose to use a free theme always make sure you download the theme from a reliable source. However, be wary of sites that offer so-called nulled PrestaShop themes.
Nulled themes and plugins are resources that are redistributed for free or at low prices, but they can pose a security risk to your site.
Top 6 PrestaShop Themes
Before concluding our article, here is a selection of premium PrestaShop themes that might be right for you.
To compile this list, we consulted the most popular marketplaces and selected the best themes based on the best-selling ones and with the highest number of positive reviews.
Other criteria that we have taken into consideration in the selection are:
compatibility with all screens (we have selected only the responsive ones);
compatibility with the latest version of PrestaShop (1.7.8.X).
While I'm writing the article the latest version is 1.7.8.7 released in July 2022.
For each of the themes that we will see, we will provide information on where to buy the PrestaShop theme and on the licensing costs.
Since prices may vary or be subject to discounts, always refer to the individual marketplaces. If you find information that is out of date, please let us know with a comment and we will update the article.
Warehouse
With over 18 thousand sales and an average review of 4.84 out of 5 stars, "Warehouse" is one of the best selling PrestaShop themes available on Themeforest.
Among the featured features is the drag&drop editor to create pages and the presence of 17 templates from which to start creating your ecommerce.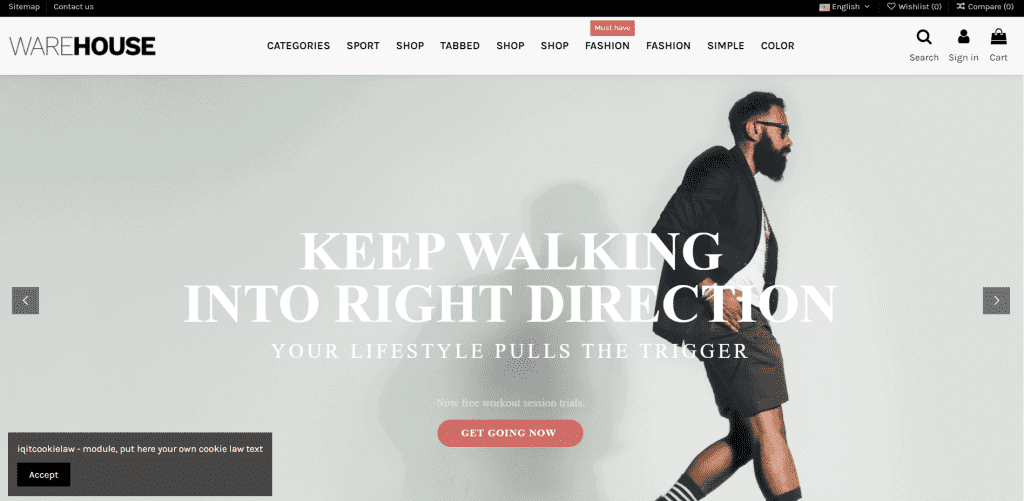 Theme name and developer: "iqit-commerce" Warehouse.
License fee: $105.
Live Demo Availability: Yes.
Link to theme page (on Themeforest): Warehouse.
Eveprest
Eveprest is a multipurpose theme, developed by Zemez, which has over 1100 licenses sold on TemplateMonster with an average review of 4.5 out of 5 stars.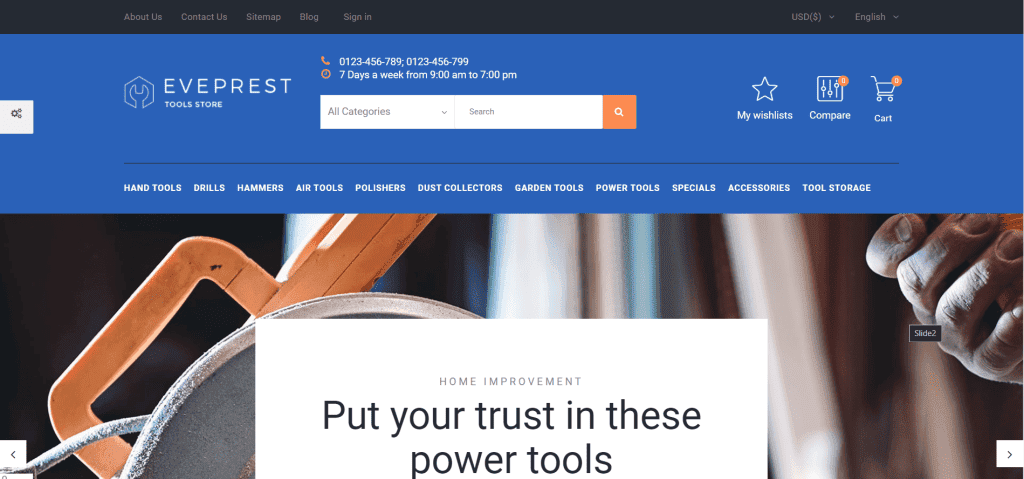 Theme name and developer: Eveprest by "Zemez".
Cost of the license: starting from 111$ (personal license).
Live Demo Availability: Yes.
Link to theme page (on TemplateMonster): Eveprest.
MegaShop
MegaShop is a PrestaShop template available on Themeforest, currently has more than 2100 sales and has an average of 4.86 stars out of 5. It is compatible with the latest version of PrestaShop and easily adaptable for creating multilingual stores.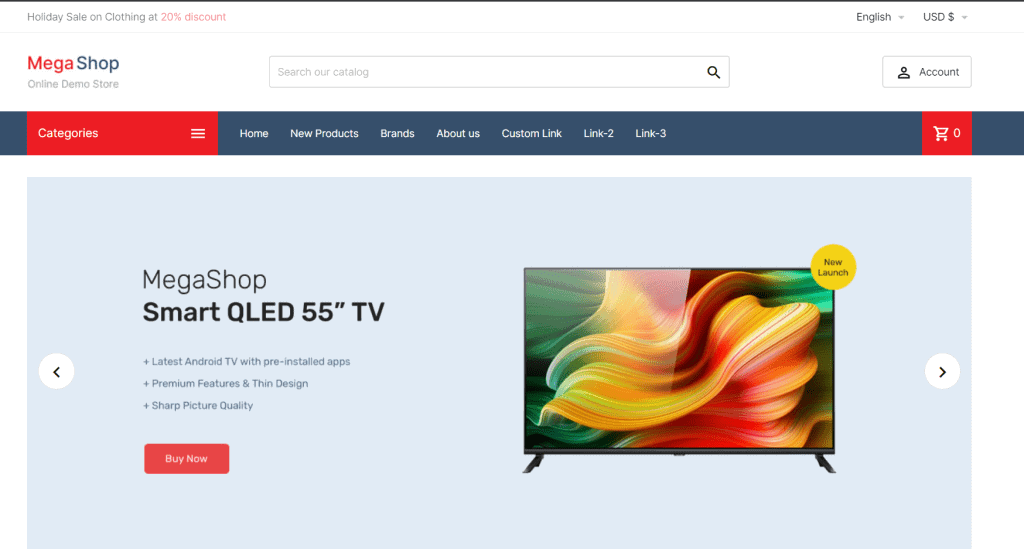 Theme name and developer: MegaShop of "templatin".
License fee: $69 (personal license).
Live Demo Availability: Yes.
Link to theme page (on Themeforest): MegaShop.
Ecolife Elementor
If you are looking for a theme for your ecommerce that already has hundreds of templates ready to be customized, you can take a look at Ecolife Elementor. It is a multipurpose theme available for sale on Themeforest.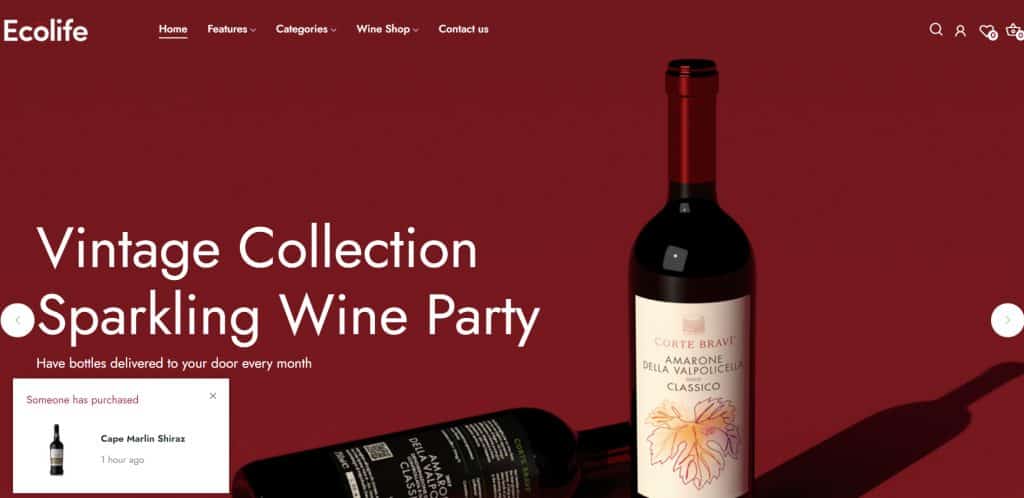 Theme name and developer: Ecolife Elementor by "posthemes".
Cost of the license: 38$.
Live Demo Availability: Yes.
Link to theme page (on Themeforest): Ecolife Elementor.
Modez
Featuring an Elementor-based drag & drop page builder, Modez is among the most popular themes on Themeforest. It has currently sold over 1300 licenses and has a review average of 4.74 stars.
Among the features stands out the presence of different modules to create: advanced sliders, mega menus, dynamic sidebars and much more.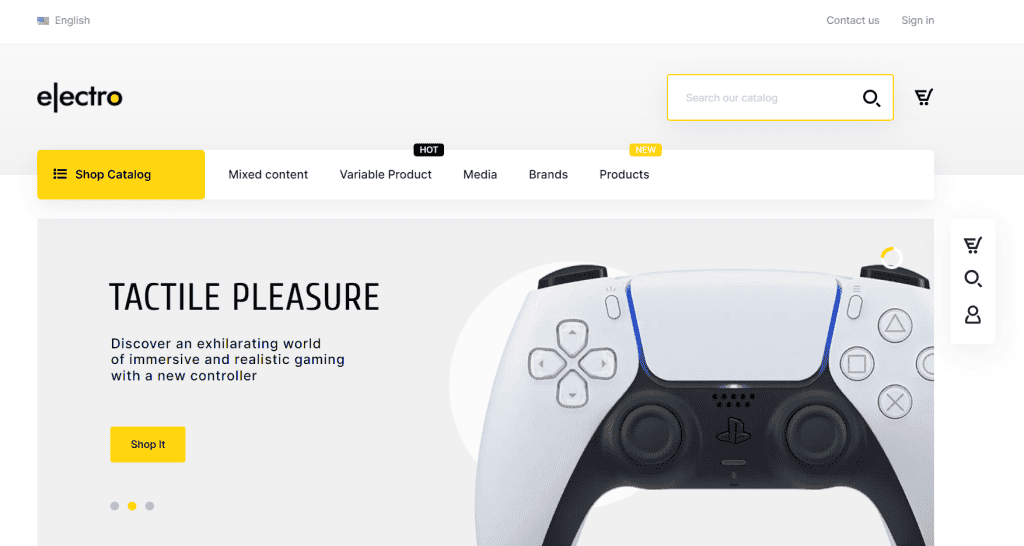 Theme name and developer: Modez by "RoyVelvet".
Cost of the license: 68$.
Live Demo Availability: Yes.
Link to theme page (on Themeforest): Modez.
Electron
"Electron Mega Electronics, High Tech Super Store" is a multipurpose theme developed by ThemeVolty and distributed on the official PrestaShop marketplace. The theme is compatible with the latest version of PrestaShop (1.7.8.X) and supports HTML5.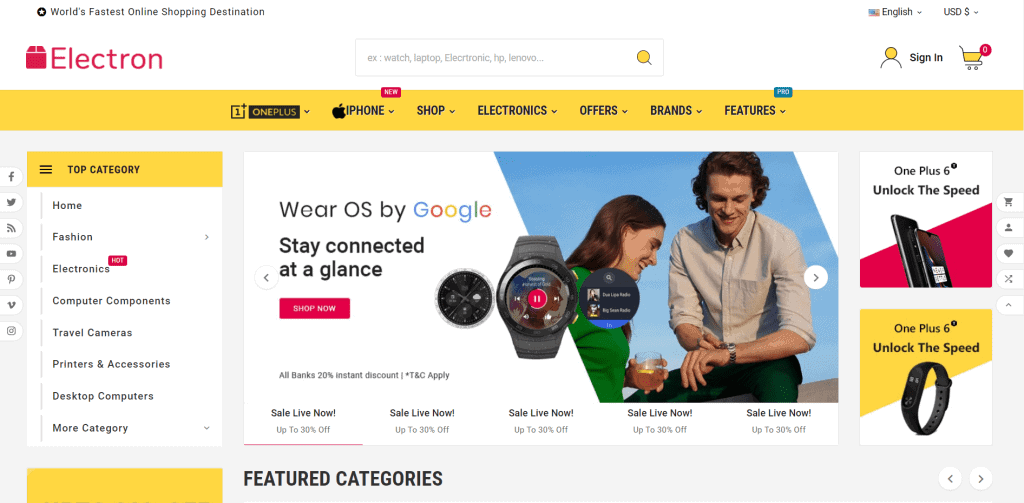 Theme name and developer: Electron Mega Electronics, High Tech Super Store by "ThemeVolty".
License fee: €167.99.
Live Demo Availability: Yes.
Link to theme page (on PrestaShop marketplace): Electron.
Conclusions
From reading this article you will have understood that there is no absolute best PrestaShop theme, but there is the one that best suits your ecommerce.
Now you have all the basics to be able to choose among the hundreds of PrestaShop themes available on the market, the one that best meets your needs. We have seen which aspects to focus on and a practical checklist that helps us choose the best theme based on the project to be carried out.
Whether you are looking for a free PrestaShop theme or want to buy a premium theme, now you know where to start and how to refine your search in the different marketplaces.
Were our suggestions helpful in finding the theme you were looking for? Leave a comment to let us know.