You've probably heard of it before but don't know what it is and what features it has to offer?
In this article, What is Prestashop?, we'll take a look at what it is and what are the features of this CMS.
We will look at the system requirements, available solutions and costs, as well as see how to try out the CMS for free and thus, start creating our online store right away.
First, let's see how the platform was created.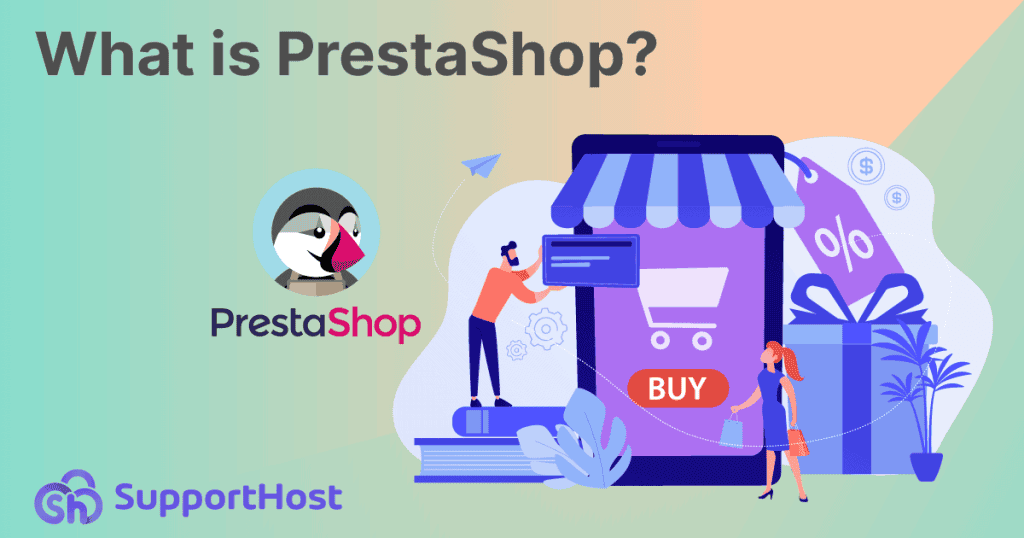 What is PrestaShop?
PrestaShop is a CMS (content management system) created to help you create an ecommerce site. It is a free and open source platform, such as WordPress, Magento and Joomla.
In contrast to other more generic CMSs, PrestaShop focuses precisely on creating and managing an ecommerce, giving us all the tools we need for an online store.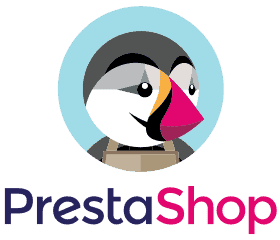 The company behind the platform was established in 2007 and was founded by Bruno Lévêque and Igor Schlumberger.
The open source platform is written in PHP and is released under an Open Software License (OSL). It relies on a MySQL database to function.
PrestaShop and other ecommerce platforms
In addition to PrestaShop, there are also other solutions designed to build an ecommerce.
Currently, according to data from buildwith, PrestaShop is used by 317,575 online sites worldwide.
Then there are more popular platforms such as WooCommerce, the plugin that allows you to create an ecommerce with WordPress. With 3,624,585 sites using it, WooCommerce is one of the top solutions for ecommerce.
Shopify is also hugely popular, the platform has, in fact, 3,986,059 active sites, according to buildwith data. Returning back to the topic of CMSs, we also have Magento with 189,062 active websites.
Want to learn more about the differences between this CMS and Magento? Check out our article on Magento vs PrestaShop to see what they offer in terms of functionality, ease of use and more.
Who can use PrestaShop?
The platform is suitable for small and large companies, and you only have to take a look at the showcase to see some ecommerce companies using it.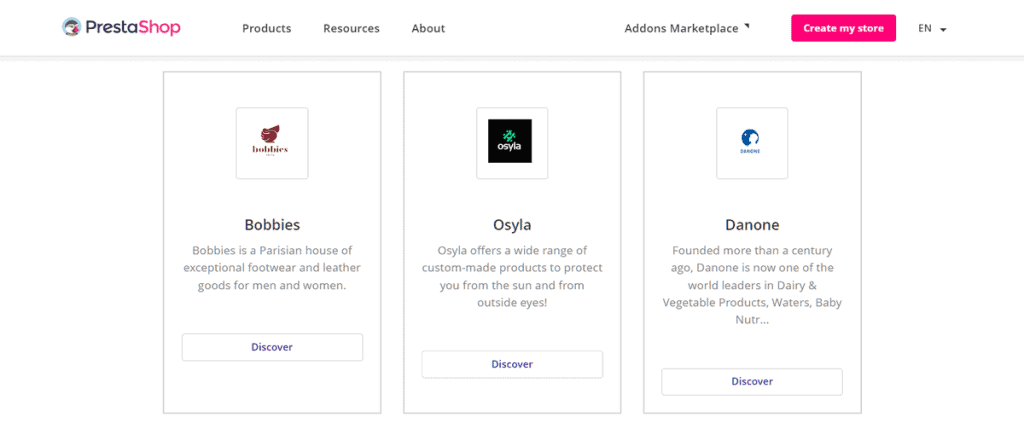 Features of PrestaShop
To better understand what PrestaShop is and what it has to offer, let's see what its main features are.
We will see what the CMS interface looks like, what customization options are available, what payment methods are supported, and what functions are integrated into the platform.
Interface
Like other CMSs, PrestaShop gives us access to an administration panel that forms the back-end of the site, this is also called the "back office" in this case.
From the panel we can create and manage our online store in every aspect. For example, we can configure payment methods, manage orders and customers, and access statistics.Below you can see what the PrestaShop dashboard looks like.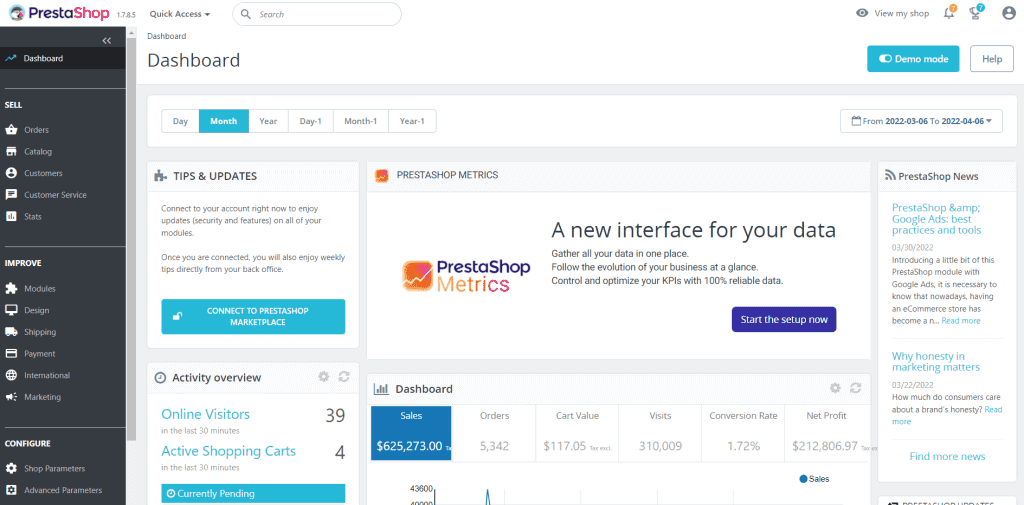 On the left we can find a menu that gives us quick access to all sections.
For example, in the Sales section we find the items: orders, catalogs, customers, customer service, and statistics.
The Improve section allows us to manage payments and shipping, customize the appearance of our online store, and install new modules to add more features.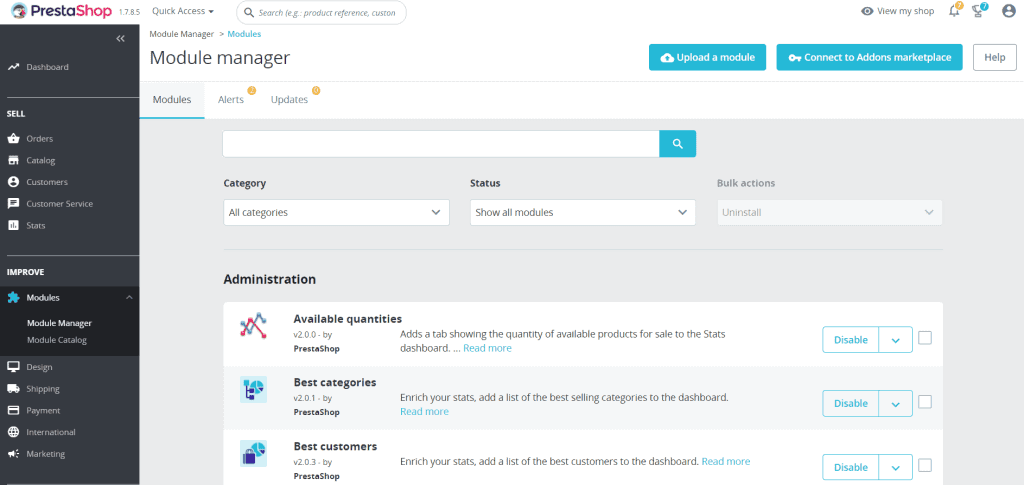 The back-end can be reorganized so that we can easily find the functions we use most frequently.
Ease of use and availability of resources
If this is our first time using PrestaShop, we can follow the tutorial that guides us through creating products, customizing the store, and configuring payment and shipping methods.
In addition, we can rely on the official documentation and other useful resources:
PrestaShop also provides a list of certified agencies to turn to for ecommerce creation, ad hoc module development, migration or optimization.
One can contact the Support center of the platform either to request a one-time intervention or to subscribe to a support plan.
Customization and extensions
CMS functionality can be extended through modules. If you are familiar with WordPress, you can think of PrestaShop's modules as WordPress plugins: extensions that allow us to add new features to our ecommerce site.
Forms are collected in the official addons marketplace. Here you will find free modules such as PayPal or Mailchimp extensions, and others for a fee.
In the PrestaShop Addons marketplace you can also find PrestaShop themes, paid or free, that allow us to change the look of the site.
Suitable for mobile devices
PrestaShop allows us to create a responsive online store. This means that our customers will also be able to browse from mobile devices.
In addition, the back-end is also responsive, so management by us will be simplified regardless of the device we are using.
Integrated features
PrestaShop, unlike other CMSs, was created specifically to allow the creation of an online store.
This is precisely why it already has built-in functions that allow us to manage products, customize the store, and manage customers and orders.
Product management
We can create products easily, show alerts when an item is out of stock, add different variations for each item, create pages for digital products, and sell customizable items.
PrestaShop also allows us to configure discount coupons, create offers or select free shipping.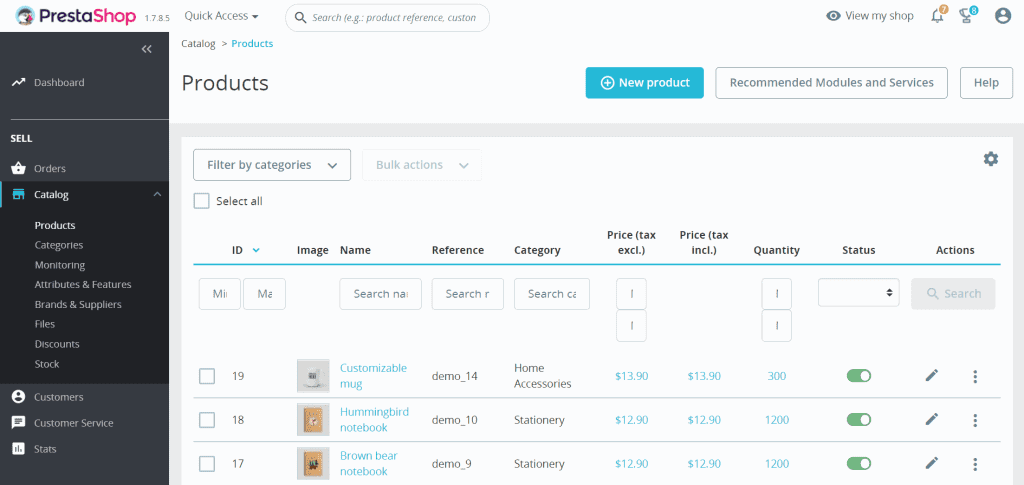 In addition, we can choose to highlight certain products and manage inventory in order to keep track of stock in the warehouse.
Store management
Along with product management, another key element is store management.
In the initial configurations we can select the payment methods: for example, PayPal, Stripe, Google Pay, Amazon Pay and many other methods, thanks to the modules of the different providers.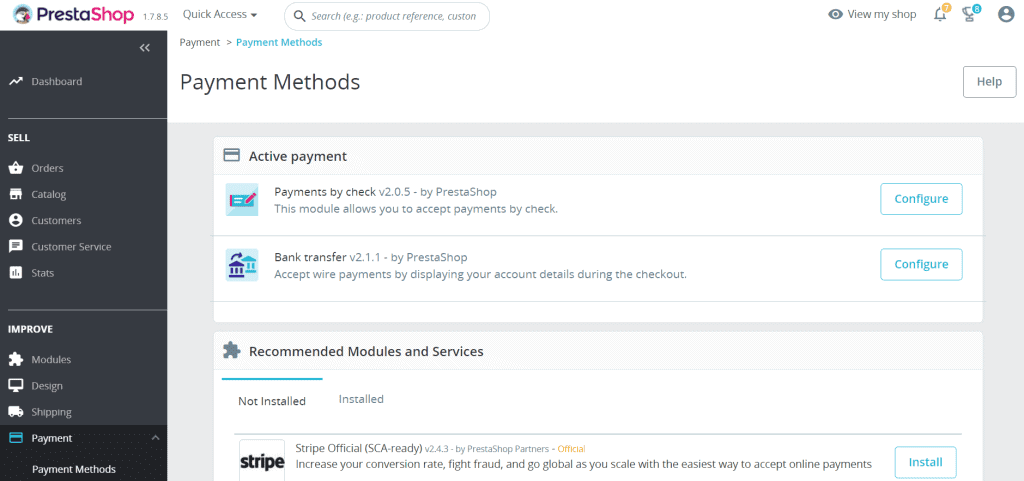 PrestaShop also allows us to easily manage shipping methods, associating couriers based on geographic areas and calculating the price for each shipment.
Our online store must not only be practical, but also functional. That is why the CMS provides us with all the tools to improve the user experience on our ecommerce.
For example, we can organize products, add filters to help customer search, but also add a search bar on pages not found (error 404).
We can also configure to send automatic emails in the case of:
abandoned trolleys
products in stock again
reminder of the products displayed.
Advanced tools
In addition to marketing tools, the CMS also provides us with tools to optimize with SEO, the product, catalog pages and create SEO friendly URLs. In addition, there are modules that allow us to optimize pages for Google.
PrestaShop also has advanced features, such as multilingual support and the ability to manage multiple stores using a single administration area.
We can choose from 75 languages supported by default and create multilingual tabs for our products. The CMS allows us to make products available in different currencies and make the exchange rate process automatic.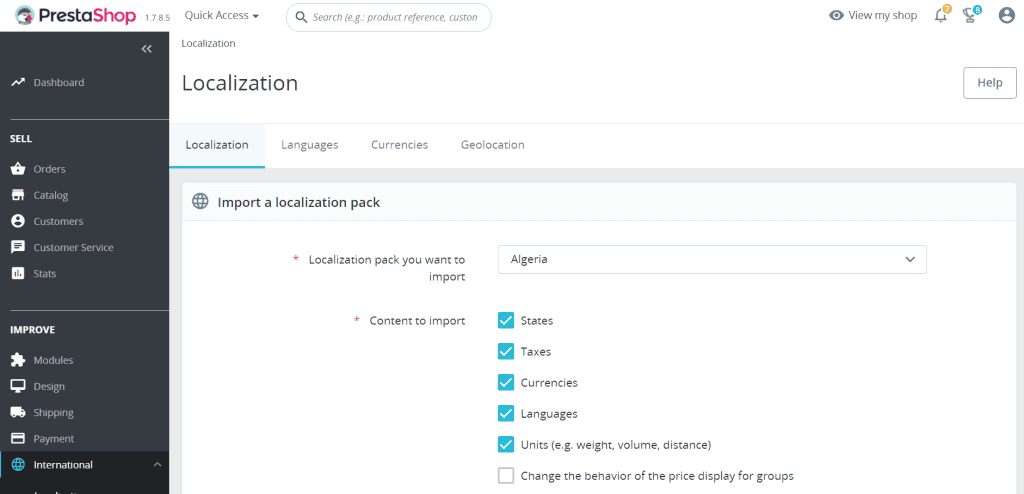 In addition, the platform gives us access to statistics on sales, traffic within the site, and products that are attracting visitors' attention.
PrestaShop also allows us to create warnings and disclaimers, both on product pages and on dedicated pages.
The CMS allows us to adapt the checkout to European laws, and there are also modules to adapt the store according to the GDPR. In addition, we can also show fees depending to the customer's location.
Customer and order management
PrestaShop allows us to manage our ecommerce customer list, update contact information and group customers.
We can also configure preset responses for customer service, manage return processes, and generate credits in case a refund is needed.
From the back-end of PrestaShop we can access the list of all orders, edit them and enable notifications whenever a new order is placed.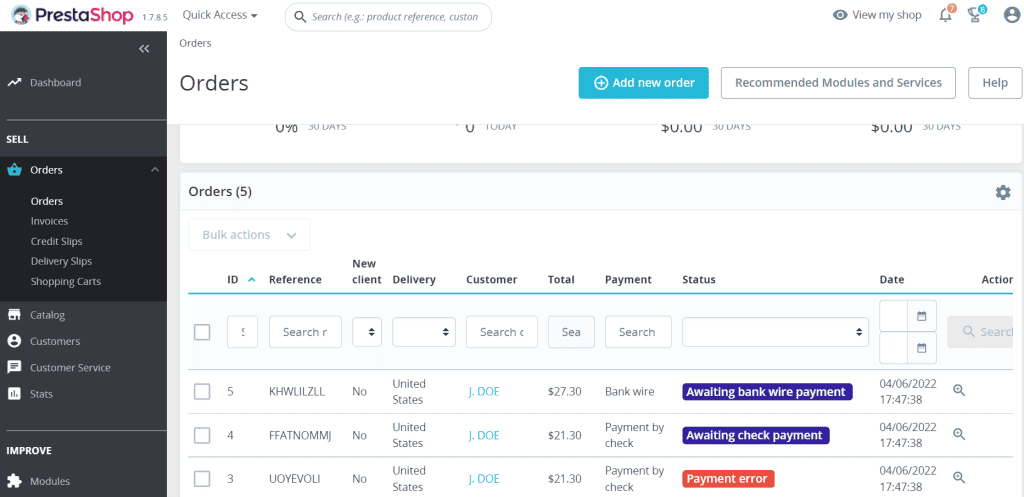 Again, we can create automated emails to update customers about order status and notify them when the order is processed and shipped.
PrestaShop demo: how to try the CMS?
Now that we have seen what PrestaShop is and what its main functions are, you may be wondering if there is a way to try out the CMS for free.
Let's start by saying that PrestaShop does not provide a trial version.
You can access the demo version online and get a preview of what the store looks like as well as the back-end features.
If, however, you want to test the features outright by trying to create your own online store, you can try our PrestaShop hosting for free.
Just activate the free trial for 14 days and you can do as many tests as you want and then decide if the service is right for you.
PrestaShop: costs
We cannot talk about what PrestaShop is without mentioning their costs. If you're interested in creating an ecommerce, you'll need to know what budget you'd need. This means considering not only the running costs, but also the costs of setting up your online store.
The choice of platform, therefore, is also important from a budget perspective.
Let's start by saying that PrestaShop is a free CMS that you can download from the site in the download section.
Alongside the free and open source solution, PrestaShop also offers the PrestaShop Platform service: a managed solution that also includes hosting.
PrestaShop open source and PrestaShop Platform comparison
When we talk about PrestaShop we have to make a distinction between the CMS itself and the PrestaShop Platform service.
Let's see what distinguishes these two solutions.
What is PrestaShop open source
PrestaShop open source is a free CMS. This means that you have no cost to use the platform and no commission on sales, as is the case if you decide to sell online with marketplaces.
To bring your site online, of course, you need a hosting service, and you need to choose the plan that suits you best.
To start creating your site with PrestaShop you have two alternatives:
The requirements for installing PrestaShop on the server are as follows:
Web server: Nginx or Apache 2.2+
PHP 7.1 or higher
MySQL 5.6 or higher.
Caching systems such as MemCached or OpCache are recommended to improve performance. On our PrestaShop hosting plans we use LiteSpeed + LSCache (in addition to OPcache and memcached).
What is PrestaShop Platform
PrestaShop Platform is a managed solution that provides you with both the platform and the hosting service.
There are three plans currently available: size M, L and XL.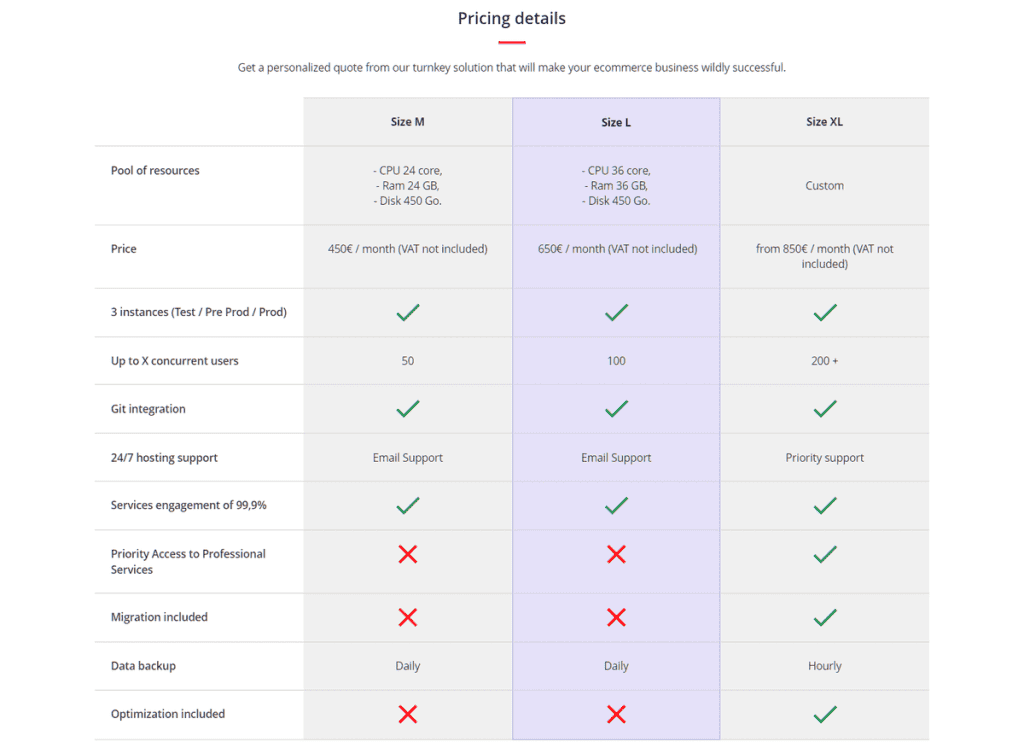 Plan M has the following characteristics:
CPU 24 cores
RAM 24 GB
Hard Disk 450 GB
Cost: €450 per month (excluding VAT).
Plan L:
CPU 36 cores
RAM 36 GB
Hard Disk 450 GB
Cost: €650 per month (excluding VAT).
Plan XL is tailor-made and the cost starts at 850€ per month.
PrestaShop open source or Platform: which one to choose?
No one solution is better than the other, but it all depends on your needs.
To orient yourself, you can examine the features of the service operated by PrestaShop and compare them with those of the providers to see which alternative is right for you.
For example, one of the features of the PrestaShop Platform service is the possibility of staging.
It is a development environment that allows us to make all appropriate changes and, thereafter test them by applying them on the site in production.
Remember that some providers offer staging as an additional service.
In all of our plans at SupportHost you have Softaculous available. The software allows you to install PrestaShop and create a staging of the site with one click.
Conclusion
In this article, What is PrestaShop?, we have seen that it is one of the open source platforms that allows us to start an ecommerce.
We started with the features of the platform, saw what tools are integrated and how it is possible to extend the functions through the available modules.
We looked at the solutions available from choosing a hosting plan with the CMS preinstalled to the PrestaShop platform service and examined the costs of the different plans.
Do you have more questions about the platform? Let us know in the comments below.