Are you looking for Joomla SEO tips and best practices? In this guide, we've gathered practical tips that you can implement on your site.
Before starting, we need to make a small premise.
This is not meant to be a guide to SEO optimization of the site in its broadest sense. Instead of focusing on the steps that are valid for all sites: keyword research, link building strategies and so on, we wanted to collect specific indications for Joomla.
All the aspects that we will see: from the configuration of the URLs to the optimization of the contents will contain precise information that you can put into practice right away.
Let's start with a small glossary useful for becoming familiar with the terms we will use.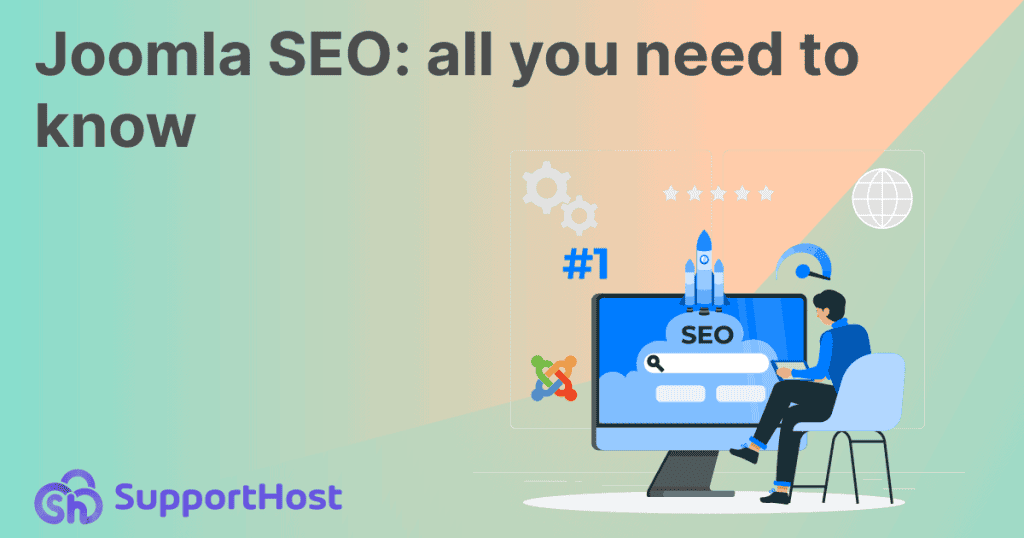 SEO Joomla: a quick glossary before starting
We have already talked about what SEO is in our blog. When we talk about search engine optimization (in English Search Engine Optimization from which the acronym SEO), we refer to all those strategies that have as objectives:
improve the positioning of the pages of a site.
increase organic traffic by improving the click-through rate on search results.
When you hear about SEO, therefore, you will come across other acronyms and terms in common use, let's see them together so that you can better understand this guide to SEO optimization of Joomla.
SERPs
SERP stands for Search Engine Results Page and represents the search engine results page.
Simply put, it is the page that is shown by Google or another search engine after you search for a query.
In this example you see the SERP on Google for the query "choose a hosting":
CTR
The acronym CTR stands for Click-Through Rate and represents the percentage of clicks. This metric is used for both ads and organic results.
In practice it is the ratio between the number of clicks on a search result and the number of impressions.
For example, a result that has been clicked 6 times and viewed 100 times (number of impressions) will have a CTR of 6%.
UX
With UX we refer to the User Experience, the user experience. Meaning can be wrapped up in the act of designing your site or app to provide the best possible experience for its users.
Can people navigate easily? Is the experience pleasant and does it meet expectations?
These are some of the questions that arise when thinking about UX.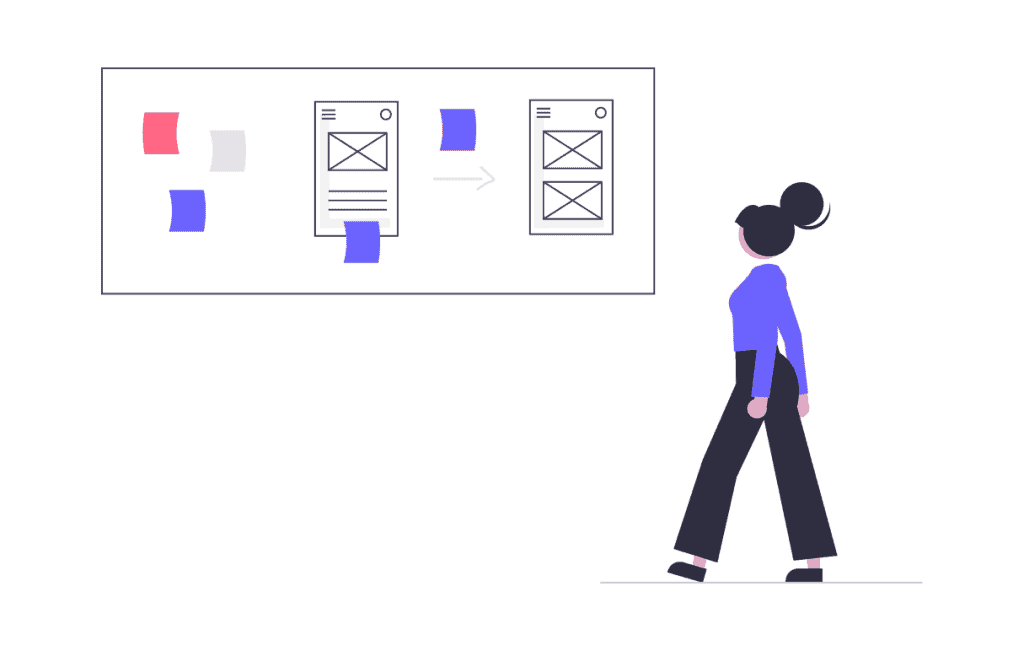 But what does it have to do with SEO?
One of the most common mistakes one can fall into is thinking that optimization is about creating attractive content for search engines.
In reality the focus should be shifted more and more towards people. This is why we hear about the user-first approach in SEO.
A bad UX, content that doesn't respond to search intent, sites that load slowly. All these factors penalize the user experience, forcing them to abandon the site.
On the contrary, creating content that meets people's needs drives them to increase the time spent on the pages, have a satisfying experience and return to the site. All behaviors that are perceived by search engines which can thus decide to reward the sites accordingly.
Ranking factors
Ranking factors explain why there is no magic formula for "doing SEO". Search engine optimization aimed at improving ranking (i.e., positioning) has to consider many facets.
Let's start from the beginning. What are ranking factors?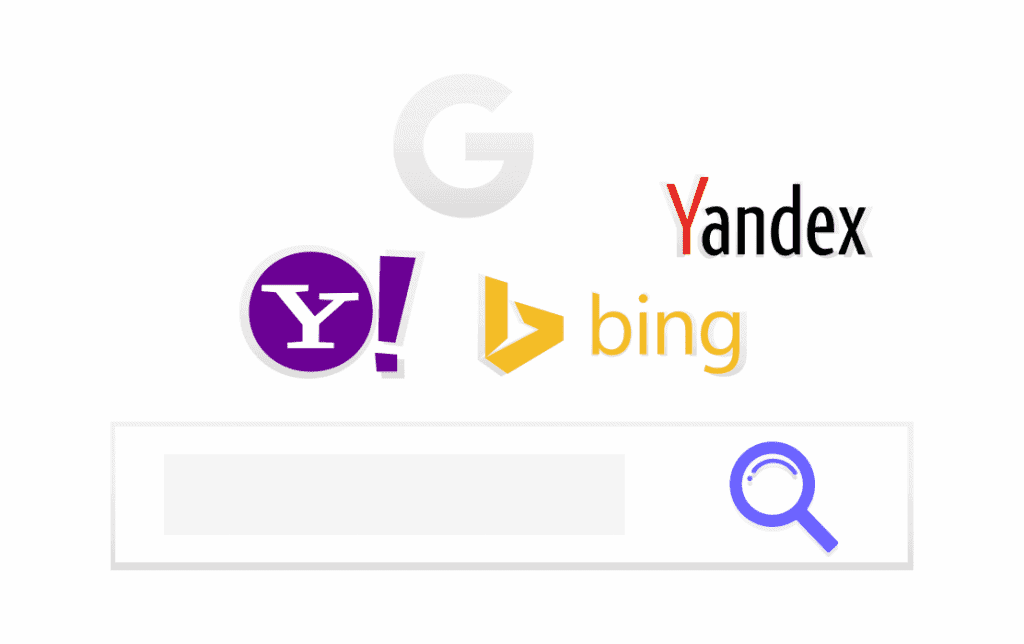 To date, Google's SERPs are the result of an algorithm that takes into consideration over 200 ranking factors. We are therefore dealing with two hundred different parameters, each with a different weight, which determine the relevance of the pages in response to a given query.
Some of these signals are related to the domain, others to the security and performance of the site. A distinction is then made between On-Page signals linked to the actual content of the pages, and Off-Page signals, among which there are also backlinks, i.e. links from other sites and which one aims to obtain with the so-called link building strategies.
This is just a brief hint to give you an idea of ​​the macro-categories of parameters that are taken into consideration.
SEO Optimization Joomla: where to start?
We just talked about ranking factors. With over 200 parameters to consider, does SEO with Joomla mean optimizing them one by one?
Not exactly. The best method is to follow a logical procedure that leads us to improve Joomla SEO starting from the first important elements.
In this guide we will see all the practical interventions that we can do with Joomla with the aim of improving the positioning of the site and the contents.
We will therefore focus on:
SEO settings built into Joomla;
On-Page SEO improvements;
technical improvements.
How to set up SEO-friendly URLs with Joomla
If you are building a site with Joomla, one of the most important SEO settings to know is how to change the URL structure.
In this section of the guide we are going to see how to configure SEO settings for URLs.
The screenshots you will see refer to the latest version of Joomla currently available: 4.2.5.
Why is it important to change the URL structure?
When we install Joomla the default configurations of the CMS cause the URLs to have a structure like this:
website.com/index.php/category/page-name
Or like this:
website.com/index.php/blog/category/page-name
Here you see a practical example:
To create SEO-friendly URLs we can remove the elements we don't need in order to shorten the URL.
Note that very long URLs are not fully displayed in the SERPs. It is also preferable to use explicit and human readable URLs. You can find specific examples of recommended and discouraged URLs in Google's developer guidelines here.
Let's see immediately how to set them with Joomla.
Let's remove "index.php" from the URL
The first thing to do is remove "index.php" from the URLs in order to reduce the overall size.
We access the Joomla backend and go to System > Global Configuration, as I show you here: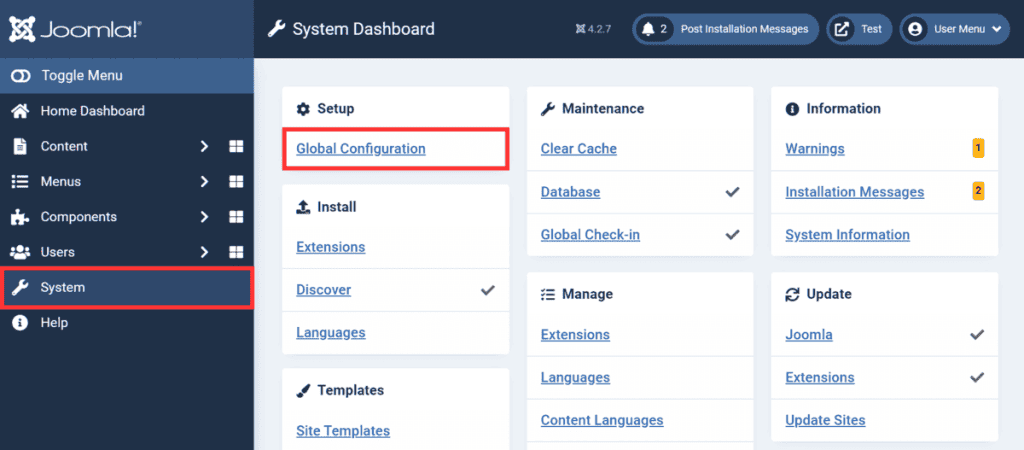 From the "Site" tab, the first settings tab that opens automatically, scroll down to the SEO Settings section. Here we find several options:
Enable SEF URLs – this feature is enabled by default and we just leave it that way.
Use URL Rewriting – we need to activate this option which was deactivated by default.
Here's what our settings should look like: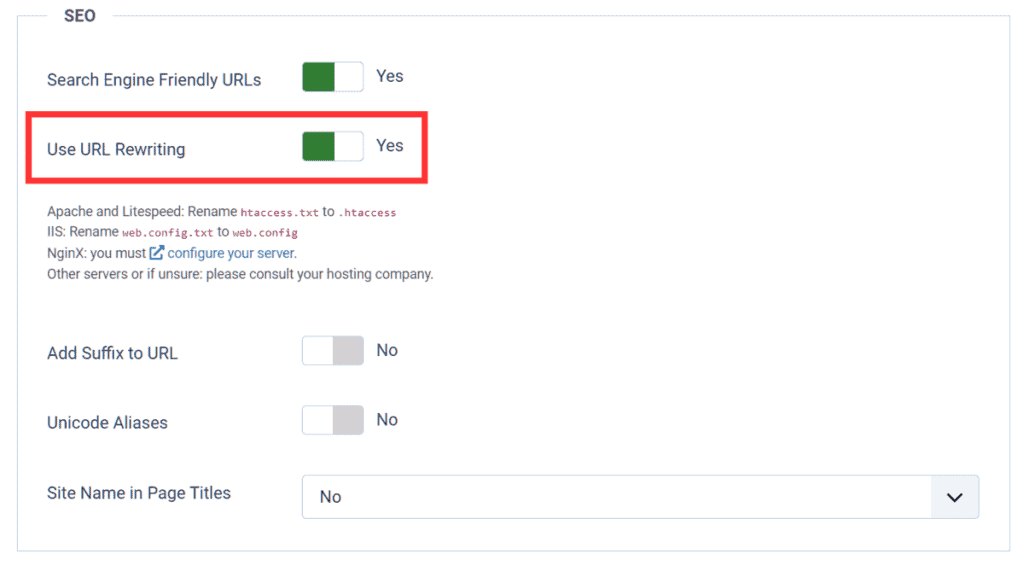 Note that when we activate the Use URL Rewriting option, a message appears indicating the next steps to take.
At this point the next steps depend on the web server we are using:
With Apache and LiteSpeed ​​we have to rename the htaccess file as I'll explain in the next paragraphs.
With IIS or NginX we have to configure the server following this Joomla guide.
In our Joomla hostings we use either Apache or LiteSpeed ​​(depending on the plan you choose). In this case we just need to rename the htaccess file.
Let's see how.
Rename the htaccess file
When we install Joomla, the CMS automatically creates a htaccess.txt file in the installation folder.
Our goal is to rename the htaccess.txt file to .htaccess.
We can proceed as we prefer:
Regardless of the method used, the next step is the same: we need to rename the file. Here I show you how we did it directly from cPanel:

At this point the URLs of our site will have the following structure: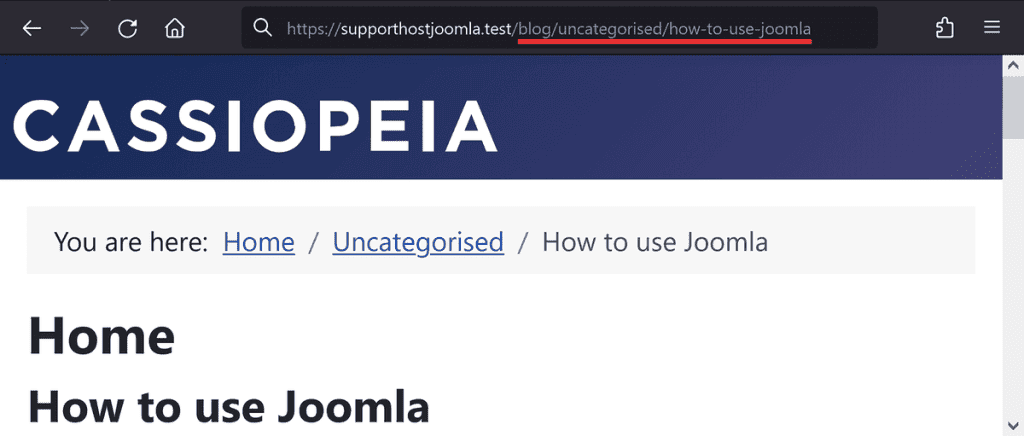 As you can see "index.php" no longer appears in the URL.
Optional step: URLs include page IDs
With the new versions of Joomla you shouldn't have this problem, but let's see what are the settings to change to remove the IDs.
If IDs are present, the page and post URLs will look like this:

As I indicate in the screenshot above, the category and the name of the article are preceded by an ID (respectively "2" and "6").
It goes without saying that this type of structure is not very readable, so it is better to use a leaner one and remove the IDs.
From the settings of the global configuration let's move on "Articles", as I show you here:
Let's open the "Integration" tab and scroll down to the Remove IDs from URLs option.
We need to make sure that this feature is active (set to Yes). If it's not, we just activate it and save, as I indicated here: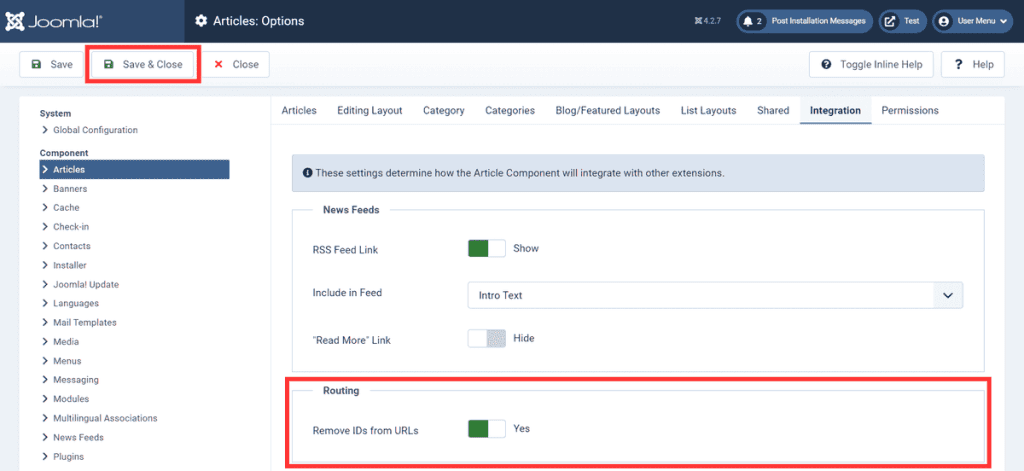 How to activate Gzip compression
Among the Joomla SEO options we find the possibility to activate Gzip compression. This feature allows us to reduce loading times and thus have a fast site.
Note that compression must be available and enabled on the server in order to use it. All our hosting plans include this feature, we have created a tutorial to explain how to activate Gzip compression from cPanel.
To activate Gzip compression directly from Joomla, just follow these steps.
We access the Global Configuration settings and open the "Server" tab, then activate the Gzip Compression option as I show you here: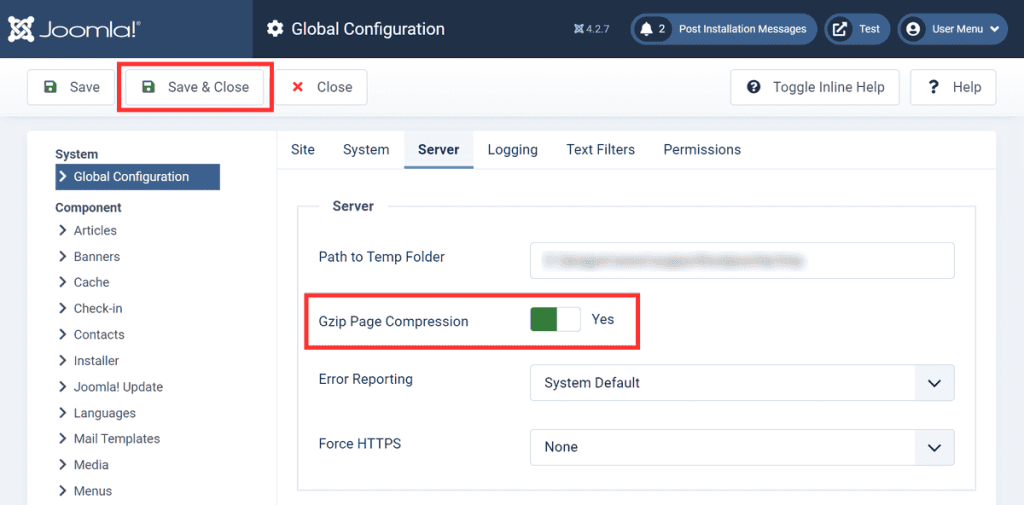 To check if the compression is activated correctly we can use two methods.
The first is to use the browser's developer tools. Here I show you an example of verification with Firefox:

You can also use an online tool, like this one, to check if compression is on.

SEO Optimization Joomla On-page: the contents
We have concluded the chapter on how to activate SEO settings in Joomla 4.
We are now ready to start a new important topic: On-Page SEO with Joomla.
When we talk about On-Page content optimization we are not referring only to textual content, but also to specific elements of our pages:
Title – is the title of the page that will be displayed in search engine results.
Meta description – is the description that is shown in the SERPs, immediately below the title.
Alt text – it is the text that describes the images, it is shown for example when the image is not loaded.
Menu – we need it to ensure optimal navigation within the site.
Tip: For further reading, check out our SEO analysis guide where content analysis is covered extensively.
This chapter will guide you step-by-step on SEO optimization of Joomla content.
Title
The HTML title tag is the title of the pages and articles. Remember that with Joomla pages and articles are managed from the same section of the back-end, called "Articles".
Let's see how to set the title in Joomla.
Open the article to edit or create and click on the Options tab. Then scroll to the bottom of the page where we will find the Browser Page Title field and enter the title we want to use.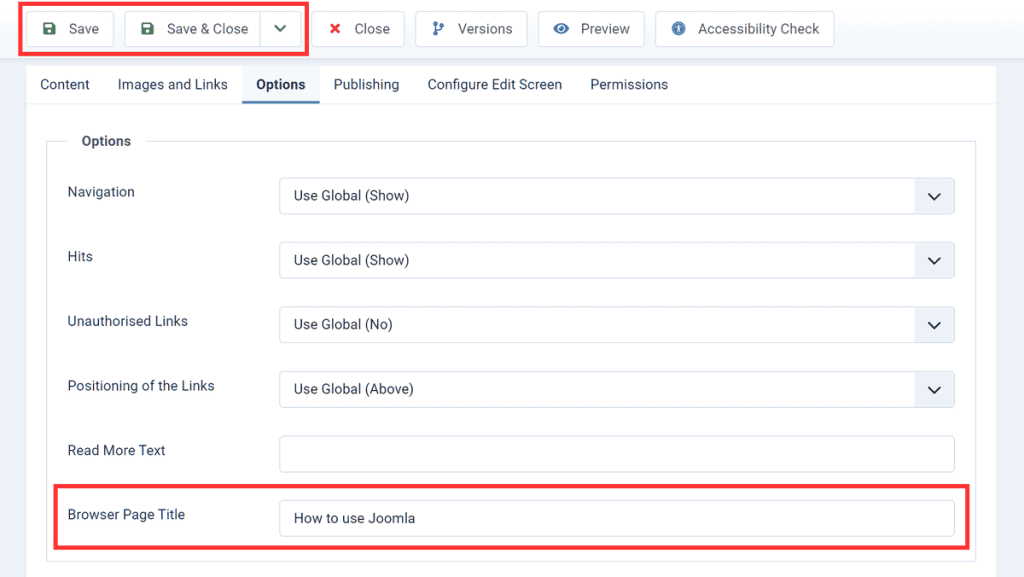 Always remember to click on Save or Save and Close to confirm the changes.
Some tips to keep in mind:
try to stay within the maximum limit of 70 characters;
use a title that describes what the page or post is about (no one likes clickbait or misleading titles).
Meta description
The meta description or meta description is the text that accompanies search engine results. The description is intended to entice users to click on the result that leads to your site.
On Joomla the meta description can be set from the edit section of the article.
When creating new content or editing existing content, simply open the Publishing tab. Scroll to the Metadata section and then enter the meta description in the Meta Description field.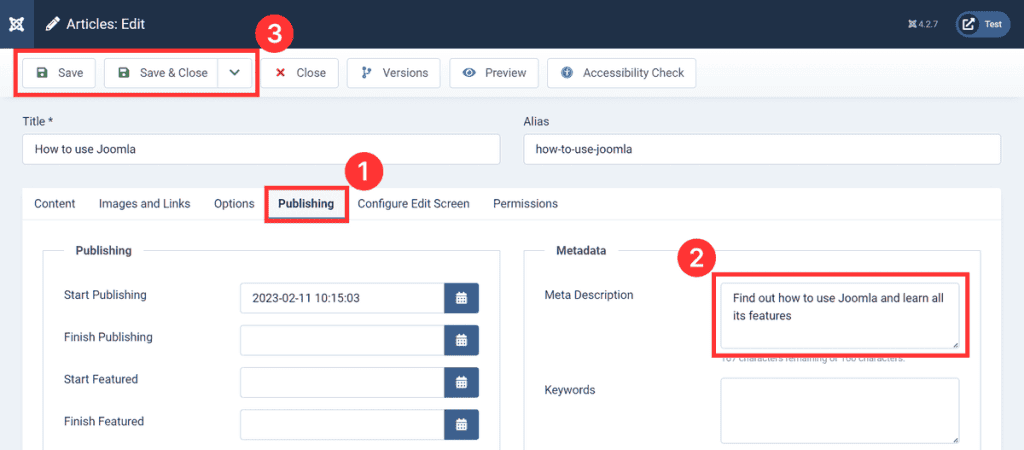 Also, in this case try to describe the content of the page or article. You can go into detail with respect to the title, in fact, you have a 160 character limit.
Images
As we have seen in the guide dedicated to the topic, when it comes to optimizing images for SEO there are several aspects to consider.
With respect to textual content, the changes that can be made in this case are also reflected in the site's performance. Just think that by compressing images, you can reduce site loading times.
Another aspect not to be underestimated is the insertion of alternative text.
In addition to the name we give to image files, we can specify alt text, also called alt tag or alternative text. This HTML tag is specific to images and was created to improve site accessibility.
If the image cannot be loaded or if the user is using a screen reader he will be able to know the content of the image through this alternative text.
Let's see how to set alt text in Joomla.
You can add alt text when inserting an image to content from the library. Select the image and enter the description in the Alt Text field as I show you in this example: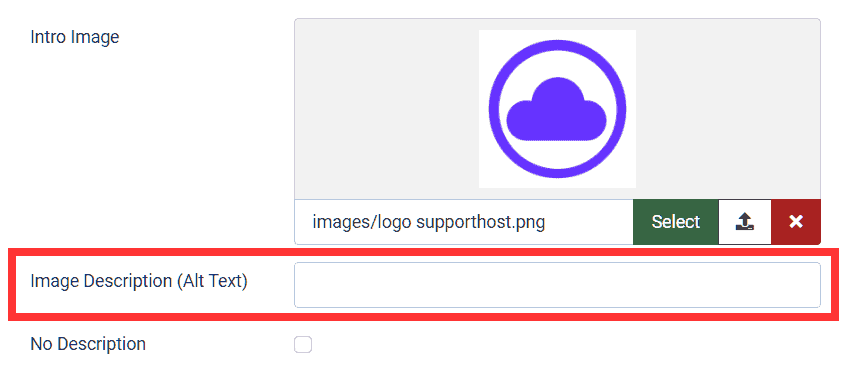 Menu
Menus are essential elements to ensure a good browsing experience. As we saw in the Joomla tutorial, this CMS allows us to create menus in a fairly simple way.

When you create a menu, just keep in mind the same tips you would follow for site creation with any other CMS.
It is good practice to try to create a logical hierarchy and not to overdo the number of categories. Since you have the ability to create categories and subcategories, try not to focus on a structure that branches too much.
In principle, the pages should be no more than 3 clicks away from the home site.
Improving Joomla SEO: next steps
In this Joomla SEO optimization guide we have focused on the fundamental steps you can take on your site. We have therefore seen how to configure the basic settings of the CMS and how to optimize the contents.
But your optimization work doesn't end there. For this we see some ideas from which you can start to continue to improve the site.
Improve site performance
As we said at the beginning, site speed is one of the ranking factors. Precisely for this reason you should try to improve the performance of the site.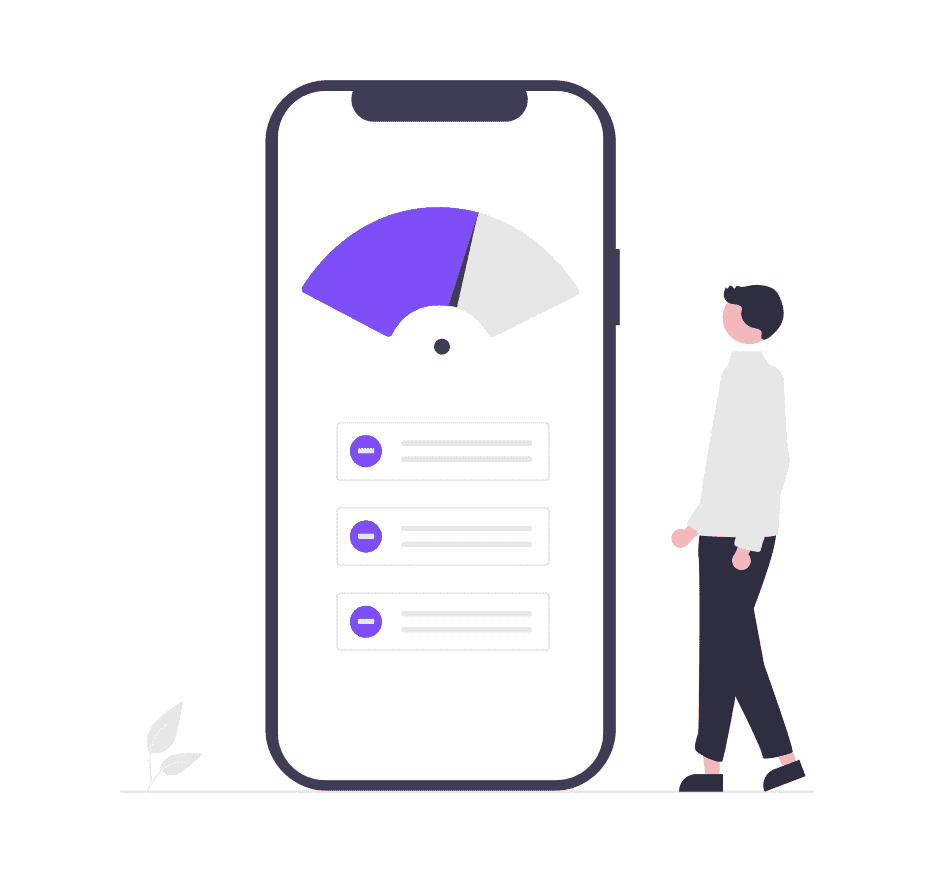 There are several methods to do this and you can combine these strategies with each other.
First of all, it is advisable to start from the choice of a performing hosting.
Don't forget to optimize images, as we have already mentioned before.
Last tip, but not least: never stop testing performance. Where to start? Google's Page Speed ​​Insight and GTmetrix are great tools.
Create a sitemap for your Joomla site
The sitemap helps search engines find all the content on the site. While the presence of the sitemap does not directly affect indexing, it can help search engines find all of the site's content.
There are several Joomla extensions to create a sitemap, or you can use a generator as we have seen in the guide mentioned above.
Handle redirects properly
If you make any changes to URLs or site structure, be sure to use 301 redirects. Redirects are a way of telling search engines that your content has moved.
Furthermore, they serve users because they allow them to reach the landing page without encountering 404 errors.
With Joomla we can manage redirects with the Redirect component, a system plugin that is usually already active.
The first thing to do is make sure that the plugin is active. From the backend we go to System > Manage > Extensions and look for the plugin in the list, like this:

If the "Redirect" plugin is enabled, as in this case, we don't have to do anything. Otherwise we select it and click on the " Enable " button at the top.
We can also go to System > Manage > Redirects. From here we can immediately see if the component is active or not on our site. If it is deactivated, click on the " System redirect plugin " link, as I show you here:

Then set the status to "Enabled" and click on "Save and Close":
At this point, to add a redirect, just click on New:

We just have to fill in the fields by entering the article we want to redirect and the destination one, as you can see in this example: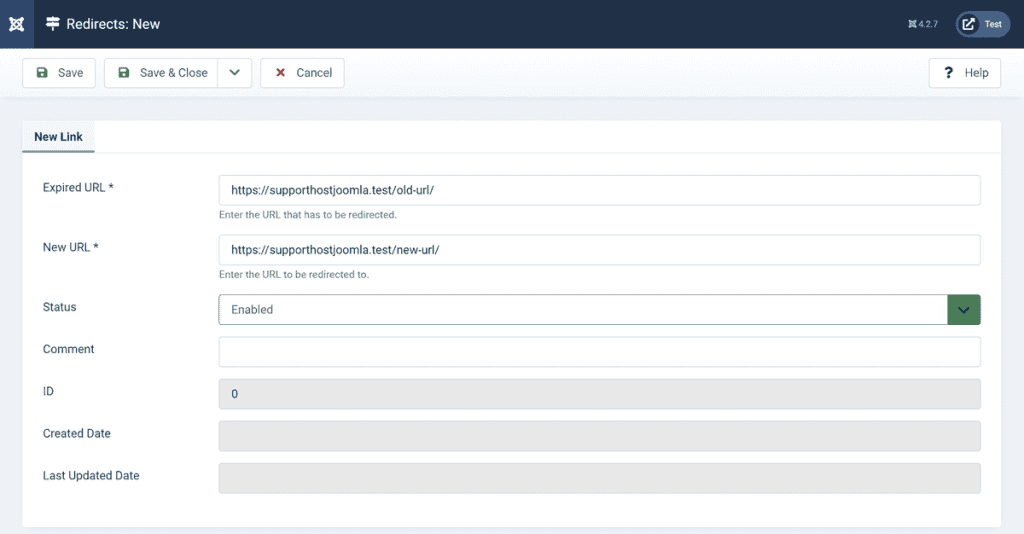 Conclusion
In this guide, we have seen how to improve Joomla SEO with practical strategies. We focused particularly on On-Page optimization talking about URLs and contents, but also about site performance.
Now all you have to do is put what you've learned into practice. Remember, however, that SEO is constantly evolving and improving your site means working constantly and having foresight.
The last piece of advice we want to give you is to be wary of shortcuts and techniques that are not well received, if you don't want to run into a penalty.
Do you think the integrated tools make Joomla a good CMS from an SEO point of view? Do you use extensions to manage one or more aspects? Let us know your experience in a comment.