Are you looking for the Joomla template that's right for you? In today's guide we will help you better orient yourself in this choice.
The choice of theme for your site is guided by personal factors, but there are also objective criteria that can help us find the best template.
In addition to seeing how to choose them, we will discover the most convenient and well-stocked sites where you can find free and premium Joomla templates.
Finally, we will look at the 5 best Joomla templates, perhaps you'll find the one for you.
Let's go!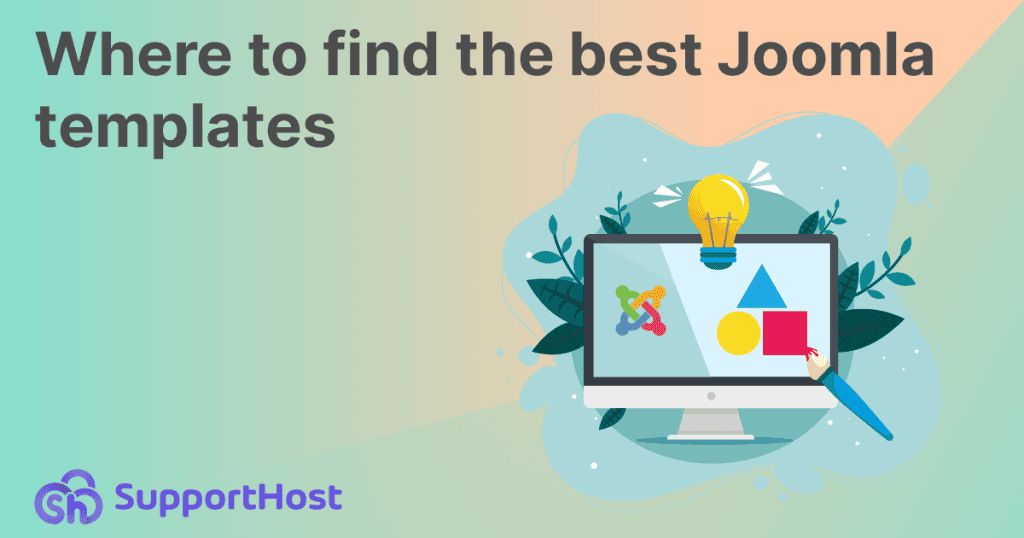 How to choose Joomla templates
As you already know, a Joomla template is what allows you to define the look and feel of your website. However, when you find yourself having to choose the best template for your site, you shouldn't focus solely on aesthetics.
When choosing a template, you need to check that it is updated and compatible with the latest version of the CMS. You will also want to customize your Joomla template so that the site reflects your needs or those of your customers.

These are just a few elements to look at, so let's see all the considerations you should make when you approach choosing the template for your Joomla site.
Are you starting to build your site with Joomla? With SupportHost we offer you Joomla hosting with the CMS already installed, so you are immediately ready to go. Free domain and automatic backups are always included!
Look for a customizable template
You need to know that not all Joomla templates will allow you the same level of customization. In some cases you may have access to a limited number of styles and options.
Before making a list of possible templates for your site, therefore, the ideal is to have clear in mind the level of customization you are looking for.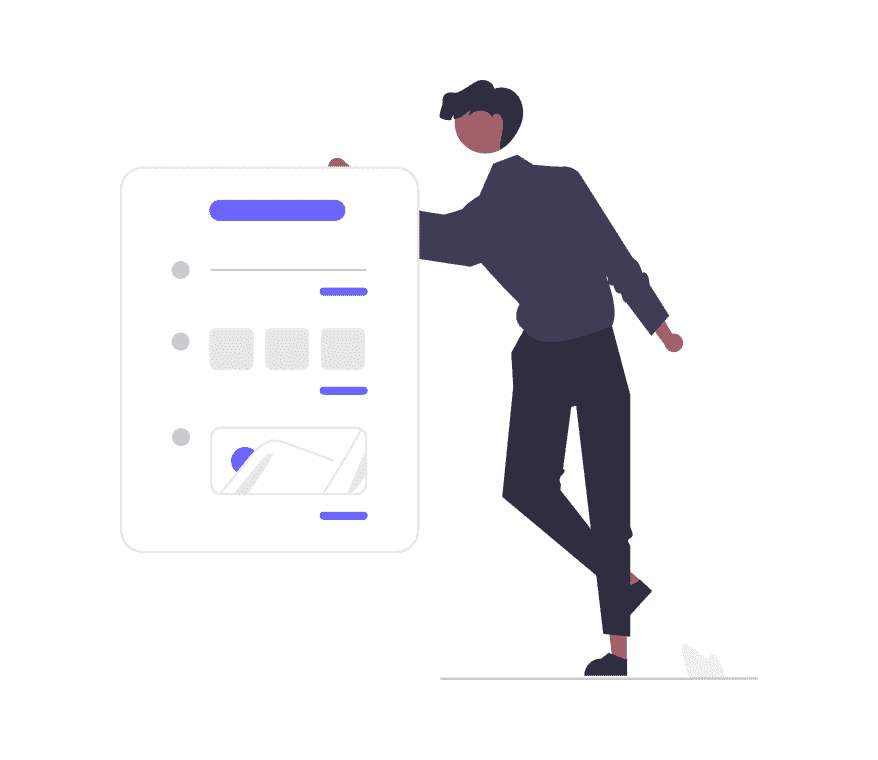 If you still have no idea what the project will look like, you should focus on a template that can be fully customized. This way you will avoid having to start looking for another template halfway through the work.
Beware of deceptive demos
When choosing a Joomla template, as well as when selecting the WordPress theme to use on your site, you risk always making a big mistake:
let yourself be influenced by the presentation images of the theme.
In the thematic groups of the various CMS, requests for advice on the best template to use according to the site are very frequent: for a beauty centre, a restaurant and so on and so forth.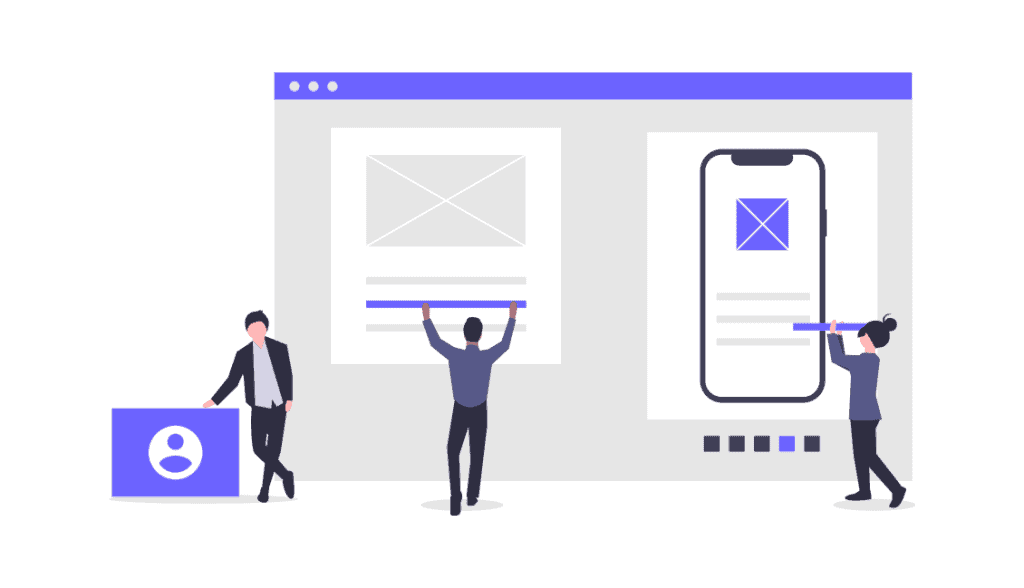 It is good to dispel this false belief immediately. In reality, in most (if not all) cases, there isn't an ad hoc theme for a niche.
When you search the marketplaces for Joomla templates, you will come across themes that use stock images to show what your site will look like.
Actually these demos do not affect the final look.
Or rather, you have to look at these previews for what they are without being influenced by the images and the colors used.
You will choose the content and colors to adopt on your site. For this reason, you should instead focus on other important aspects of the topic. One above all: that it is responsive.
Choose a theme that works for all devices
It is now difficult to find templates that are not responsive. However it is good to do this check before buying a Joomla template.
You don't want to end up with a theme that doesn't fit on all screens, do you?
Tip: Many Joomla theme sites allow you to filter your search so that you only see responsive templates.
Look for a template optimized for SEO and speed
What does search engine optimization (SEO) have to do with choosing our Joomla template? There are several aspects that you should consider: one of them is the loading speed.
Site performance and SEO go hand in hand.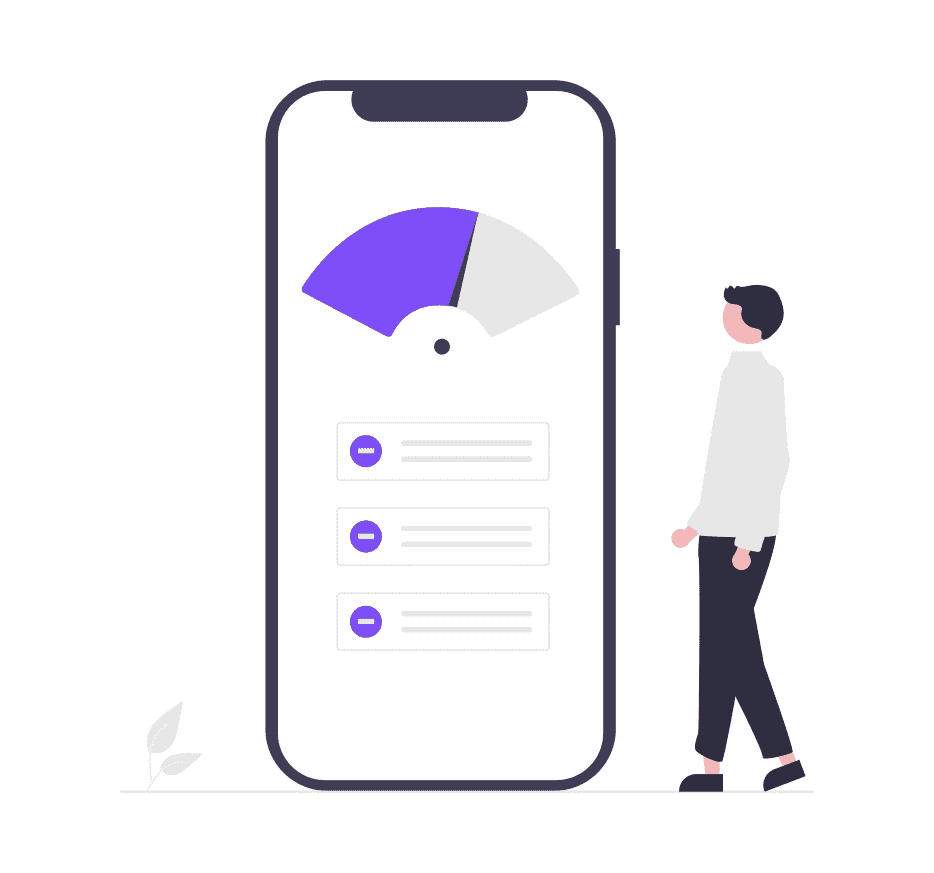 The loading time of web pages is one of the factors that can affect the ranking of web pages.
Speaking of which, if words like organic ranking, SERPs and pagespeed aren't new to you, I suggest you read our analysis on how Core Web Vitals impact rankings.
Furthermore, especially if you plan to create a multilingual site with Joomla, you should also make sure that the template is prepared for translations.
Check that all the functions you are looking for are there
Not all Joomla templates are created equal or you wouldn't be here trying to figure out how to choose the best one for your site.
When making this choice whether it is between PrestaShop, WordPress or Joomla themes, our advice is always the same:
make a list of the functions that seem indispensable to you.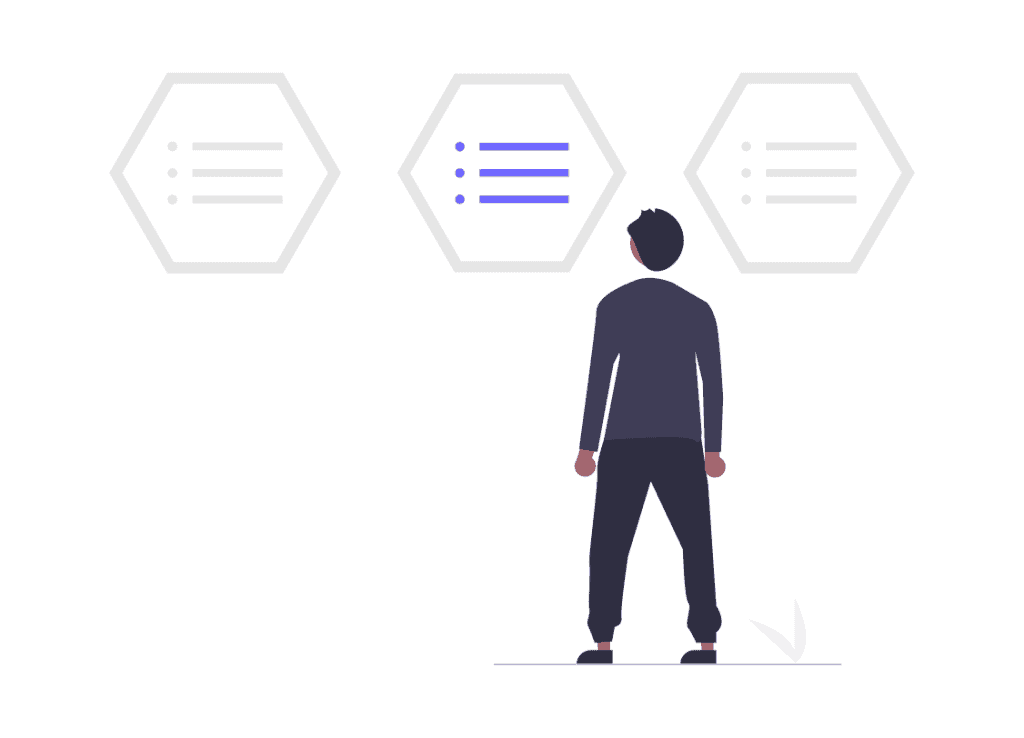 Having clear in mind what you are looking for, it will be easier to find the best template to create your website.
For example, you might want a template that also includes a page builder or is compatible with VirtueMart.
Make sure the Joomla template is updated
If you manage a site, you will already be aware of the importance of Joomla updates. Often when we update the site it is necessary to do the same with extensions and templates.
Precisely for this reason, when choosing a Joomla template, it is a good rule to check that it is periodically updated by the developers.
Many marketplaces that we will see later in this guide allow you to access the update history. This will give you an idea of ​​the frequency of updates and allow you to discard Joomla templates that are overlooked by developers.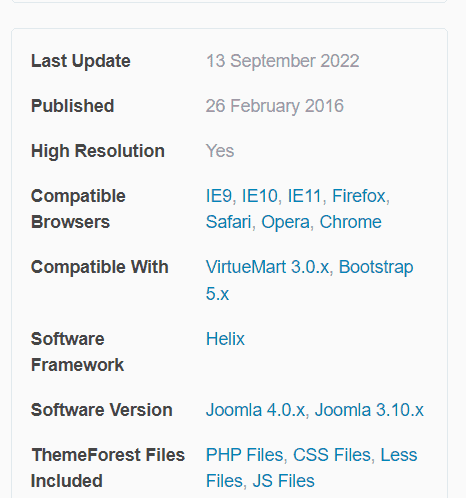 For example Theforest includes many details on the templates for sale on the site. Above you can see the information box which shows the date of the last update, but also indications on the compatibility of the theme with Bootstrap and VirtueMart.
Trust only trusted sources
If in the search for the theme you come across sites that offer nulled Joomla templates you should try to stay away from them.
Nulled themes and plugins pose a potential danger to your site.
Why would anyone redistribute free templates after purchasing them? In some cases the purpose may be to inject malicious code into your website.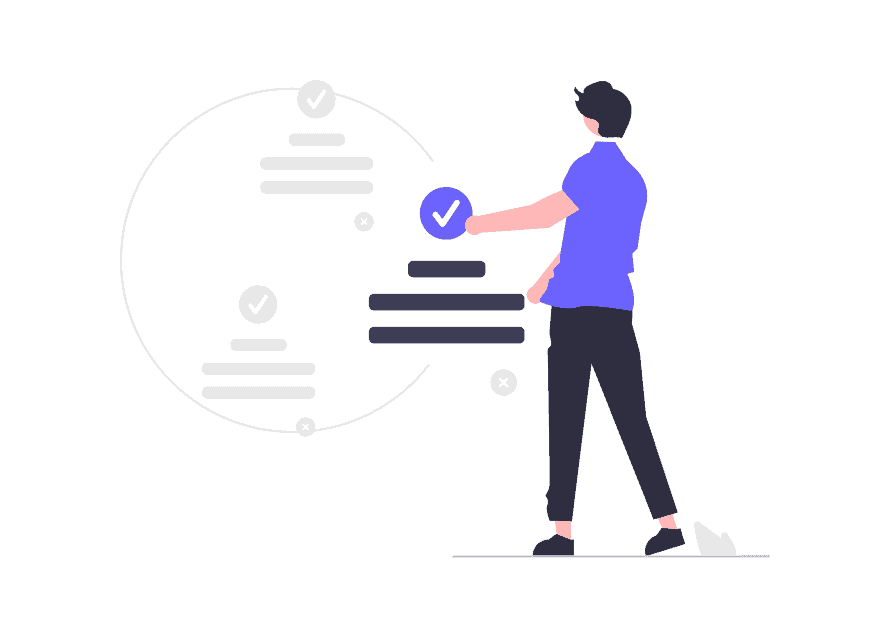 To avoid risks, the advice we give you is to only use templates and extensions that come from reliable sources.
So let's open a new chapter of this guide and see where to find themes for Joomla.
If, on the other hand, you want to learn how to install and manage themes, check out our Joomla tutorial, a practical guide to using this CMS.
Where to find Joomla templates
There are several marketplaces that collect free and paid Joomla templates.
In this section we are going to collect the main ones:
Template Monster
themeforest
joomshaper
The expert
JoomlArt
Joomla directory.
Template Monster
Today on TemplateMonster you can find 1220 Joomla templates. On the site you can search by niche (travel, hotel, catering), as well as see the best-selling themes in the last period.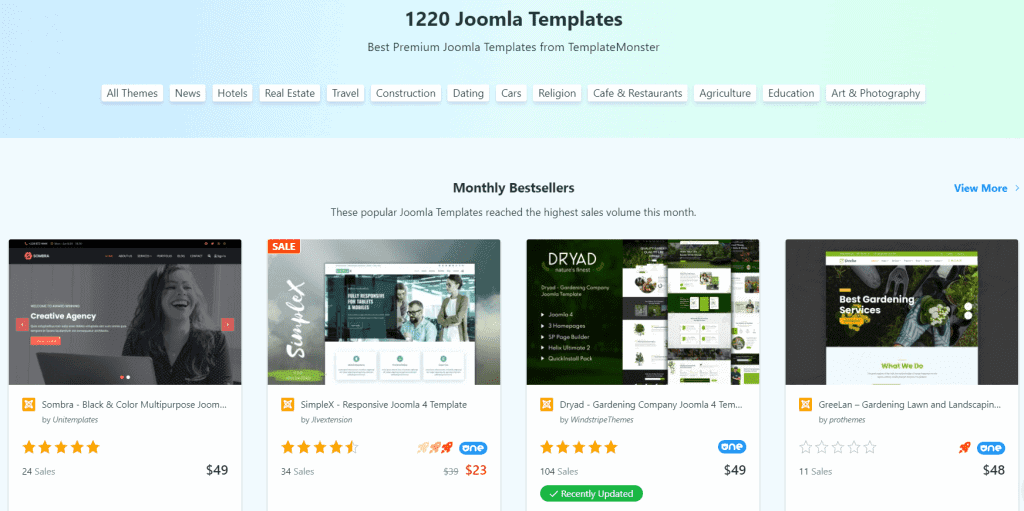 TemplateMonster allows you to purchase individual Joomla template licenses or take advantage of a subscription plan.
In the latter case, by subscribing to MonsterOne you will be able to download more templates, but also extensions for Joomla.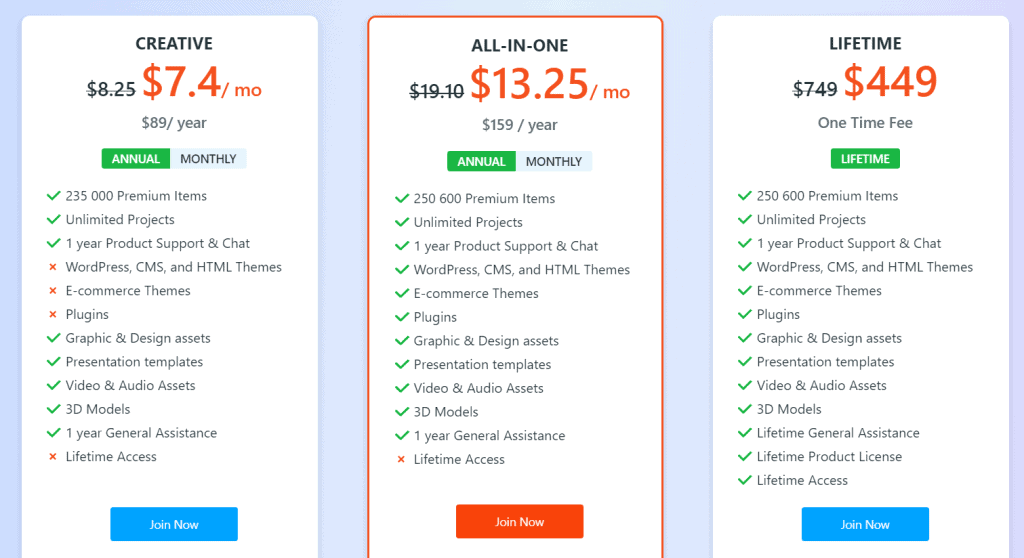 To understand if the template you are interested in is included in the subscription plan, just check this section that I have highlighted here: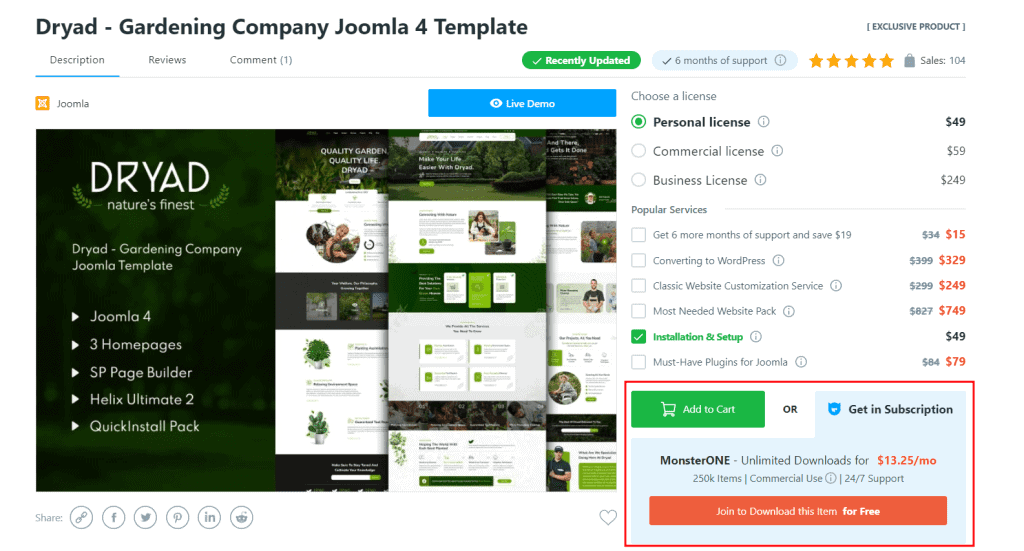 Link to TemplateMonster: Joomla template category.
Themeforest
Themeforest is the Envato Market directory that collects thousands of themes and templates for various CMSs.
In the site we can find a section dedicated to this CMS in which there are currently 893 Joomla templates.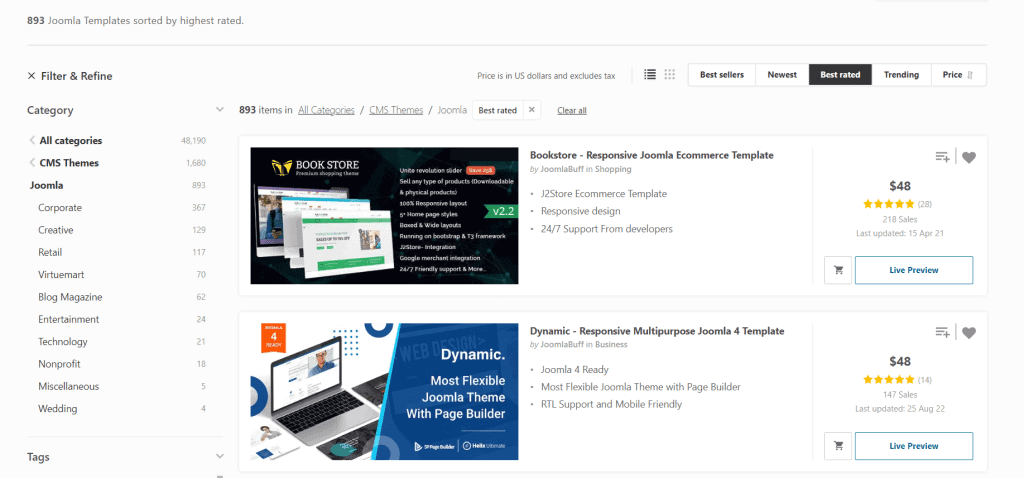 This marketplace collects premium templates sold by different developers. From here you can purchase individual template licenses once you've found the one that's right for you.
The price range is varied and oscillates between $30 and $50.
Tip: you can use the filters to find templates that are compatible with some extensions (for example VirtueMart).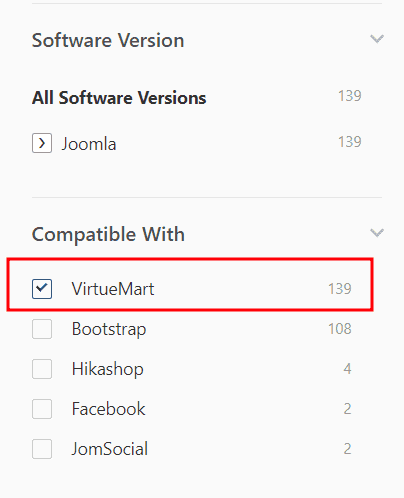 You can also search for compatibility with the version of Joomla you are using. For more details check out our guide on how to find the perfect theme on Themeforest.
Link to Themeforest: Joomla template section.
Joomshaper
On Joomshaper you will find around 145 Joomla themes, all responsive and categorized according to niche: business, ecommerce, health and wellness and so on.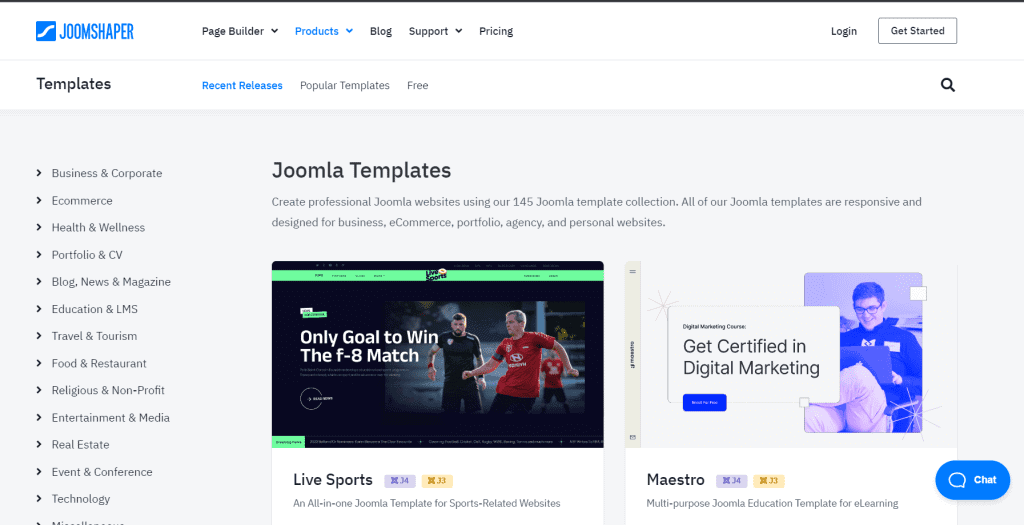 It is also interesting to note the presence of a section dedicated to free Joomla templates where we find 6 free templates.
Joomshaper: template section.
The expert
On Theexpert we can about 70 templates for Joomla sites. Scrolling through the selection of themes we will also find some free ones, such as "Morph".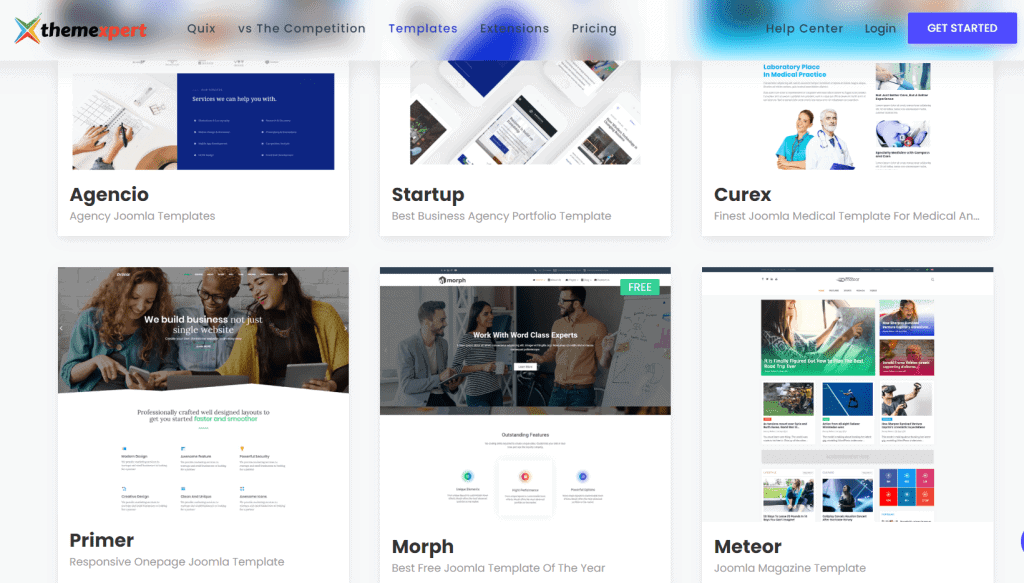 Link to Theexpert: template category.
JoomlArt
Another directory dedicated only to Joomla is JoomlArt. Here we currently find 226 Joomla templates of which 6 are free.
Link to JoomlArt: templates.
Joomla.it
In the Joomla.it directory you will find free templates divided according to the version you are using.
Currently we find themes for the following versions:
Joomla 3
Joomla 2.5
Joomla 1.5
Joomla 1.0.
Link to Joomla.it: templates.
Top 5 Joomla Templates for 2022
How to find the perfect Joomla template for your site?
We cannot give an answer to this question. To help you choose, we have compiled a list of the best Joomla templates currently available.
For this list we have considered templates with these characteristics:
are among the best-selling or downloaded in the case of free themes;
have an average of positive reviews;
are responsive;
have been recently updated;
are compatible with the latest version of Joomla.
The themes that we will see are multipurpose so they can adapt to any kind of site.
Note: while I'm writing the article the latest version of Joomla is 4.2.3.
Dryad
"Dryad – Gardening Company Joomla 4 Template" is a Joomla 4 compatible template.
Among the additional functions, the presence of SP Page Builder Pro stands out, a tool that allows us to create web pages easily with Joomla.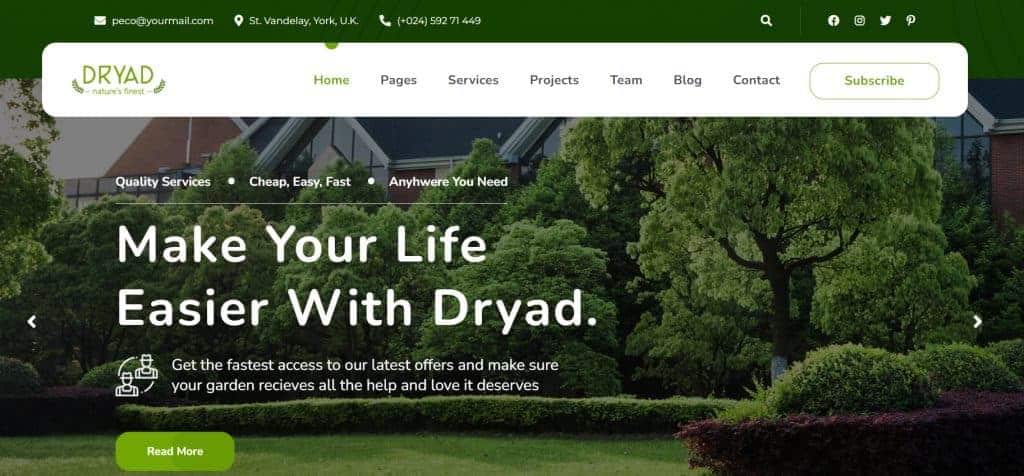 Here's what a demo site created with the Dryad template looks like.
Theme and developer: Dryad from "Windstripethemes".
License fee: $49 (personal license) – also included in MonsterOne subscription.
Live Demo Availability: Yes.
Template link (on TemplateMonster): Dryad.
Wegy
Wegy is a responsive and multipurpose Joomla site theme. Among its features we find the presence of predefined templates to create your ecommerce or your blog and compatibility with VirtueMart.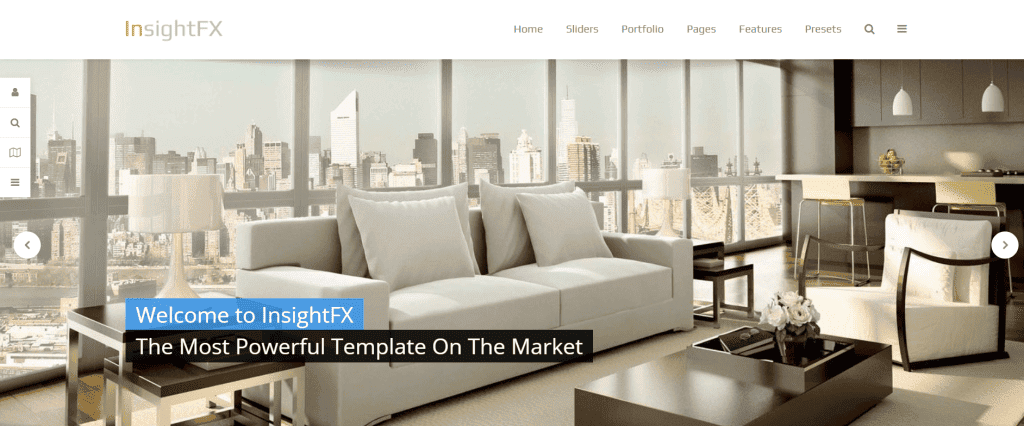 One of the demos available for the Wegy template.
Theme and developer: Wegy from "Rockthemes".
License fee: $49 (personal license) – also included in MonsterOne subscription.
Live Demo Availability: Yes.
Template link (on TemplateMonster): Wegy.
Flex
Flex is the best selling Joomla template on Themeforest. It is a multipurpose theme that includes SP Page Builder to easily create web pages (works with drag&drop).
The theme is compatible with the latest version of Joomla and with VirtueMart.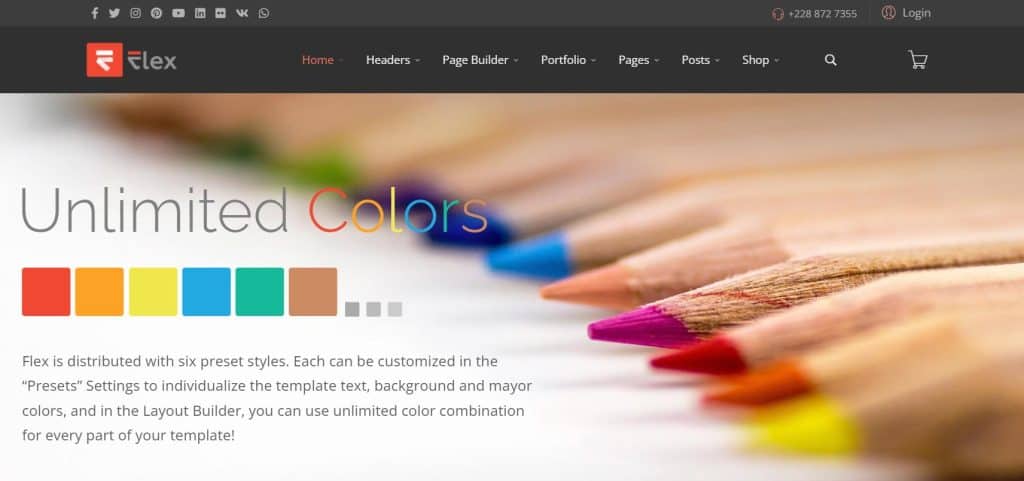 A screen where we see the demo of the Flex theme.
Theme and developer: Flex by "Aplikko".
License fee: $79.
Live Demo Availability: Yes.
Link to template (on Themeforest): Flex.
Insight FX
InsightFX is a multipurpose Joomla theme that is also compatible with Joomla 4. Featuring a page builder and a menu editor, the theme will allow you to customize the site design to suit your needs.
And if there's something you don't know how to do, you can refer to the video tutorials created by the developers to help you make the most of the potential of this template.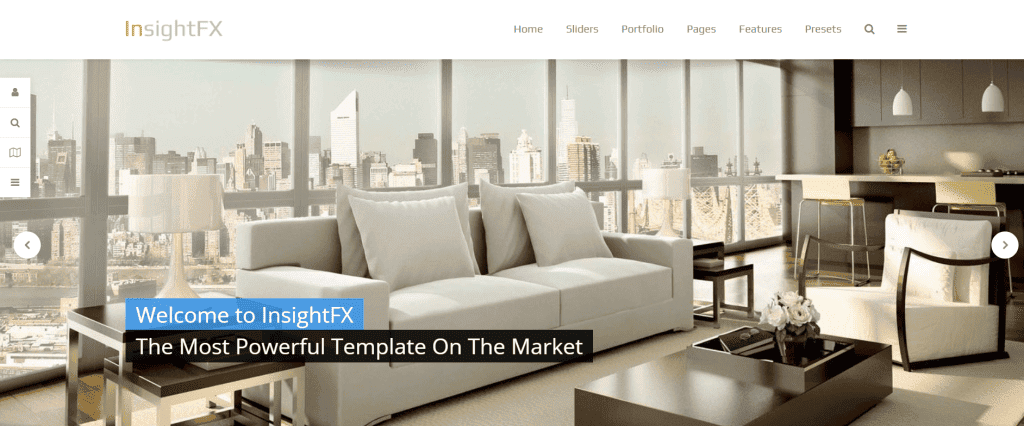 A demo site built with InstightFX.
Theme and developer: InsightFX by "Joomfx".
License fee: $69.
Live Demo Availability: Yes.
Link to template (on Themeforest): InsightFX.
Helix Ultimate
Compatible with Joomla 3 and 4, Helix Ultimate is a free template developed with Bootstrap 5. We are talking about a multipurpose template that supports SP Page Builder and allows you to create a fully responsive site.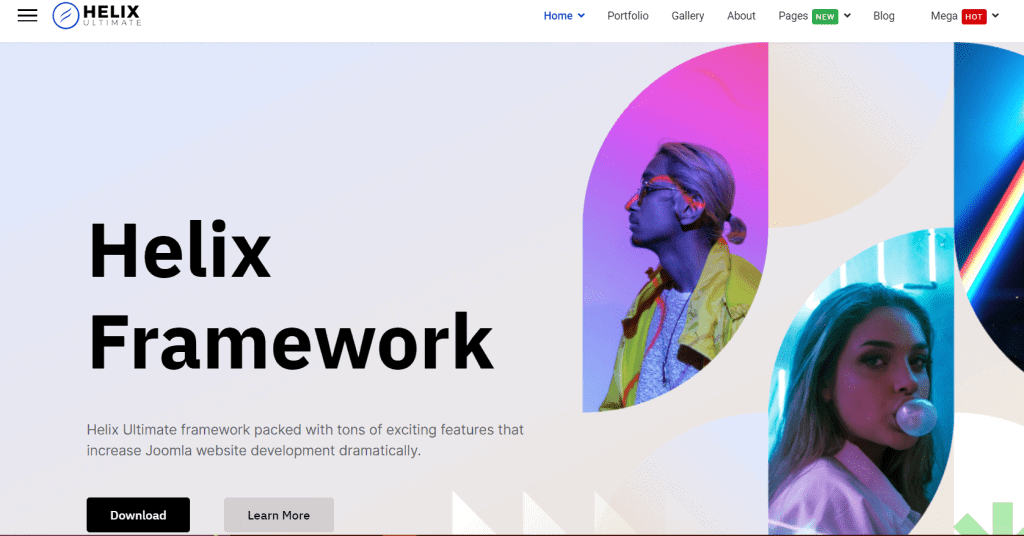 Here you can see what the demo of a site created with this template looks like.
Theme: Helix Ultimate.
Cost: Free.
Live Demo Availability: Yes.
Link to template (on Joomshaper): Helix Ultimate.
Conclusion
Now that you've come to the end of this article, you'll understand that choosing a Joomla template shouldn't be underestimated if you want to create a high-performance, professional-looking website.
We have seen which sites collect the best Joomla templates and which features cannot be missing in a good theme. Finally, we have proposed a list of excellent templates that you can consider.
Now it's up to you to find the one that best suits your site. Were this list and our suggestions helpful to you? Let us know by writing us here in the comments.