Are you undecided on choosing between Magento andPrestaShop? This comparison will help you clear your mind and figure out which ecommerce platform is right for you.
In this article, Magento vs PrestaShop: a CMS comparison, let's look at all aspects of these two CMSs from ease of use to features to requirements and cost.
But, first let's see which of the two platforms is the most widely used.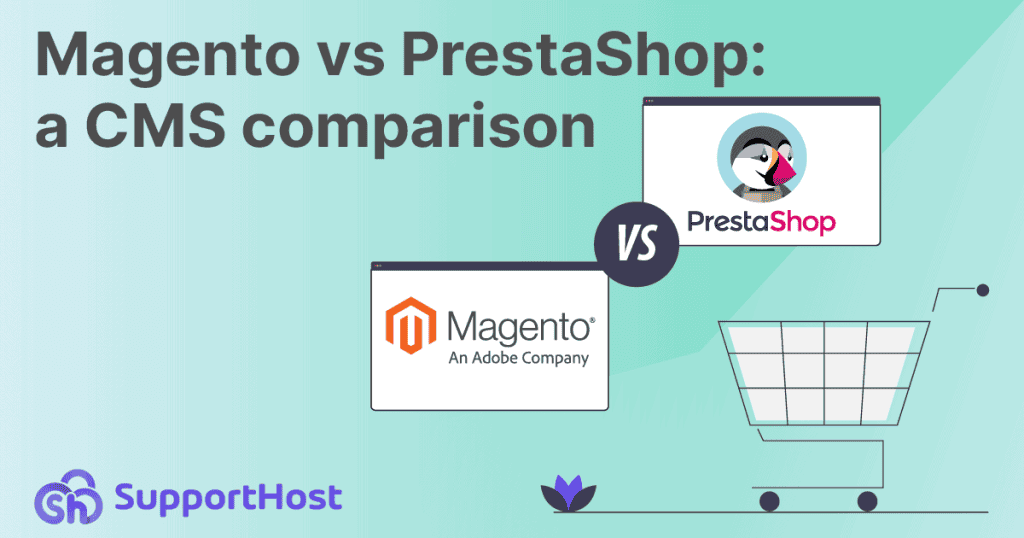 Magento vs PrestaShop: how common are they?
Magento and PrestaShop are two of the most widely used ecommerce platforms.
Both CMSs are open source and free. They are "self-hosted" platforms that therefore require a suitable hosting solution to bring your ecommerce online.
Magento is used by 189,062 websites, from the data of buildwith. While PrestaShop is currently the CMS used by 317,575 sites worldwide.
In terms of the number of users, PrestaShop leads in the comparison between the two.
Magento vs PrestaShop: ease of use
As in all our CMS vs. CMS comparisons, we also consider ease of use.
Ease of use for a platform is one of the key points to consider.
Is it easy to install the CMS? Is the backend interface clear?
Let us look at the two solutions and make considerations.
Magento
The installation problem can be solved by choosing a provider that allows us to install CMSs with one-click installation.
On SupportHost we provide Softaculous with which you can easily install hundreds of scripts.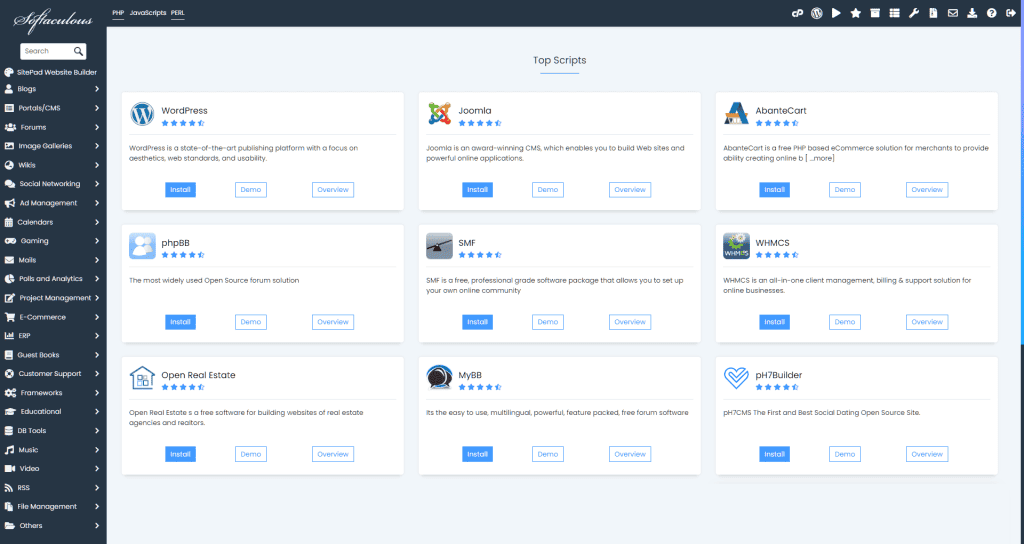 Alternatively, you can choose a Magento hosting with the CMS already installed and optimized. In this article, Magento vs PrestaShop: a CMS comparison, we will take a look at the requirements section. In fact, Magento has special needs compared to other open source CMSs.
Regarding the interface, with the introduction of Magento 2, the back-end has been simplified, making it more intuitive than the first version.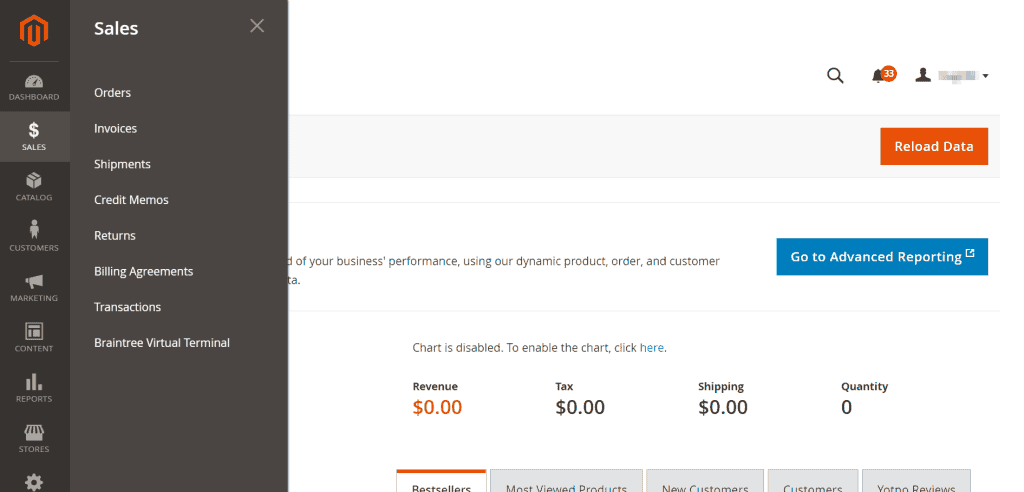 If, however, this is your first time using a platform to create an ecommerce, Magento may be more complicated than other platforms such as PrestaShop.
PrestaShop
When it comes to installing PrestaShop you can proceed with manual installation or one-click installation with auto-installers such as Softaculous.
Alternatively, you can choose a PrestaShop hosting and have the CMS already preinstalled.
Want to try the CMS right away? Try our free hosting for 14 days, choose the plan you want with PrestaShop preinstalled, and you can do all the testing you want.
PrestaShop's back-end is designed to be easy to manage and it gives us easy access to manage orders, customers and products. In addition, the control panel it can also be accessed from mobile devices.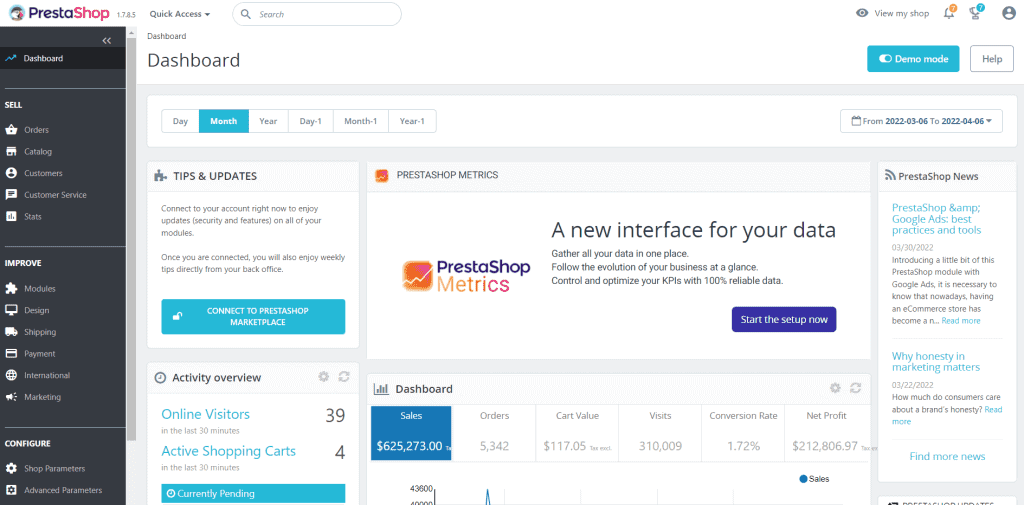 For a more detailed overview of the features built into the CMS, check out our article on What is PrestaShop.
Magento vs PrestaShop: features, extensions and modules
Let's see what are the main functions integrated in the two CMSs and what you need to know about modules and extensions.
Magento
Magento is a CMS designed to create an ecommerce site and therefore it has all the functions you may need.
From product management, category creation and inventory management to order, payment and customer administration.
Features built into the Open Source version of Magento include a page builder and the ability to manage multiple stores from a single panel.
Added to these, is the presence of multilingual and multi-currency support, as well as reports and statistics.
Through the dedicated marketplace one can find more than 3,200 extensions. These extensions, similar to the WordPress plugins, allow us to add new features such as advanced review management systems, or the management of coupons, discounts and gift cards.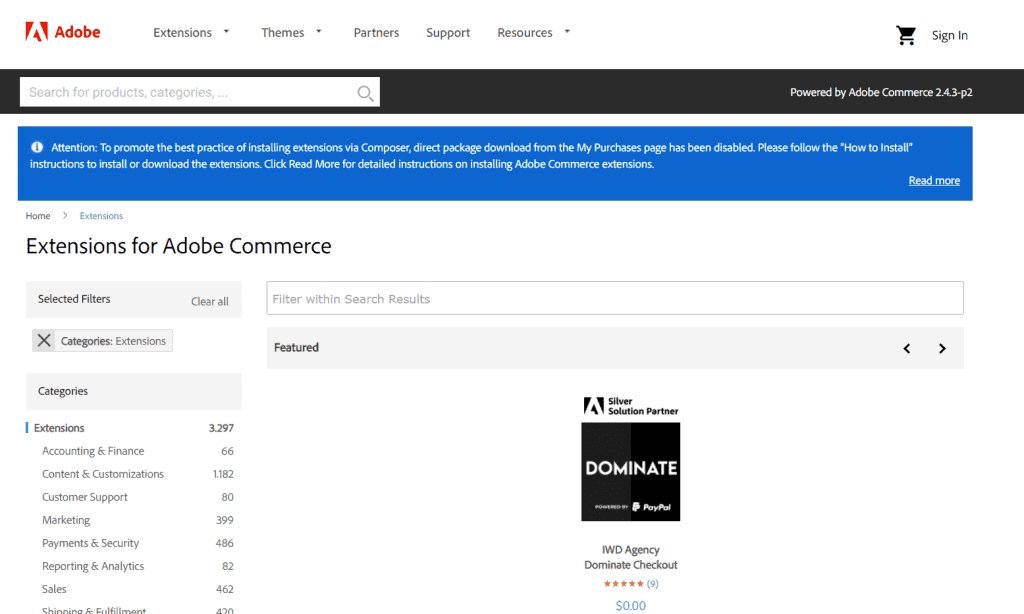 PrestaShop
PrestaShop is also a platform designed specifically for creating an ecommerce site. Built-in functions include the ability to manage products, customers, orders and inventory.
PrestaShop also allows us to manage several stores from a single administration panel, it has multilingual support and allows us to sell in different currencies.
Once again, statistics on store performance can be accessed.
The CMS also allows us to activate the maintenance mode directly from the administration panel.
The marketplace of add ons allows us to choose from more than 4,300 modules. There are extensions for every category: from modules for SEO to those that allow us to send emails to retrieve abandoned carts.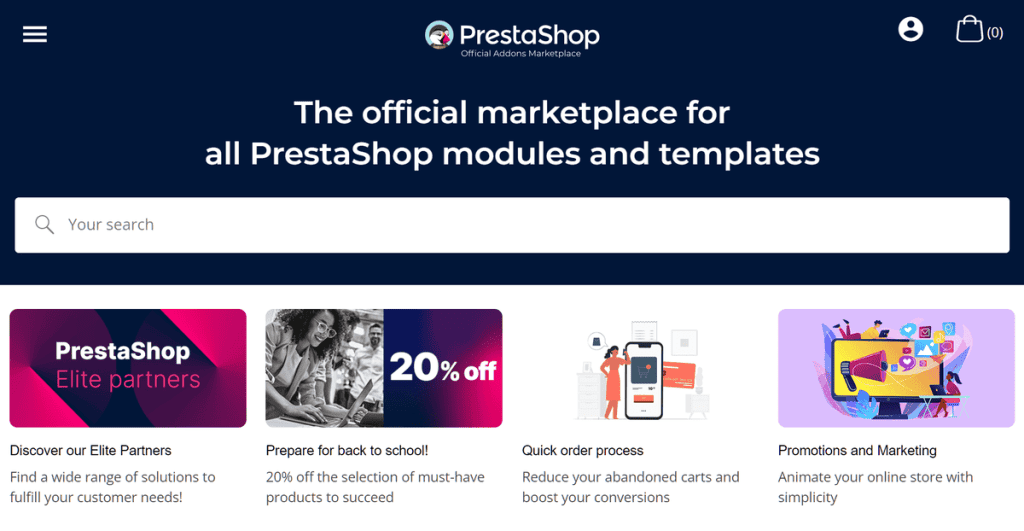 In terms of variety of extensions, the two CMSs go almost hand in hand. However, PrestaShop offers more choice at least in quantity.
Magento vs PrestaShop: themes
CMSs often provide themes that are already available and customizable; let's see how many are offered by PrestaShop and Magento.
Magento
On the Magento theme marketplace, we can find 5 themes. Three of them are free, while the other two are paid themes.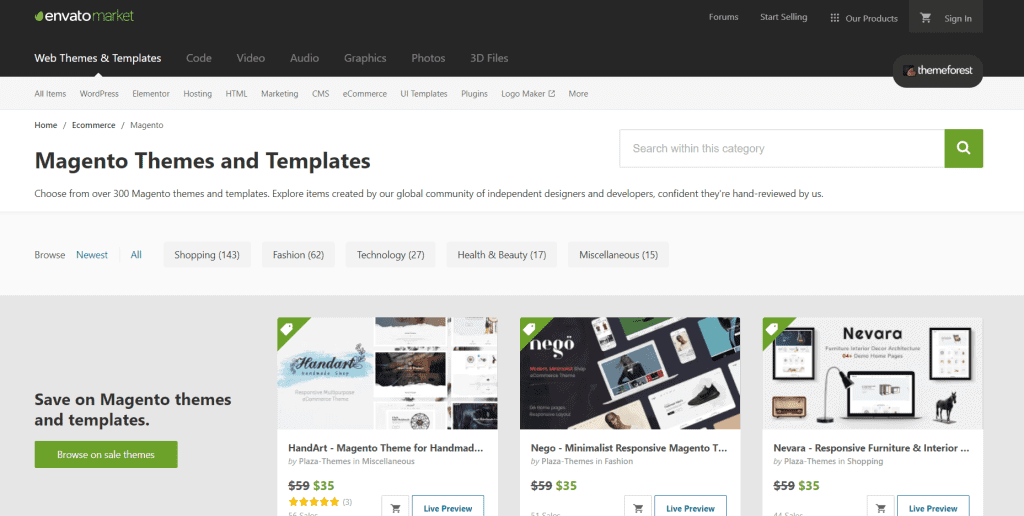 Next to the official marketplace we can also choose from the 372 themes for sale on Themeforest.
PrestaShop
The marketplace of PrestaShop currently features 2,137 themes. We can search by category or add filters for example to search the theme based on customer reviews or included features.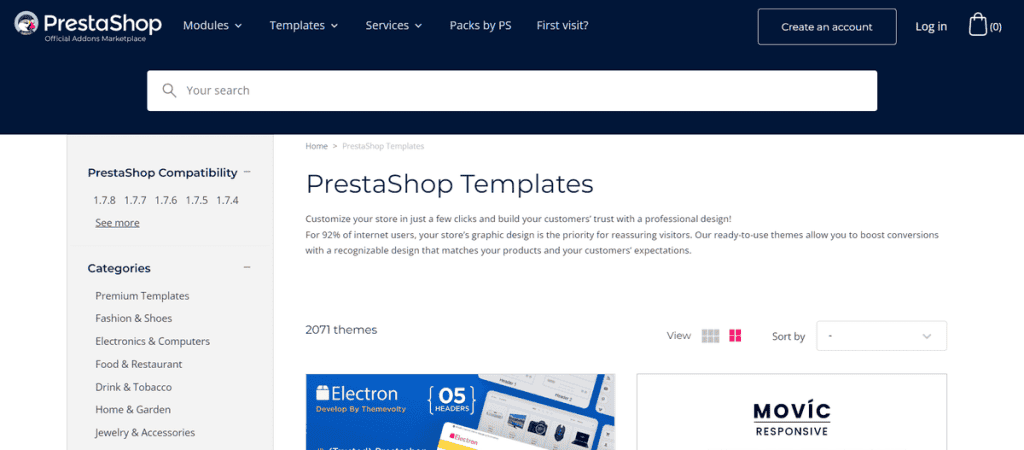 In addition, we find over 900 PrestaShop themes on Themeforest and more on other third-party marketplaces.
When comparing Magento vs. PrestaShop for a variety of choice regarding themes, PrestaShop definitely wins, offering us many more themes from which to customize our online store.
Magento vs PrestaShop: SEO
Magento and PrestaShop have built-in features that allow us to optimize our ecommerce for SEO.
Magento
With Magento we can add the canonical rel tag, configure the robots.txt file and create a sitemap of the site. We can also edit the URLs and add some 301 redirects.
As for on-page SEO, Magento allows us to manage optimization functions without having to add any extensions.
We can, in fact, set title tags and meta descriptions for pages. Instead, thanks to an extension we can also set alternative texts for image optimization SEO.
PrestaShop
The CMS allows us to create SEO-friendly URLs directly from the control panel. It also allows us to set alternative tags for images and title tags and meta descriptions for pages, categories and product sheets.
With the addition of some modules we can: create a sitemap, add canonical rel tags and integrate tools such as Google Analytics.
In this case, in the comparison between the two, it comes to a draw. Although many functions are already integrated into Magento without the need for extensions.
Magento vs PrestaShop: payment methods.
Magento and PrestaShop allow us to configure different payment methods for our customers' transactions.
Some payment methods can be configured directly, but for others, forms or extensions must be added.
Magento
The platform provides us with standard payment methods regarding offline transactions such as cash on delivery and bank transfer.
Through the extensions, other payment methods such as Amazon Pay, PayPal and Stripe can be activated.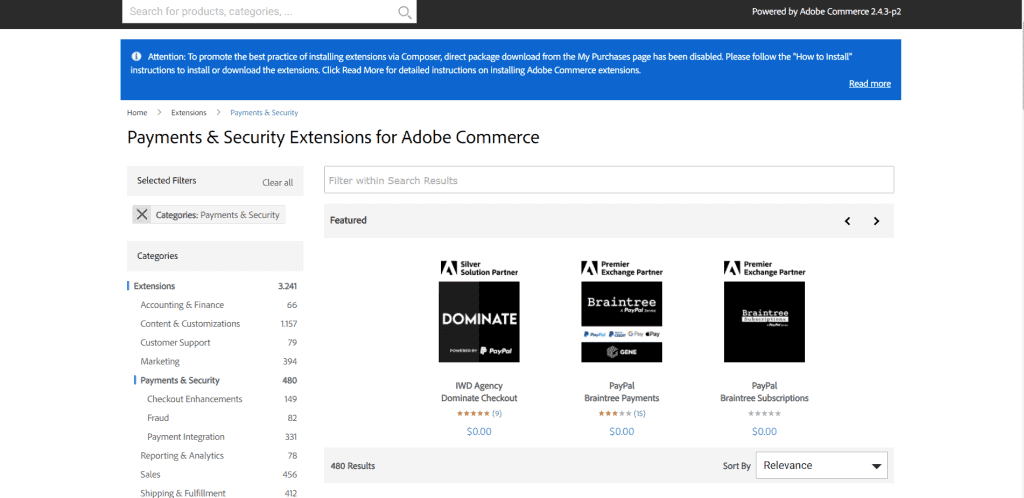 PrestaShop
CMS allows us to accept transactions with different payment methods: from cash on delivery to checks and wire transfers.
Through add-ons with PrestaShop partners, other payment methods can be activated with major gateways such as PayPal, Stripe, HiPay and so on.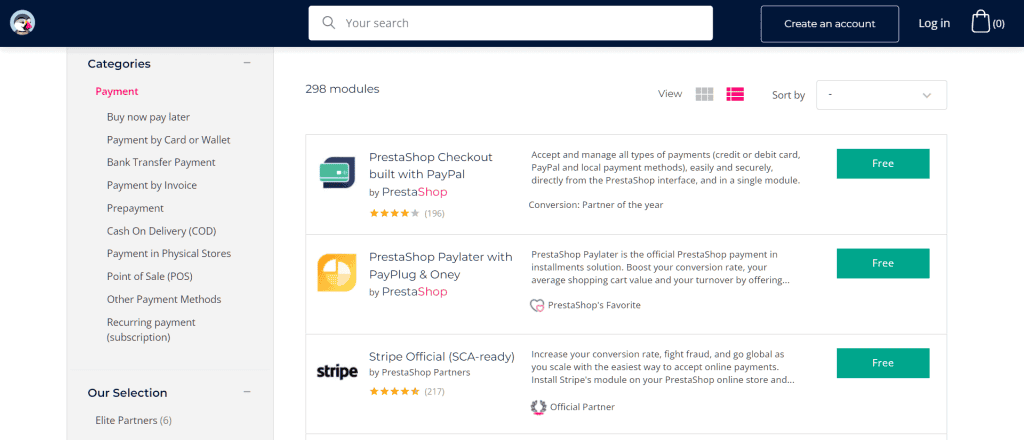 Migration support
The choice of CMS is important because it is not always easy to change platforms when you have created your site.
Migrating an ecommerce, then, is even more complex because of the far greater number of pages than a simple website.
Let's see what tools are provided by the two solutions to help us with the migration.
Remember that in any case, migrating an ecommerce is not easy and you may need to turn to a team of professionals.
Magento
To migrate from Magento 1 to Magento 2, one can use a tool such as a Data Migration Tool that can be used from the command line.
There are also extensions such as LitExtension's Migrate From WooCommerce, which allow us to transfer product, category, customer and order data from WooCommerce to Magento.
PrestaShop
With a module such as Cart2Cart it is possible to transfer products (with images and variants), categories, customers and orders, while keeping all data.
Before the actual migration you can test it by moving a limited number of items and verify that the process goes smoothly.
Support and documentation
Keep in mind that in our Magento vs PrestaShop comparison we looked at the open source versions of the platforms.
To learn more about the differences between open source Magento and Magento Commerce, you can check out our article on what is Magento.
In the case of open source Magento and PrestaShop, no real support is offered by CMSs that are released for free.
What we can count on, however, is the documentation, guides and resources available. As well, of course, as the community of users who use these CMSs on a daily basis.
Magento
No real customer service is available for the open source version of Magento. Therefore, you can rely on the community and documentation for support.
The official CMS forum with over 178 thousand posts and more than 464 thousand members.
In addition, the official website of the CMS, which is now owned by Adobe, contains guides, resources for developers and FAQs for open source Magento as well.
PrestaShop
Even with PrestaShop we can rely on an official forum which is a community-managed forum.
On the CMS site we can also find documentation that guides us from the installation stages of the platform to the management of our online store, as well as providing guidance for the development of modules and themes.
It is also possible to rely on their official assistance which is a paid service. Here you can request a single ticket to get expert support or subscribe to a full-fledged support plan.
Magento vs PrestaShop: performance
When you want to choose the platform to create an ecommerce you also need to consider performance. What happens when my online shop grows?
It is important, however, to consider that performance does not depend solely on the CMS chosen. You have to consider the hosting and thus the hardware available, but also the optimization of the site itself plays an important role.
Not surprisingly, in the next section we will see that the hardware requirements of Magento and PrestaShop are markedly different.
Hardware requirements
Let's see what the requirements are for these two CMSs.
Magento
To use open source Magento 2.4, you must use Elasticsearch or OpenSearch.
Therefore, since the CMS requires ad hoc configuration, our Magento hosting plans are dedicated servers tailored to the CMS to provide maximum performance.
PrestaShop
Unlike Magento, PrestaShop does not require special configurations.
The following requirements must be met:
Nginx or Apache 2.2+ as a web server
MySQL 5.6 or higher
PHP 7.1 or higher.
In order to improve performance, PrestaShop also recommends the use of caching systems. In our PrestaShop hosting we use LiteSpeed + LSCache (in addition to OPcache and memcached).
Prices
In this Magento vs PrestaShop comparison, it is also worth mentioning the costs.
Since these are two open source platforms, let's start by saying that they are both free. There is no cost to download and install the platform, and there are no monthly subscriptions.
In addition, there are no commissions on sales as there are when you want to sell online on marketplaces or classifieds sites.
Instead, one must consider in both cases:
ecommerce development costs;
hosting costs;
Any costs for premium themes, modules, or extensions.
Paid Magento extensions start at about $25 on the official marketplace, while PrestaShop extensions start at about $40-60.
Conclusion
In this article, Magento vs PrestaShop: a CMS comparison, we looked at the features of the two CMSs. We saw what the interfaces of the two platforms look like, what features are built in, and how they can be extended through modules and extensions.
Both platforms have built-in tools for SEO and migration from one platform to another and support different payment methods.
In many ways these two CMSs are comparable, but there are features that make one stand out from the other.
If we consider the ease of management, we must consider that PrestaShop is easier to use even for those with little experience.
Magento for its part offers more features, but can be more complicated to manage.
From a cost perspective, considering that Magento requires a dedicated server, it is more expensive than PrestaShop.
What do you think? Have you already chosen which platform is right for you? Let me know with in the comments below what factors did you consider when making your choice.