If you are looking for an alternative to OVH, SupportHost should be at the top of your list.
OVH allows you to choose between several shared plans, but is not transparent about the resources associated with these plans and uses an outdated storage technology: mechanical hard drives. Unlike OVH, on SupportHost you see unencrypted resources in all plans and you can always count on NVMe SSD disks for maximum performance.
OVH offers very little choice for VPS and does not offer managed plans. If you are not comfortable managing a server, SupportHost with managed cloud VPS plans can be a great solution. So you can focus on your site, without worrying about server management.
Let's take a look at the comparison between SupportHost and OVH point by point, examining what the two providers offer.
Go in a hurry? Skip to the SupportHost vs OVH comparison summary now.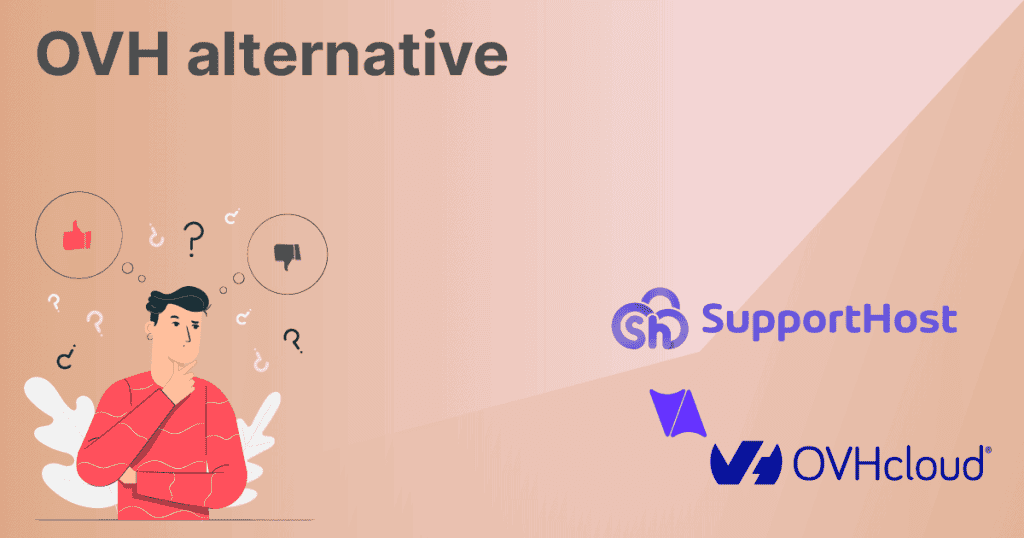 Resource management
We have examined the offer of OVH personal hosting and Pro hosting plans which are offered for personal and professional sites respectively. The availability of resources is not indicated, therefore there are no guarantees on resources in terms of CPU and RAM.
At SupportHost we use a completely different approach focused on transparency. All of our plans, even the cheapest ones like shared plans, show resource limits in clear text.
You can check the resources from the purchase page of each plan and if you are our customer you can check the resources associated with your account directly from cPanel. From the panel you can also monitor resource usage at any time. You have complete control over your account usage.
PHP versions
With SupportHost you can always access the latest PHP version, this way you will never have compatibility problems with scripts.
From cPanel you can set the PHP version you prefer to use. Versions available at the moment are: 4.4 / 5.1 / 5.2 / 5.3 / 5.4 / 5.5 / 5.6 / 7.0 / 7.1 / 7.2 / 7.3 / 7.4 / 8.0 / 8.1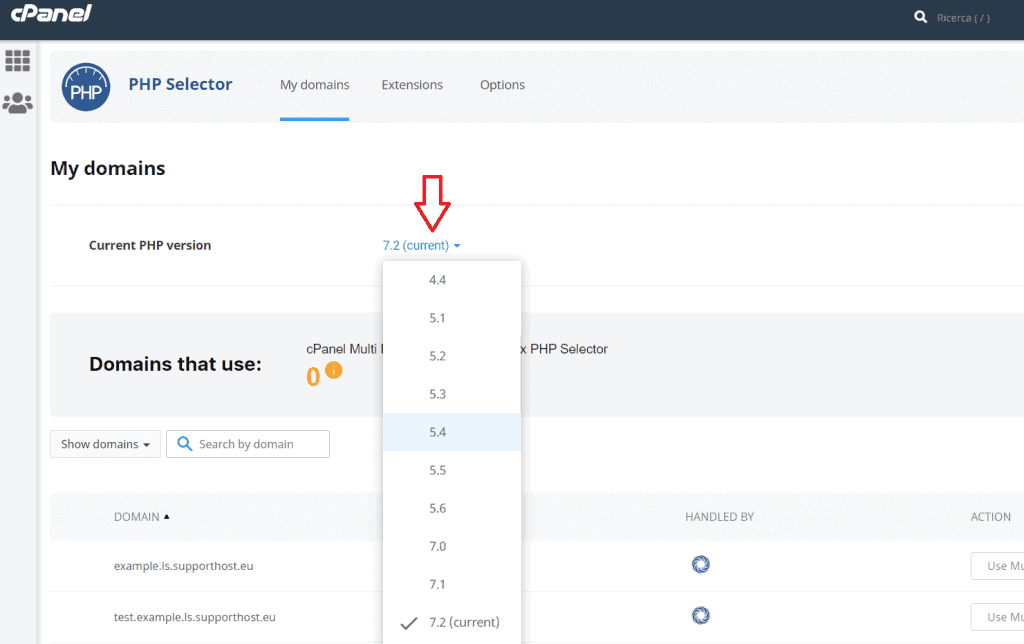 Unlike SupportHost, OVH only allows you to choose from the latest versions. For example with the personal hosting plan you can only choose between PHP 7.x and PHP 8.1.
Staging
When you make site updates or want to test new configurations, being able to create a test environment is essential. All the better if you can do it quickly.
Precisely for this reason we have included the staging function in all plans with which you can create a development environment in one click to do all your tests. With this feature you can go from staging to production in the blink of an eye.
The staging function is not available on OVH, so if you want to create a test environment you will have to make a copy of the site manually in a subdomain or do your tests locally.
Backups
At SupportHost we offer all our customers, regardless of plan, free automatic backups.
Our shared, semi-dedicated, reseller and CMS hosting plans include 30 days of backup. You can access cPanel and manage your backups with Jetbackup, restoring the chosen backup in complete autonomy.
With dedicated services: Magento hosting, cloud VPS and dedicated servers, we perform a daily backup and provide you with the last 7 backups. If you wish, you can extend the service with an additional disaster recovery solution.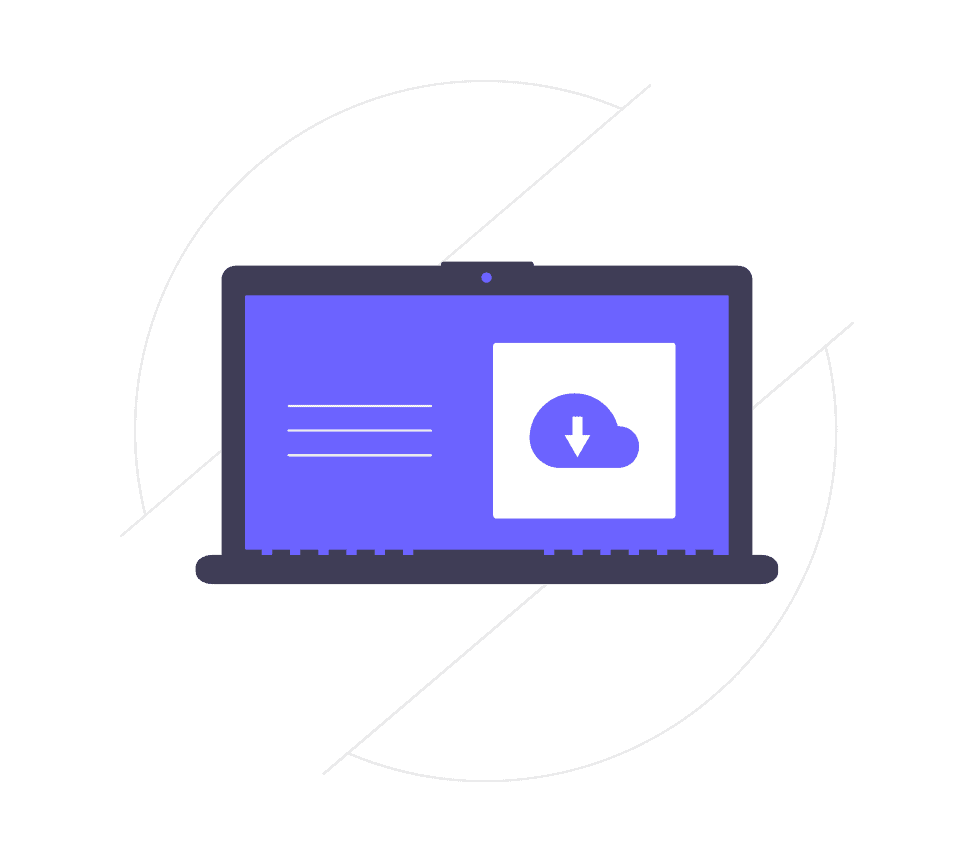 OVH's backup service is more limited than the one included with SupportHost. With the personal, pro and performance hosting plans you can restore backups of the previous 1, 2, 3, 7 or 14 days. With the cloud web hosting plan you only have access to backups from 1, 2, 3 or 7 days ago.
OVH VPS plans don't include backups, you have to purchase the service separately.
More advanced options
By choosing SupportHost you get access to developer tools and advanced features in all plans.
We have, therefore, included SSH, Git and WP-CLI access on all plans.
OVH does not offer SSH access on all plans, for example the "Personal Hosting" plan does not.
Among the differences between SupportHost and OVH there is also the possibility of creating FTP accounts: with SupportHost you can create them without limits in all plans, while OVH does not allow you to create multiple FTP accounts with the "Personal Hosting" plan.
Hosting features: Comparison of SupportHost and OVH
On SupportHost you can choose the plan that best suits your needs and have many features included in the price. For example, you can choose any plan from our shared and semi-dedicated hosting offer and choose which script you want us to install when ordering. In this way you can immediately create your site without having to deal with the installation of the platform.
In addition to this we also have customized CMS hosting plans for WordPress, Joomla, Drupal, PrestaShop and Magento.
We want your choice of plan to be simple and that you don't have any nasty surprises. In all SupportHost plans you will find the estimated monthly visits that your site can receive and the resources: CPU, RAM, I/O limit and PHP processes that you will have available.
OVH offers shared hosting, in particular the personal hosting and hosting pro plans, without clearly indicating the available resources. This makes it difficult to make a direct comparison between our plans and those of OVH.
Let's see what features make SupportHost one of the best alternatives to OVH.
SSD hosting
All SupportHost plans use SSD disks and the benefits of SSD hosting are reflected in site performance.
OVH's shared plans, personal pro and performance, still use mechanical HDDs.
Domain included
SupportHost offers the domain included forever no matter which plan you choose to purchase. You will not have bad surprises and price changes on renewal!
To take advantage of the free domain, simply register the domain when you order the plan. If you have requested site migration, simply transfer the domain to us by choosing the transfer option.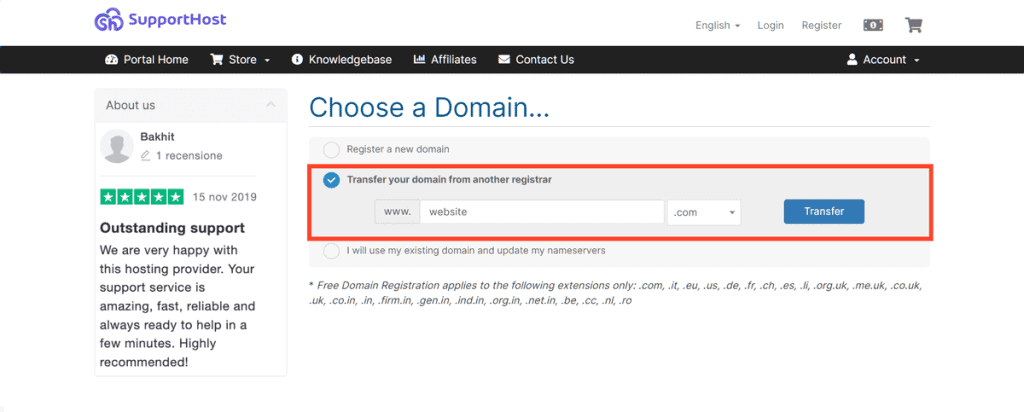 With OVH, the domain is only included for the first year, which means that when you renew, the price of the plan will increase because you will also have to add the price of the domain to it.
OVH alternative: features of cloud plans
If you need more advanced performance, you can evaluate the VPS cloud plans. To give everyone the freedom to choose, SupportHost offers managed and unmanaged plans.
You can choose an unManaged VPS cloud hosting plan and take care of the management yourself with maximum control. Or you may prefer a managed VPS cloud plan and have a fully managed service.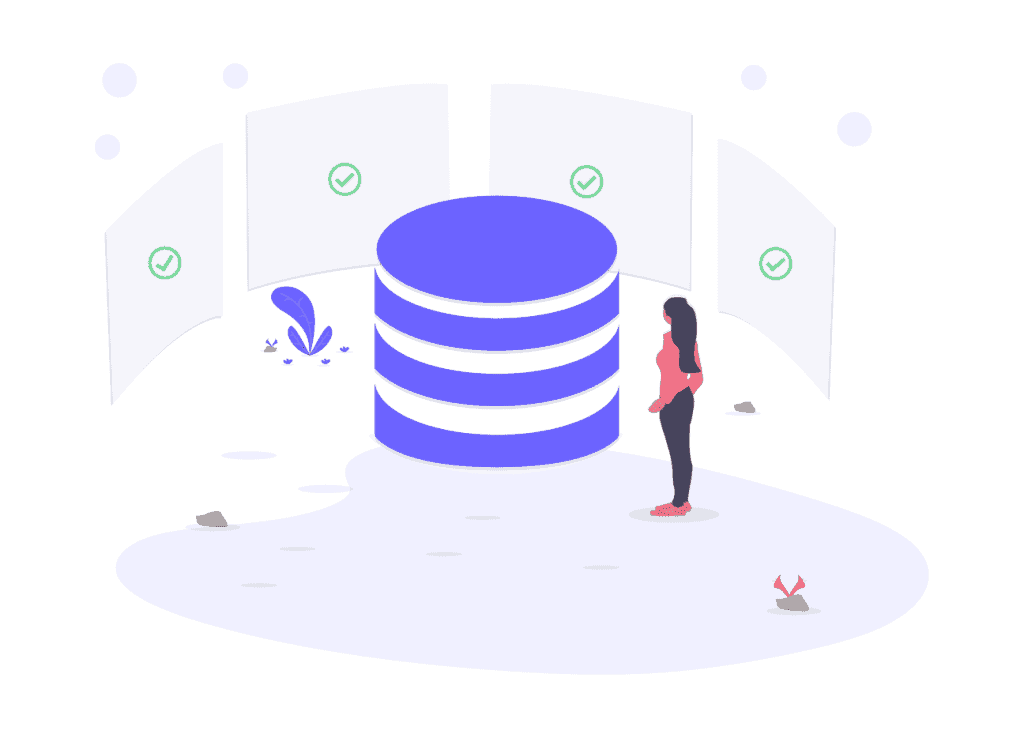 OVH's cloud VPS plans do not offer a managed service. This means that you will need to have the knowledge to deal with server administration.
Here is a comparison of SupportHost's unManaged cloud VPS plans with OVH's VPS.
The prices indicated are the regular ones, without offers.
Features
Cloud 0 UnManaged
Value
Monthly price
15

.99

€
5.80 €
RAM
2 GB
2 GB
CPU
2 vCPU
1 vCPU
Disk space
40 GB
40 GB
Traffic
1Gbit/s
250 Mbps
Free backups
Features
Cloud 1 UnManaged
Essential
Monthly price
18

.99

€
12.50 €
RAM
4 GB
4 GB
CPU
3 vCPU
2 vCPU
Disk space
80 GB
80 GB
Traffic
1Gbit/s
500 Mbps
Free backups
Features
Cloud 2 UnManaged
Comfort
Monthly price
26

.99

€
23.50 €
RAM
8 GB
8 GB
CPU
4 vCPU
4 vCPU
Disk space
160 GB
160 GB
Traffic
1Gbit/s
1Gbit/s
Free backups
Features
Cloud 3 UnManaged
Elite
Monthly price
39

.99

€
44 €
RAM
16 GB
16 GB
CPU
8 vCPU
8 vCPU
Disk space
240 GB
160 GB
Traffic
1Gbit/s
2 Gbit/s
Free backups
The price of OVH VPS plans is monthly, but is intended for plans ordered for two years. So pay attention to the final price in the cart, because it could vary.
The prices you see indicated in the table for SupportHost refer to the monthly cost. In our case, if you buy for longer periods, you save money, but nothing prevents you from ordering plans even for just one month.
We have seen the unmanaged VPS plans. If, on the other hand, you don't want to have worries and delegate management, SupportHost's cloud managed VPS solutions can prove to be an excellent alternative to OVH.
Domain included
In addition to having an advantageous price, with SupportHost you have other advantages by ordering a cloud VPS plan (managed or unManaged) for a year or a longer period. In this case you will have a free domain for the first year. You can check the list of all extensions compatible with the free domain promotion.
OVH does not include the domain in the price of cloud VPS plans.
Backups included with cloud plans
With all cloud managed and unManaged VPS plans, SupportHost offers free automatic backups of the last 7 days.
This is a feature that differentiates us from OVH which does not include automatic backup in cloud VPS plans. In this case you have to purchase the plan for a longer period to have free backup for a few months, after which if you want to continue having it you will have to pay for the backup as an additional service.
Free migration
At SupportHost we want to make your life easy. If you decide to switch from OVH to SupportHost, you can count on the free migration of your site.
You can entrust the site transfer to our staff who will take care of everything for you and keep you updated as the procedure is completed.
OVH does not offer free migration, in this case you will have to take care of it yourself with all the risks involved. If you don't feel like tackling the site transfer yourself, it's best to hire a provider that includes this service.
Expert support 24/7
Assistance is our flagship. With SupportHost you can count 24/7 on a team of experts ready to solve your problems. Our staff responds to 90% of tickets within 2 hours and many requests are resolved even sooner.
Using a ticket system, our support team can immediately access the conversation history and quickly resolve any issue or advise you on how to proceed.
You won't be diverted from one department to another and you won't have to wait days because the answers from our support via ticket are always decisive. If necessary, you can also receive support via telephone, by scheduling a callback.
On SupportHost we want to offer fast assistance and 24h availability to all our customers. Not all providers take this approach by putting the customer's needs first.
With SupportHost you can count on Italian and English support.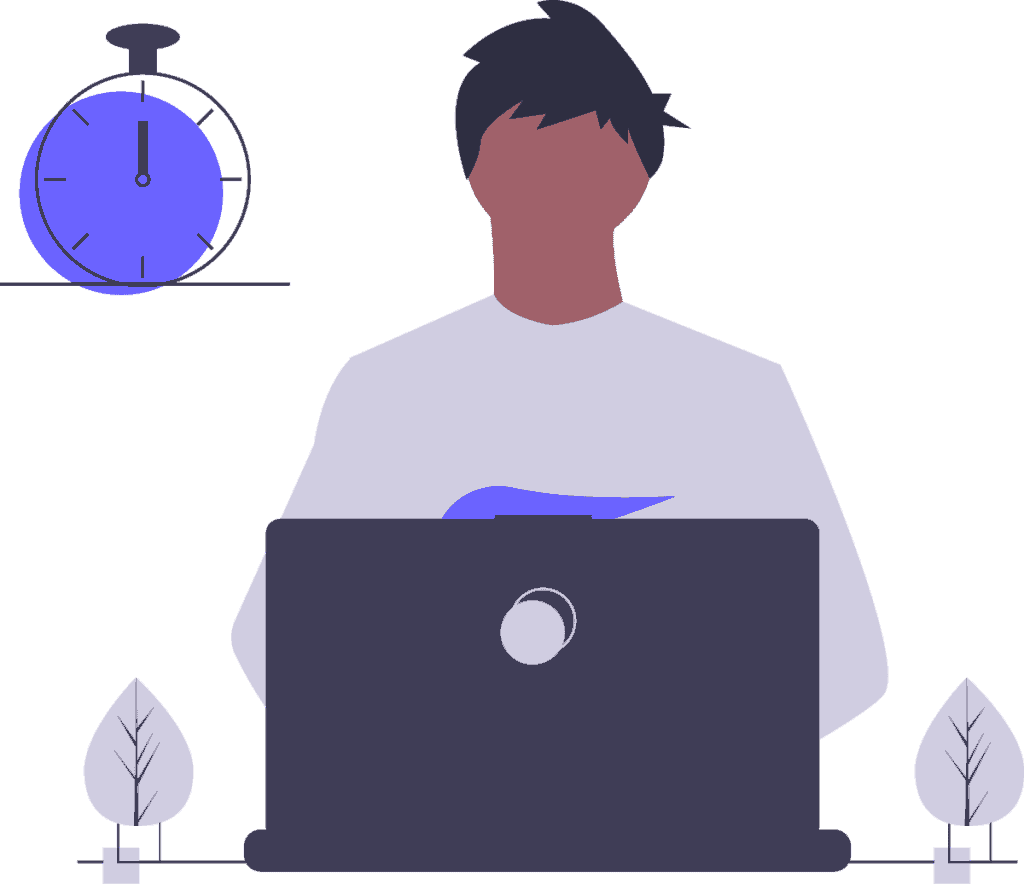 With OVH there are different levels of support. With the standard level, which is included in all plans, support is only available during business hours. To access 24/7 support, on the other hand, you need to purchase an additional business support plan, which starts at €250 per month.
Reading the reviews and comments on the groups, the most used phrases are "OVH non-existent assistance" and "OVH no assistance". Many customers complain of waiting for several days and in several cases it is pointed out that the support uses standard and ineffective answers, instead of actually solving the problems.
If you want guaranteed response times and assistance worthy of the name, SupportHost is the best alternative to OVH.
Affiliation
If you want to make passive income, you can join our beneficial affiliate program. You can have recurring commissions of 15% or choose a one-time commission equal to 40% of the order.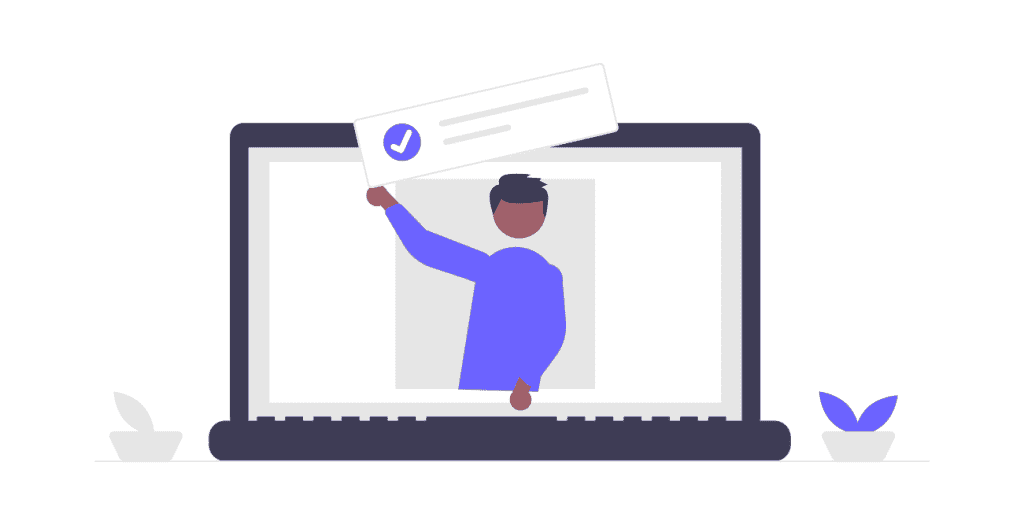 The procedure is very fast, you just need to register and join the program and then start promoting using your affiliate link. As a SupportHost affiliate you can track commissions directly from your personal area and you don't need to be our customer to participate in the affiliation.
OVH does not offer an affiliate programme.
Differences between SupportHost and OVH
Here is a summary of the services of SupportHost and OVH in comparison.
| SupportHost | OVH |
| --- | --- |
| Transparency: See all available resources according to plan. | Shared plans don't always show resources. |
| PHP version: you can choose the one you want. | Limited choice among PHP versions, only the most recent ones. |
| Staging: you create it with a click. | Staging not available. |
| Backups: Access the last 30 days of backups. | Only backups of 1, 2, 3, 7 or 14 days ago are available. |
| SSH, Git and WP-CLI access on all plans, without exception. | SSH access only on some plans, other features not available. |
| Unlimited FTP accounts on all our plans. | Multiple FTP accounts on some plans only. |
| Free migration performed by our team. | You have to migrate on your own, without assistance. |
| 24/7 support on all plans. Response time guarantees. | Standard support limited to business hours. |
| Support in English and Italian. | Support in English and French. |
| Profitable affiliate program. | No affiliate program. |
Join SupportHost too
SupportHost's goal is to offer a service that exceeds expectations. We want you to be satisfied with the service you have chosen, which is why we offer a 30-day money back guarantee. We are the only provider to offer support response time guarantees. With us you are always in good hands!
If you are thinking of leaving OVH to move to a new provider, try SupportHost for 14 days, no payment details are required.