If you were looking for an alternative to WiX to host your website, you have come to the right place.
Although WiX is used by millions of people, many complain about limited resources and the exorbitant prices of the services. Others complain about the poor quality of the assistance service, as you can see in the reviews section, scrolling through this article.
In this comparison, we will analyze the features on WiX and compare them with those of our SupportHost services, in order to help you choose the best hosting for your website.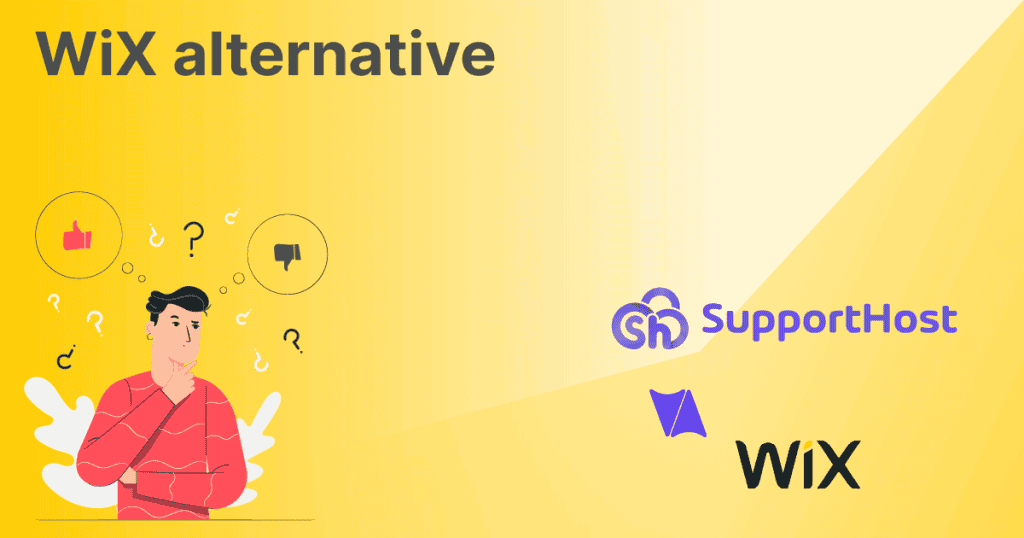 Performance
All of our hosting plans are configured to ensure optimal performance. Even with the cheapest hosting plans, we provide the resources needed to sustain substantial traffic volumes.
With the semi-dedicated hosting plan, you will have more resources available to start your project, at a low cost.
If you have any doubts about which solution is best suited to your needs contact us at any time, we will help you in choosing the most suitable hosting for your project.
Together with some of our customers who have switched from WiX to SupportHost we have compared the situation before and after the website relocation. We found that after the transfer there was a noticeable improvement in the performance and loading times of the web pages.
Resource management
Our hosting plans have limited resources for each individual account, in order to avoid sudden server overloads. The integrated monitoring system guarantees uninterrupted service even in the event of cyber-attacks or sudden high traffic peaks.
Easy hosting
We are committed to providing all our customers with a professional hosting service that is easy to use even for the less experienced.
On all shared hosting, semi-dedicated hosting and WordPress hosting plans, cPanel is integrated, the control panel most used by web professionals. Thanks to the simple and intuitive interface, this panel will help you manage all aspects of your hosting plan. Also, for less experienced customers, we have created tutorials for every feature included in cPanel.
If you have a problem with an operation, you can contact us and ask us to post a new tutorial, which will be available within 24 hours of your request.
PHP versions
Different versions of PHP are available for our customers, so you can freely choose the one that best suits your project. The latest PHP version will be automatically set upon account creation, in order to ensure the highest standards of security and performance.
Currently the following PHP versions are available: 4.4 / 5.1 / 5.2 / 5.3 / 5.4 / 5.5 / 5.6 / 7.0 / 7.1 / 7.2 / 7.3 / 7.4 / 8.0 / 8.1
Staging
We offer the ability to easily create staging environments for all major CMSs. This will allow you to work on a test version without affecting your main website, securely.
Backup
All of our hosting plans include a free automatic backup service. A full backup of all your files will be automatically generated every day and kept for 30 days.
With our backup service you will no longer have the fear of irreversibly losing all your files; the backups will be saved on another datacenter safe from any possible compromise.
More advanced options
Some advanced features, normally available for a fee, are available free of charge to all customers who purchase one of our hosting plans.
Features
To help you better evaluate which hosting is best suited to your needs, we have analyzed the technical specifications of the WiX Unlimited plan and compared them with our hosting plans.
It is important to note right away that on WiX you do not have direct access to the database. With SupportHost you always have access to your files and databases, plus you always have a free automatic backup service available.
Our hosting services boast more disk space than the hosting plans offered by WiX, and CloudFlare can be integrated with all SupportHost hosting plans, which is not possible on WiX.
WiX offers the possibility to create a website easily thanks to its WiX ADI system and its integrated site builder. With a web hosting, on the other hand, you can freely install any CMS you want and you can customize your website without constraints. Among the most popular CMSs, WordPress is definitely a viable alternative to WiX.
You can try our free hosting at any time, so you will have 14 days to test all the features included in our plans with no commitment to purchase.
Free migration
If you want to transfer your website to SupportHost, you have also included the migration service at no additional cost. We'll take care of the transfer of your site and make sure everything works as it should.
Expert support
It is important to have reliable support by your side and we pride ourselves on impeccable customer service. Our operators are available every day, 24 hours a day, ready to provide you with an optimal assistance service.
You can contact our operators at any time by conveniently using the support tickets in the customer area.
Reviews
When evaluating when choosing a hosting, reviews can be a great way to discover strengths and weaknesses between different services.
We have collected some reviews from the Trustpilot site, which are publicly accessible by anyone, so that you can also take into account the opinions of customers.