With all hosting plans SupportHost offers free domain for life. Just choose one of our plans from shared hosting, semidedicated hosting, reseller hosting, WordPress hosting and for other CMS, up to dedicated solutions like VPS cloud hosting and dedicated servers. Let's see how to do it.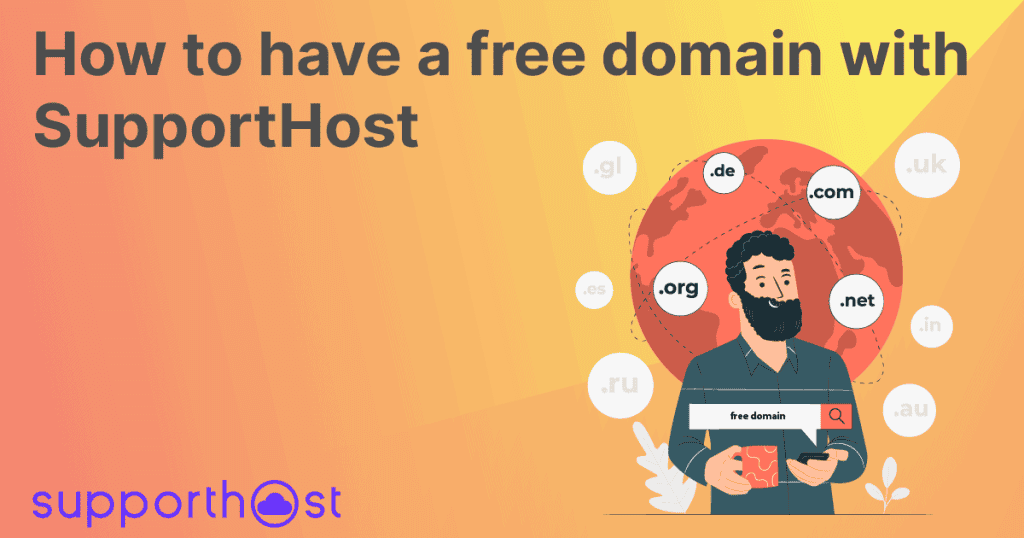 How to have a free domain
When you purchase the plan, all you have to do is register or transfer the domain to get it for free for all subsequent renewals. You must order the plan for an annual period or longer.

Please note that you can get the domain for free only if you order it at the same time as the hosting plan. The free domain cannot be requested after the purchase of the plan. Also, you will not be able to change the free domain later.
The possibility of getting free domain applies only to certain extensions, which depends on the plan.
Here is a table that shows you the free extensions by plan and their billing periods. If the plan is not present it means that you cannot have a free domain.
| Plan | Payment term | Free extensions |
| --- | --- | --- |
| Shared Hosting, Condiviso 1 | 1 Year, 2 Years, 3 Years | .com, .it, .eu, .us, .de, .fr, .ch, .es, .li, .org.uk, .me.uk, .co.uk, .uk, .co.in, .in, .firm.in, .gen.in, .ind.in, .org.in, .net.in, .be, .cc, .nl, .ro |
| Shared Hosting, Condiviso 2 | 1 Year, 2 Years, 3 Years | .com, .it, .eu, .us, .de, .fr, .ch, .es, .li, .org.uk, .me.uk, .co.uk, .uk, .co.in, .in, .firm.in, .gen.in, .ind.in, .org.in, .net.in, .be, .cc, .nl, .ro |
| Shared Hosting, Condiviso 3 | 1 Year, 2 Years, 3 Years | .com, .it, .eu, .us, .de, .fr, .ch, .es, .li, .org.uk, .me.uk, .co.uk, .uk, .co.in, .in, .firm.in, .gen.in, .ind.in, .org.in, .net.in, .be, .cc, .nl, .ro |
| Shared Hosting, Condiviso 4 | 1 Year, 2 Years, 3 Years | .com, .it, .eu, .us, .de, .fr, .ch, .es, .li, .org.uk, .me.uk, .co.uk, .uk, .co.in, .in, .firm.in, .gen.in, .ind.in, .org.in, .net.in, .be, .cc, .nl, .ro |
| Shared Hosting, Condiviso LiteSpeed 1 | 1 Year, 2 Years, 3 Years | .com, .it, .eu, .us, .de, .fr, .ch, .es, .li, .org.uk, .me.uk, .co.uk, .uk, .co.in, .in, .firm.in, .gen.in, .ind.in, .org.in, .net.in, .be, .cc, .nl, .ro |
| Shared Hosting, Condiviso LiteSpeed 2 | 1 Year, 2 Years, 3 Years | .com, .it, .eu, .us, .de, .fr, .ch, .es, .li, .org.uk, .me.uk, .co.uk, .uk, .co.in, .in, .firm.in, .gen.in, .ind.in, .org.in, .net.in, .be, .cc, .nl, .ro |
| Shared Hosting, Condiviso LiteSpeed 3 | 1 Year, 2 Years, 3 Years | .com, .it, .eu, .us, .de, .fr, .ch, .es, .li, .org.uk, .me.uk, .co.uk, .uk, .co.in, .in, .firm.in, .gen.in, .ind.in, .org.in, .net.in, .be, .cc, .nl, .ro |
| Shared Hosting, Condiviso LiteSpeed 4 | 1 Year, 2 Years, 3 Years | .com, .it, .eu, .us, .de, .fr, .ch, .es, .li, .org.uk, .me.uk, .co.uk, .uk, .co.in, .in, .firm.in, .gen.in, .ind.in, .org.in, .net.in, .be, .cc, .nl, .ro |
| Hosting Semidedicato, Semidedicato 1 | 1 Year, 2 Years, 3 Years | .com, .it, .eu, .us, .de, .fr, .ch, .es, .li, .org.uk, .me.uk, .co.uk, .uk, .co.in, .in, .firm.in, .gen.in, .ind.in, .org.in, .net.in, .be, .cc, .nl, .ro |
| Hosting Semidedicato, Semidedicato 2 | 1 Year, 2 Years, 3 Years | .com, .it, .eu, .us, .de, .fr, .ch, .es, .li, .org.uk, .me.uk, .co.uk, .uk, .co.in, .in, .firm.in, .gen.in, .ind.in, .org.in, .net.in, .be, .cc, .nl, .ro |
| Hosting Semidedicato, Semidedicato 3 | 1 Year, 2 Years, 3 Years | .com, .it, .eu, .us, .de, .fr, .ch, .es, .li, .org.uk, .me.uk, .co.uk, .uk, .co.in, .in, .firm.in, .gen.in, .ind.in, .org.in, .net.in, .be, .cc, .nl, .ro |
| Hosting Semidedicato, Semidedicato 4 | 1 Year, 2 Years, 3 Years | .com, .it, .eu, .us, .de, .fr, .ch, .es, .li, .org.uk, .me.uk, .co.uk, .uk, .co.in, .in, .firm.in, .gen.in, .ind.in, .org.in, .net.in, .be, .cc, .nl, .ro |
| Reseller Hosting, Reseller1 | 1 Year, 2 Years, 3 Years | .com, .it, .eu, .us, .de, .fr, .ch, .es, .li, .org.uk, .me.uk, .co.uk, .uk, .co.in, .in, .firm.in, .gen.in, .ind.in, .org.in, .net.in, .be, .cc, .nl, .ro |
| Reseller Hosting, Reseller2 | 1 Year, 2 Years, 3 Years | .com, .it, .eu, .us, .de, .fr, .ch, .es, .li, .org.uk, .me.uk, .co.uk, .uk, .co.in, .in, .firm.in, .gen.in, .ind.in, .org.in, .net.in, .be, .cc, .nl, .ro |
| Reseller Hosting, Reseller3 | 1 Year, 2 Years, 3 Years | .com, .it, .eu, .us, .de, .fr, .ch, .es, .li, .org.uk, .me.uk, .co.uk, .uk, .co.in, .in, .firm.in, .gen.in, .ind.in, .org.in, .net.in, .be, .cc, .nl, .ro |
| Reseller Hosting, Reseller4 | 1 Year, 2 Years, 3 Years | .com, .it, .eu, .us, .de, .fr, .ch, .es, .li, .org.uk, .me.uk, .co.uk, .uk, .co.in, .in, .firm.in, .gen.in, .ind.in, .org.in, .net.in, .be, .cc, .nl, .ro |
| Reseller Hosting, Reseller1 LiteSpeed | 1 Year, 2 Years, 3 Years | .com, .it, .eu, .us, .de, .fr, .ch, .es, .li, .org.uk, .me.uk, .co.uk, .uk, .co.in, .in, .firm.in, .gen.in, .ind.in, .org.in, .net.in, .be, .cc, .nl, .ro |
| Reseller Hosting, Reseller2 LiteSpeed | 1 Year, 2 Years, 3 Years | .com, .it, .eu, .us, .de, .fr, .ch, .es, .li, .org.uk, .me.uk, .co.uk, .uk, .co.in, .in, .firm.in, .gen.in, .ind.in, .org.in, .net.in, .be, .cc, .nl, .ro |
| Reseller Hosting, Reseller3 LiteSpeed | 1 Year, 2 Years, 3 Years | .com, .it, .eu, .us, .de, .fr, .ch, .es, .li, .org.uk, .me.uk, .co.uk, .uk, .co.in, .in, .firm.in, .gen.in, .ind.in, .org.in, .net.in, .be, .cc, .nl, .ro |
| Reseller Hosting, Reseller4 LiteSpeed | 1 Year, 2 Years, 3 Years | .com, .it, .eu, .us, .de, .fr, .ch, .es, .li, .org.uk, .me.uk, .co.uk, .uk, .co.in, .in, .firm.in, .gen.in, .ind.in, .org.in, .net.in, .be, .cc, .nl, .ro |
| Managed VPS Cloud, Cloud 1 Managed | 1 Year, 2 Years, 3 Years | .com, .it, .eu, .us, .de, .fr, .ch, .es, .li, .org.uk, .me.uk, .co.uk, .uk, .co.in, .in, .firm.in, .gen.in, .ind.in, .org.in, .net.in, .be, .cc, .nl, .ro |
| Managed VPS Cloud, Cloud 2 Managed | 1 Year, 2 Years, 3 Years | .com, .it, .eu, .us, .de, .fr, .ch, .es, .li, .org.uk, .me.uk, .co.uk, .uk, .co.in, .in, .firm.in, .gen.in, .ind.in, .org.in, .net.in, .be, .cc, .nl, .ro |
| Managed VPS Cloud, Cloud 3 Managed | 1 Year, 2 Years, 3 Years | .com, .it, .eu, .us, .de, .fr, .ch, .es, .li, .org.uk, .me.uk, .co.uk, .uk, .co.in, .in, .firm.in, .gen.in, .ind.in, .org.in, .net.in, .be, .cc, .nl, .ro |
| Managed VPS Cloud, Cloud 4 Managed | 1 Year, 2 Years, 3 Years | .com, .it, .eu, .us, .de, .fr, .ch, .es, .li, .org.uk, .me.uk, .co.uk, .uk, .co.in, .in, .firm.in, .gen.in, .ind.in, .org.in, .net.in, .be, .cc, .nl, .ro |
| Unmanaged VPS Cloud, Cloud 0 UnManaged | 1 Year, 2 Years, 3 Years | .com, .it, .eu, .us, .de, .fr, .ch, .es, .li, .org.uk, .me.uk, .co.uk, .uk, .co.in, .in, .firm.in, .gen.in, .ind.in, .org.in, .net.in, .be, .cc, .nl, .ro |
| Unmanaged VPS Cloud, Cloud 1 UnManaged | 1 Year, 2 Years, 3 Years | .com, .it, .eu, .us, .de, .fr, .ch, .es, .li, .org.uk, .me.uk, .co.uk, .uk, .co.in, .in, .firm.in, .gen.in, .ind.in, .org.in, .net.in, .be, .cc, .nl, .ro |
| Unmanaged VPS Cloud, Cloud 2 UnManaged | 1 Year, 2 Years, 3 Years | .com, .it, .eu, .us, .de, .fr, .ch, .es, .li, .org.uk, .me.uk, .co.uk, .uk, .co.in, .in, .firm.in, .gen.in, .ind.in, .org.in, .net.in, .be, .cc, .nl, .ro |
| Unmanaged VPS Cloud, Cloud 3 UnManaged | 1 Year, 2 Years, 3 Years | .com, .it, .eu, .us, .de, .fr, .ch, .es, .li, .org.uk, .me.uk, .co.uk, .uk, .co.in, .in, .firm.in, .gen.in, .ind.in, .org.in, .net.in, .be, .cc, .nl, .ro |
| Unmanaged VPS Cloud, Cloud 4 UnManaged | 1 Year, 2 Years, 3 Years | .com, .it, .eu, .us, .de, .fr, .ch, .es, .li, .org.uk, .me.uk, .co.uk, .uk, .co.in, .in, .firm.in, .gen.in, .ind.in, .org.in, .net.in, .be, .cc, .nl, .ro |