Are you looking for a comparison between cPanel vs Plesk vs DirectAdmin? These three solutions are the most widely used hosting control panels, but how do yo know which one to choose?
In this article, cPanel vs Plesk vs DirectAdmin: three web hosting panels compared, we are going to look at what is compatible with the operating system and third-party software and what functions are made available by these three options. We will also see what they look like in terms of their interface and ease of use, and what the licensing prices are.
Before we begin this overview, let's look at the main functions of a Web panel.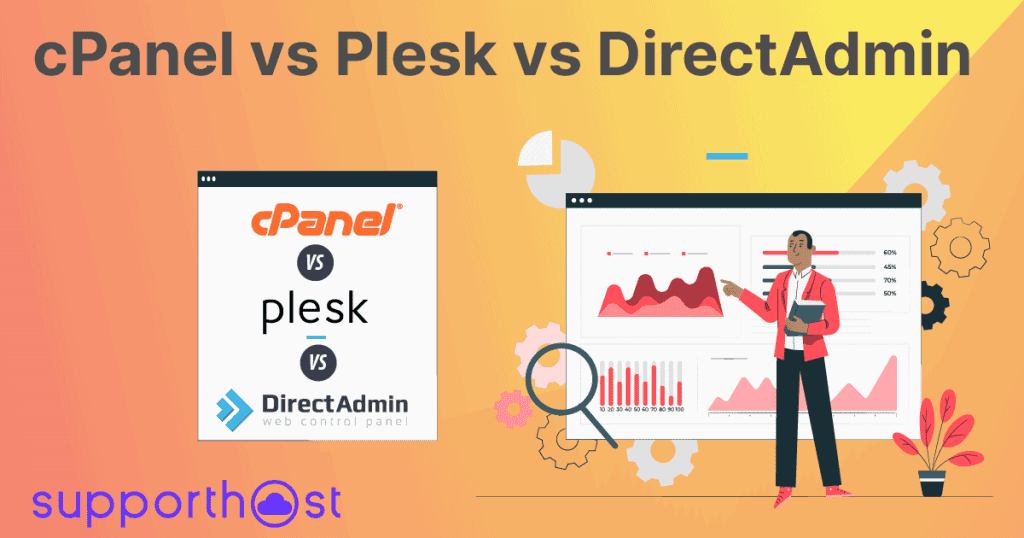 What is a hosting control panel?
Control panels allow users to manage the server, access site files, and configure services. The function of a web panel is precisely to provide users with a graphical interface through which they can manage all services.
A variety of functions can be accessed through the control panels, functions such as:
Consult and manage site files;
accessing e-mail;
Create new mail accounts;
access the database;
managing DNS;
Create and manage accounts;
create a backup;
Manage access via FTP protocol;
Consult usage statistics and metrics;
install applications.
These are some of the main functions made available by the web panels, but there are also other services such as the ability to create and manage subdomains or enable hotlink protection.
As mentioned, the convenience of a control panel is precisely that of having available in a single administrative area the tools you need to manage your hosting space and websites.
Having said that about the main features of control panels, let's move on to see the most used ones. As you may know there are several panels, but there are three that are most widely used: cPanel, Plesk and DirectAdmin, so we decided to compare them to help you figure out which one is best suited to your needs.
cPanel vs Plesk vs DirectAdmin: a comparison
For our cPanel vs Plesk vs DirectAdmin comparison we will look at the main features of these control panels.
Specifically, we will compare interface, functionality, operating system compatibility, hardware requirements, and licensing prices.
Let us first start with the interface of these three web panels.
Interface
cPanel
cPanel is divided into two separate panels, the first represented by cPanel and accessible to the end user and WHM which is used by the administrator for server management or by the reseller in the case of reseller plans.
The cPanel interface features a central area that is divided into sections, each of which includes different services. On the right side, however, we find general account information and statistics highlighted.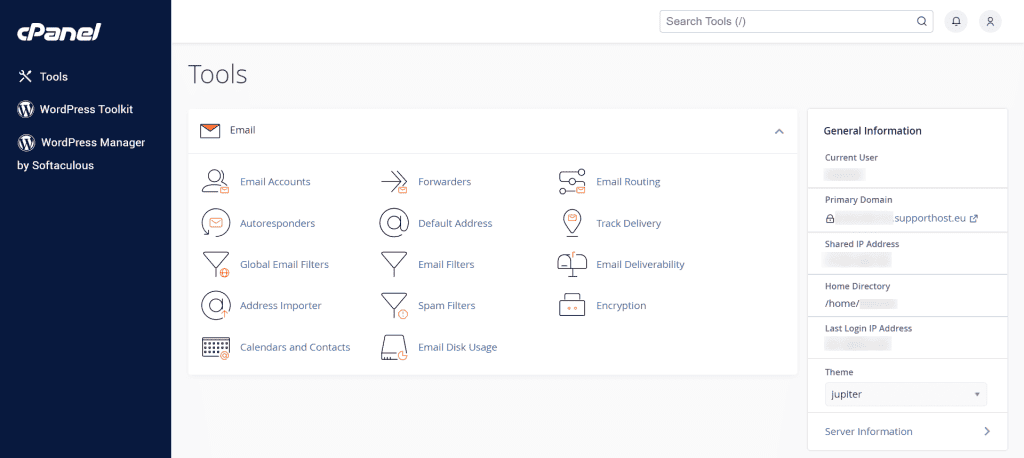 The order of the sections can be changed as desired by simply dragging the various sections to reorder them.
For example, the "email" section contains tools that allow you to create an email account, set up an email filter and automatic reply and so on.
The "file" section allows us to access the file manager, create the backup and manage the FTP account.

We then find the "databases" section from which we can create and manage databases on the server, but also access to phpMyAdmin.
The divided sections and the possibility to customise are advantages for the user.
You can try a demo of cPanel and WHM for 15 days through the site. You can also try cPanel for free by activating a trial of our free hosting service for 14 days. All you have to do is request a plan activation so you can do as many trials as you want with no strings attached.
Plesk
Plesk is structured to have a side menu enclosing the main categories and a central section in which to display individual functions.
The side menu gives us access to email, databases, application files, accounts, sites and domains, and so on. By selecting one of the menu items we can access individual functions.
In this example, you can see the Websites & Domains section from which you can access other functions such as the file manager, databases, and backup and restore functions.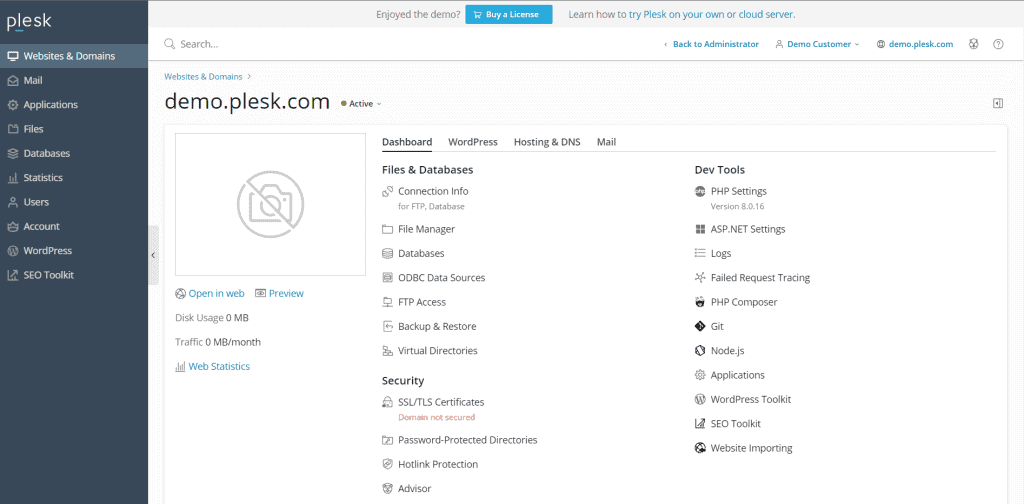 Below you can see what the Plesk file manager looks like.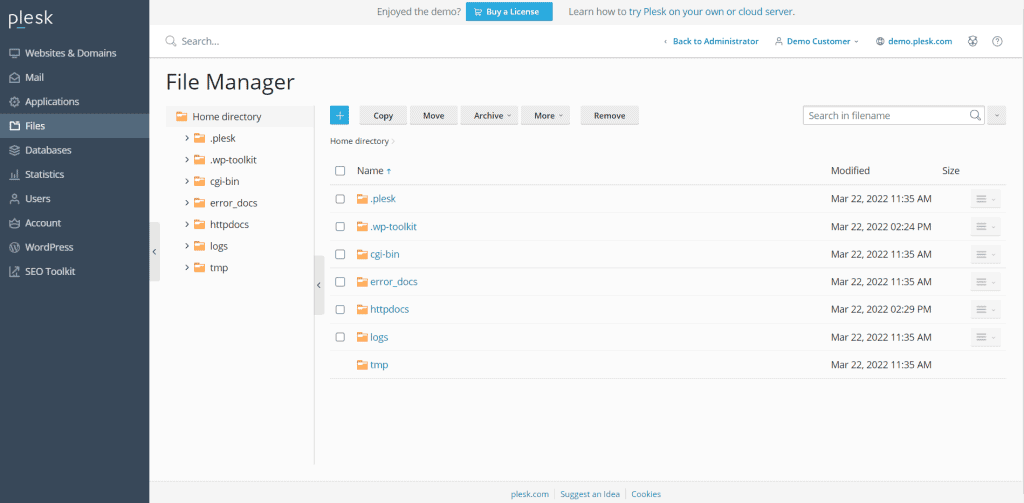 In the cPanel vs Plesk vs DirectAdmin comparison, Plesk is the panel that offers the least customization options.
Regarding user friendliness, some prefer the structure of Plesk to that of cPanel, others find cPanel more intuitive, this is a very subjective matter.
You can try a demo of Plesk using one of the methods outlined on the site.
DirectAdmin
Accessing the DirectAdmin panel, we find ourselves in the dashboard that presents us with some main functions such as domains, databases and email accounts.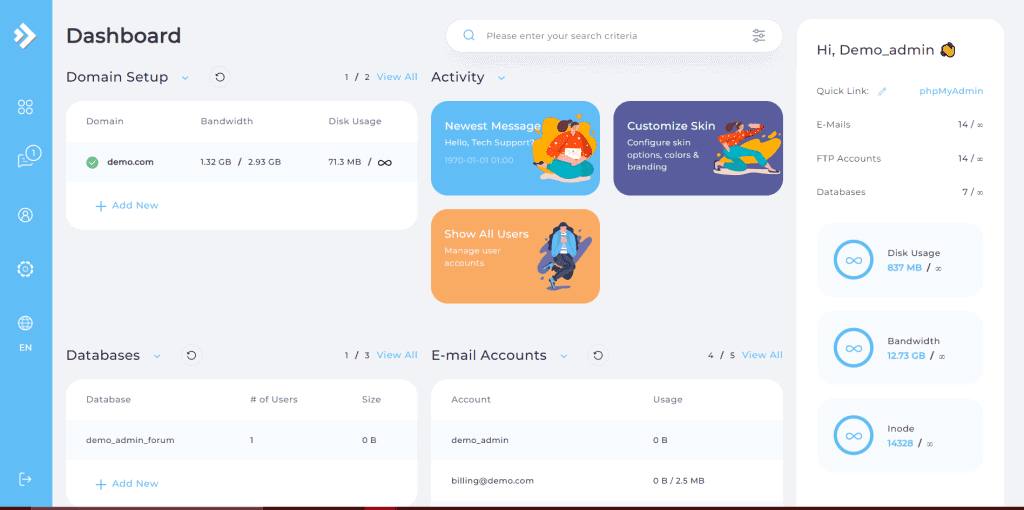 On the left we find a menu that gives us access to all functions, which are divided into two main categories: administrator and user. We can also use the search bar to find the desired functions, or choose to add the panel to the dashboard.
From the Administrator section we can manage users, and access server configurations such as managing DNS and creating keys for the SSH connection.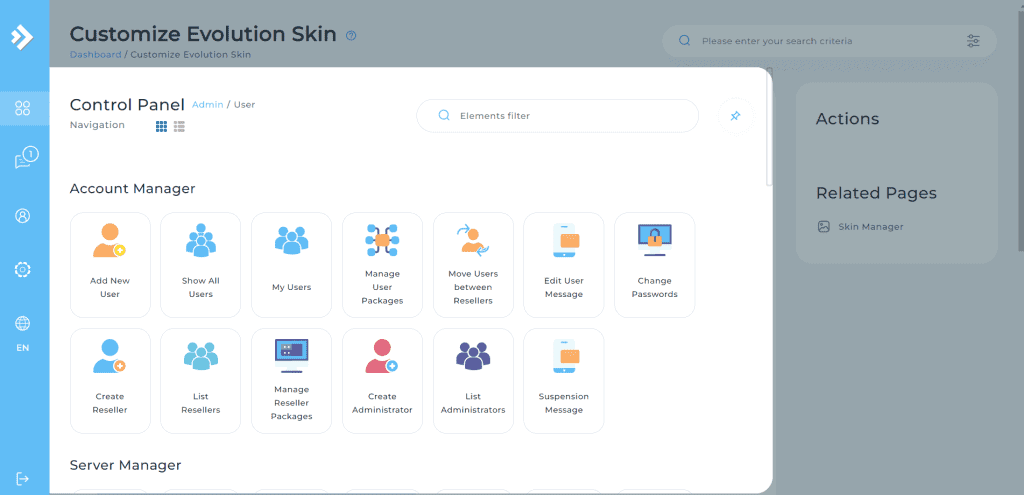 From the User section we can manage email accounts, access the file manager and other functions. Below you can see the DirectAdmin file manager.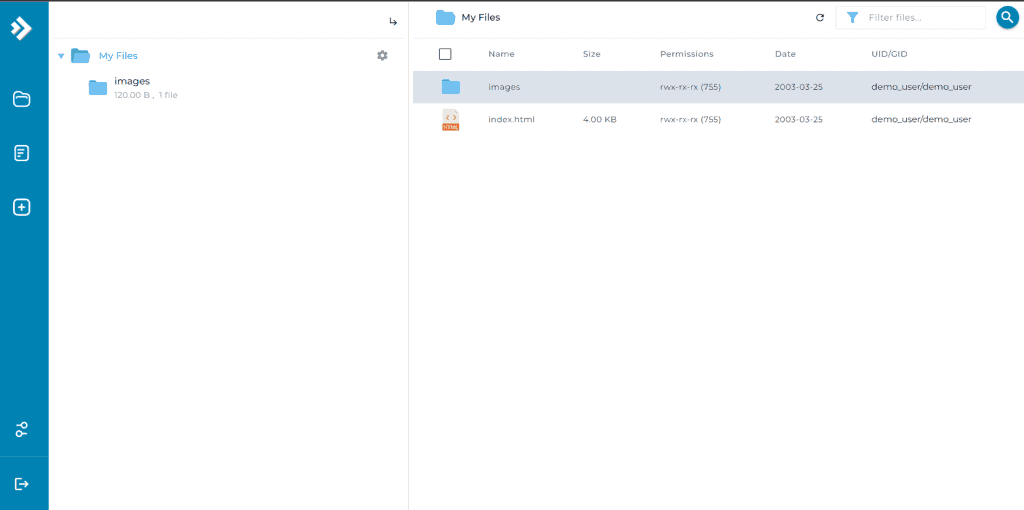 Reseller plans will also have a Reseller section from which we can manage users and account backups.
In addition to being customizable, the DirectAdmin interface is undoubtedly the most simplified, which makes the panel the easiest to use.
From the site you can try the demo by access: user, administrator or reseller.
Operating system and hardware compatibility
When choosing a hosting panel, operating system compatibility is an essential factor. When comparing cPanel vs Plesk vs DirectAdmin, it's tricky to decide on which panel to choose based on the server's operating system. Let's see how to decide based on compatibility.
cPanel
cPanel is compatible with the following Linux distributions: AlmaLinux, CentOS, RHEL, CloudLinux and Ubuntu.
The hardware requirements are as follows for CentOS, RHEL, AlmaLinux and CloudLinux:
1.1 GHz processor
RAM: 1GB (minimum) 2GB (recommended)
Disk space: 20 GB (minimum) 40 GB (recommended).
For Ubuntu, the following are required:
1.1 GHz processor (minimum), 2 GHz (recommended)
RAM: 1GB (minimum) 4GB (recommended)
Disk space: 20 GB (minimum) 40 GB (recommended).
Plesk
Plesk is compatible with Debian, Ubuntu, CentOS, RHEL, CloudLinux, Virtuozzo Linux and Windows Server (2012, 2012 R2, 2016 and 2019).
The hardware requirements for the Plesk panel for Linux are as follows:
RAM: 512 MB minimum
Disk space: 10 GB.
For Windows, the following are required:
RAM: 2 GB minimum
Disk space: 30 GB.
DirectAdmin
DirectAdmin is compatible with CentOS, RHEL, CloudLinux, Debian, Ubuntu, VzLinux, and AlmaLinux. For the specific version compatible with each distribution you can look up the system requirements.
Regarding hardware requirements, 1GB of RAM is required (2GB recommended), while for CentOS 2GB minimum and 4GB recommended. At least 2GB of free disk space and a 500 Mhz processor are needed.
cPanel vs Plesk vs DirectAdmin: the performance
In the case of cPanel, the panel page may take some time to load given the many functions present, however, this should not suggest, as some believe, that cPanel will slow down the site.
In terms of performance, the panels are comparable and do not impact the speed of the website.
Functionality
The features provided by the control panels to manage the account are comparable. In this case, when comparing cPanel vs Plesk vs DirectAdmin we will therefore simply highlight a few features for each panel.
cPanel
As we have seen in discussing the interface, cPanel differs from other control panels in that it has two separate panels. Users of a shared hosting will only have to deal with the functions of cPanel, but those who choose a plan such as hosting reseller will be able to manage client accounts through WHM.
Features of cPanel include management of MySQL and PostgreSQL databases, integration with phpMyAdmin, and the ability to configure filters and automatic email responses.
cPanel also provides resource usage metrics, along with those from third-party programs such as Awstasts and Webalizer.
Integrated with Softaculous, the panel allows you to install many applications. Taking advantage of this feature, for example, you can install WordPress with one click.
Moreover, with the WordPress toolkit we can manage installations, update plugins and themes even on multiple sites. cPanel is also compatible with Git, Node.js and Docker.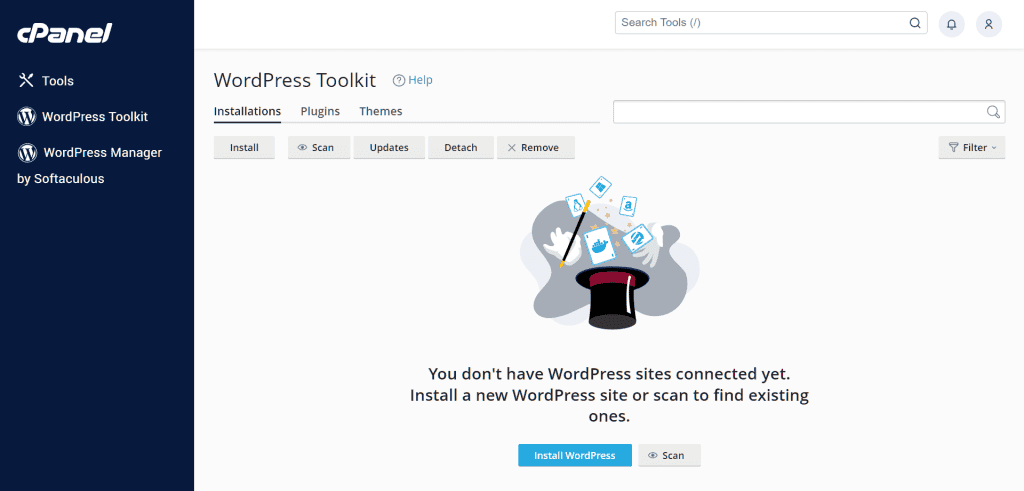 With cPanel we can enable the two factor authentication, manage the installation and renewal of the SSL certificate, but also take advantage of features to secure the account such as enabling the hotlink protection and blocking an IP address.
Plesk
Plesk unlike cPanel does not have two separate panels for user and server administrator. In this case, therefore, depending on the permissions you have certain options that will be accessible or not.
Plesk allows you to manage MySQL, PostgreSQL and MSSQL databases, in addition you can also integrate to external MySQL servers.
Again, integration with phpMyAdmin is available and functions for email and metrics are accessible. The panel also allows you to manage multiple IP addresses for a single domain.
Like cPanel, Plesk is also integrated with the WordPress toolkit and allows us to manage themes, plugins and updates no the CMS.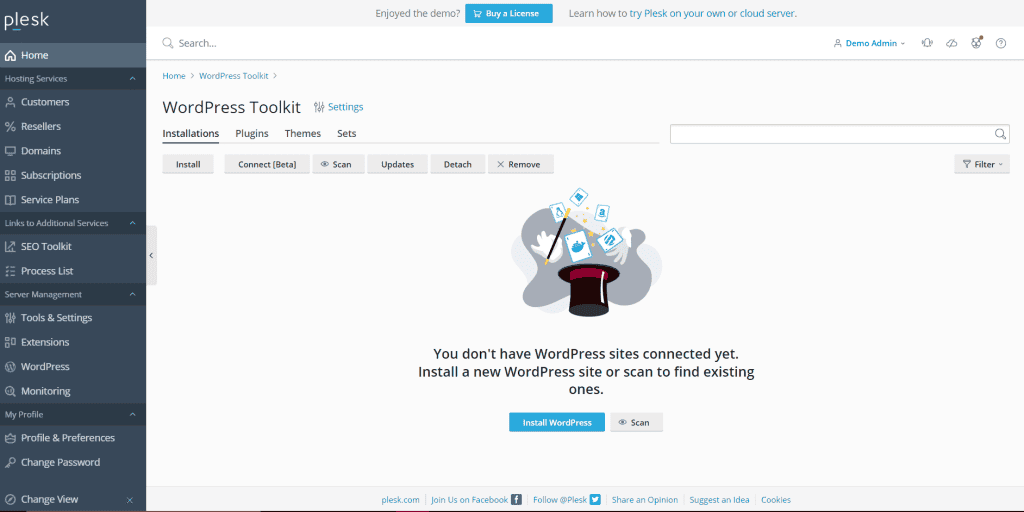 Among the available extensions it is also worth mentioning the support for Let's Encrypt SSL and the SEO Toolkit. Plesk is also compatible with Git (it also has a specific Gitman extension), Docker and Node.js.
On the security side, Plesk includes fail2ban, a feature that helps prevent spam for mailboxes and prevents account intrusions.
DirectAdmin
DirectAdmin functions vary according to user privileges (administrator, user, and reseller).
DirectAdmin is integrated with phpMyAdmin and allows us to manage MySQL databases, but it does not support PostgreSQL unlike the other two control panels we've just reviewed.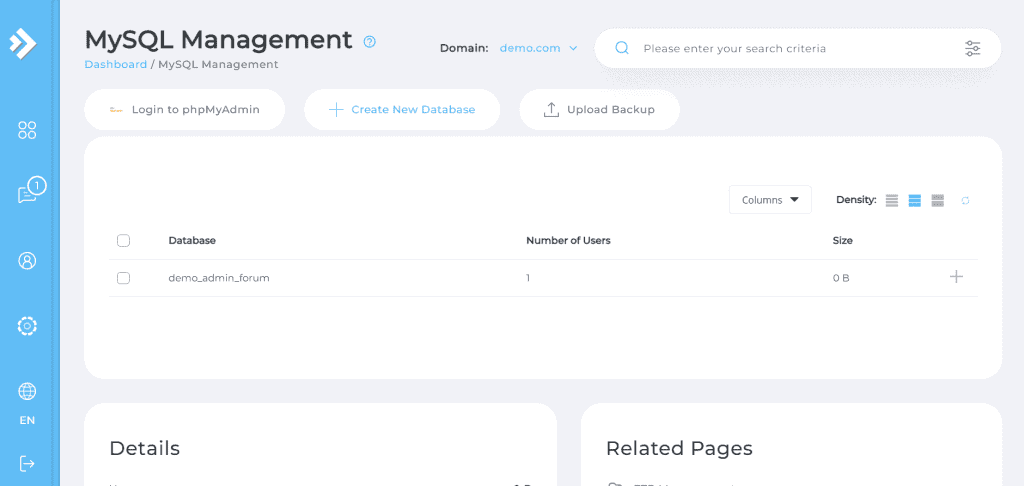 Again, we have the ability to manage filters and automatic email responses. There is no lack of a menu for statistics and integration with Webalizer, plus DirectAdmin supports Node.js and Git.
There are also more advanced tools that allow us, for example, to install SSL certificates, set up cron jobs, and change the PHP version in use.
cPanel vs Plesk vs DirectAdmin: pricing
When comparing cPanel vs Plesk vs DirectAdmin it is also worth mentioning the prices of licenses. Keep in mind that if you choose a hosting plan that already includes the control panel, you won't have to pay the cost of the licenses that are already included in the plan.
In the case of our dedicated servers, the cPanel SOLO license is included in the price. You can also choose to purchase a Plesk license at a discounted price.
cPanel
The price of licenses depends on the plan you choose and the number of accounts you want to manage.
cPanel Solo, a single account license is priced at $15.99 per month. You can have up to 5 accounts with the Admin plan at $24.99, then there is the Pro plan which allows up to 30 accounts and finally the Premium plan which has a limit of 100 accounts.
By becoming a partner you can get discounts on licenses for cloud plans and dedicated servers.
Plesk
Plesk licenses start at €9.50 per month for the Web Admin Edition for VPS plans, and €15 per month for the Web Pro Edition.
To get a license for unlimited domains you can opt for the €24.50/month (VPS) and €44.50/month (dedicated servers) plan or apply for a business plan by becoming a Plesk partner.Purchasing an annual license gives discounts over the monthly option.
DirectAdmin
DirectAdmin licenses can be purchased with:
the Personal plan at $2 per month, valid for a single account and up to 10 domains;
the Lite plan at $15 per month, good for 10 accounts and up to 50 domains;
and the Standard plan at $29 per month with unlimited domains and accounts.
"Lifetime" licenses are no longer sold.
Conclusion
In this article, cPanel vs Plesk vs DirectAdmin: three web hosting panels compared, we looked at the hosting panels in detail.
We started with an overview of the interface of the panels and saw how they are structured. cPanel and DirectAdmin are compatible with Linux operating systems, while Plesk is also compatible with Windows Server. Compatibility is one of the key features in choosing a control panel, but undoubtedly so are the other factors.
Therefore, we have also took a look at the main functionalities of the three panels, integration with third-party services, and finally the prices of licenses.
Did this comparison help you figure out which control panel is right for you? Let us know in the comments below.