At SupportHost do our best to listen to our customers' feedback.
This is precisely why I periodically send a personal email to customers. To know how they are, if they have suggestions or criticisms and to have new ideas to improve the service in the future.
I personally read all customer responses. I don't know if this is good or bad, but it's a fact.
Unfortunately it would be impossible to apply all the suggestions received, in the end we have to deal with what is possible or not.
But for the new year, we decided to listen to the most frequent suggestions and move in the direction that I felt was most fair, and that the systems engineers also felt was right.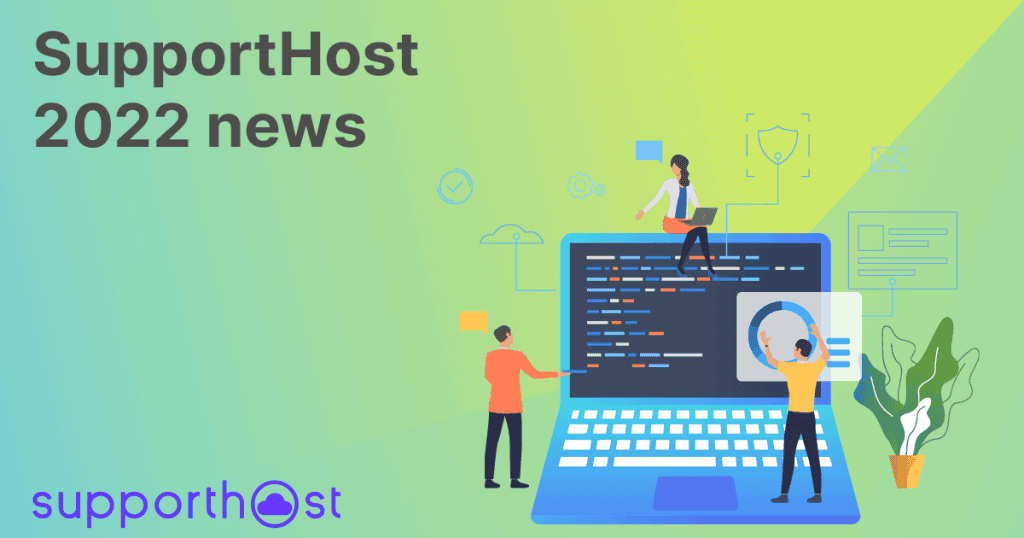 The new SupportHost hosting plans
After 11 years since the creation of SupportHost we have decided to change our offer.
In the course of time, although we have never raised our prices, we have revised the thresholds (mainly space and traffic) increasing the limits of our hosting plans.
But according to the feedbacks received, our limits were still low.
That's why we decided to completely revise our offer.
We decided to create plans with new levels, which had nothing to do with the old offers.
In a world that changes so fast, we opted to adapt the limits to the needs of our customers:
We've increased the thresholds for space, now the smallest plan offers 15GB of SSD space.
We decided not to limit the monthly bandwidth. Now the monthly bandwidth is unlimited on all accounts.
We have decided to offer these resources for all hosting plans:
Unlimited email accounts
Unlimited MySQL databases
Unlimited subdomains
Unlimited FTP accounts
In addition to this, we have decided to include SSH and WP-CLI access in the price for all plans to meet the needs of more experienced users.
In addition to all this, we have decided to increase the resource limits of the accounts. When I talk about resources, I am referring to:
Ram
CPU
I/O
Concurrent processes
LiteSpeed shared hosting
Many people have asked us for LiteSpeed even on cheaper plans. That's why we decided to create a LiteSpeed version of our shared hosting.
From our tests, we found a 20-30% performance improvement using LiteSpeed on the same website. Moreover, the same account is able to support more visits if the specific LiteSpeed caching plugin is used. And we know how important it is to have a fast website.
New semidedicated hosting
We have decided to revise the thresholds and prices of the semi-dedicated hosting plans. Although the basic plan now costs more than the old platinum 1 plan, it offers more resources (space, ram and everything else) than the old platinum 2, but at a lower price.
Now semidedicated plans have power to spare. Much more than ever before.
New Resellers
Another thing we've been asked many times: a LiteSpeed reseller plan. They will be available on our website soon. Stay tuned!
New CMS hosting
Until now, CMS plans were only for specific products. A CMS plan in the end is nothing else than one of our hosting with the CMS that the user prefers already installed.
So why not give this option on all plans?
Now on the WordPress hosting page we show a few options to provide an easy choice. But you can have the CMS you prefer pre-installed on any of our hosting plan, simply by choosing it from a drop-down.


This way, if you want your CMS pre-installed you are not limited in your choice of hosting plan.
Domains included in the price
We have always given the domain included in the price, even at renewal.
And we're not going to stop now. In fact...
We've added extensions that you can have for free, now the list includes these domain extensions:
.com, .it, .eu, .us, .de, .fr, .ch, .es, .li, .org.uk, .me.uk, .co.uk, .uk, .co.in, .in, .firm.in, .gen.in, .ind.in, .org.in, .net.in, .be, .cc, .nl, .ro
What will happen to the old plans?
You will no longer be able to purchase the old plans, and you will no longer be able to upgrade or downgrade to one of the old plans.
From any of the old plans you can upgrade to one of the new ones, the difference will be calculated by the system when you order the upgrade/downgrade.
The price will be shown before continuing and you can decide whether or not to continue.
Please note that if you move from an Apache plan to a LiteSpeed plan or vice versa we will need to move your account on a different server, which we will do at no additional cost and without any downtime at our earliest convenience.
Why don't you offer low cost plans?
We reckon that shared hosting plans are low cost plans.
Personally I think that if you don't have a budget of 35€ per year for the hosting of a website, that is the lowest expense to have the website online, maybe it's better to reevaluate the whole project.
There are many providers that offer a service for 10-20€ per year with domain included in the price. But then these very providers have negative reviews, and if you need help they have very long response times, and sometimes you have to wait days for a generic answer.
With SupportHost you're in a safe place compared to these providers. With only 1€ per month more, you have a guarantee that you will receive fast and resolute answers, even at night or on holidays.
The experience we have done in these years has taught us that it doesn't make sense to sell a low price service with hidden limits and low quality.
We prefer to sell a high quality service at the right price, but a service that our clients are proud to recommend to their friends and colleagues.