Want to know how to choose the best amongst the many Drupal themes? With hundreds to choose from it is not easy to understand where to start.
So, let's have a look at where to find reliable themes and what aspects should be focused on.
At the bottom of the article, you will also find our personal list of 5 topics to take into consideration.
What are Drupal themes and what are they for?
Before going to see how to choose the right theme for your Drupal site, let's make a small introduction.
As you probably already know, a theme is a set of files that allows you to define the visual aspect of a site. A theme for Drupal will therefore influence the aesthetics of the site by determining the style in which the content you add is displayed.
Having clarified this point, we are ready to see how to find the perfect theme.
Warning: there is no theme suitable for all projects, so we will follow a method to narrow the field to the best theme based on objective characteristics. In this way, after you have the list of the best candidates, you will be able to find among them the one that meets all your needs.
How to choose a Drupal theme
Are you starting to build a site now? Check out our affordable offer for Drupal hosting. With SupportHost you will have Drupal already installed and ready to go right away.
When you create a website, after choosing the platform to use, one of the first things to do is choose the theme.
But where do we start from?
The first choice you have to make is between:
predefined themes;
third-party themes;
custom theme.
First there are the basic themes that you already find in your Drupal installation. For example the default theme of Drupal 7, 8 and 9 is Bartik.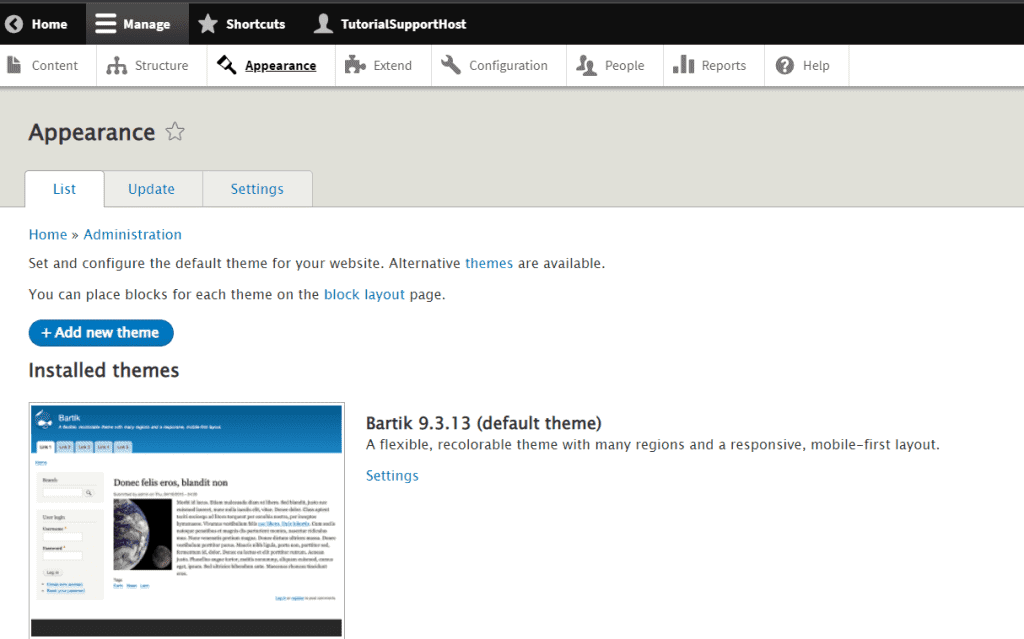 If you don't like the default theme, you can easily find free and paid Drupal themes developed by third parties.
Another alternative is to hire a developer to create a custom theme. This solution is ideal if you have special needs and you need to create a project for which the themes available are not enough.
In this chapter we are going to see what you need to focus on when choosing the theme.
Where to start
In marketplaces and directories, the theme listing is a landmine of information.
Firstly, start by reading the description of the theme, look at the screenshots and, if available, take a look at the live demo. This will help you identify the topics that interest you and exclude those that don't.
It should be said right away: appearance is not everything when it comes to choosing the most suitable theme for our site.
So, let's look at the aspects you should focus on.
Criteria for evaluating Drupal themes
We can choose the theme based on objective criteria:
compatibility with Drupal version;
the state of development and frequency of updates;
the presence of supporting documentation and resources;
the number of downloads or licenses sold and user reviews.
Finding this information is quite easy whether you are looking for a theme in the official Drupal directory or on a third-party marketplace such as Themeforest.
In any case, let's see some examples that help us better understand how to proceed in practice.
Check compatibility with your version of Drupal
When choosing a theme for your site, the first thing you should do is check that it is compatible with the Drupal version you have installed.
From the theme directory you can do a quick search using a filter to see only themes compatible with a certain version.
Connect here or go to drupal.org and open the Download & Extend > Themes section.
Through the drop-down menu select the version you are using, for example "Drupal 9", and then click on Search, like this: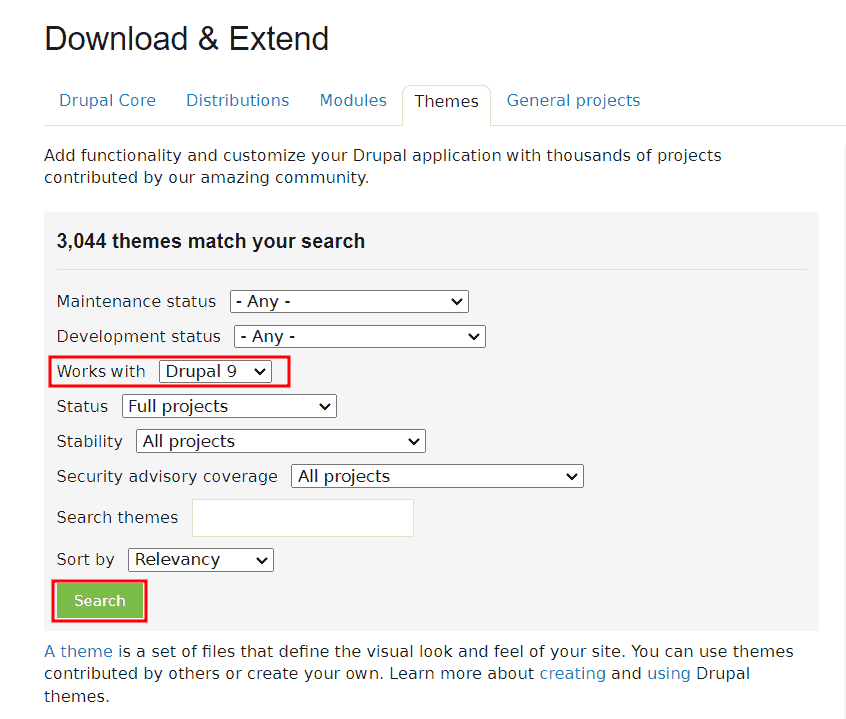 This way you can easily find the Drupal themes that interest you.
Typically marketplaces also allow you to filter your theme search based on compatibility with your version of Drupal or other extensions. Themeforest is one of them.
First access the section with all Drupal themes which you can connect to from here.
Then use the filters that appear in the left sidebar, as I show you here: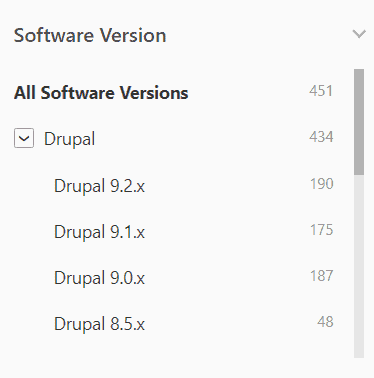 Check the frequency of updates
When choosing a Drupal theme, one of the first checks you'll want to do is to see if it's being kept up-to-date. By doing so, you will be able to choose a theme that keeps up with Drupal updates and is always compatible with new versions of the CMS.
The themes directory accessible from the Drupal.org site, as we have seen before, allows us to do some in-depth research into the matter.
In particular we can:
Filter the search by "maintenance status". This way we can check if the theme is updated with improvements and/or bug fixes.
Filter by "development status". In doing so we can choose to see only the themes that are still under development or perhaps only the complete ones ("maintenance fixes only" option).
Choose to only show themes that were created following procedures dictated by the Drupal security team. To do this we choose the option "Has security advisory coverage".
Below is an example of a search with the various filters we have just seen applied: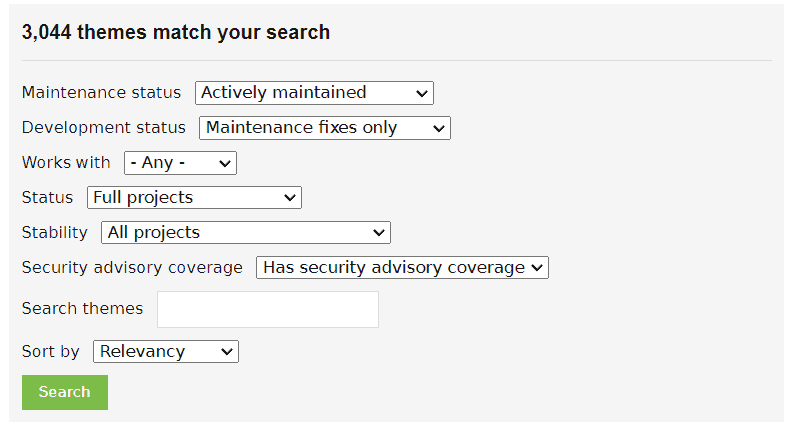 Make sure the theme is well documented
In choosing the theme for our site, another thing to consider is the presence of accurate documentation.
The documentation and resources are essential to be able to install and configure the theme correctly, but above all to draw out its full potential.
Some marketplaces, including Themeforest, highlight themes supported by rich documentation using the "well documented" tag as you can see in this example: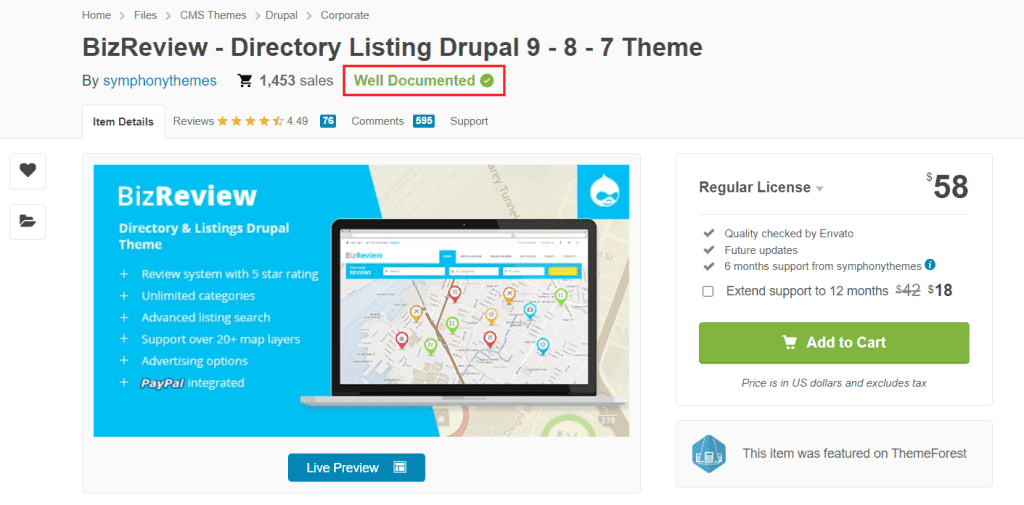 Check the reviews
Last but not least, you should take time to look at the reviews. The opinion of users who use the theme on their websites can give you a lot of information.
In addition to the reviews you may also find a comments section like the one on Themeforest.
From the exchange of comments between users who have purchased the theme and the developers, you can understand if the development of the site is being carried out actively. This is also a great way to check the timeliness of responses from the theme development team.
Where to find Drupal themes
Now that we have seen what characteristics to look for in a perfect theme, let's move on to practice and answer the question "Where do I find the themes?"
As I told you before, there are several sites where you can find themes for your Drupal site.
Here are some examples:
Drupal.org official directory;
Drupal Free Themes;
theme forest;
Template Monster.
Drupal.org official directory
We've talked about the Drupal.org site directory before, when I showed you how to use search filters.
As I'm writing this article there are 3044 Drupal themes. By accessing individual themes you can see the release date of the latest version and the number of sites using that theme.
In addition, of course, to the description and any indications on the modules that the developers recommend.
Below you can see an example of the "Adminimal" theme tab where I have highlighted this information.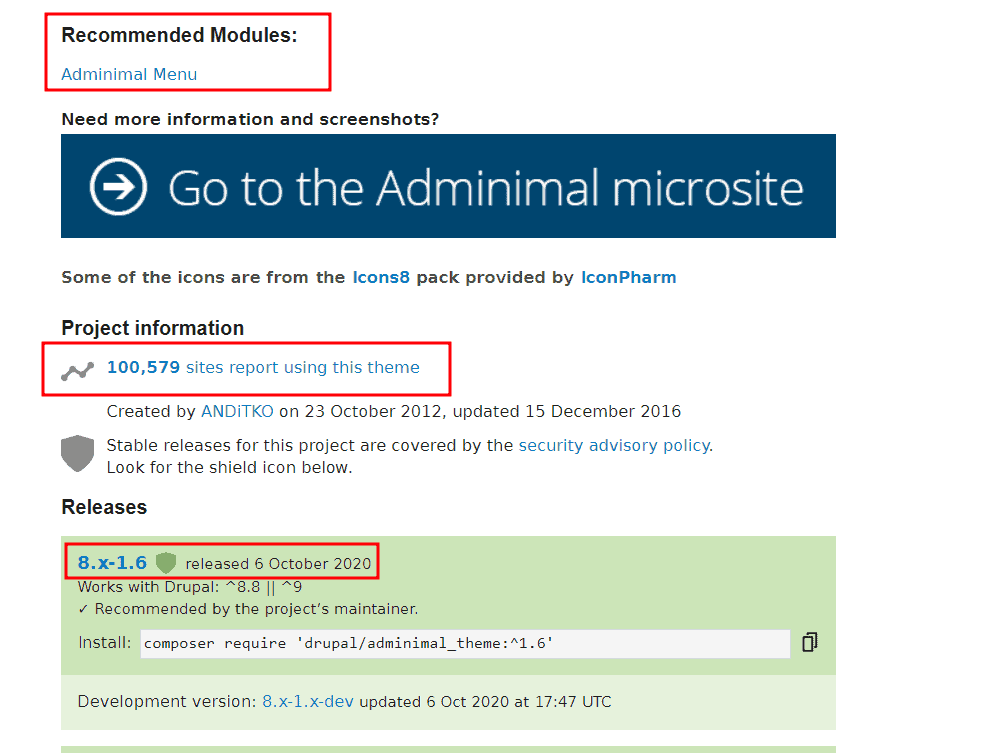 In some cases, like this one, you can see a live demo of a site using the theme.
Drupal Free Themes
On the Drupal Free Themes website we can find a collection of themes compatible with the latest versions of Drupal, with an entire section dedicated to themes for Drupal 9.
The templates are categorized by niche or site type. For example, if we want to create an ecommerce site, we can take a look at the related category.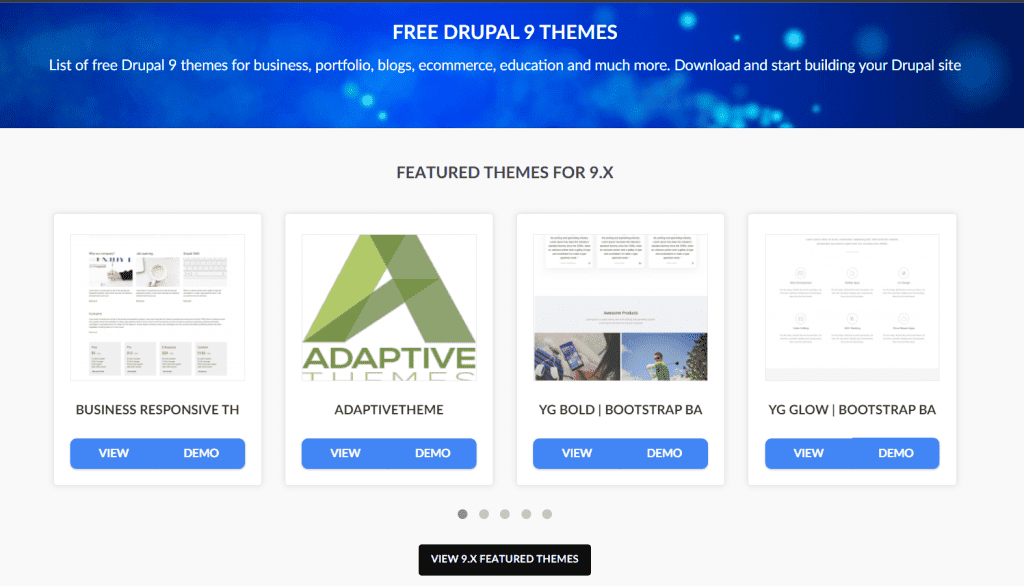 The site collects over 2000 free Drupal themes. Basically these are the same themes that we can find on Drupal.org in the directory we saw earlier.
The most interesting thing, however, is that a demo is available on this site for each theme. Indeed, the portal allows us to create a test Drupal site with the theme installed to see what it will look like.
In addition there are more filters that allow us to refine our search for free Drupal themes. For example we can restrict the search to only responsive topics.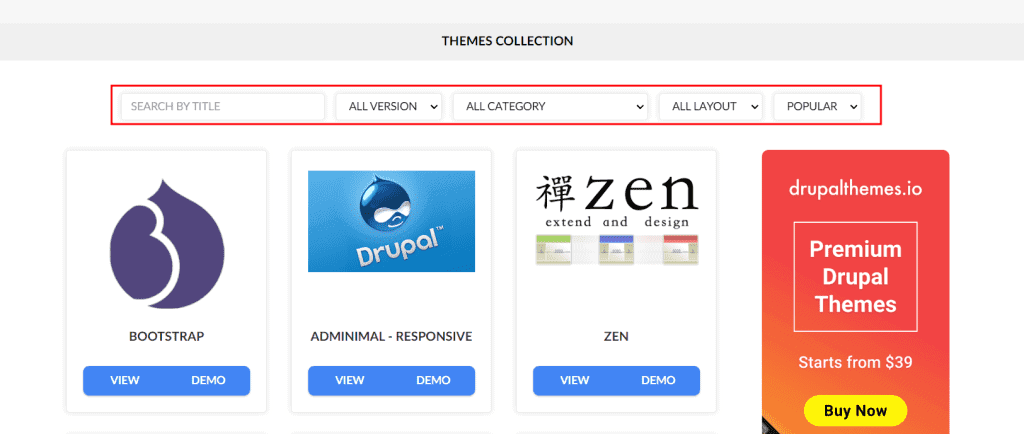 On Drupal Free Themes using the filters you see highlighted in this screen, it's easier to find the free theme for your site.
Themeforest
Among the best sites that collect Drupal themes we undoubtedly find Themeforest: the theme section that is part of Envato Market.
At the current date we can find 451 premium themes for Drupal. Also in this case we can refine the search with filters as I showed you before.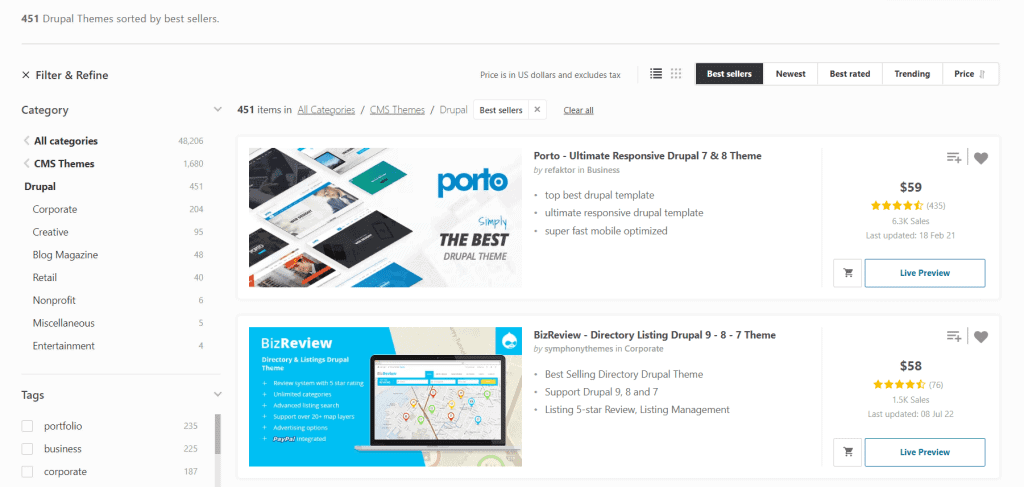 Themeforest sells single licenses and usually each one always includes 6 months of developer support. While purchasing the theme, you can also extend the support for one year with a price increase.
Template Monster
TemplateMonster is another site that collects the best CMS themes. Currently here we find a large catalog for Drupal with 341 themes.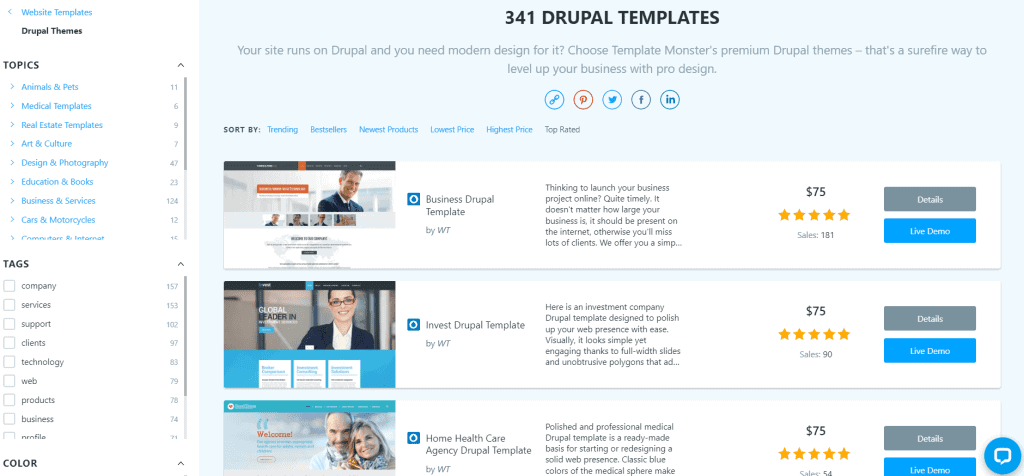 On TemplateMonster you have the option to purchase individual themes by choosing from multiple licensing options:
personal license – is valid for one website only;
commercial license – up to 5 sites;
business license – usable up to 50 sites.
Some of the themes you will see on TemplateMonster in the Drupal section are included in the MonsterONE subscription.
With a monthly subscription you get access to hundreds of premium themes, modules for Drupal and other resources. Here I show you the current prices: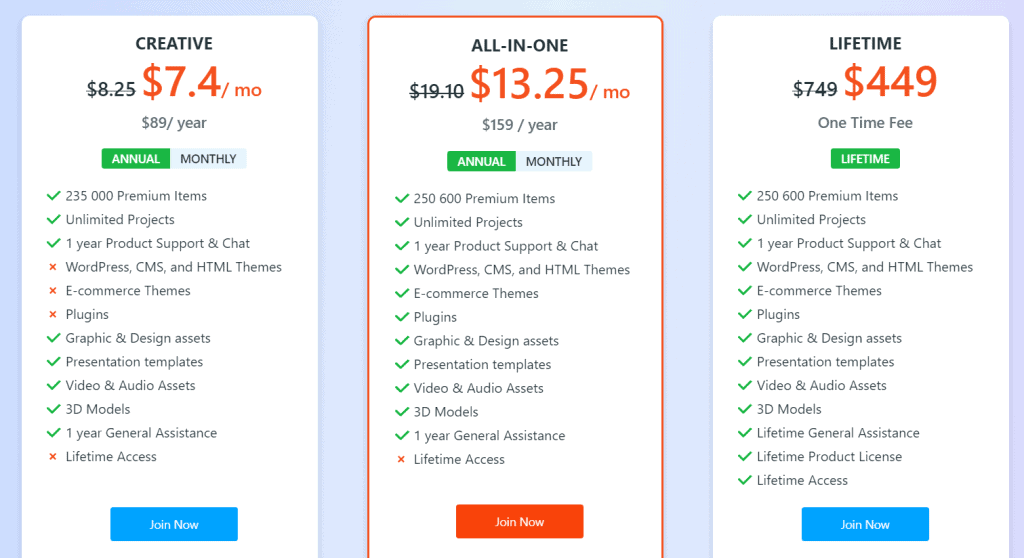 MonsterONE subscription prices (October 2022).
5 Drupal themes you can't miss
In this chapter we will see a selection of Drupal themes among the most popular both premium and free.
We have selected the themes that meet these characteristics:
they are responsive;
are kept up to date and have been recently updated;
are among the best-selling or downloaded and with the best reviews.
BizReview
If you are looking for a responsive theme compatible with Drupal 7, 8 and 9 we suggest you take a look at BizReview.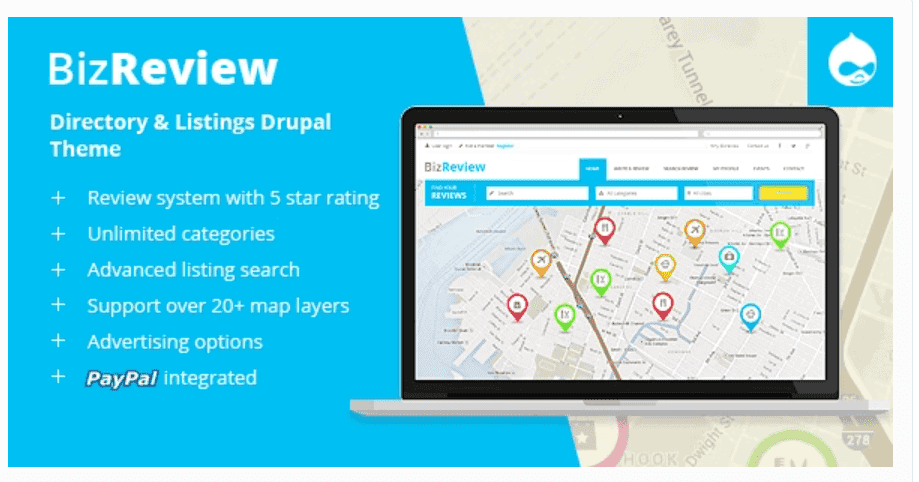 The theme is among the best sellers on Themeforest and has been selected by the internal team of the marketplace as one of the top themes.
Name and developer: BizReview of "symphonythemes".
Cost: $58 for a single license.
Theme link (on Themeforest): BizReview.
Emon
Emon is a responsive Drupal theme sold on Themeforest. It is a premium theme sold under license and developed with Bootstrap.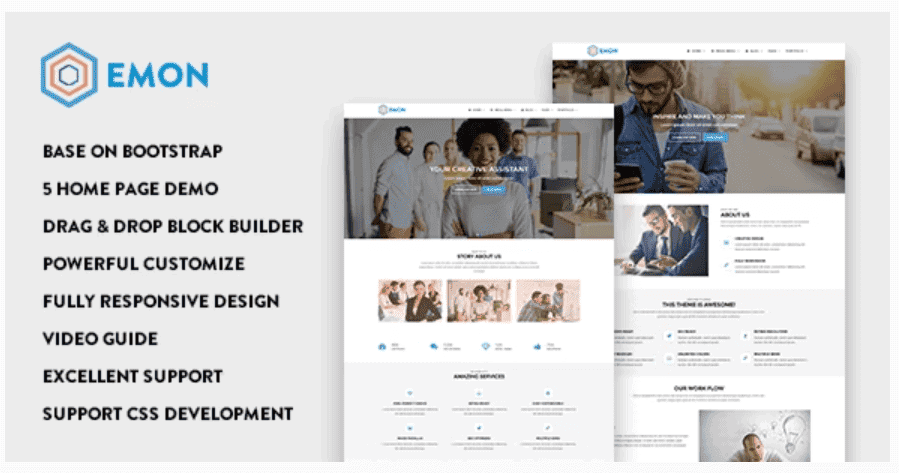 The theme is compatible with Drupal 9.2.X and earlier, and comes with a builder that allows us to create pages via drag & drop. To start creating our site we can also use the 5 home page templates already included.
Theme name and developer: Emon by "gavias".
Cost: $48 for a single license.
Theme link (on Themeforest): Emon.
Adminimal
Adminimal is a free theme that we can find in the official theme directory. If you want to see the demo you can also find it on the aforementioned Drupal Free Themes. Adminimal is compatible with Drupal 7, 8 and 9.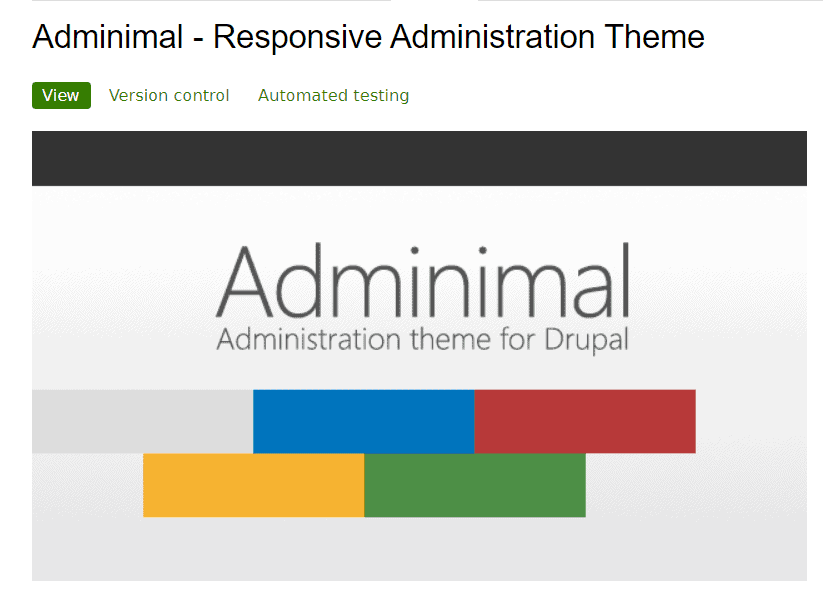 Zen
Zen is a Drupal theme that you can use for free on your site. It is one of the most used themes, it is responsive and is kept up to date. At the moment the last update was in April 2022.
There is currently an alpha version (still under development) of the theme that is compatible with Drupal 8.8 and 9.
AdaptiveTheme
Among the most used templates in the official directory is AdaptiveTheme. The theme is compatible with Drupal 8 and was created to meet the needs of users who do not want to complicate their lives by programming.
Conclusion
Choosing the theme for your site is not just a matter of design. To find among the many Drupal themes the right one for your site you should consider the compatibility with the core version, make sure that the theme is up to date and don't underestimate all the other aspects that we have listed here.
One final piece of advice I want to give you is don't let the demos lead you astray.
Always keep in mind that the contents (including images) that you are going to insert will not be those of the demo. These previews are just to give you an idea of ​​the various layouts you can create.
This is why in this article I wanted to use objective criteria as a reference to help you choose the theme.
And you, what aspects do you consider when you have to choose the theme for a site? Let us know with a comment.