One of the first steps you have to take to create a website is to register the domain you have chosen. To do this you have to choose the domain name that will reflect your concept and you have to verify that the chosen name is among the available domains.
To know if a domain is already occupied or available you need to verify it with the available domain check.
In this article, Available domains: how to check, we will see exactly how to check if the domain is available and which rules you have to comply with when choosing the domain name. We'll look at the differences between first, second and third-level domains and then we'll see what we should do after finding the perfect domain or in case the domain is not available. If, on the other hand, you want to know how to proceed with domain transfer follow our dedicated guide.
Before we start, though, let's see what constitutes a web domain.
What is an internet domain
An internet domain is a string of text, which can consist of letters and numbers and is used in the address leading to a webspace and email addresses. The Webspace in turn will typically host a site and that is why it is necessary for domains to be unique.
It is no coincidence that each domain is associated with an IP address. The DNS, the domain name system, serves precisely to ensure the association between domain names and IPs.
In this way when we want to visit a resource we don't need to know the numeric IP address of the server that hosts it, but we just need to remember the domain name.
First, second and third-level domains
Each domain name consists of several parts, separated from each other by dots. Each of these parts constitutes a level and it is considered starting from the rightmost portion of the domain name.
Let's take the domain of our customer area as an example: my.supporthost.com

Starting from the right-hand side we find com, the top-level domain. The top-level domain, also known as TLD or extension, can be chosen according to the requirements among those available.
For example, you can use a national TLD as a reference to address the audience of a specific country, as it happens for .it, .uk, .us and so on.
Then there are generic top-level domains, such as .com, one of the most widely used. And then again the new generic domains that allow you to identify a certain type of business. For example, if you decide to create an eCommerce site you might choose a new extension like .shop or .store.
The second part, after the extension, is the second-level domain. In our example, Supporthost is the second-level domain. This part of the domain name, therefore, represents the name we choose to identify our site. Typically in the case of a company, the second-level domain will then correspond to the brand.
A domain essentially needs these two components, but its structure can provide an additional level: the third level domain. This level, also known as a subdomain, is used to divide the site into categories.
In our example in the my.supporthost.com domain, the "my subdomain" is used to create a customer area reserved only for registered users.
When you want to check if the name you've chosen corresponds to a free domain, you'll need to make sure that the combination of second-level and top-level domains is available.
Once you have found the free domain you are interested in and registered it, you can then create subdomains.
Rules for domain names
When you are choosing a domain name, you should know that there are some basic rules to follow in order to proceed with the registration of free domains. The criteria concern the maximum and minimum length of the domain name and the type of characters allowed. There are also some limitations regarding special characters such as the hyphen.
Length: a domain must have a minimum of 2 characters and a maximum of 63. For .it domains the minimum length is 3 characters, while the maximum is always 63 characters.
Characters that are allowed: the domain can contain hyphens, letters from "a" to "z" and numbers from "0" to "9".
Limitations: the hyphen cannot be at the beginning or at the end of the domain name. For .eu domains the hyphen cannot be in the third and fourth position at the same time. Exceptions to this rule are domains starting with "xn--", the abbreviation used for Internationalized Domain Names (IDN).
Choosing a domain name
In addition to following the rules for registering a domain, you should also keep some guidelines in mind when choosing a name. Let's see what the guidelines are for choosing free domains.
The number of free domains you can register (in theory) can be up to 63 characters. Despite this, it is far better that your domain is short and easy to remember. Ideally, you could go for between 3 and 12 characters and not exceed 3 or 4 words.
Is the domain name you would like to choose too long? To make it concise you can try and eliminate the superfluous: articles, prepositions, conjunctions, numbers or hyphens.
In addition to having to keep it short, the domain name should be easy to type, so avoid using words that tend to be misspelt often or are difficult to pronounce.
What name to choose? The domain name can be the same as your brand name or a variation such as a combination of brand name and keyword.
Don't overdo it with keywords and use them only if it makes sense for visitors to understand what the topic of your site is. For this same reason, you may want to include a geographic reference to help visitors understand where you operate. Remember, however, that in this case, you can also take advantage of national extensions (such as .it).
After choosing the domain name remember to check that it does not resemble or correspond to a registered trademark to avoid claims of copyright infringement. Then do all the necessary searches on registered trademark databases, such as the EUIPO databases for trademarks registered in the European Union.
Available domains: how to check them
When you decide to register a domain you need to check among the free domains to understand if the domain you have chosen is available. Let's see now two quick methods to check the availability of the domain.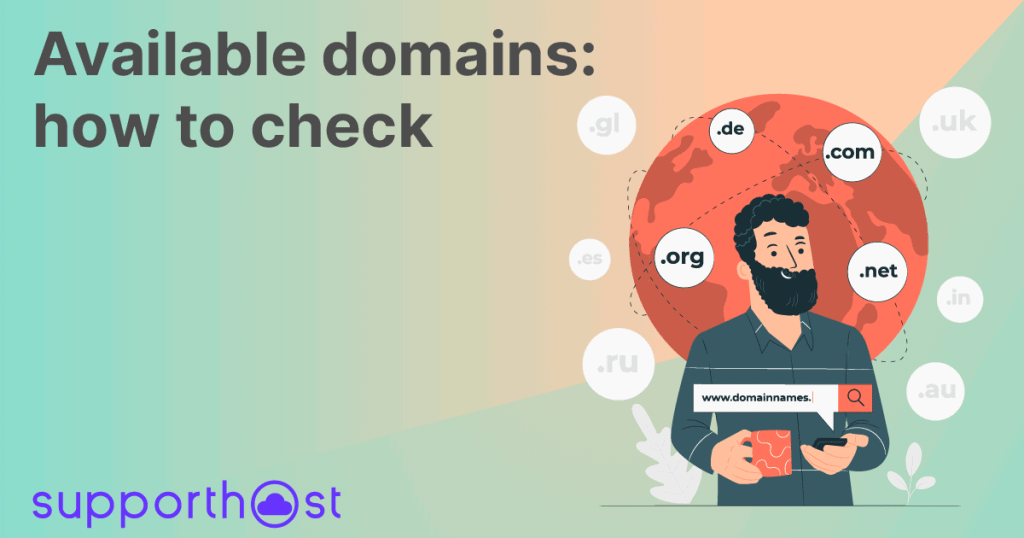 Check available domain: for .it domains
You can check if the domain you have chosen is included in the list of available domains using the tool provided by NIC (Network Information Center) for .it domains.
To do this you just need to connect to the NIC website, enter in the box below the domain name you are interested in and click on the Search button to know immediately if it is among the available domains.

If the name we searched for corresponds to one of the free domains we will be shown a result like this. At this point, we can proceed with the registration of the domain by choosing a provider where to register it.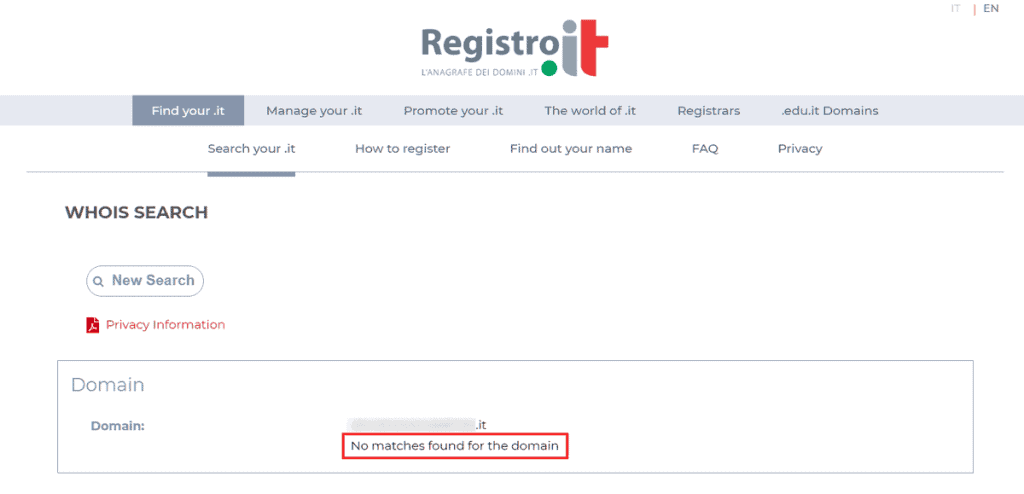 Instead, if the domain is not available, we will be shown information about the registrant, date of creation and expiration of the domain.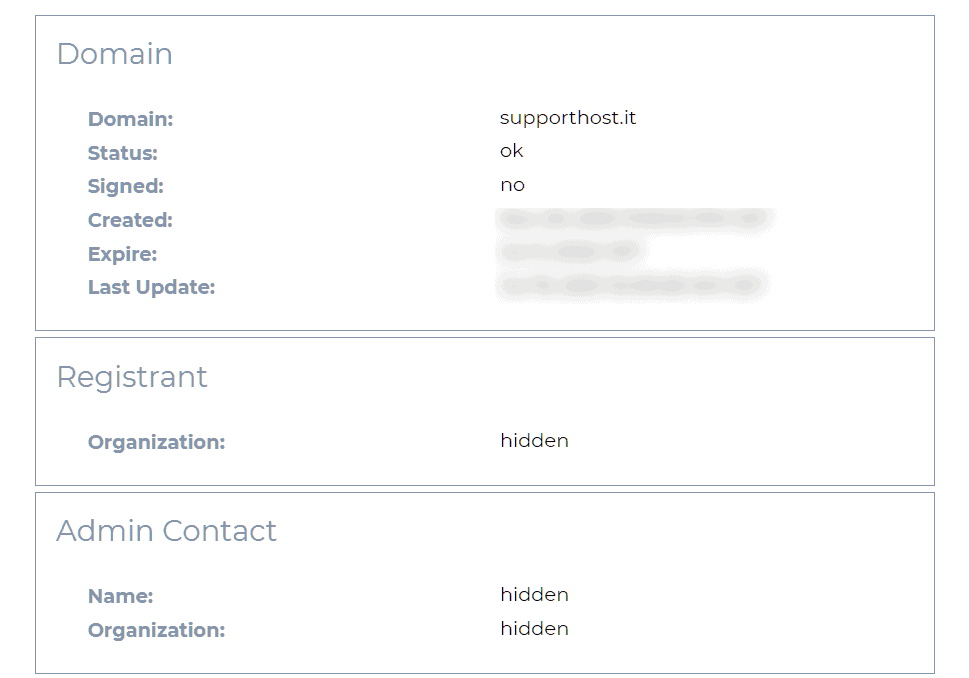 Note that registrant information may be hidden if you are using Whois Protection privacy protection..
Check for available domains
You can check the availability of a domain directly from our domain registration page. In order to find available domains just complete three simple steps:
enter the name of the domain you have chosen
choose the extension
Click on Check to know if the domain is among the available domains.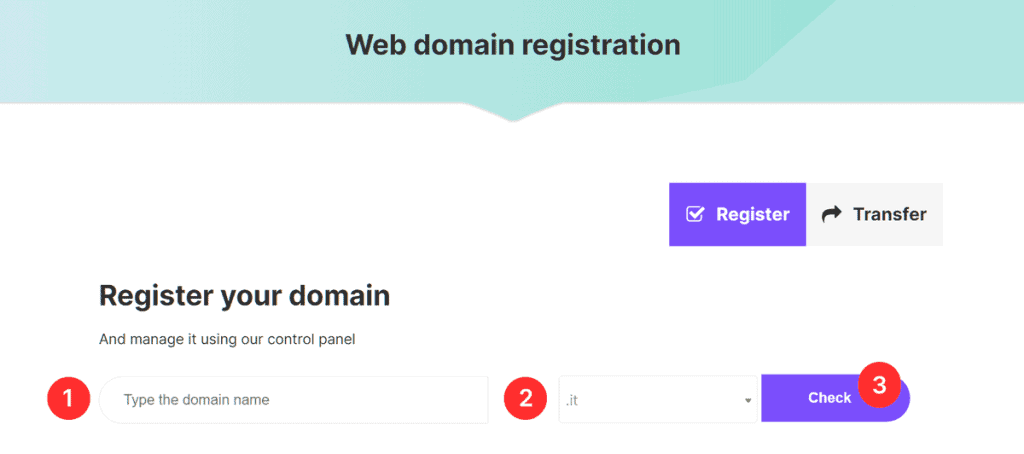 You will be redirected to a new page where you will be shown if the domain is available or taken. Let's see what to do in both cases.
Available domain: how to register it
If the domain you have chosen is one of the available domains, you can register it.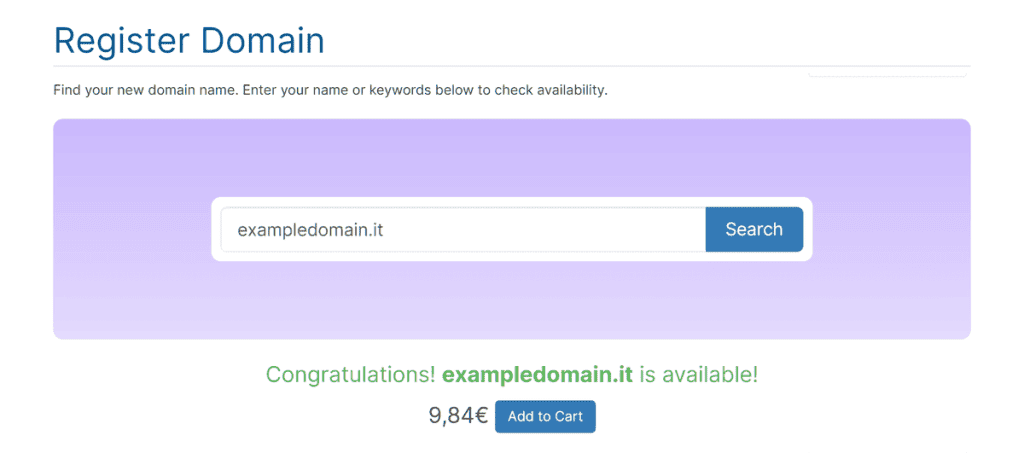 First, click on the Add to Cart button as you see in this screenshot.

Immediately after, click on Checkout to proceed.

At this point, you just have to fill in the necessary information for the domain registration. You will have to specify whether you want to register the domain as an individual or as a company and enter your tax code or VAT number.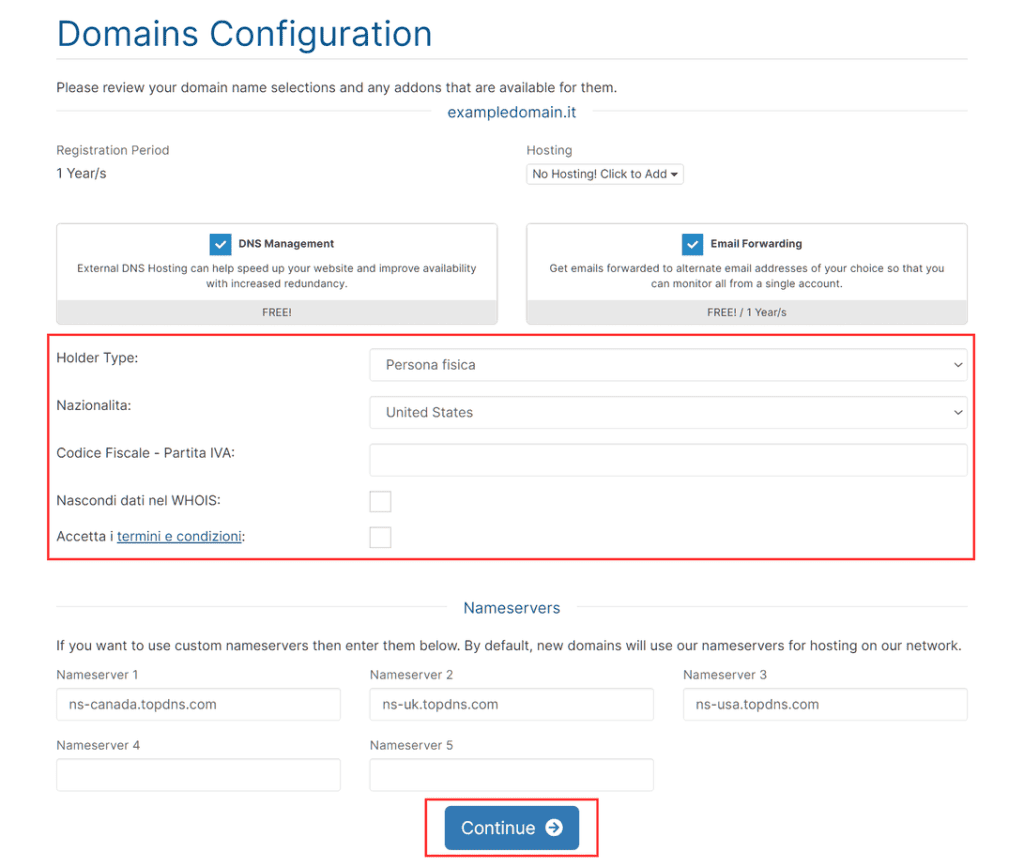 From this section onwards you can add additional services. By registering a new domain with SupportHost you have DNS management and free email forwarding.

Remember that during registration you can also choose to hide your personal data in the WhoIS, just check the box Hide data in the WHOIS before proceeding.

Domain for free with SupportHost
With all our hosting plans, starting from shared hosting and semi-dedicated hosting to dedicated solutions like VPS cloud hosting and dedicated servers, the domain is always free. Just order the domain along with your hosting plan and get the domain included in the price at every renewal. Not sure which plan best suits your needs? Check out our guide on how to choose a hosting or simply contact us.
Domain taken: what can I do?
The name we have chosen for our project is not always among the available domains. If the domain you were thinking about is already taken, you can consider using a different extension.
In addition to the most common extensions (.com, .org, .it) you could use a new extension, for example .shopping, .store or .tech.
To see all the available extensions, go to the domain registration page and search for the extension that interests you. To help you find the one that suits you, we have divided them into categories (business, shopping, technology and so on).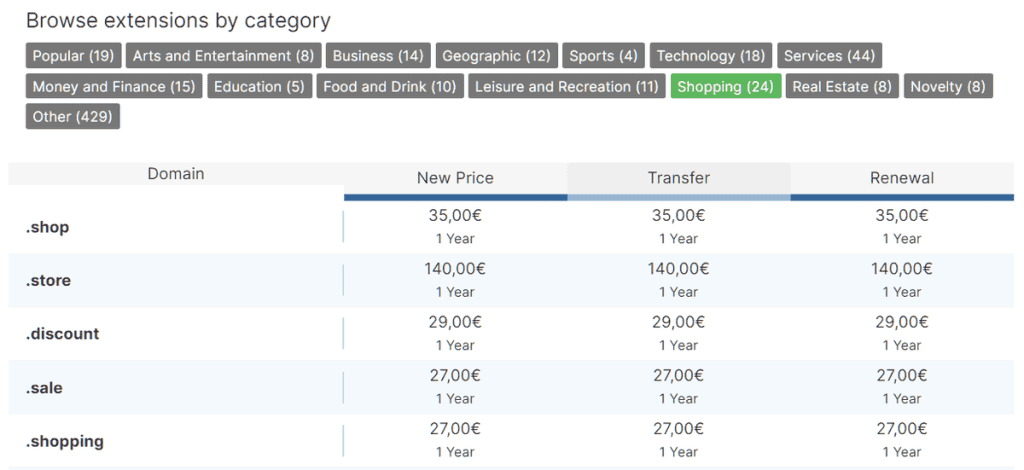 If all extensions are taken and you still can't find available domains you can try other solutions.
First, you can use numbers or hyphens to create a unique domain name and get around the busy domain problem.
If, however, you are interested in registering the domain exactly as it is, but someone has already registered it before you then you can try to buy the domain from the person who registered it.
Some domains are bought to be then resold at a higher price. In these cases, when you visit one of these domains, it is likely that you will see a page indicating that the domain is for sale.
If not, you can still try to contact the registrant and make a purchase offer for the domain. If you want to buy a domain that has already been registered by someone else, there are marketplaces that are designed for buying and selling domains.
Conclusion
Knowing how to find domains that are available is important if you want to display your project on the Web or protect your brand. Therefore, if you want to avoid violating your brand, you should make sure to register the domain with the main extensions so as not to leave free domains with your brand name.
The first thing to do, therefore, when choosing a domain name is to check that it is among the vacant domains and the next logical step is registration. In this article, Available domains: how to check, we have therefore seen what rules to follow when choosing a name, how to check for free domains and what to do when they are not available.
Did the name you chose appear in the list of available domains or did you have to reconsider your choice? Let me know in the comments below.