Google Chrome is probably the most used platform to browse the internet. The latest browser statistics show that more than 60% of users use Google Chrome software on their computer to connect to the network.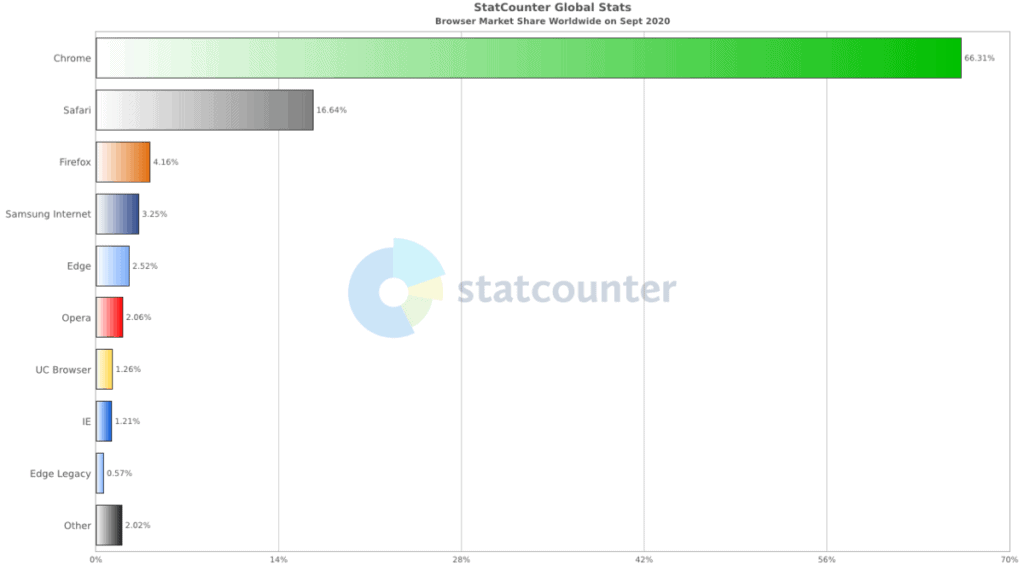 Sometimes, however, it can happen that we run into the notorious Chrome aw snap page, which prevents us from continuing browsing a website: but what error does it correspond to and how do we solve it?
Let's see in the next few lines some solutions to this problem.
It may happen that Google Chrome does not open some sites showing this message: Chrome aw snap, page loading error. There are several ways to solve this error in displaying the page.
Let's take a look at all possible solutions.
What is aw snap error?
As mentioned here Chrome aw snap is a generic error code.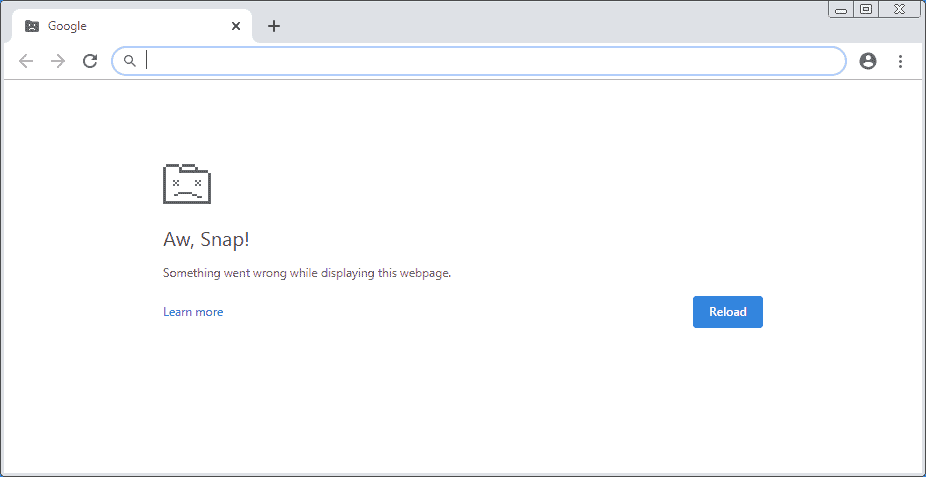 When you see this error on your screen you will see a similar text:
An error occurred while viewing the page. To continue, click Reload or go to another page.
According to the error codes listed on Google's support page we can see:
"aw snap!". Chrome encountered problems while displaying this webpage.
As it always happens with generic errors, it is difficult to define the exact cause of the problem because there could be multiple causes.
Update: Google has added error codes to better describe the problem and make it easier to find the solution. I have included these errors at the bottom of the article.
Thanks to these error codes we can make sense of this page display error and solve the problem of why chrome won't load pages..
Note that this has nothing to do with another quite common error, which is Chrome not opening. This error can happen in some cases on windows 7 or windows 10. In this case Google Chrome opens correctly but shows a Chrome aw snap error, sometimes indicating it is "unable to open this page".
In other cases with the same error Google Chrome does not load any pages.
But before we look at the solutions let's try to understand what can cause the problem.
Chrome aw snap: causes and solutions
As I said the cause of this error can be numerous, so we have to go by trial and error, starting from the simplest solutions to the most complex.
Sometimes simply reloading the page or restarting the computer may solve the problem. In other cases it may be necessary to check all the extensions or run an antivirus scan on the computer.
The simplest solution
In some cases this error happens because Google Chrome encounters a problem and the page does not load. we cannot be sure that this is the problem but the first solution to try is very simple.
Don't hate me for giving you such a simple solution.
It's possible that you have tried it and it didn't solve anything, but if you haven't tried it yet then the advice is this: reload the page.
If it still doesn't work close Chrome and restart your computer.
I know. It's the kind of solution my grandmother uses, but sometimes it works and I couldn't leave it out.
If you still haven't solved the Chrome aw snap problem, let's have a look at some other solutions now.
Check browser extensions
The Chrome aw snap page might appear if some extensions have recently been installed which might not be compatible with the browser.
To check if it is due to that, just disable them and reload the page. This procedure can also be useful if you encounter other errors such as DNS_PROBE_FINISHED_NXDOMAIN or the error code 502 bad gateway.
In this case, the first thing you should do is to create a new user profile in Chrome. Click on your name in the top right corner and then click on add at the bottom.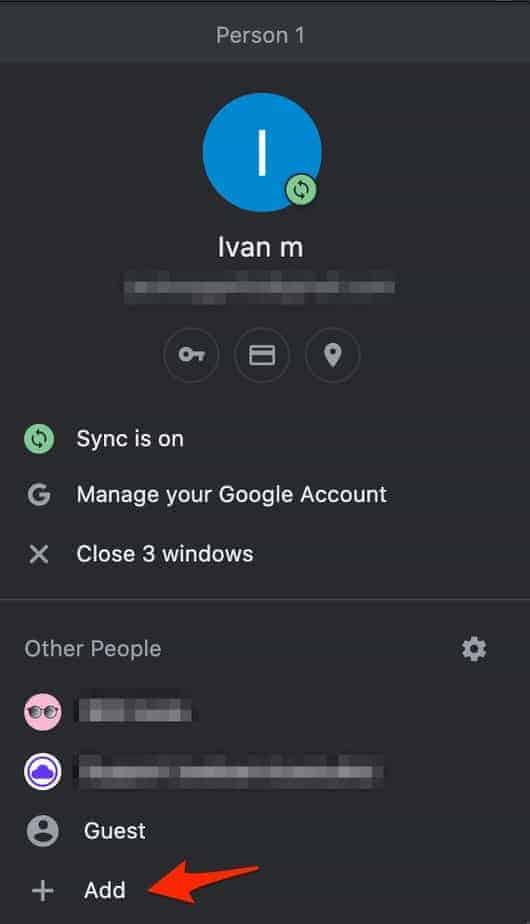 If the same page works then an extension is to blame. In this case, we are going to disable the extensions one by one, going by trial and error until we find the offending one.
This procedure can also help you to solve another error that you might encounter using Google Chrome, that is err_connection_refused.
You can get the same result by browsing the same page in incognito mode, unless you have set your extensions to be used in incognito mode as well.
To do this, click on Google chrome settings and then extensions, it will open a list with all the installed extensions. Alternatively you can type chrome://extensions/ in the browser bar to go directly to the settings page to manage Chrome extensions.
Clear the cache
It is possible that it is a cache problem. If you still haven't solved the problem then try clearing Chrome's cache.
To clear the cache on Google Chrome click on the three dots in the top right corner -> More Tools -> Clear Browser Data. Or simply type chrome://settings/clearBrowserData in the address bar.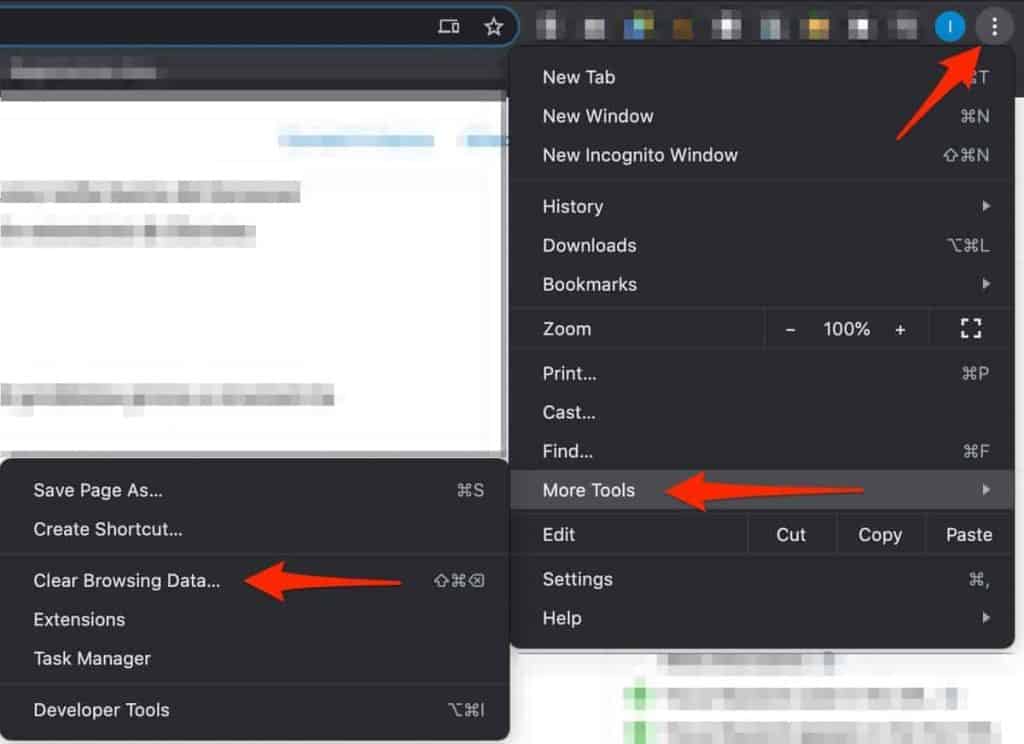 Then click to clear your cache and cookies.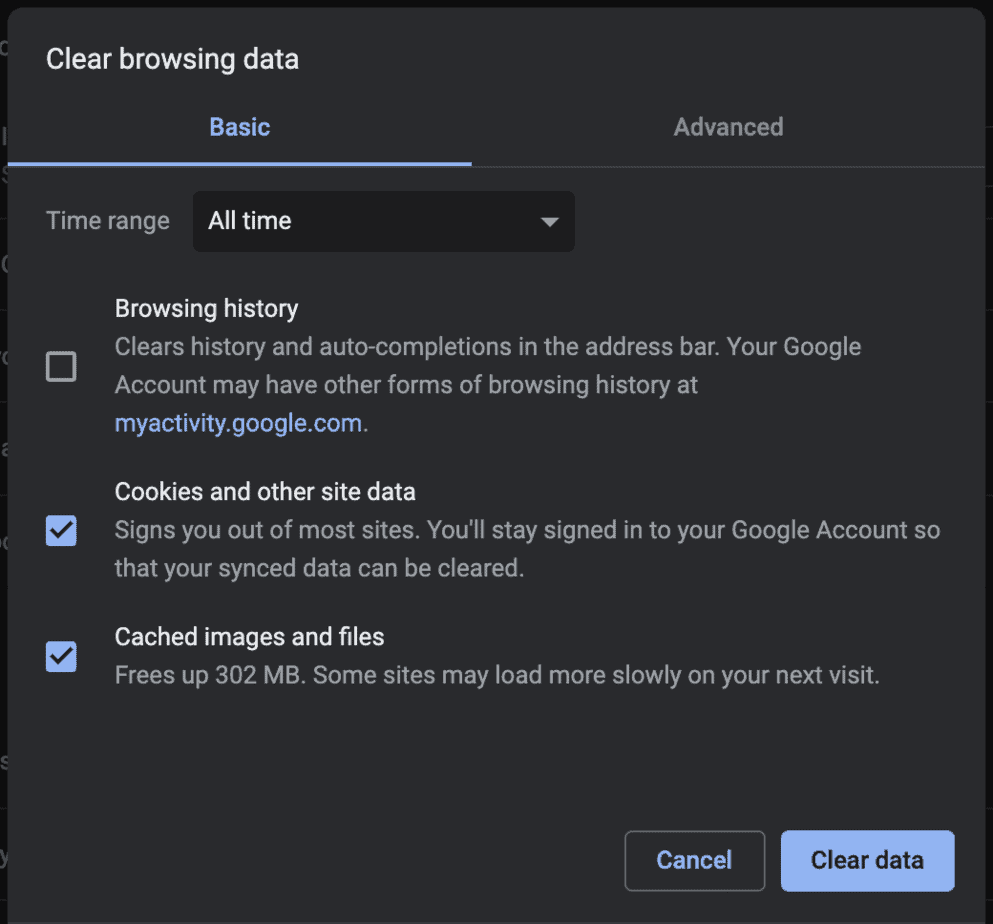 Device memory
It's possible that your device has run out of memory and that's why it can't open your web page. By the way, it is known that Google Chrome uses a lot of RAM memory, which is why quite frequently Google Chrome is unresponsive and crashes.
A test you can do is to close all Chrome tabs and other applications on your computer and reload the page.
Update Chrome
It is possible that you are using an old version of Chrome. If this is the case updating Chrome might solve the problem.
Just check the Google Chrome information at the top of the window and if you're not using the latest version, update the browser.
Keeping the browser up-to-date will also help you in case of other errors, for example when the Windows network diagnostics detect that the DNS server is not responding.
Use compatibility mode
If you use Windows, you can use compatibility mode. From the properties of Google Chrome go to the compatibility section.
Tick the checkmark next to "compatibility mode" then choose the version of the operating system you are using. In the screenshot I show how to do it if you use windows 7.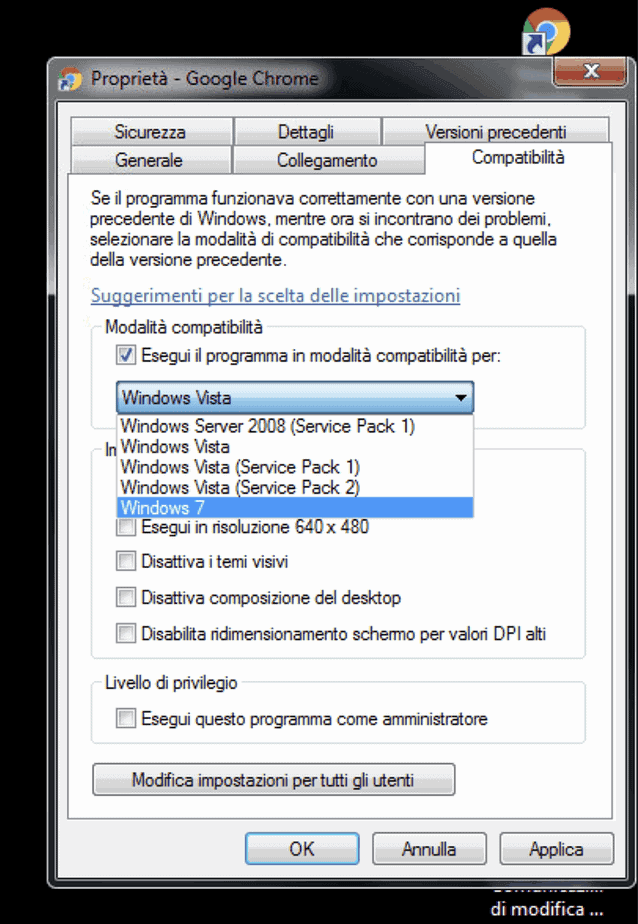 Restore Google Chrome settings
If with all the previous steps, you were not able to solve the problem you can do a general reset of Chrome.
To restore chrome:
Open Chrome
In the top right corner, click on Settings icon, to reset settings
Click on show advanced settings at the bottom

Windows: in the "Reset and cleanup" section click on Reset settings to Reset settings
Mac:in the"Restore Settings" section, click on Reset Settings and Restore
This will delete all additional plugins. Google Chrome will reset the default search engine as your home page and bring back Google Chrome as it was when you had just installed it.
Disable Antivirus
This operation is the so-called last resort.
If after all these attempts you still see the error Chrome offa it is possible that it is the antivirus that is creating the error due to a misconfiguration.
It is not a good idea to leave your computer without antivirus, so if this works try to find a permanent solution by reconfiguring the antivirus or using another one.
Resolve the error Chrome aw snap on Android
This browser error is not only found on computers, Mac or Windows, but also on mobile devices.
In fact, it is possible that your android tablet or smartphone presents the same error.
Also in this case the first attempt should be to reload the page.
If this doesn't work make sure you are online, that you haven't consumed all the data of your plan (not difficult if you use tethering) and that you are actually connected to the network.
If you still can't see the page try opening an incognito window. If this solves the problem, the cause is probably the cache. Let's take a quick look at how to clear the cache on Android and iOS.
Clear cache on Android
To clear cache and cookies on Android go to settings -> privacy -> Clear browsing data.
Select Cookies and site data and Images and cached files, uncheck everything else then click Clear Data.
If the problem persists close all other tabs, all other open apps on the device and try again. It
might be a device memory issue.
If the problem persists restart your phone or tablet. And if you still don't solve try updating Google Chrome and then restore chrome android if the update wasn't enough.
The solution to aw snap on IOS
iPhone and iPad are not immune to this problem. Let's see how to fix it when it happens.
In this case, solutions are similar to the ones used with Android.
The first test is to reload the page.
If you still have the error chrome aw snap using incognito mode or clear the browser cache.
Finally if the problem persists try closing all tabs and all apps on the phone.
Clear cache on Chrome IOS
To clear Chrome cache on IOS tap on the three dots at the bottom right corner, then open settings. Now tap on privacy -> clear browsing data.
Select Cookies, Site data and Cached images and files and uncheck all other options then tap clear browsing data.
Try to reload the page to see if it works.
If the problem persists, as in the case of Android, try restarting your phone or iPad and try updating Google Chrome.
The new error codes.
Google has added 94 error codes for the Chrome aw snap page to make it easier to fix the error.
I expect Chrome to get even better in the future, in fact the Chromium page showed:
To make it easier to diagnose user reports of the sad tab, perhaps we could consider putting the crash exit code on the sad tab as we do for SSL errors. Then users can google for the error, we can seed help center pages to help users, everyone wins.
Not all these errors are easy to understand without an explanation, in fact many of them need an explanation and a guide for the solution.
The same errors are also valid on microsoft edge since it is now based on Chromium.
The available error codes are:
HUNG
KILLED_BAD_MESSAGE
GPU_DEAD_ON_ARRIVAL
INVALID_CMDLINE_URL
BAD_PROCESS_TYPE
MISSING_DATA
SHELL_INTEGRATION_FAILED
MACHINE_LEVEL_INSTALL_EXISTS
UNINSTALL_CHROME_ALIVE
UNINSTALL_USER_CANCEL
UNINSTALL_DELETE_PROFILE
UNSUPPORTED_PARAM
IMPORTER_HUNG
RESPAWN_FAILED
NORMAL_EXIT_EXP1
NORMAL_EXIT_EXP2
NORMAL_EXIT_EXP3
NORMAL_EXIT_EXP4
NORMAL_EXIT_CANCEL
PROFILE_IN_USE
PACK_EXTENSION_ERROR
UNINSTALL_EXTENSION_ERROR
NORMAL_EXIT_PROCESS_NOTIFIED
INSTALL_FROM_WEBSTORE_ERROR_2
EULA_REFUSED
SXS_MIGRATION_FAILED_NOT_USED
ACTION_DISALLOWED_BY_POLICY
INVALID_SANDBOX_STATE
CLOUD_POLICY_ENROLLMENT_FAILED
DOWNGRADE_AND_RELAUNCH
SIGQUIT
SIGILL
SIGTRAP
SIGABRT
SIGBUS (7)
SIGFPE
SIGKILL
SIGBUS (10)
SIGSEGV
SIGSYS
WAIT_TIMEOUT
SBOX_FATAL_INTEGRITY
SBOX_FATAL_DROPTOKEN
SBOX_FATAL_FLUSHANDLES
SBOX_FATAL_CACHEDISABLE
SBOX_FATAL_CLOSEHANDLES
SBOX_FATAL_MITIGATION
SBOX_FATAL_MEMORY_EXCEEDED
SBOX_FATAL_WARMUP
Crashpad_FailedToCaptureProcess
Crashpad_HandlerDidNotRespond
Crashpad_SimulatedCrash
CPP_EH_EXCEPTION
STATUS_GUARD_PAGE_VIOLATION
Out of Memory
FACILITY_VISUALCPP/ERROR_PROC_NOT_FOUND
FACILITY_VISUALCPP/ERROR_MOD_NOT_FOUND
STATUS_INVALID_IMAGE_HASH
STATUS_STACK_BUFFER_OVERRUN
STATUS_HEAP_CORRUPTION
STATUS_DLL_INIT_FAILED
STATUS_CONTROL_C_EXIT
STATUS_DLL_NOT_FOUND
STATUS_STACK_OVERFLOW
STATUS_BAD_IMPERSONATION_LEVEL
STATUS_PRIVILEGED_INSTRUCTION
STATUS_INTEGER_OVERFLOW
STATUS_INTEGER_DIVIDE_BY_ZERO
STATUS_FLOAT_UNDERFLOW
STATUS_FLOAT_STACK_CHECK
STATUS_FLOAT_OVERFLOW
STATUS_FLOAT_INVALID_OPERATION
STATUS_FLOAT_INEXACT_RESULT
STATUS_FLOAT_DIVIDE_BY_ZERO
STATUS_FLOAT_DENORMAL_OPERAND
STATUS_ARRAY_BOUNDS_EXCEEDED
STATUS_INVALID_UNWIND_TARGET
STATUS_INVALID_DISPOSITION
STATUS_NONCONTINUABLE_EXCEPTION
STATUS_ACCESS_DENIED
STATUS_INVALID_LOCK_SEQUENCE
STATUS_ILLEGAL_INSTRUCTION
STATUS_CONFLICTING_ADDRESSES
STATUS_NO_MEMORY
STATUS_INVALID_PARAMETER
STATUS_INVALID_HANDLE
STATUS_IN_PAGE_ERROR
STATUS_ACCESS_VIOLATION
STATUS_SEGMENT_NOTIFICATION
STATUS_FATAL_APP_EXIT
STATUS_SINGLE_STEP
STATUS_BREAKPOINT
STATUS_DATATYPE_MISALIGNMENT
unknown
Erroresbox_fatal_memory_exceeded
This error code is shown in the Chrome aw snap page when Chrome runs out of available memory. Usually the cause is an application or website using too much memory.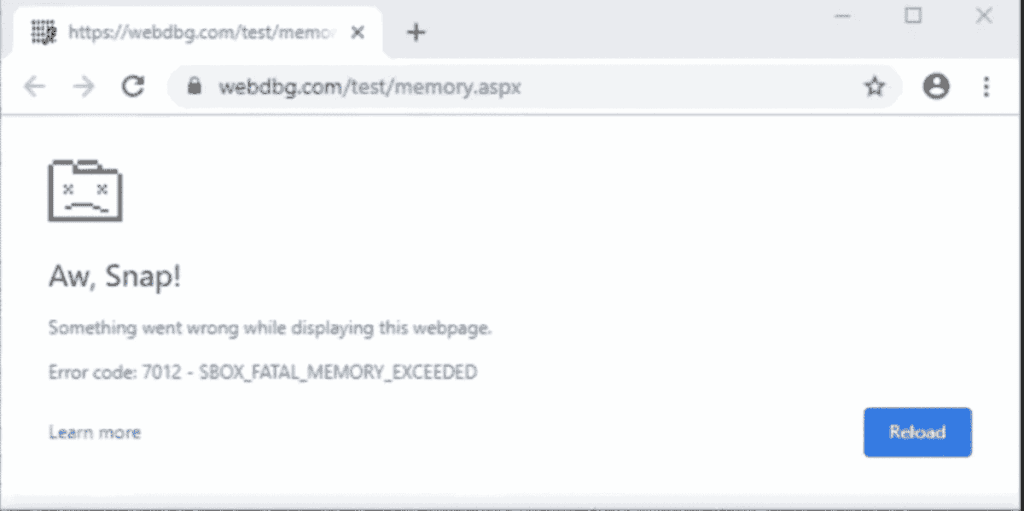 You can check via the task manager which applications use the most memory so you can close them.
Errore status_invalid_image_hash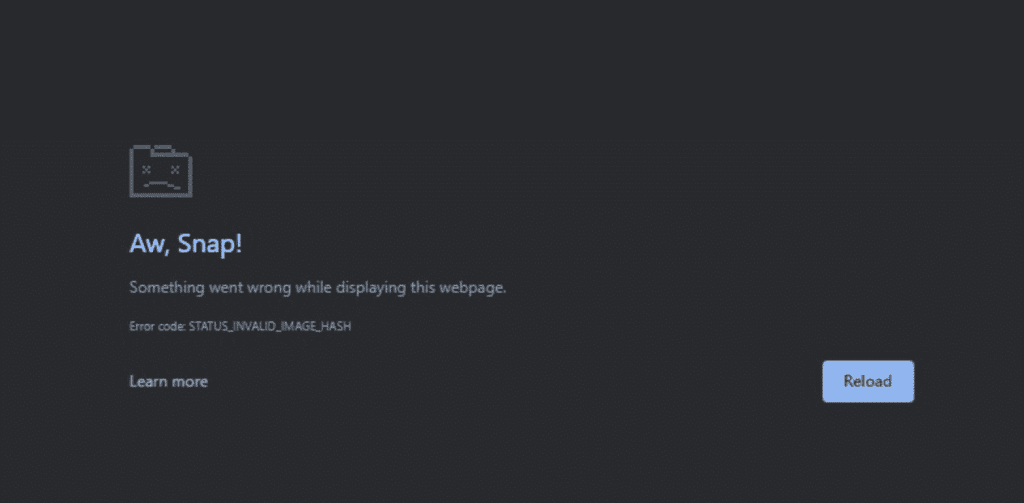 The problem in this case may be due to your antivirus software. Try updating it or disabling it.
If you use Windows, you can follow these steps:
From the start menu select run
Enter "Regedit" to open the Regedit application.2. Enter "\HKEY_LOCAL_MACHINE\SOFTWARE\Policies\Google\Chrome".
If you only find "\HKEY_LOCAL_MACHINE\SOFTWARE\Policies\Google", create a folder called "Chrome".
Create a new file named "RendererCodeIntegrityEnabled" (DWORD 32).
Set the value of 'RendererCodeIntegrityEnabled' to 0.
Restart Chrome.
If you still see the Chrome aw snap error try updating Google Chrome or edge. And if it still doesn't resolve try renaming chrome.exe or msedge.exe to any other name and restart the browser.
Error status_access_violation
IMG
If Chrome aw snap shows the status_access_violation error code you can try updating and restarting Google Chrome to fix it.
Check the extensions by disabling them one by one to see if one of them is creating the problem.
If this does not solve it try renaming the .exe file to any other name as described above and then restart the browser.
Error status_breakpoint
To fix this Chrome aw snap error code there are not many solutions.
Update the browser and restart it. If it still doesn't work try renaming chrome.exe to another name and restart the browser.
Conclusion
Were you able to fix Chrome aw snap error on your computer? Let me know in the comments.
If you have found a solution that I didn't write about here let me know in the comments, so I can add it to the article.