Does your work often take you away from home? Would you like your computer to always be connected to the internet?
Perhaps, you are on vacation and a client asks you to send him a file, but you don't have an internet key or the place where you are doesn't offer wifi?
As you may have heard or tried a few times, you can turn your smartphone into a portable hot-spot, a sort of pocket modem that, through the active subscription on the phone, enables you to connect other devices to the wireless network.
Warning: if your subscription is enough for your smartphone when you connect a pc, the hotspot consumption could be much more and you can risk draining the gigabytes of your phone's tariff plan.
So let's see how you can reduce your data consumption while tethering.
What is tethering?
Tethering literally means "chaining" and it is a process that, through the use of a device connected to the internet, enables you to connect to the same other devices which are unable to connect to the web on their own.
In a nutshell, we are talking about using your cell phone as a router, that is, sharing the gigabytes of your mobile phone plan with another device such as your computer or your tablet.
Once you have activated the feature on your smartphone, simply search among the wifi networks on your computer, the one you just created and proceed with the connection.
Some devices make this connection via Bluetooth and USB cable but the most popular and widely used is the wifi network, now supported by all types of devices.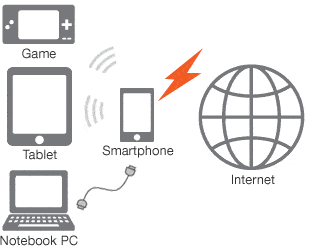 We must keep in mind that for this operation we would necessarily require the smartphone to have an active internet subscription, otherwise the costs could be very high.
The unit of measurement of traffic is the gigabyte (GB), which corresponds to 1024 MB.
All operators offer internet packages with monthly payments from which you can choose.
Most operators allow you to share your giga with another device. We have checked and these operators allow it:
TIM
Wind/Tre
Vodafone
Iliad
Kena
coopvoce
fastweb
postemobile
It is possible that other operators also allow tethering, if you use another operator just check with their customer service.
Unfortunately, today there is no portable modem with unlimited GB. If you are interested in having portable wifi with unlimited gigs you can check the offers abroad, some companies allow free-roaming with unlimited gigas.
Luckily now companies have started to give more acceptable data volumes instead of the 1-2 gigas they used to provide you with years ago. Many in fact have started giving 30-50GB of traffic, which if you don't watch too many movies is more than enough for a month.
How do I activate tethering?
Depending on the type of device you use you will need to activate tethering differently.
Smartphones give you the possibility to connect using different systems: USB, BlueTooth and WI-FI.
If you use a mobile modem that has its own sim, also known as a soapbox, all you have to do is turn it on to share the connection, and you can connect to the internet via wifi.
If you use an android smartphone you can follow this guide.
If you use an iPhone instead you can follow this guide. Keep in mind that if you use a MAC computer or an iPad you can activate the hotspot directly from the device you want to connect, so no need to use the iPhone.
Now that we understand how to activate the tethering (or hotspot) using a smartphone let's see the data consumption. Does using the hotspot consume more data than using the smartphone? How much does the hotspot consume?
Hotspot consumption
As I said, at the moment there is no hotspot tariff with unlimited gigabytes. That is to say that we must keep consumption under control if we do not want to run out of traffic available before time.
By searching on Google I noticed that many have confused ideas about how the hotspot works, I read questions like:
How many gigas does the hotspot consume?
If I leave the internet on does it consume gigabytes?
Hotspot battery consumption
The hotspot itself does not consume gigas. The gigas are consumed if we connect to the internet.
That is if I activate the hotspot and I don't connect any device I don't have any consumption. But if I connect with the computer and watch a movie in streaming or spend 2 hours on youtube then I will consume a good part of the monthly traffic available under the tariff.
Although it is true that hotspot tends to drain the battery quickly, this has nothing to do with data consumption. Just be sure to keep your phone charged while using it as a modem.
Keep consumption under control
All operators provide access through a reserved area on the website and an app to a series of statistics on data consumption.
The first thing to do is to download the app of your operator and register so you can check your consumption.
Usually, these statistics are updated with some delay, but they are still very useful to make sure you don't exceed your monthly threshold. If you exceed the threshold the most likely thing is that your operator starts charging per MB and in this case, the most likely thing is that your credit will be used up in a few minutes.
Smartphones also allow you to check consumption divided by application, and there is a section dedicated to the hotspot.
How many gigabytes are needed to watch a movie
Surely you're wondering how many GB you need to watch a movie on Netflix.
Netflix uses a system that varies the quality of the video based on the speed of your connection. Also, the quality of the video varies depending on the quality of the source.
That's why it's difficult to give a precise number, but in general it's about 1GB per hour in standard quality and 3 GB per hour in HD.
How many gigabytes does a Youtube video consume
Youtube lets you choose the quality of the video you're watching. If you're using a mobile connection or you're using your phone as a modem you can reduce the quality manually to consume fewer data.
As an indication, 720p quality consumes 5MB for every minute of video, which is about 300MB for every hour of video.
But if you watch a video in HD or 4K you can get up to 3-5 GB per hour as in the case of Netflix.
Reduce data consumption on the hotspot
As we said, when we use the smartphone as a modem, we must pay attention to the amount of data that the computer downloads.
In fact, opening a web page from the cell phone or opening it from the computer does not correspond to the same amount of data, in the second case there are hidden processes that require a connection and which at first glance are not visible.
How many of us have an antivirus system or a registry cleaning tool? Here, these two programs, when they find an active connection, they connect to check if there are updates or news to be notified, all while downloading data.
The iPhone has a "disable limited hotspot data consumption" feature that is used to limit some background processes but does not allow you to reduce data consumption via hotspot.
If we are in a particular situation, like a business trip, we don't need to make updates. So, how do you disable these hidden processes?
Tripmode
The response and the procedure are very simple, it is, in fact, sufficient to install software that shows us all the active processes and allows us to decide which ones to activate and which ones to leave off.
This software is called TripMode and it is the one that has a streetcar enclosed in a red circle as its icon. You can download it in a few clicks from the official website and it is free for the first 7 days. After that, in order to continue using it, you will need to pay a very small fee.
Tripmode is available for MAC and Windows.

Once the file has been downloaded and installed on the PC, a small icon will appear in the toolbar. By clicking on the streetcar symbol, a small window will open in addition to the button to activate and deactivate the service, showing all those applications trying to access the internet.
By default they are all blocked, that is they are not allowed to connect to the network, but by clicking on each of them it is possible to activate and then authorize the connection.
In the same window, in the lower part you will find a meter that shows the amount of data actually used by the PC and that allows you to keep the situation under control.
For those who use this system often, it is also possible to activate, among the program's settings, the automatic startup to immediately save data every time the computer connects to the portable modem.
Through this small application you can then connect your PC through your smartphone, always keep an eye on the data downloaded and continue working even when you don't have a Wi-Fi network to connect to.
Online you can find other similar applications, but currently TripMode represents a complete and easy-to-use solution.
It is understood that TripMode serves to block access to the Internet for certain applications, but not to limit consumption. For example, if we set our computer to access the browser and use it for streaming video in hd or ultra hd, the browser will consume large volumes of data.
Little Snitch
Other programs like Little Snitch were equally appreciated, but very often there were difficulties in the connection between Mac and iPhone resulting in interminable loading and loss of connection.

Little snitch allows a more granular management of connections, so it results to be more complex.
It also has a cost almost 4 times higher and when tested it gave problems, it did not allow me to connect via instant hotspot, therefore for this reason I decided to switch to Tripmode.