YouTube is one of the most widely used platforms in the world, however, there are some good alternatives to YouTube that not everyone knows about. In this article,The best YouTube alternatives, you will discover which video and streaming platforms you can use to watch videos, listen to music, or upload your own content instead of relying on the global giant.
The majority of us when we want to hear a song or search for a video tutorial rely on YouTube. In fact, this incredible platform, which was founded in 2005, offers a plethora of content from every genre and every industry, so it's not hard to imagine why about 2 billion people around the world rely on it every month.
And it is also not difficult to understand why in 2021 it was the second most used social network in the world, yet you have the opportunity to find many good alternatives online-some very similar to YouTube, others with different features. In the next few lines we will tell you about these platforms and you will have a chance to discover the best alternatives to YouTube.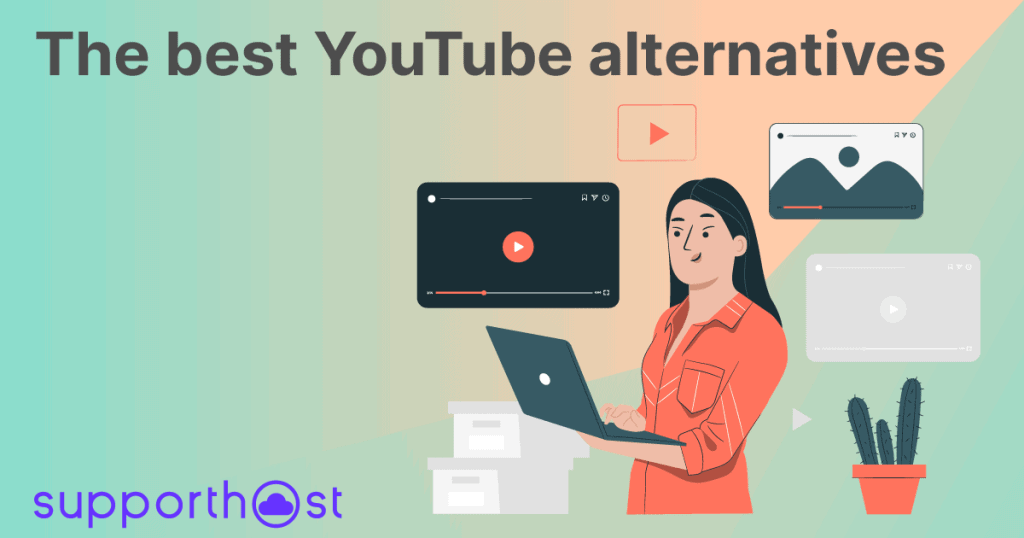 Dailymotion
The Dailymotion platform was founded in 2005 in France and is definitely one of the best YouTube alternatives. It has very similar graphics to YouTube but has limits on uploading files. On Dailymotion, you can upload files up to 2GB, 60 minutes in length and 4K resolution.
Dailymotion is popular in Europe, Asia, and Africa and has about 3.5 billion video views each month. You can choose to use the platform to upload your videos but you must create an account to do so. It also offers you the opportunity to monetize with views through a revenue share program.
A very interesting feature is the "video of the day" that you can find on the home page that links to the most popular video of the day, the home page is structured by category giving you the possibility to find videos by interest group, by popularity or by trend.
Vimeo
Vimeo is a video platform with very high quality, it was created by filmmakers and is aimed at them however it is open to everyone. In fact on this platform you can find professional video content of all kinds including documentaries, movies and music videos. In the platform you can upload and watch videos in Ultra HD and 4K resolution.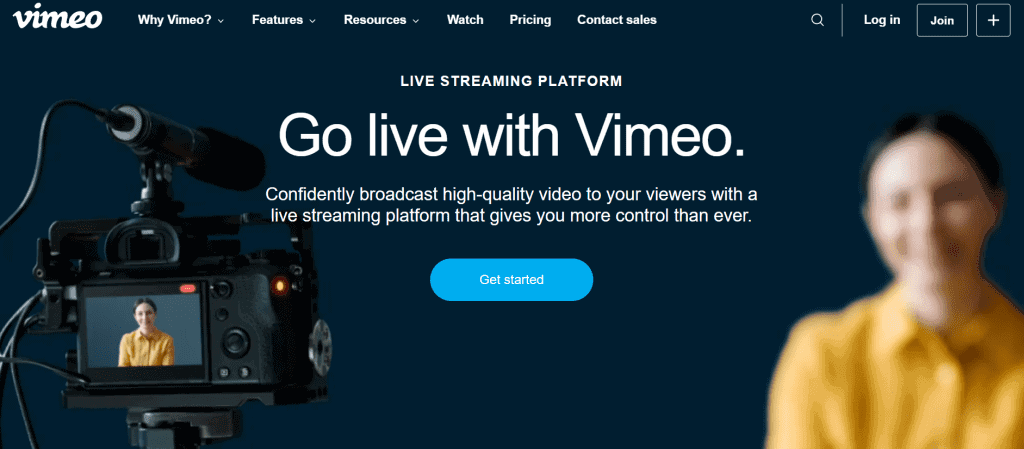 There are different versions of Vimeo, the first is the basic one and it is free. It allows you to use an archive of 250 GB per year, so we are talking about 500 MB per week. Then there are paid versions that have four different plans: Plus, Pro, Business and Premium that give you a number of additional features, among them the ability to sell your content.
As a user, you therefore have the option of choosing the plan that best suits your needs. Because of its high-quality videos, it is favored by professionals in all fields and is among the most viable alternatives to YouTube.
Dtube
Dtube was formed together with the social network Steemit since it' s part of it, which was launched by the U.S. company Steemit in 2016. Videos are uploaded through Dtube and then distributed through Steemit, which is a social platform for video and blogging.
The distribution is blockchain-based and all users choose the computers that will be involved in producing new blocks through a vote. Each user has 5 votes at their disposal.

This system allows platform participants to receive cryptocurrency rewards every time they interact on the platform or upload new videos.
In addition to this special feature, one of its plus points is definitely that it is advertising-free. The use of this platform is definitely more particular and complex than what users are used to, but in 2019 it already had over 189 thousand content creators, a figure that is growing year after year.
Metacafe
Metacafe is another video platform worth mentioning as one of the best YouTube alternatives. The platform is similar to the Google-owned behemoth, both in how the videos are made and how they are used. Metacafe is particularly focused on short videos that are uploaded directly by users, so it offers content of all kinds.
The strength of this platform is definitely its simplicity; it is convenient and very intuitive. The main menu links to the most recent, trending and popular content. The secondary menu, on the other hand, which we find on the left, allows each user to search for their favorite video and be able to find it by category. As of August 2021, the platform is reported to be inactive.
Twitch
If you are a video game lover a great alternative to YouTube is definitely Twitch. The portal is a live streaming platform, particularly focused on two topics: video games and sports.
This company was established in 2011 with a beta version, but already 2 years after its launch it has more than 45 million viewers. In 2014 Amazon bought the company and created the behemoth we know today, with a service called Twitch Prime that offers free games, subscriptions, ad-free streaming, and more.
In addition, TwitchCon, a convention for fans with dates in the U.S. and Europe, is held every year.

The content on the platform is accessible to everyone and all it takes is a simple free registration to see it, however, you have several additional features compared to classic channels such as a messaging function, the ability to follow specific accounts or channels, and a membership invitation for your friends.
Anyone can stream online for free as long as they have suitable software. Although the portal started as a means of sharing between individuals very often it is possible to watch professional streaming especially when it comes to large e-sports related events.
Thanks to affiliate or partner programs every user has the opportunity to earn money on the platform. All videos on the platform are live streamed. In addition, one can archive their live streams and allow users to view them within 60 days of the live broadcast.
Vevo
Vevo is a video platform dedicated to music performance. This platform was founded by the world's leading existing record companies Universal, Sony, and EMI. Today it has about 24 billion views each month; however, to date, it is not available in every country.

Initially this platform was created as a streaming medium for viewing music videos, however, today there is no longer a main app and all content that is available on the platform can be viewed exclusively through other platforms including YouTube, Apple TV and others.
Today therefore, it is a tool for broadcasting music videos of great artists, live performances, video clips, backstage, concerts, and more but only and exclusively of celebrities related to the music world.
VidLii
This platform was created in 2015 by a university student and to this day it is still the most used among amateur content creators making it one of the best YouTube alternatives. This is in fact its main function, within it therefore we have the possibility to find a lot of videos made for fun, you simply won't have the possibility of finding professional videos.

The content touches all categories and you can find videos of all kinds, except professional music videos. Its strengths are definitely the ease of uploading videos and being able to share them quickly.
Each user who registers has the option of creating their own channel that they can make public or private, and they can also choose to follow other people's channels. The VidLii platform is definitely among the alternatives to YouTube, since it is inspired by it and retains its main features.
Instagram Video
Instagram has long given the possibility to share not only images but also videos, over time this possibility has evolved and given more emphasis to long videos. This was possible with the creation of Instagram Video, IGTV Channels, and the ability to put longer videos in the feed.
You can upload your video through the main app and very easily, videos must be between 15 seconds and an hour long.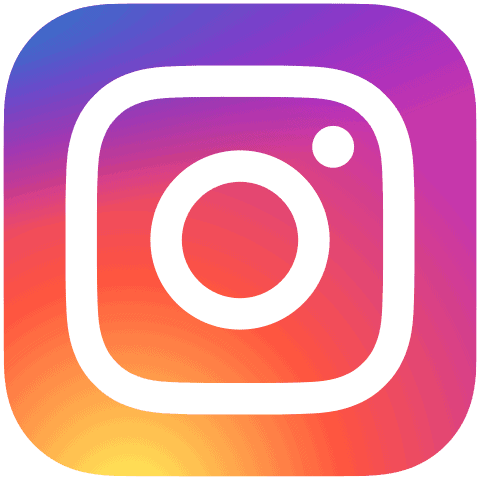 The main feature of this app is that it allows each user to enhance the video in the editor by adding emoticons, changing filters, rotating the image and another set of elements.
Instagram is completely free and to find content that interests you, you will need to make use of hashtags, which is why it is crucial that if you are a video creator, you should use them within the description of your video to make sure it can be found by other users.
You can learn more about the formats used for posting videos and IGTV channels by reading our Instagram photo size: definitive guide.
Veoh
Let's continue our list of alternatives to YouTube with Veoh. It was founded in 2005, and its strength is that it is a video platform that allows you to upload videos of any length and format.
This platform provides us with mostly professional videos, in-depth content, TV content, shows, and numerous series.
Veoh also offers the possibility to find music videos or movies, however it is mostly historical content and great classics. There is very little content available in Italian; we find it mostly in English.
The Internet Archive
Not everyone is familiar with The Internet Archive this is because it is definitely a very different platform compared to YouTube. The platform offers a lot of content of all kinds including books and software.
However, we also find music content, movies and videos, documentaries, old news reports, and vintage movies that are its great strength. In fact, on this platform we can find so much content that would be unavailable elsewhere, we can therefore think of it as a great online library.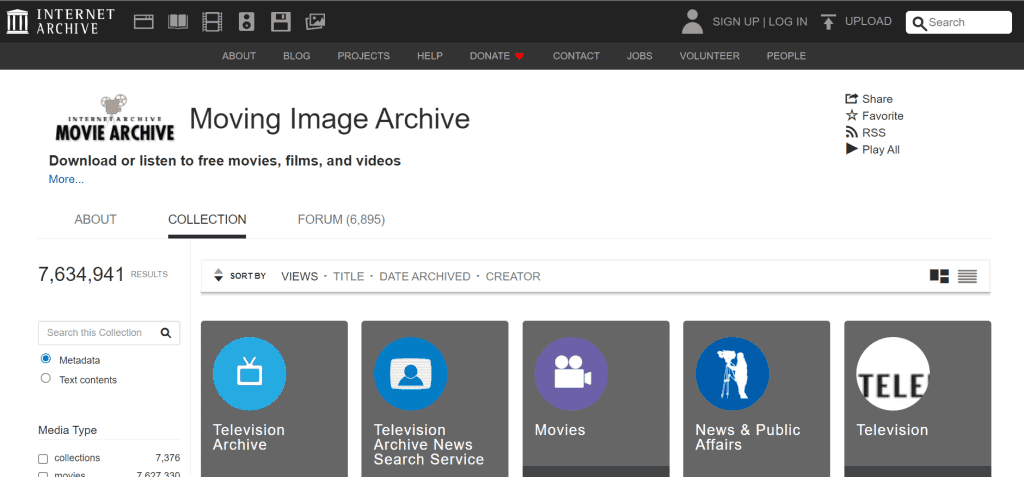 The Movie section of Internet Archive
Among other things, the Internet Archive's Wayback Machine also collects copies of more than 500 billion web pages and can therefore be used to retrieve past snapshots of certain web pages, similar to what can be done with the Google cache.
Facebook Watch
Facebook Watch is another major alternative to YouTube, over the past few years Facebook has increased its video features and created this section. The section allows you to browse and watch lots of different types of videos.

Content is viewed based on trends, one's interests, and history notwithstanding this however, you also have the ability to find content through the classic magnifying glass. You have the possibility to upload videos up to 10GB with a maximum length of 4 hours, the potential audience is larger than YouTube and this makes it particularly interesting.
It also allows you to earn money through advertisements. All users can upload videos and make them visible to everyone, either private or visible to a narrow niche of people. This tool is particularly used by Vloggers, chefs, and content creators.
Twitter Video
If you are a fan of sporting events then you can rely on Twitter, which in recent years has focused heavily on this feature giving space and visibility especially to sporting events.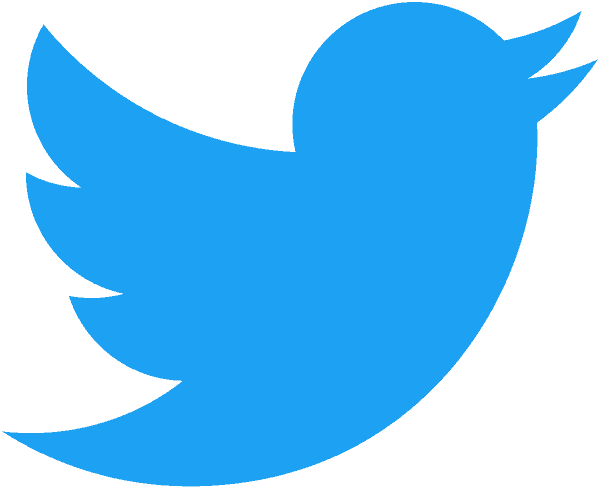 Any user can choose to upload and share videos on the platform, the live streaming version is certainly very interesting while videos still have many limitations for the time being. In fact, it is possible to upload videos up to a maximum of 140 seconds. It is therefore a good choice among alternatives to YouTube, as long as you do not want to focus on long-format videos.
Conclusion
In this article,The best YouTube alternatives, we have seen a large variety of platforms that can be considered viable alternatives to YouTube. However, each of them has specific characteristics, so some of them can be used only in certain cases. Nevertheless, we can use them to our advantage whenever we need them.
Many of these platforms have been present online for years, while others are newcomers that are still evolving and developing but are not inferior to YouTube. You can surely find the right one for you out of these platforms.