Let's see what the client area credit is, in which cases you can get a credit, and how it can be used to purchase or renew services.
How the client area credit works
Credit cannot be purchased but is credited to you as a refund or bonus.
If you made a double payment by mistake or requested a downgrade to a cheaper plan, a credit will be added to your account .
You can see the credit in the client area, just click on the notifications from the top bar, as you can see in this screenshot.

When you downgrade from your current plan to a lower one, the difference between the two plans, based on the usage period, will be credited to your account. This compensation will be in the form of credit.
You can use your client area credit to purchase a new service or renew existing services. Please note that the credit is non-refundable and does not expire.
Upon renewal, if you have credit available on your account, it will automatically be applied to the new invoice. When you will pay an invoice you will see the credit applied to the amount as in this example.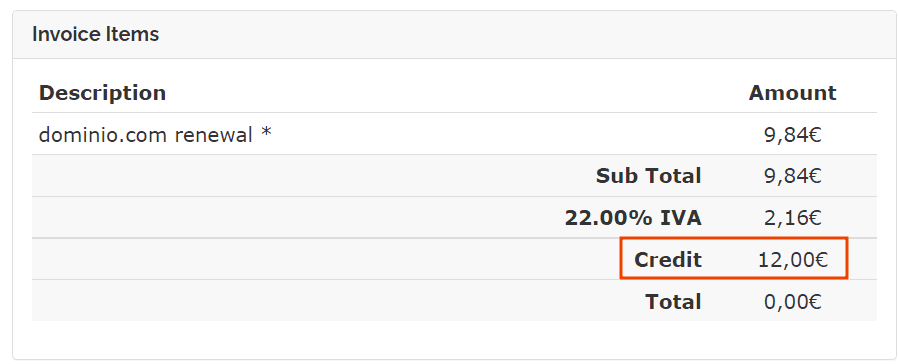 If, on the other hand, the credit was added to your account after the invoice was issued, you will need to add it to the invoice at the time of payment, let's see how to do it.
Add credit to the invoice
Access the client area with your credentials and click on Invoices.

Click on the invoice you want to pay from the list to open the invoice.
After opening the invoice, you will see the Apply Credit box.

If you do not want to use all the credit, just change the amount before clicking on the Apply credit button. Then proceed with the payment.
Please note that if an invoice is issued and the available credit is equal to or greater than the invoice amount, the service will be renewed automatically. For this reason, if you have decided to request the cancellation of the service, you will have to do it 30 days before the deadline. If the service gets renewed, it will no longer be refundable.