Are you wondering whether it is a good idea to choose free WordPress hosting?
Let's take a look at when it is worth considering a free service for your website and which factors to focus on.
People are often tempted by free services only to be very disappointed.
I can already tell you now that if you want fast WordPress hosting, you don't have to spend a fortune: there are excellent services at affordable prices.
First, let's take a look at the best free WordPress hosting and what it offers.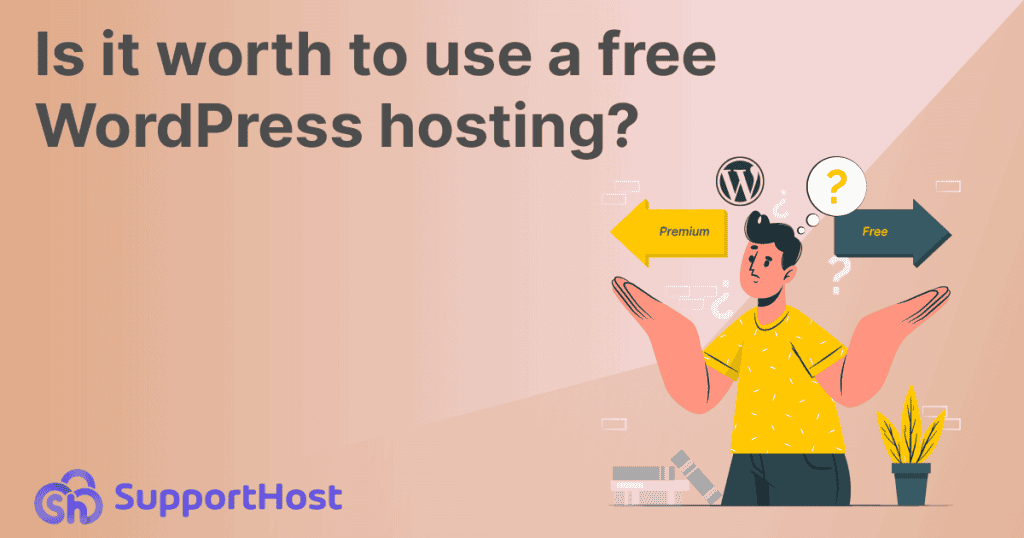 Most popular free WordPress hosting
Let's start by saying that there are several services that offer free hosting suitable for creating a site with WordPress.
I'll tell you briefly about the best-known ones in order to give you an idea of ​​what a free service can offer.
WordPress.com
WordPress.com allows you to activate a free plan. You have WordPress pre-installed, but there are limitations such as you can only install certain themes and plugins.
In this table I have included the main features of the free plan.
| Functions | WordPress.com free plan |
| --- | --- |
| Storage space | 1 GB |
| Unlimited plugins and themes | |
| WordPress pre-installed | |
| Site address | sitename.wordpress.com |
| SSL certificate | |
| Support | |
| Access to files and databases | |
| Advertising on the site | |
000 web hosts
000webhost is one of the best-known free hosting providers. Unlike the two services we have just seen, in this case, there are no limits to the plugins and themes you can install, and no advertisements are shown on your site.
On the other hand, you do not have WordPress pre-installed and you have a very low storage limit.
In the table you can see the main functions.
| Functions | Free WordPress Hosting 000webhost |
| --- | --- |
| Storage space | 300MB |
| Unlimited plugins and themes | |
| WordPress pre-installed | |
| Site address | sitename.000webhost.com |
| SSL certificate | |
| Support | |
| Access to files and databases | |
| Advertising on the site | |
Free WordPress Hosting: Is It Worth It?
If we want to create a site with WordPress and publish it to make it accessible to anyone, we need hosting.
But if there are free WordPress hosting services, why should we choose a paid solution?
Free is nice, but it's not always the answer to everything.
Let's see which factors to consider when choosing hosting in order to understand the differences between a free service and a premium solution.
I have divided this chapter into different sections based on the aspects to be evaluated:
resources,
file access,
reliability,
customization,
uptime,
safety,
migration,
support.
For each aspect we will see what premium services have to offer compared to free hostings.
Obviously these are general considerations to make because then you have to make sure you choose a reliable hosting if you don't want to find yourself paying for a disappointing service.
Resources
Free hosting providers provide a service without requiring anything (at least economically) in return. A free service is therefore limited by its very nature.
There is a huge difference between a premium hosting where you pay to have access to certain resources and a free service.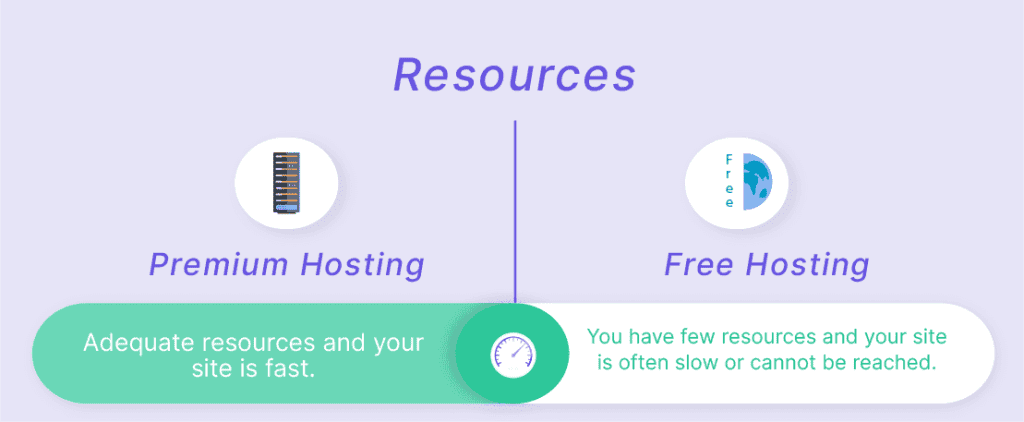 Let's take the simple case of shared hosting since free services offer you a space on a server shared with other users.
Providers that offer paid services tend to limit the number of users sharing the same server because that way, they can provide everyone with high-quality services, such as fast sites with reduced loading times.
What would happen if providers oversold their services without limiting the number of users on the same server? If providers sold more plans than the servers could support, users would inevitably have problems. Sites would become slow and, in some cases, unreachable.
A similar situation can occur with a free service. The requests for free plans are high and those who provide a service without wanting anything in return cannot lose much. That means that hundreds of different sites will be on the same server, and each of them will only have a small percentage of the resources available.
Moral of the story: You will be low on resources and space, and limited bandwidth.
What does it mean in practice to have few resources?
The site may become slow or will be unreachable for those who try to visit it.
You cannot have a site that requires a lot of resources, even a script or plugin could exhaust the available hardware resources.
Let's take the example of eCommerce: think about the impact a site that is most of the time unreachable can have on sales. Will potential customers trust you or will they run away?
When it comes to setting up a professional site, it's best to choose a service that offers you guarantees such as reliable WooCommerce hosting.
File access
With a premium hosting service you are in complete control of your space. In most cases you can manage your files and databases directly by accessing a control panel.
Also, depending on your plan and provider, you may have other methods to access your files. Let's take our plans as an example, even with shared hosting you can connect to the site and access all files via FTP or via SSH connection.
If you then need a dedicated solution and want to have root access, then you have to move towards the unmanaged plans of dedicated servers and VPS cloud hosting, in which you manage the server or virtual machine in all respects.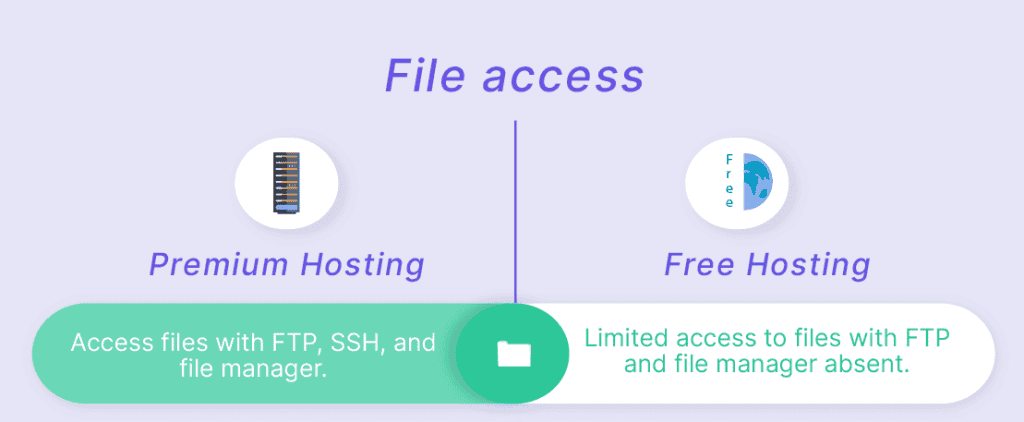 You cannot expect this level of control from a free WordPress hosting service. In many cases, you may not even have FTP access. In the fortunate event that the service includes a control panel, it may be very limited with missing functions and the inability to change some settings.
Why is it important to be able to access the files or database of a WordPress site? The reasons can be different. For example, you may need to enable debug mode to identify a problem.
Reliability
Is free hosting really reliable? Depends. But in some cases, finding out could cost you more than the cost of a paid shared plan.
Due to the limitations we mentioned earlier, a free service cannot offer you guarantees.
This means that suddenly your site may be suspended because you have exceeded the traffic limits, even with a few visits in a single day.
The worst case scenario however is that your account could be terminated and not just suspended. In this case, you often won't be able to rely on a backup service since free hostings don't provide it. Which means you screwed up all the work you had done on the site and all your content.
Obviously, this doesn't necessarily happen all the time, but it's a possibility to take into consideration. Beyond well-known services like WordPress.com, other free solutions give you no guarantees:
you don't know if your data is safe or it can disappear overnight;
you have no idea where the servers are, with all the ensuing privacy risks.
Of course, not even paid hosting is necessarily synonymous with reliability. This is why the choice of provider is important and it is better to rely on suppliers who have already been on the market for several years.
Personalization
Choosing a free solution to host your WordPress site often means saying goodbye to many features.
Thankfully you are not limited to just those few themes, but you can use the theme upload feature. In my case, I wanted to use the new default WordPress theme, Twenty Twenty-Three, and I had to download it from the repository and then upload it to the site.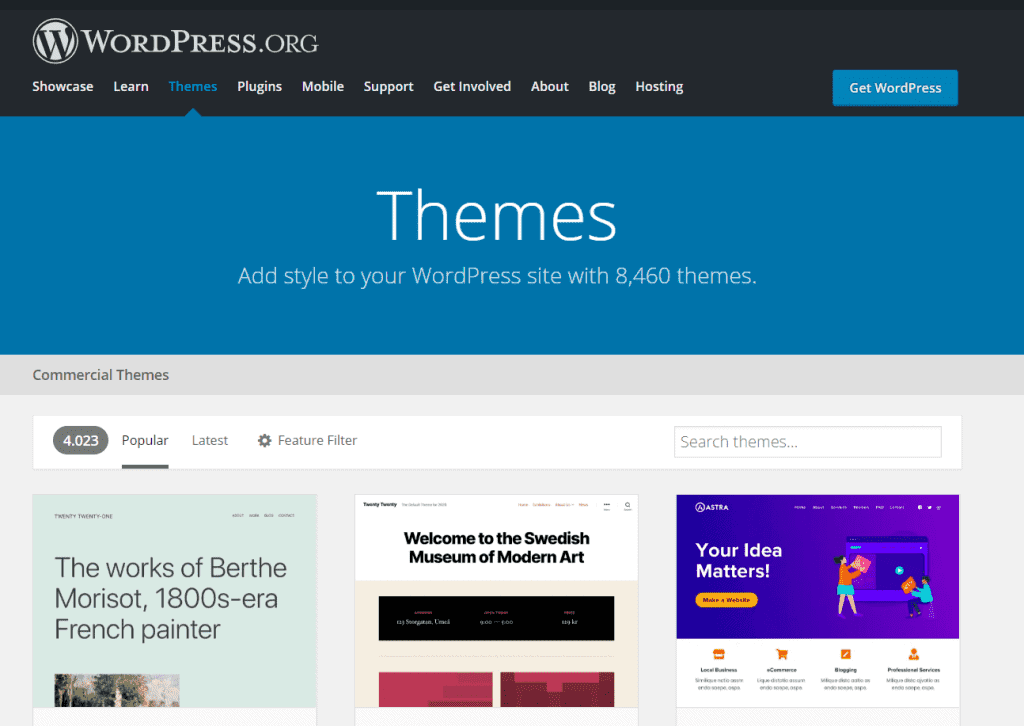 Does having fewer themes available make it easier to create a site? Not exactly. If you choose to use another theme anyway, you have to resort to an unnecessarily complex system.
What we have seen is just one example. Depending on the free hosting service you have chosen, there may be other restrictions. For example, WordPress.com allows you to use only some themes and install only some plugins.
These limitations do not exist with premium hosting where you are in complete control of your site.
Uptime
With free hosting, you cannot expect to have a fast site. But the worst thing is that you have no uptime guarantees.
Will your site be reachable? You can't know for sure. You may have intermittent uptime, with your site being temporarily up and then immediately down.
This situation not only occurs in response to too much traffic, but even with very little traffic, your site might still become unreachable most of the time.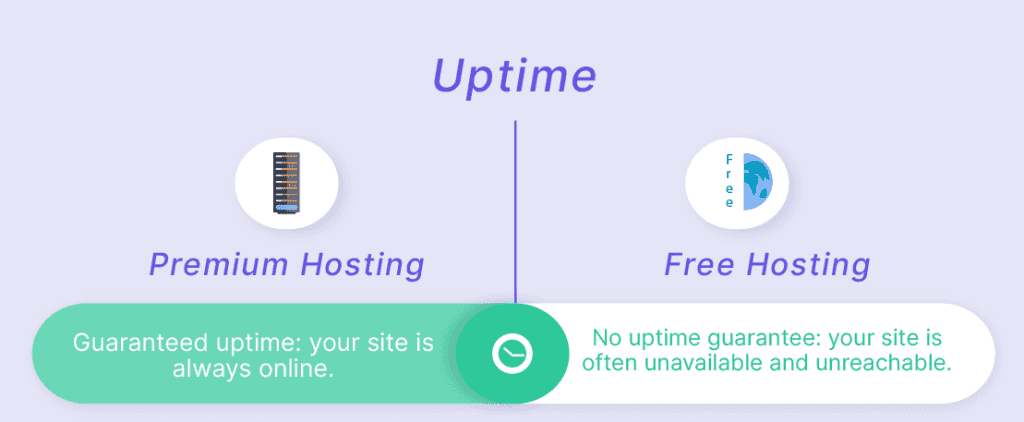 On paid hosting, the situation is completely different: the servers are monitored and your site will always be online. Depending on the service you choose, you may have even greater guarantees. For example, SupportHost offers you a guarantee on the site's uptime: you will have a refund if the uptime is lower than that foreseen by your plan.
Security
Those who provide a free website hosting service do not necessarily have expert systems engineers or worry about server security.
Your site may be secure or it might be at risk of being hacked.
For example, if no one updates the servers regularly, you may not have access to updated and more secure applications like the latest stable version of PHP.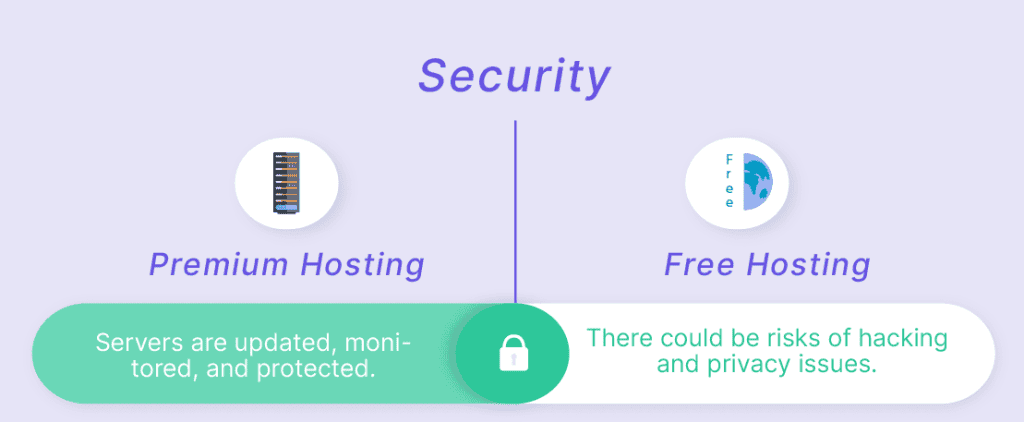 It's true that no site is completely safe, especially if you underestimate the measures that you as the owner can take yourself: from using secure passwords to installing only trusted plugins. It is equally true, however, that reliable hosting has many more resources to guarantee the security of its customers' sites.
Furthermore, a premium service offers you features that you will never find in free hosting. Think, for example, that in some cases the free solutions don't even provide the possibility of installing an SSL certificate to use the secure HTTPS protocol.
Migration
Let's say you've changed your mind and want to switch from free hosting to a provider that offers solid paid hosting service.
You have already created the site and you simply want to move it to the new hosting.
Easy, right? No.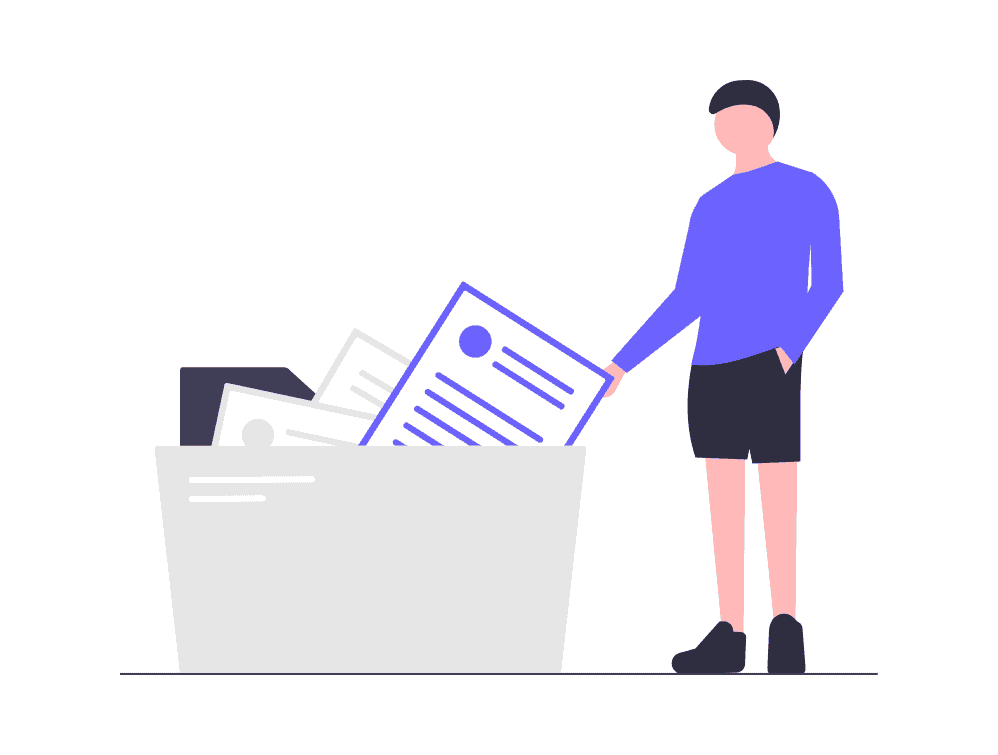 If there are limits on file transfer it could become almost impossible to export the contents of the site in order to be able to transfer it.
Sometimes, you will have no alternative but to start from scratch and you will lose all the work you have done up to that moment on the site.
Support
What level of support can you expect from a free solution? If you are happy with it, you will have access to some forums to ask for help from other users, but in most cases no assistance will be provided.
The service is free and that's enough, in case of problems, it's all in your hands.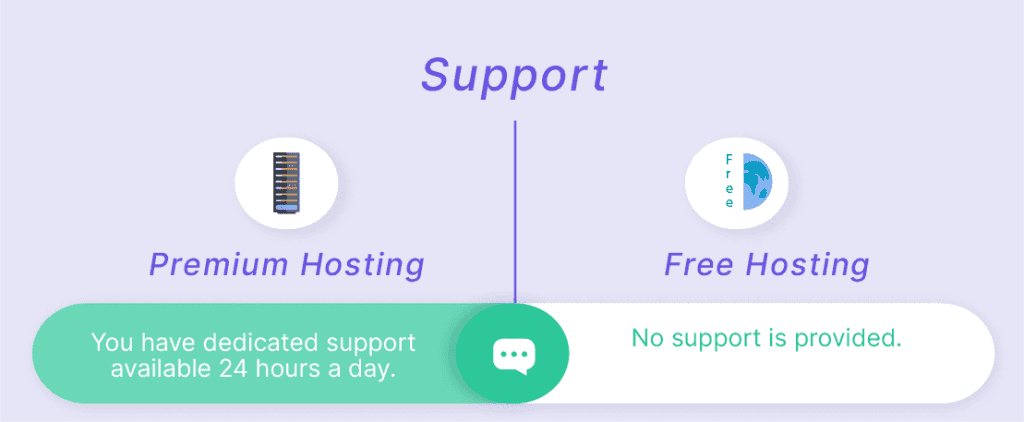 With a paid solution, the situation is much more rosy. The best hostings will offer you dedicated assistance in your language 24 hours a day.
Free hosting with WordPress: what's in it for those offering it?
Now that we have seen the key points to consider when choosing hosting and what are the limits of free services, it is worth asking yourself this question: why give a service for free?
In most cases, nothing is ever really free.
What does the provider gain by offering a service for free, when they could charge you for an annual subscription?
There are two main reasons:
advertisements.
upgrades to paid plans.
Free WordPress hosting often places banner ads on your site. Showing these ads to those who visit your site will be your way of repaying the fact that you can publish your site without spending anything.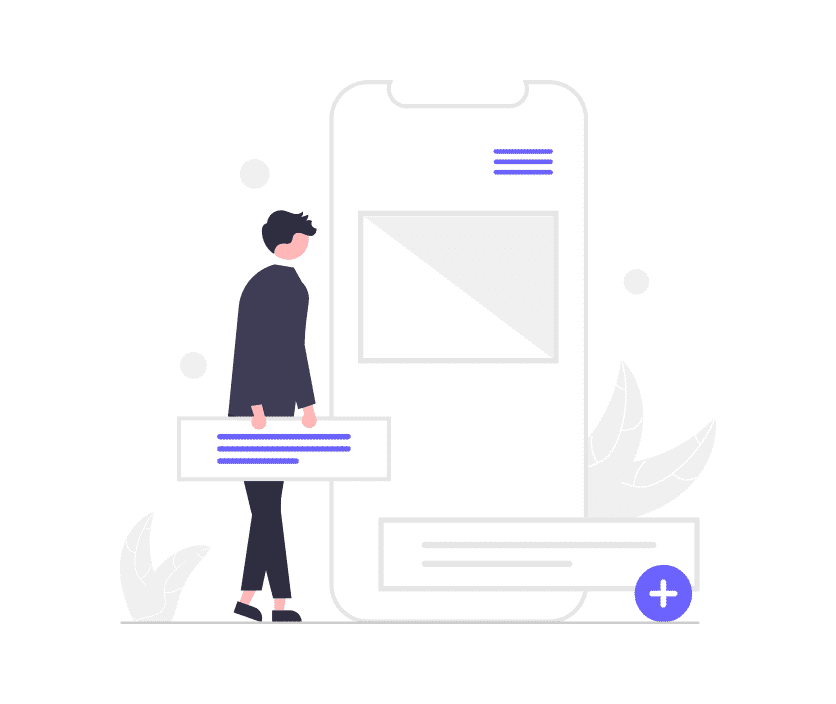 It goes without saying that the result you will have will be far from looking like a professional site.
Secondly, free hosting providers often use this service as a way to push you to upgrade to a premium service offered by them. It usually works like this:
let yourself be tempted by the fact that the plan is free;
you realize the limits;
upgrade to a paid plan.
The problem is that these premium plans are often much more expensive than other hosting solutions. Lured by the idea of ​​a free service, you end up spending more money than you could have spent by choosing a premium service from the start.
Free trial hosting
In this article, I have told you about the free services that allow you to create and publish a WordPress site without a deadline.
Then there is another category of services made up of trial plans. A trial hosting plan is a service that can be offered by the hosting provider to allow you to evaluate a plan in practice.
For example, on SupportHost you can order free hosting for 14 days and thus try our solutions including those tailored to WordPress.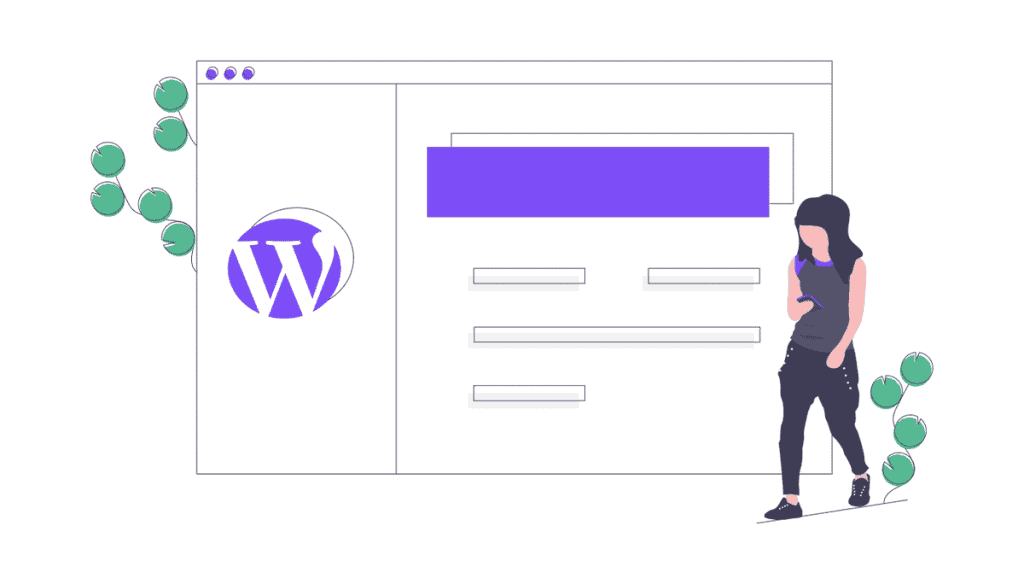 In our case you will not have to enter payment information and there will be no automatic renewal. You will be notified by email when the plan is about to expire, after which it will deactivate automatically.
As for the trial plans of other providers, I invite you to check the conditions because in some cases there may be automatic renewal at the end of the free trial.
When should you choose free hosting for WordPress?
In this article, I have highlighted the potential problems of free hosting. Does this mean that a free solution is not always recommended?
Not necessarily.
There are some cases where you can seriously consider a free solution for your site and make this choice lightly.
The two that come to mind are:
you're setting up a personal hobby site or blog to share your ideas with friends and family;
you want to learn how to use WordPress or try to create your first site without having to make an investment.
In all other cases it is better to choose a premium service: For just over €30 a year you have a professional solution and a lot less worries.
What do you think? Have you ever used a free hosting service to create a WordPress site before? Did it meet your needs? Let us know by leaving a comment.