In this tutorial, I will explain what pre-approved payments are and how you can delete them by accessing the PayPal website.
If you have mistakenly made a double payment, you will also find instructions for requesting a refund later on.
What are PayPal pre-approved payments?
A pre-approved payment is a payment that is created on the customer's account, which sends us the funds automatically (without us requesting it) on a specific date. Sometimes a PayPal membership is created.
When you create an order, if it's a product that needs renewal, PayPal may create a pre-approved payment (which you can view, edit and delete from your PayPal profile). You will be sent an email notification whenever new PayPal pre-approved payments are created.
You can delete or manage the PayPal payment at any time from your PayPal profile, in any case, if we do not receive the payment, your plan will be suspended, and your site will be unreachable.
It can happen that you mistakenly forget to make payments, so it is advisable to enable automatic payments.
We also remind you that, as an alternative to PayPal, it is possible to pay by bank transfer or credit card.
Have you sent a pre-approved double payment?
The system is not able to know if there is an active automatic payment on the customer's account (it could have been deactivated without us knowing), therefore, it sends an invoice to the customer in all cases, before the expiration of the service.
In those cases where we receive a double payment (the plan is renewed manually, and we consequently receive an automatic payment), the customer has two different options to take action, as described in the next section of this guide.
This credit is kept on your account without expiration and can be used to purchase or renew any of our services.
With this credit, it will be possible to purchase one of our plans, for example, WordPress hosting, or it can be used to register a domain. You can see your credit in the notifications in the top bar.

Ask for a refund
Given the functioning of pre-approved payments, we are not responsible for receiving incorrect or double payments, as the payment was created on the customer's account and was sent from his account to ours.
If we receive a pre-approved payment, but it was not your intention to send the payment, we can refund the pre-approved payments only if the service has not already been renewed (within 30 days of sending the payment).
In any case, we will deduct the transaction costs from the refund (as this is an error made by the customer, who should have eliminated the pre-approved payment in time if it was not his intention to send the payment).
How to delete a pre-approved payment
If you have mistakenly enabled a pre-approved payment and wish to disable it, you can proceed in two different ways.
PayPal accounts are not all the same, and their screens may look different. With these two methods, you will surely find a way to disable pre-approved payments.
First method
In the first method that I will show you, you will have to log in to the PayPal site and click on the icon representing a gear.

Subsequently, on the settings page of your account, you will have to click on the "Payments" tab.

From this section, you can access the management of your PayPal automatic payments, click on the item "View" as shown in the figure.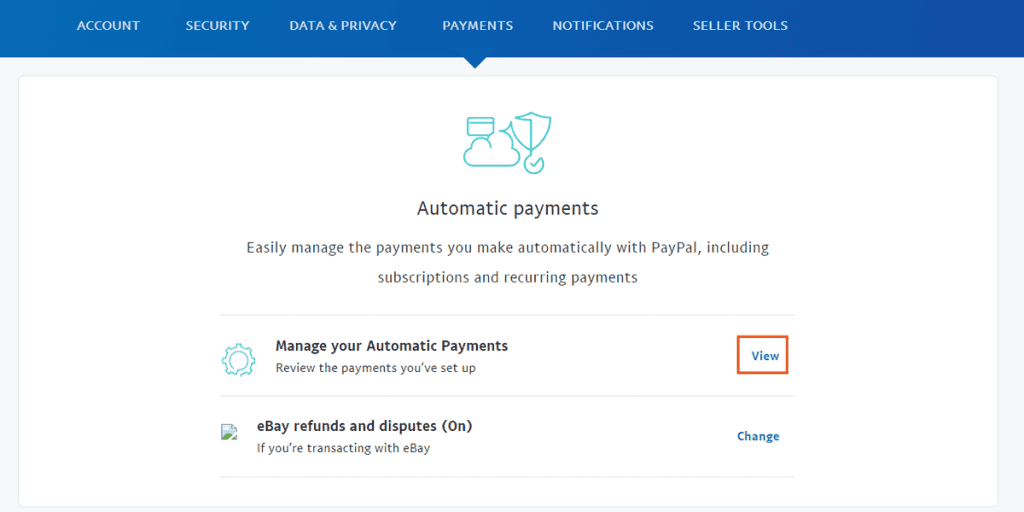 The list of all enabled automatic payments will appear, select the one you want to cancel and click on "Cancel".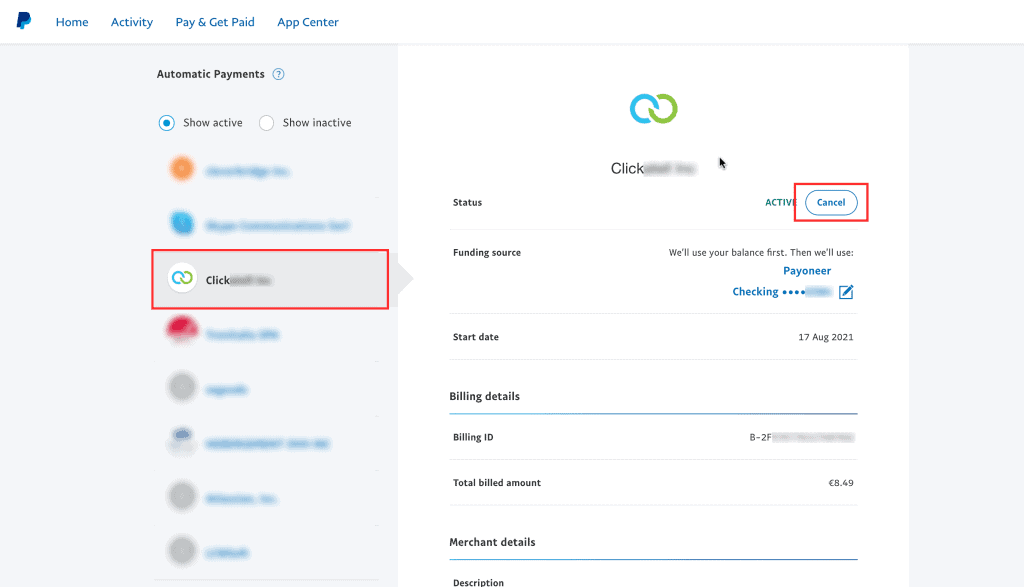 This way, we can cancel pre-approved payment. You can repeat this operation for all payments you wish to cancel.
Remember that once an automatic payment is cancelled, it will not be possible to reactivate it through the PayPal settings, but you will have to make a new subscription. This can only be done while paying an invoice.
Second method
In case you were unable to disable PayPal pre-approved payments with the previously proposed method, this solution may solve your problem.
The first step is to click on the icon of your profile and select the item "Account settings".

Now, in the menu on the left of the screen, find and select the "Money, bank and cards" tab.
Scroll down until you find the section dedicated to automatic payments and click on the "Set automatic payments" button.
All your currently enabled automatic payments will be displayed in this list.
From this list of services, select the pre-approved payment you want to disable.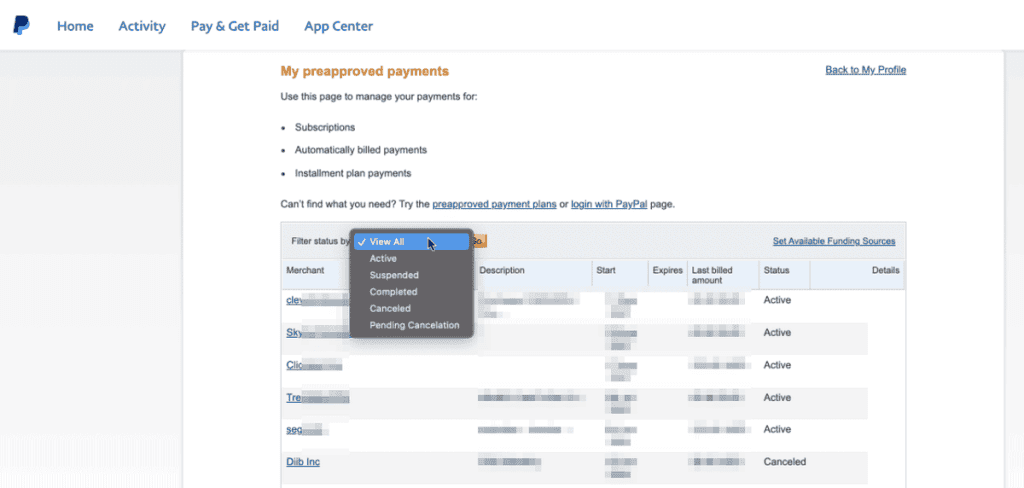 At this point, all that remains is to press on the "Cancel" item.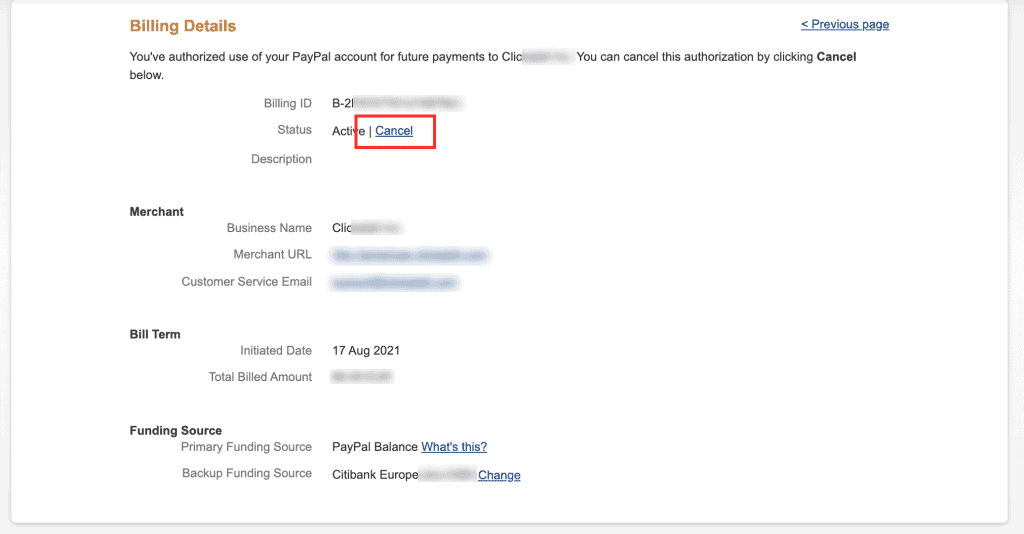 If you have followed all the procedures correctly, you can manage and delete PayPal pre-approved payments whenever you want in complete independence.