In this tutorial let's see how to change cPanel account password. With a reseller hosting plan you have WHM, a reseller panel that allows you to manage your customers' cPanel accounts, creating new cPanel accounts and managing hosting packages.
There are cases when you may need to reset cPanel account password. The password cannot be recovered, but from WHM, as administrators, you can change the password of one of the accounts even without knowing the previous password.
Change cPanel account password
To change cPanel account password, the first thing to do is to login to the reseller panel. There are two ways to change the account password, let's see both of them.
Account functions -> Change password
Click on Password Modification from the Account Functions section of the left side panel.
You will see the list of cPanel accounts and you can select the account for which you want to change the password. If there are many accounts you can save time by searching for the one you are interested in, by using the search bar. You can search by username, by domain or both.

After selecting the account you will have to enter the new password and repeat it in the Confirm Password field.

Make sure to use a complex password with numbers, letters, special characters, upper and lower case.
You can also click on Generate to generate a random complex password. Clicking the arrow next to the Generate button will allow you to change the options for the password that will be generated (length, presence of numbers, symbols, upper and lower case).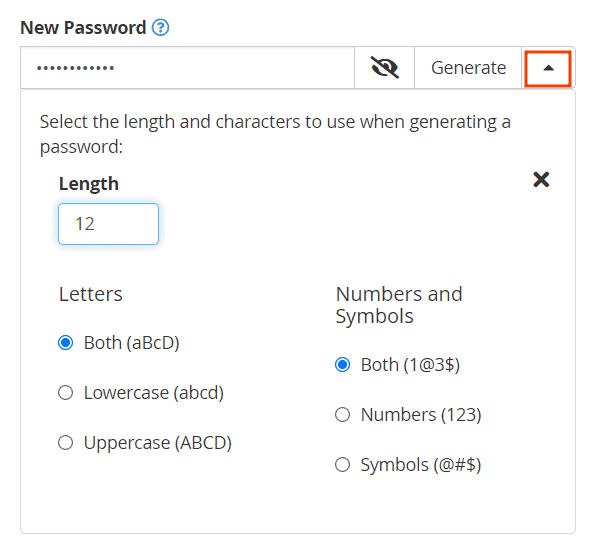 To make the changes effective, click on Change Password.
You will then see a success message telling you that the password has been changed.

Account List -> Change Password
Let's see the second method to change cPanel account password. Click on List Accounts from the Account Information section of the WHM sidebar.

You'll see the list of accounts and next to each one the "+" symbol which allows you to open the action panel.
After opening the panel you'll see the Change Password field, to change the password just enter the new one in the empty field and click on Change.

A notice like the one you see below will tell you that the password change has been completed.