According to web marketing experts, one of the most functional strategies of the moment are videos. You can use a Mac video editing program to enhance your site's pages and make them more appealing in the eyes of your users.
Small clips, music videos and corporate commercials allow you to convey numerous messages through moving images and sounds, which grab the user's attention much more than static photos and pages of text.
Not only that, it has been seen that pages with multimedia content have a greater chance of reaching the top positions in Google search results.
The spread of these multimedia files is also due to the ease of using programs to create videos. Some operating systems already have them installed as part of the factory software, as in the case of the Mac that has iMovie preinstalled.
Obviously, the Web offers a wide variety of software for this type of work, from the simplest ones like Filmora Video Editor to the most advanced ones like Final Cut Pro. So, try to understand the type of videos you would like to make and choose the software that best suits your needs.
In this article, we have selected some of the best Mac video editing programs.
Some are easy to use, others are more professional and require more effort in the study phase.
Let's have a look at them one by one.
If you are interested in graphics and use a Mac, then check out what the best MAC video editing program are as well.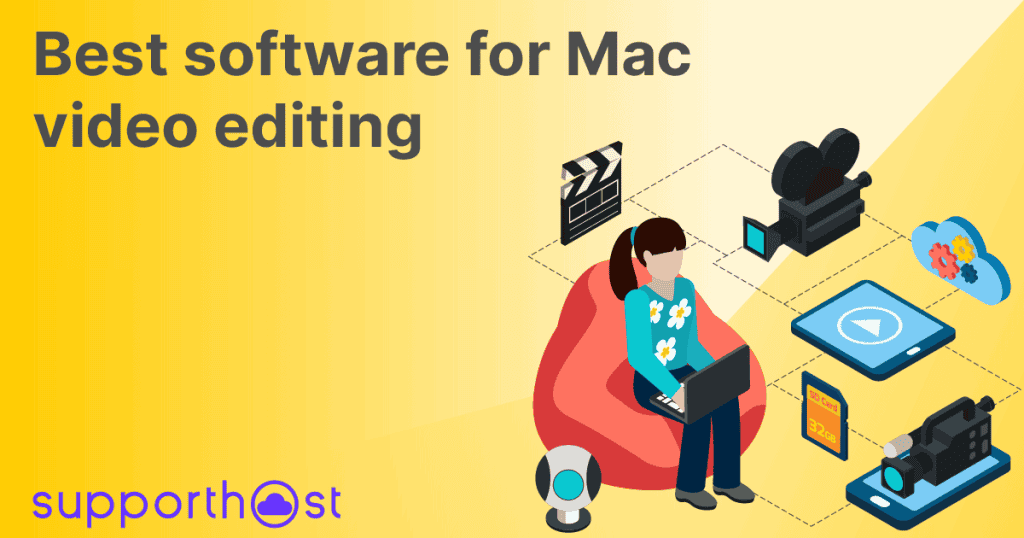 Free Mac video editing programs
The first MAC video editing programs we are going to look at are those dedicated to the Mac and which are available for free. Obviously, they are not professional programs, but that does not mean that they don't let us make good videos. If you are therefore looking for a product to use at an amateur level, then you will definitely find the right product for you in this list.
iMovie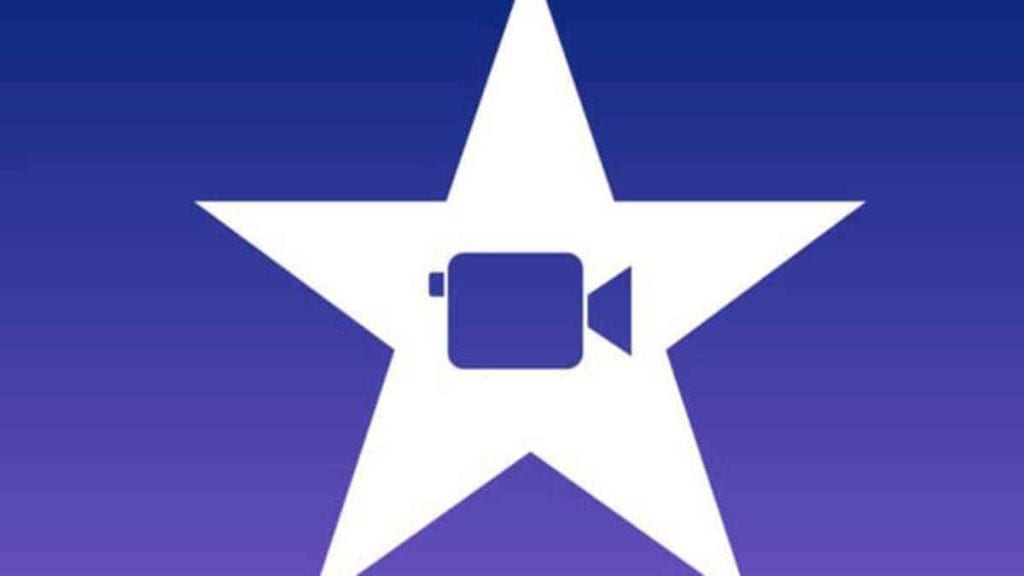 As I said before iMovie is pre-installed on your computer. iMovie is one of the most popular MAC video editing programs.
The software is already pre-installed on your Mac and is available on the Mac App Store at a price of 13.99 euros. It has many templates and default settings and allows you to make quick and intuitive video edits.
The program is easy to use and that is why it is among the most used by Mac OSX system users.
OpenShot
OpenShot is a dedicated high resolution video editing software for personal use and completely free of charge. Its main purpose is to handle high-definition videos with 4K, 5K and 1080p resolutions.
This program lets you add titles, improve the stability of a video, add subtitles and other basic functions.
It is an open-source program so it is constantly being updated, currently it is available in 70 different languages and in the latest update the option to save changes automatically has been added in case the program crashes.
Shotcut
Shotcut is a multimedia editor that can support different formats. It can support audio, video and image files to be edited or converted to other types of media files.
This program allows you to make all the changes you want to a video, correct color, edit and control audio, increase sharpness and more.
Changes can be undone without affecting the video which will revert to its initial state, you can do this as many times as you want.
It is an open source program and definitely suitable for beginners or those who are just starting out in video editing. It has a very involved community who are always ready to interact, and an endless series of tutorials available to everyone for any operation you need to do.
The program is free and you can also use it to make videos for YouTube. In fact, in addition to editing videos it also allows you to perform all those operations that fall within the scope of post production.
Its interface is very simple and it takes very little to learn how to use it. The only drawback is that it doesn't have animations of any kind, so when we insert, for example, some text in the video it will remain still. For everything else it is an excellent free Mac video editing software.
Filmora video editor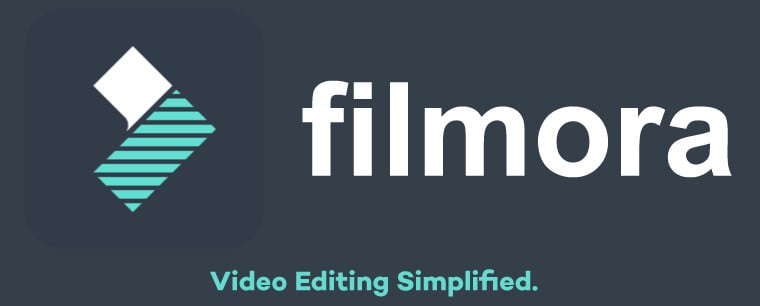 Filmora Video Editor is a MAC video editing software designed for videomakers. It is available in a free version and a paid version. It is suitable for everyone because even the less experienced can make quality videos using this program.
Within the program there are many different features and many special effects that can be used in videos.
As we said, it is very easy to use, thanks to its user-friendly interface that allows you to access every tool easily. It is definitely not a professional tool, but this does not mean that we can't make high quality videos.
With this software you can export your newly created video directly to YouTube, Facebook and Vimeo. We can definitely say that amongst the free products for making videos on the market, this program is one of the best.
Videopad
VideoPad Free Video Editor e Movie Maker is a free MAC video editing program to edit videos and movies, it is a perfect version for beginners who are starting to take their first steps in the video editing industry.
It is ideal for editing movies since it is very easy to use. It has a complete interface with several important elements such as a built-in dual screen and video timeline.
It has the possibility of creating different media formats and it includes numerous video effects that we can use. Once you have created your film or video you can choose which format you want to save and store it in.
Programs for editing professional videos
In this section you will find professional MAC video editing programs that allow you to make quality videos. They are paid programs that have many must-have features and functions. Making a professional video with one of these programs is definitely the ideal choice.
Xilisoft
Xilisoft Video Editor is a professional MAC video editing program that, although not immediate, allows you to create professional movies, with audio tracks, special effects and much more.
The software is available in two versions, a free one and a paid one that includes all its features.
Xilisoft Video Editor is definitely one of the best programs to create videos, but it requires
Adobe Premiere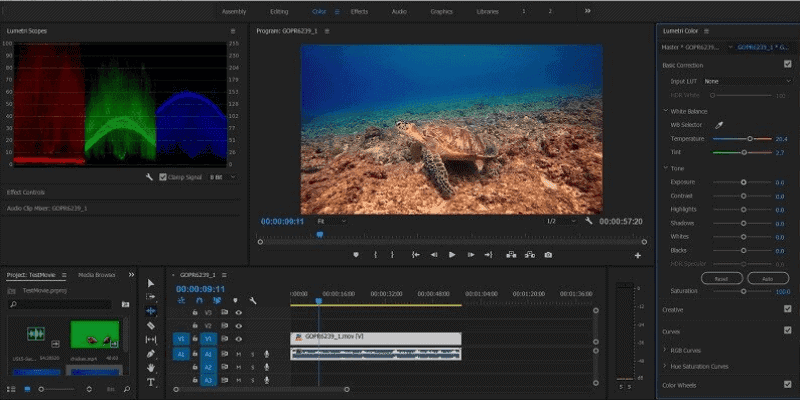 Adobe Premiere is a professional program also available for Mac, among the most advanced and complete on the market. a basic knowledge and careful trial and error.
The software has a wide variety of features, including special effects, transitions and titles. It comes with a multi-layered timeline, several shortcuts and lots of information. This makes it a very intuitive program to use.
This software also makes use of external plugins to make its functionality even more varied. It allows us to blur colors in various movies and makes 8K videos. It also gives you the ability to use videos to work on that were made with every type of camera.
This is a paid program, but you can try it for free for a period of 30 days. There are various versions of Premiere, such as Adobe Premiere Pro with even more features to create cinematic video montages.
DaVinci Resolve
DaVinci Resolve is a fully featured Mac video editing software dedicated to making videos of all kinds. It is available in both a free and a paid version.
The program allows us to correct, edit, customize and create videos thanks to a very rich set of features and tools. It is an ideal solution for those looking for cutting-edge video editing.
We can therefore consider it a professional product that is perfectly suited for those who need to do some post-production work. In fact, it already allows, in its free version, to manipulate color and carry out a primary correction followed by a secondary one.
There are numerous features available to us. As of today it comes with a brand new tab called Cut Page for all those people who need to perform a quick video edit without using all the tools offered by the software.
Its interface is clean and simple to use, it also has a double timeline and different mechanisms to speed up editing. For example, you can perform a video cut or insert a cilp.
Thanks to its artificial intelligence, it is able to help you directly with multiple clip creation, color smoothing and coloring jobs. The paid version has additional features such as 3D tools, Resolve FX plug-in and the ability to correct video graininess.
It is definitely a product that allows us to edit a video at a professional level.
Final cut pro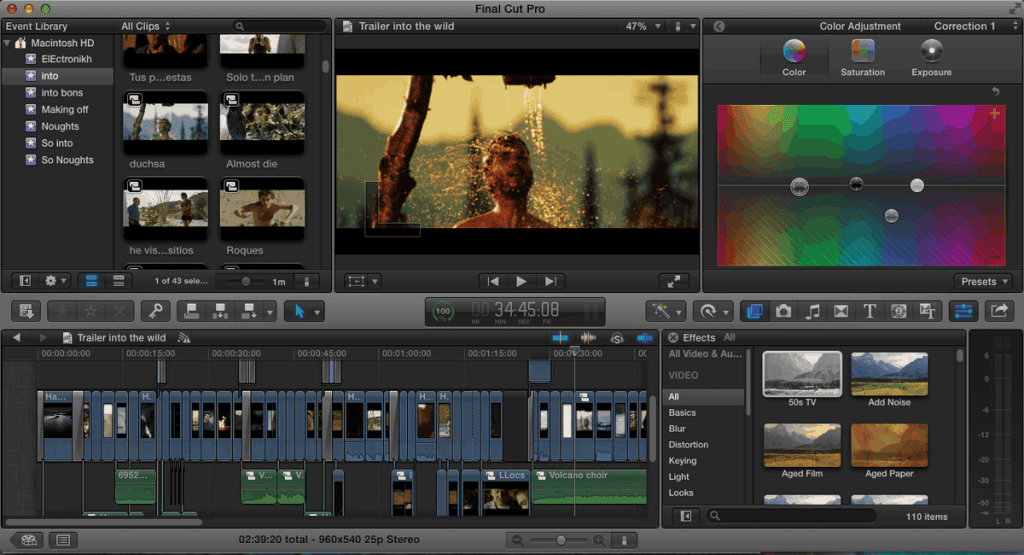 Final Cut Pro is a multimedia software with video editor for a professional production. With this MAC video editing program you can make simple videos but also entire movies in high quality.
The software has an abundance of features that you absolutely cannot do without if you want to make a professional video. It allows you not only to produce high quality movies and videos but also to go in and correct any errors in images or audio, for example.
There are so many features, from color change, clip insertion, video resolution, to audio editing. So many useful tools for a high-quality job. Once you have finished your work you can easily save it and export it to all the platforms you want.
It is a program that is constantly being updated and is definitely not suitable for beginners who might find it difficult to use. It also requires a GPU with a high-end processor to function at its best. It is a paid program.
Other programs for making videos
Within this section you will find other programs that you can use to make videos. These are software that are more particular and do not fall into the previous categories that we have seen.
Handbrake
Among the open source solutions to create videos there is Handbrake. A software that is apparently not very easy to use, but with numerous functions and utilities.
Known mainly as a file converter, Handbrake is suitable for making small montages of both video and audio tracks and to convert the most diverse formats in classic AVI.
Blender
The Mac version of Blender is undoubtedly one of the most complete and advanced in the field of MAC video editing software.
Precisely because of its numerous functions, the usability of the program is not among the most straightforward and simple. Blender allows you to make 3D models and animations and is also used by top professionals all over the world.
QuickTime Player
QuickTime Player is a software available for Mac that allows video playback. This program was released many years ago and is constantly being updated to keep up with others.
QuickTime allows you to record a video of your screen and then edit it with iMovie to make screencasts with your Mac completely free of charge.
It is both lightweight and capable of playing high-resolution videos and has always been a user favorite. In addition to being able to play HD videos, it allows you to edit them and even make them lighter without compromising quality.
The program has a simple and very intuitive interface, easy to install and use. Despite this, however, in its free version it has a lot of restrictions that don't allow you to make the most of it.
That's why users definitely prefer the paid Pro version. The latter has many different features and no limits when it comes to making videos.