If you're looking for a Kinsta alternative that's cheaper and includes more services, you've come to the right place.
In the article, we're going to see the differences between SupportHost and Kinsta in detail, but let's start with what kind of solutions the two providers offer.
Kinsta only offers hosting services for WordPress completely excluding those who want to use other applications. In addition, if you want to buy a dedicated server, you won't even be able to ask for a quote without already being their customer.
The price-performance ratio is not balanced when we consider that Kinsta is priced high and far more than the competition for plans that lack indispensable functions and offer little control. The resources themselves, such as the disk space reserved for each plan, are really small compared to the high prices.
On the contrary, SupportHost, in addition to offering WordPress hosting solutions, offers specific services for other CMSs such as hosting for PrestaShop and Magento and dedicated solutions ranging from managed cloud VPS plans to servers.
With all our solutions you will have unlimited email accounts and a free domain. With Kinsta, however, these options are not provided and you will have to rely on other providers to register the domain and to manage the mail.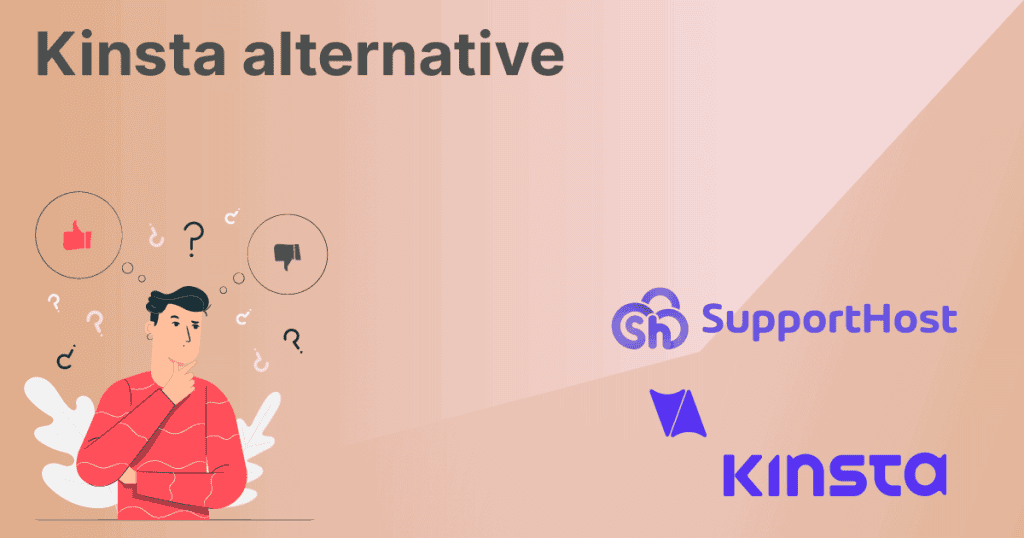 Resource management and limits
On SupportHost all our solutions starting from shared hosting are designed to guarantee you the best. In order to ensure excellent service to all our customers, we monitor the use of resources.
Depending on the plan you choose, your account will be associated with a certain amount of resources as you can see by consulting the plans page. We refer to the physical resources of the machine such as RAM and CPU, the number of PHP processes and the I/O limit for data.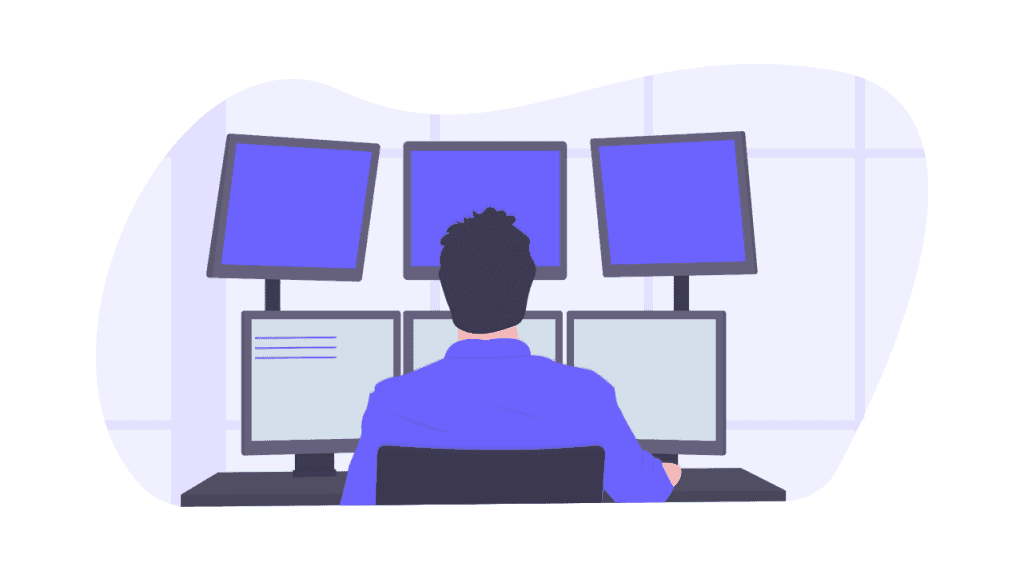 The monitoring of these limits serves precisely to ensure an excellent level of service to all accounts hosted on the same server.
On SupportHost we clearly and unequivocally indicate the resources associated with the plans. Furthermore, at any time you can consult consumption in real time by accessing the metrics from cPanel.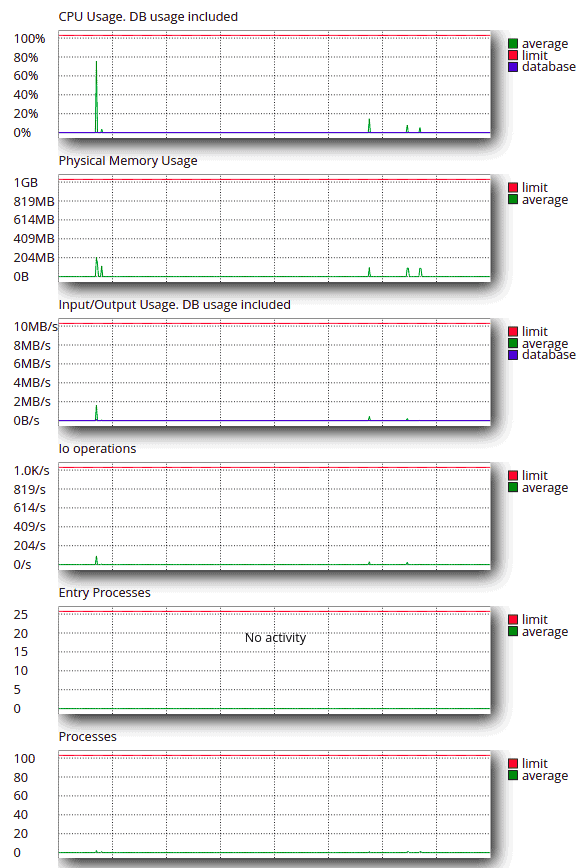 If the resources of your plan are no longer sufficient for your project, with SupportHost you can easily upgrade to a plan with more resources.
By choosing one of the plans offered by Kinsta, you will not be able to see the resources associated with the plan. Kinsta's plan split is based solely on monthly visits.
Keep in mind that, unlike SupportHost plans where monthly visits are just an estimate to help you choose, Kinsta imposes an actual limit on the number of visits. In this case, once the threshold is exceeded, you will have to pay extra according to the visits in excess.
In addition, Kinsta activates the CDN by default on all sites. It is important to be aware of this because there are limits here as well, above which additional costs are automatically triggered, which can increase the price of your plan.
Disk space
On SupportHost you can always count on SSD disks for the highest possible speed. The space available for your account depends on the plan you choose. If you have 15 GB of space, this will be the total space associated with your account and you can use it for site files and emails.
If you reach the limit, you can free up space by deleting files or emails you don't need, or consider purchasing a plan with more space and resources.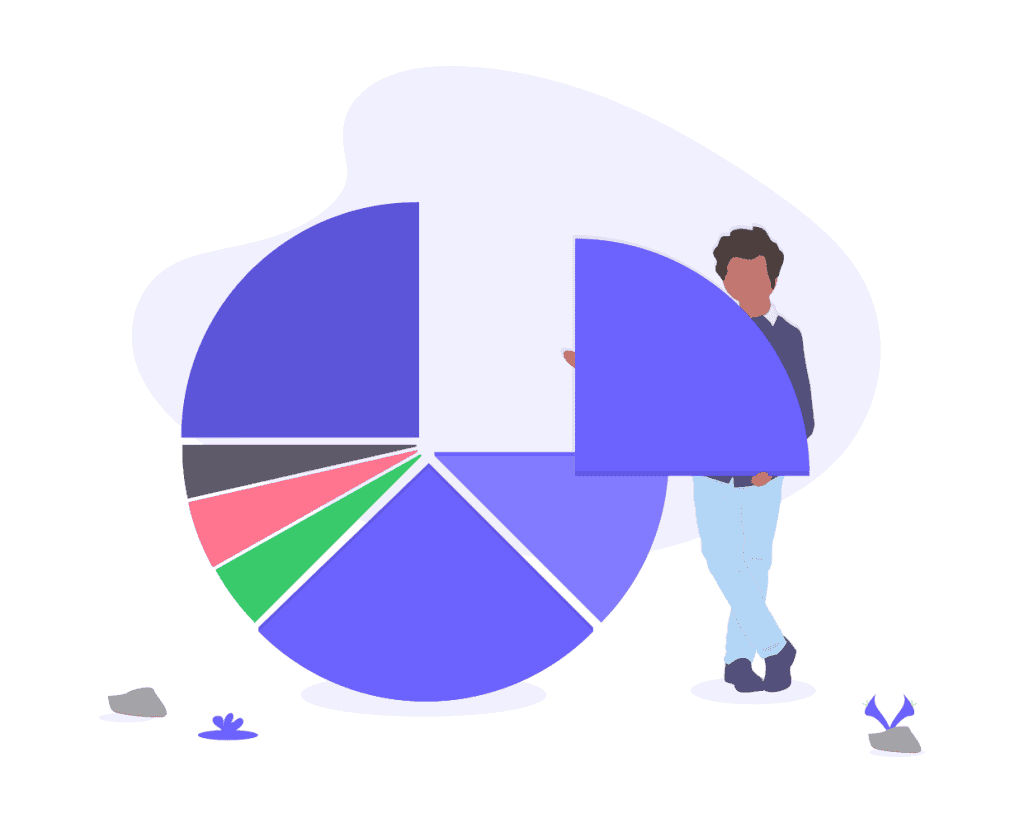 With Kinsta the situation is different and you will have to take into account that if you reach and exceed the space limit you will have to pay extra for each GB that goes over the threshold.
To give you an idea of ​​the space available, consider that Kinsta's cheapest plan (Starter) offers only 10 GB of space, while SupportHost's WordPress 1 plan includes 15 GB and costs ten times less.
Control Panel and PHP Versions
With Kinsta, you don't have access to an actual dashboard to manage your account. Kinsta's WordPress plans will give you access to a custom dashboard from which you can manage individual WordPress sites.
From this panel it will also be possible to change the PHP version in use, however you will have the last two versions available or only the most recent one.
With SupportHost you have full access to all functions from cPanel. The ease of use and the way in which the functions are organized make cPanel one of the most popular hosting management panels, it is no coincidence that it is one of the most popular panels.
All of our hosting plans, including custom WordPress solutions, give you access to full-featured cPanel. From this panel you can freely set the PHP version you want to use. At the moment you can choose between these: 4.4 / 5.1 / 5.2 / 5.3 / 5.4 / 5.5 / 5.6 / 7.0 / 7.1 / 7.2 / 7.3 / 7.4 / 8.0 / 8.1
The best solution is usually to use the most recent PHP version, so you will always find the latest version available on SupportHost. There are also cases in which it may be necessary to use a previous version, for example to run tests or for compatibility problems, in all these situations it will be convenient for you to be able to independently choose which one to use.
Staging
Creating a staging site allows you to test or create a copy of your site in production to be able to test changes and updates. Creating a test environment can be useful in various circumstances, such as to test the compatibility of the site with a new PHP version.
With SupportHost you have the staging feature included for free in all plans. Creating a staging copy of the site is very easy:
create the staging environment with a few clicks;
do all the tests and modifications;
choose whether to switch from staging to the production site by applying the changes.
Kinsta also allows you to create a site staging environment, but in this case, bear in mind that there are different plans and in some cases staging is a paid feature.
You can also create only one staging environment for each WordPress site, which means that with the Starter plan that includes only one WordPress installation, you will only be able to create one staging. In order to create more staging you need to activate a paid option.
SupportHost is a great alternative to Kinsta and doesn't limit you on the number of staging environments you can create.
Backup
When the unexpected happens, backups can save you from an unpleasant situation. If your site is compromised, if you delete important data or make changes that break the functioning of the site, backups are a real lifesaver.
Among your prerogatives when choosing a hosting service, there must be that of being able to count on a reliable automatic backup service.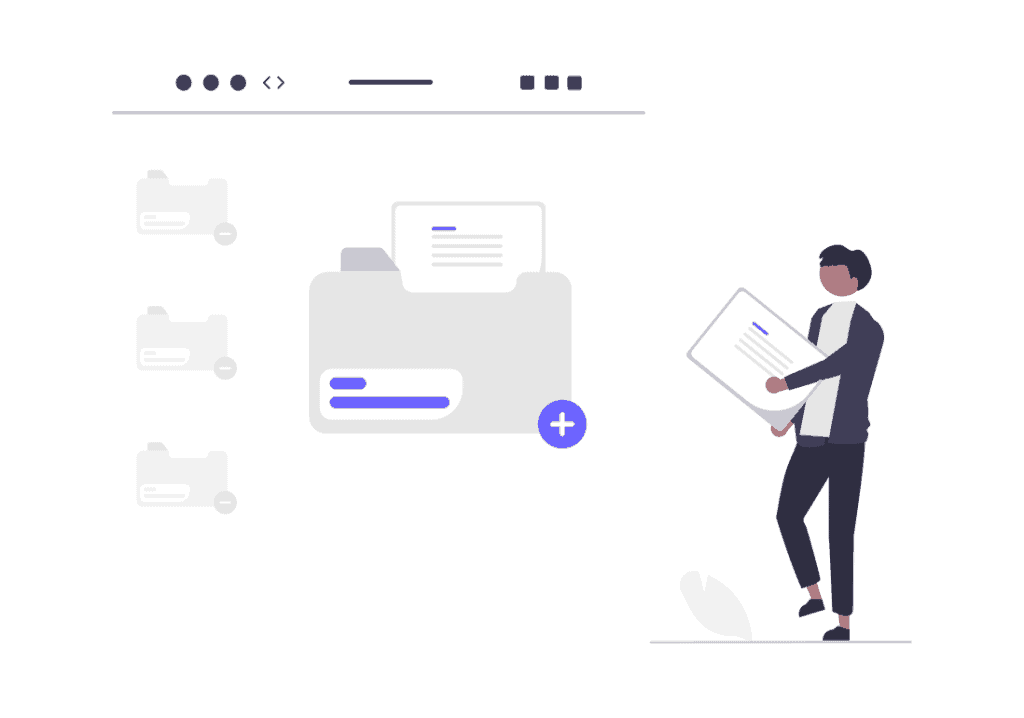 Often the providers will ask you to activate extra services in order to be able to count on daily backups. With SupportHost this will never happen - we offer daily backups with all of our plans and keep copies for the last 30 days.
In addition, if you need to create manual backups, you can do it without limitation from cPanel.
Kinsta also includes automatic backups in the plans, but unlike SupportHost, you will have limitations in their case based on the plan you choose. For example with the Starter and Pro plans they will only be kept for 14 days.
Advanced features
Even in the cheapest plans, SupportHost offers more than just shared hosting. We have upgraded our plans to add premium features that are fully included in the plan price.
We don't like surprises and we don't want to surprise our customers, which is why we place great emphasis on the transparency of our hosting solutions. On each plan page you will find exactly what will be included.
Often the providers use as a commercial technique that of inserting the most advanced functions only in some plans or they charge extras by providing some functions only as additional.
With SupportHost you will never face this problem. Our offer is transparent and takes everyone's needs into consideration. We will never ask you to pay extra for a set of features that you may only use a part of.
Among the features that you will have available with all SupportHost plans we mention:
SSH access, you can use the cPanel terminal or access from your computer;
WP-CLI which allows you to manage your WordPress installation from the command line;
git;
customizable configuration files such as php.ini and .htaccess;
access to the most complete and easy to use panel: cPanel;
Free secondary MX to ensure trouble-free email reception;
ability to block specific IPs.
We have listed the main ones, but please note that this is a non-exhaustive list. To see all the features you can visit the individual plan pages.
Differences between SupportHost and Kinsta hosting plans
Let's see what kind of services SupportHost and Kinsta offer.
CMS hosting and solutions for WordPress
Kinsta offers managed WordPress hosting solutions, but if you're looking for a custom plan for another CMS, you'll need to look at different solutions.
Kinsta's WordPress hosting is a Google Cloud-based solution. There are 10 plans available that differ in the number of WordPress installations you can have and the space available.
Each plan also has a monthly visit limit, beyond which you'll have to pay extra or upgrade to a higher plan. Speaking of traffic, Kinsta has prohibitive prices for those with only one WordPress site with few visits since the cheapest plan amounts to around €330 per year.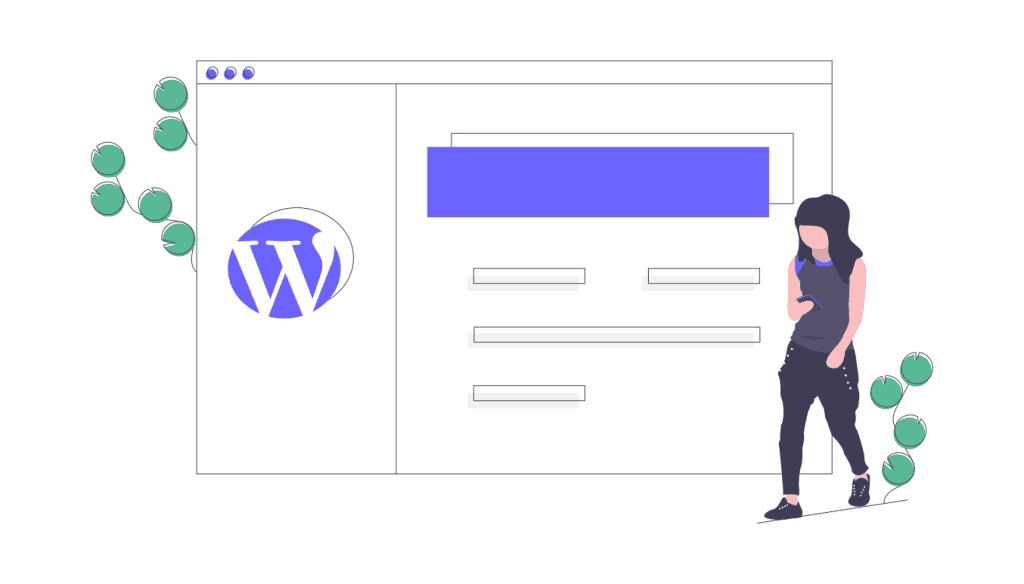 If you want to build a WordPress site, SupportHost is the best alternative to Kinsta. If you only have one site, you can start with the WordPress 1 hosting plan for €34 a year, practically a tenth of what Kinsta does.
To host multiple domains on the same account you can start with the WordPress 4 plan with unlimited addon domains. If you have a high traffic site you can choose one of our semi-dedicated or managed cloud VPS plans.
SupportHost's semi-dedicated hosting plans are multi-domain plans where you will have LiteSpeed ​​as your webserver. In addition, when ordering you can select the CMS you want to use, so when your account is activated you will already have WordPress or the CMS you have chosen ready for use.
Dedicated services
If you are looking for a Kinsta alternative for dedicated servers, you can check out SupportHost's server list or contact us for specific needs.
In the case of Kinsta, however, you cannot directly purchase a dedicated server, but you must first activate a hosting plan and only then can you request a quote for a server.
Hosting plan features
Let's go over some of the main features included in SupportHost and Kinsta hosting plans.
Kinsta focuses on WordPress hosting by claiming to provide a premium service, but is what they offer really worth the cost?
Reading the reviews the main complaints are about the high price of the plans. "Kinsta too expensive compared to the competition" and "Kinsta is getting more expensive every month" are some examples of recurring phrases.
In some comments, users complain that they had to upgrade to more expensive plans due to limitations that made the sites slow. Even in these cases, the problem that is underlined is not the need to upgrade itself, but the fact that the cost of the plans is really excessive.
To have more resources, for example moving from the Starter plan to Business 1, you have to pay triple the cost for the plan going from $350 to $1,150 per year. These are certainly prohibitive prices for professionals and small companies.
Upon closer inspection Kinsta allows you to have very minimal control over your WordPress site:
you will not be able to install some plugins;
on some plans you will not be able to use the multisite feature of WordPress;
you will not have full access to the hosting account, but only to some functions through a limited panel.
To give you a complete overview and to highlight the differences between SupportHost and Kinsta we have included the main features in this table.
| Features | SupportHost | Kinsta |
| --- | --- | --- |
| Plans starting at | 34 € per year | 329.15 € per year |
| CMSs supported | WordPress, Joomla, Drupal, PrestaShop e Magento | WordPress |
| Monthly visits | Unlimited | Limited by plan |
| Unlimited databases | | |
| Staging | | |
| WordPress multisite | | |
| Control Panel | cPanel | owner panel |
| Softaculous | | |
| Automatic backups | Daily, stored for 30 days | Daily, for 14 days or more depending on the plan |
| Account email | | |
| Free domain | | |
| SSL certificate | | |
| Free trial | | |
| Guaranteed support | | |
Domain included in the price
Kinsta does not offer domain registration service, so you will need to register and manage it with another provider.
With SupportHost you can freely choose how to manage your domain:
when you order a plan you can register a new domain with us;
if you already have a domain you can transfer it to SupportHost and manage it from our panel;
you can choose to keep the domain with another provider and change the nameservers to associate it with your hosting space on SupportHost.
In the first two cases, if you register or transfer the domain, we will give you the registration and renewal costs for free. By choosing any of the plans, you will have the domain included forever. When ordering you will see all the domain extensions you can choose from including .com, .it and .eu.
This offer does not refer to VPS cloud, Magento and dedicated server plans for which the domain is free for the first year only.
Email accounts
Kinsta does not include email in their hosting plans, so if you want to create one or more email accounts you will need to use a separate email provider and factor in the additional expense.
If you're looking for an alternative to Kinsta that offers email hosting plan, you've come to the right place. With all SupportHost plans you will be able to create unlimited email accounts and you will have access to numerous email features including the ability to:
create autoresponders;
set up email filters;
anti-spam service included;
configure the mail client;
access your mail from your browser via our webmail.
You can also count on the secondary MX service for incoming mail, so you never miss an email.
SSL certificate
Thanks to the SSL certificate, you can guarantee that visitors to your site can navigate safely. The SSL certificate together with the HTTPS protocol allows you to keep sensitive information and access data safe.
All SupportHost plans include a free SSL certificate from Let's Encrypt to ensure a basic level of protection. The certificate will be activated automatically and the renewal also takes place completely automatically.
Kinsta uses free SSL certificates from Cloudflare. According to reviews, some customers have had problems with the certificate due to the lack of automatic renewal.
Keep in mind that in some cases, such as for example for e-commerce sites or sites where online payments are made in general, it may be convenient to use a certificate that offers greater guarantees.
WordPress functions
Kinsta plans come with limitations: there are banned plugins that you will not be able to install on your WordPress site. Also, if you choose the Starter plan, you won't be able to use the WordPress multisite feature to manage more than one site with a single WordPress installation.
With SupportHost, on the other hand, you have complete management of your WordPress site and account. There are no limits to what you can do, just choose a plan that has enough resources for the project you want to do.
Free site migration
If you choose to switch to SupportHost you have the freedom to entrust us with the migration of your site.
All you need to do is request the site transfer and our technicians will take care of the whole procedure for free. Your site will be moved to the new servers and there will be no downtime in the process.
In addition, by ordering one of our plans you will get 2 months of hosting as a gift!
Support always available
Our support team is always online and ready to assist you 24/7. Getting in touch with assistance is really easy: just open a ticket and you will receive a decisive response in a short time, generally in less than 2 hours.
SupportHost is the only provider to provide response time guarantees. If you are having any difficulty, contact us and you will have specialized technical personnel at your disposal ready to help you.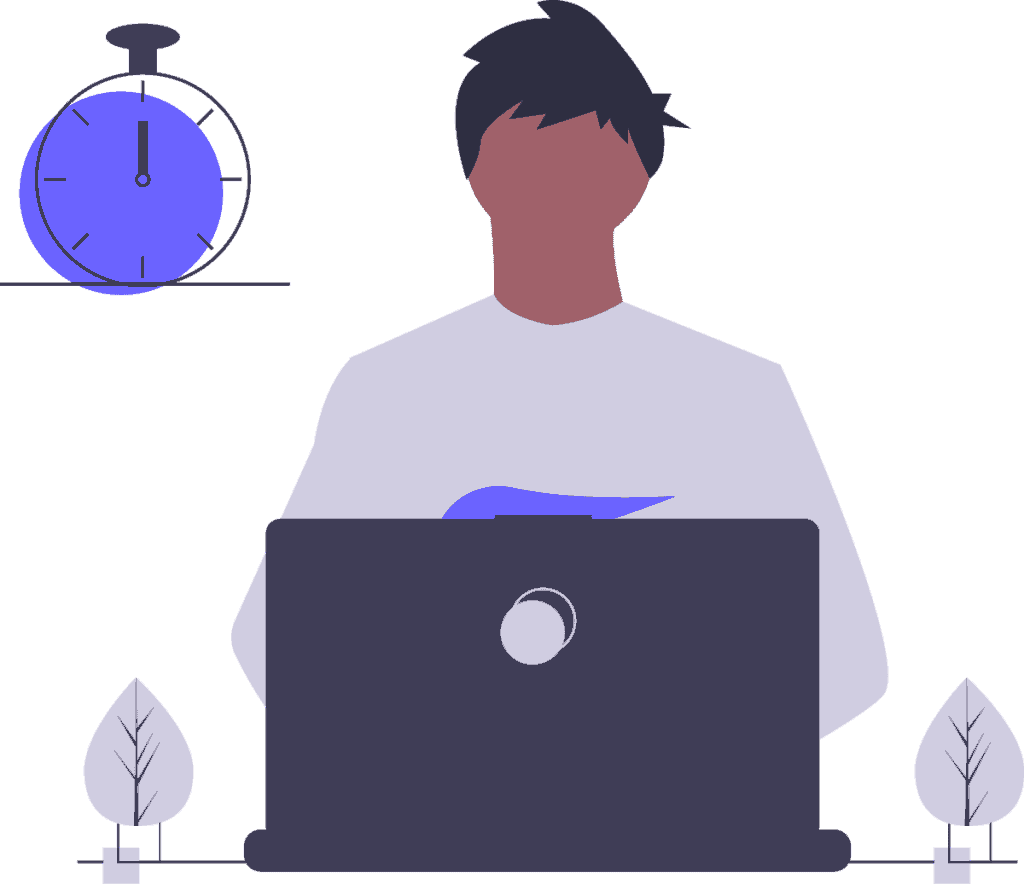 At SupportHost all our customers deserve the same attention, which is why we offer the same level of assistance to everyone. This differentiates us from providers who structure support into levels, guaranteeing better assistance only to those who purchase some services or are willing to pay extra.
Kinsta offers a good level of support, but with more clients, expect less attention when it comes to one-on-one support.
30-day guarantee and free trial
If you are still undecided, with SupportHost you can get a free trial plan and try out most of our services: shared, semi-dedicated, reseller and hosting plans for the main CMS including WordPress.
Even after purchase, if you change your mind you can take advantage of our money back guarantee and get a full refund within 30 days of purchase.
With Kinsta, you are entitled to a refund if you choose to delete your account within 30 days. However, there is no way to try out the services before purchasing a plan. You can only request a trial of the proprietary panel by contacting them.
Earn with Affiliates
We have one of the most beneficial hosting affiliate programs on the market. With SupportHost you can join the affiliation without being one of our customers.
You will choose whether to receive recurring or one-off commissions and you can also earn with a discount code reserved only for you.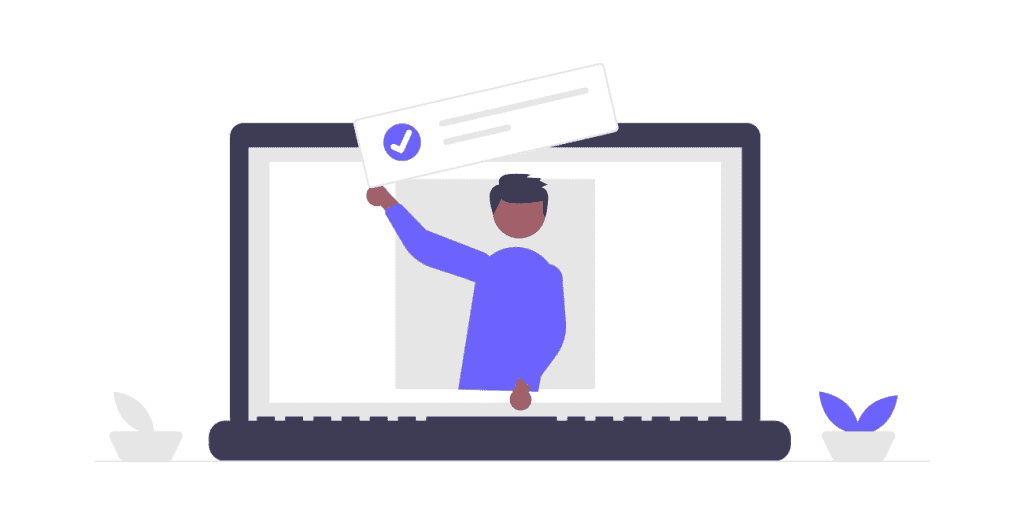 Kinsta has an affiliate programme, but the rules are lax. For example, there are no discount codes and there are numerous restrictions on the use of affiliate links.
Try SupportHost
With the 14-day trial you can try out the main SupportHost services yourself. The activation of a trial plan is without obligation and allows you to get an idea of the performance of the service and all the functions included.
Think it's time to say goodbye to Kinsta? Give SupportHost a try now and find out if it's right for you.