The webmail allows you to access your mailboxes without the need to use a mail client on your device. This is particularly useful if you are using a computer that is not your own and want to quickly access your emails directly from the browser.
We provide our customers with 2 different clients: Roundcube and Horde. You can try them both, decide which one you like best, and set the one you prefer as your default webmail client.
The webmail client puts at your disposal all the tools you would have with any email client directly from a browser. You will then be able to read the emails, delete them, forward them, reply and perform all the operations you would do with a standard email client.
This way, you can use any computer to check your mail, for example, if you are traveling you can connect and check your mail from any browser.
It also has an address book function, and the addresses it contains are available when you write a new email.
You can also manage multiple signatures and include other essential information in the messages you send.
As in any other email client, you can send emails to multiple recipients and enter recipients in cc or bcc. However, keep in mind that mass mailing is not allowed. In this case, you will need to use a professional service.
WebMail functions
Ability to access POP3 /IMAP4 via any browser
You can read your emails, send new ones, forward them, forward them as attachments, delete them, and perform all the operations you can do with a standard email client
Read, send, forward, forward as an email attachment
Send attachments
Ability to organize emails in folders and subfolders that you can customize to your liking
Ability to keep an address book of contacts
Preferences management via an intuitive control panel.
How to access the WebMail
The webmail service is available for all our hosting services and is easily accessible using your domain name. To access the webmail, you need to visit the following URL:
https://yourdomain.com/webmail
Note: yourdomain.com is your domain name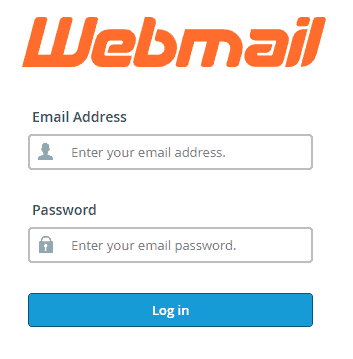 Once the page is loaded, you will be prompted for a username and password. If you haven't done it yet, the first step is to create an email account.
Username- is your full email address ( [email protected] )
Password- The password you chose when you created your email account
Once logged in, you can select your favorite webmail client. Let's see how.
Select webmail client
Immediately after logging in, a screen will appear from which you can manage all the online functions.
At the top left, we see the possibility to choose between Roundcube and Horde. Click on the client you prefer then click on the "Open" button to open that email client to view and reply to your emails.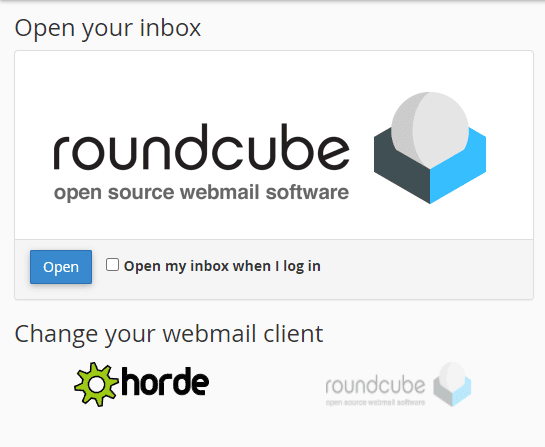 If you do not want to make this choice every time, select the item "Open my inbox when I log in" before clicking on "Open". This way, as soon as you log in, you will be redirected to the webmail page that shows you all your emails.
In some cases, you may want to change the client you use. Or you may want to go to the webmail screen to create a filter or perform other operations.
In this case, all you have to do is click on "Webmail Home" at the top right to view the main page.

Depending on the theme you are using you may find this same button on the left in the sidebar.

From here, you can perform a series of operations related to your email account:
Create email filters
Create your autoresponders
Create and manage email forwards
Change your email account password
Set up spam filters
Did you have trouble following this tutorial? Let us know in a comment, and we will improve it.