Are you looking around for an alternative to Bluehost that offers a better service? SupportHost could be the one for you.
While some call Bluehost the worst web hosting due to support issues and repeated site downs, it is a good hosting service.
The price, however, is not exactly the best. The first-time discount makes the plans seem much cheaper, but the price triples upon renewal. Plus, many services, such as the domain and automatic backups are not included in the plans.
On the contrary, on all SupportHost plans from shared hosting to CMS solutions such as WordPress and WooCommerce hosting, you will always find these options included.
We've compared SupportHost's plans to Bluehost's to give you a complete comparison.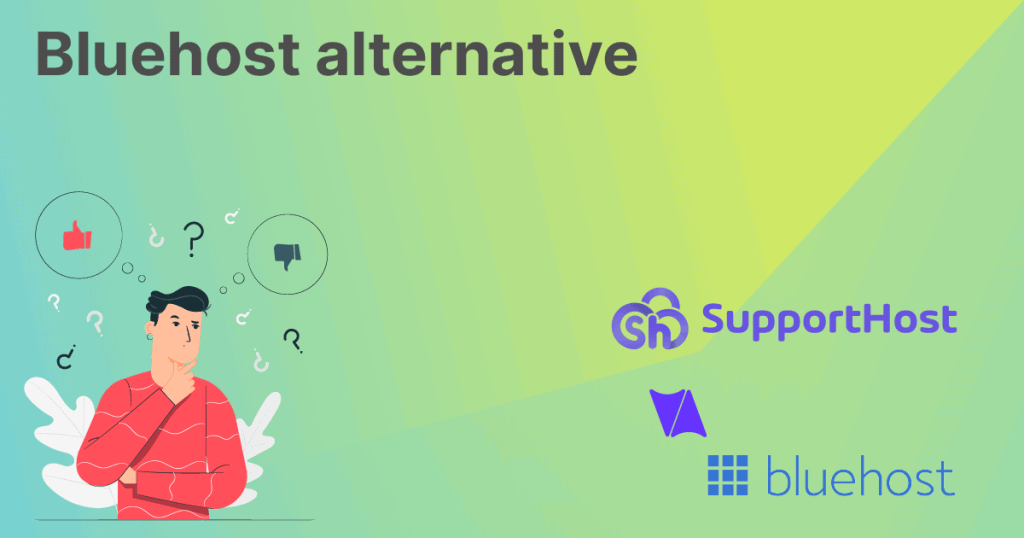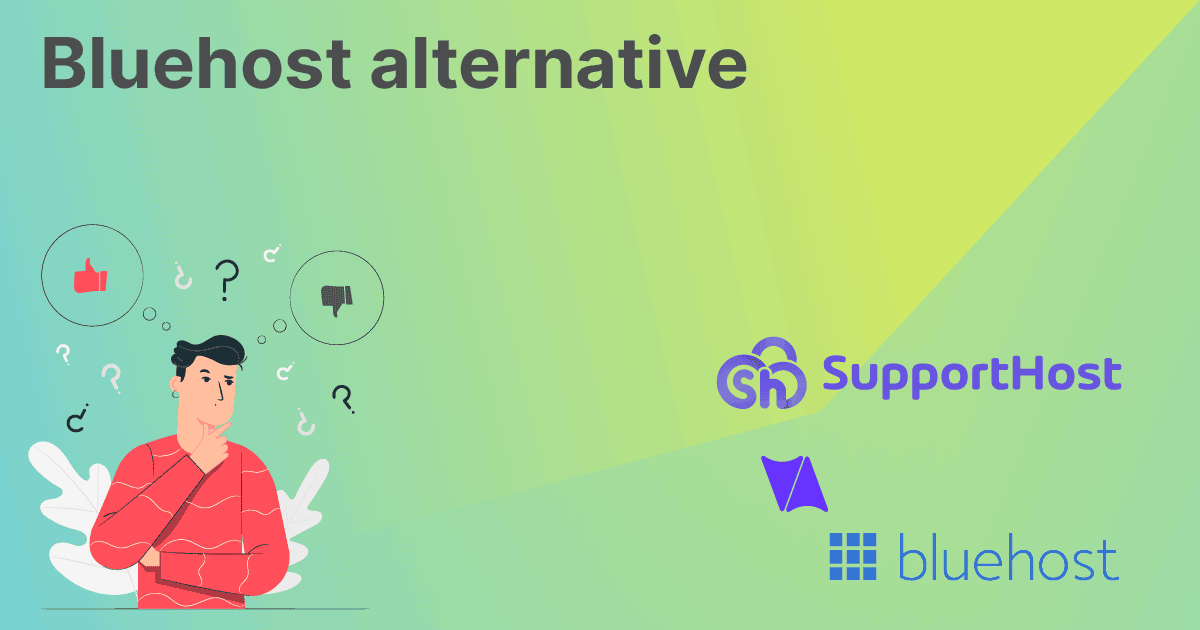 Resource management
Like other providers, Bluehost does not show the resources associated with shared hosting plans in clear text. You don't know the resources associated with your account such as RAM, CPU, or the presence of process limits.
Unlike the competition, SupportHost offers a transparent hosting solution. By visiting the plans pages and before purchasing you will know exactly what resources will be associated with the account.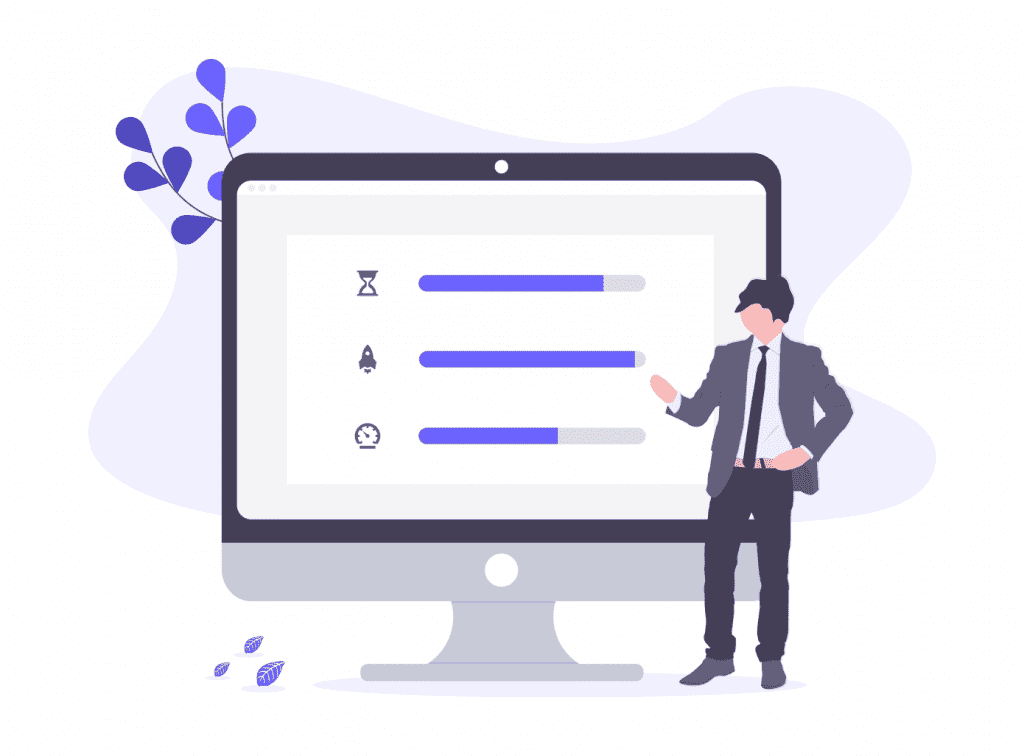 We know that it can often be difficult to be able to choose the most suitable hosting, which is why we have also included in the tables an estimate of the monthly visits that each plan can support. Keep in mind that visits are not a limit, but they are an indicative value to help you choose the ideal plan for your needs.
PHP versions
SupportHost allows you to set the PHP version of your choice. You can change the version with a simple click from cPanel and you will always have access to the latest available. Currently supported versions are as follows: 4.4 / 5.1 / 5.2 / 5.3 / 5.4 / 5.5 / 5.6 / 7.0 / 7.1 / 7.2 / 7.3 / 7.4 / 8.0 / 8.1
If you manage multiple sites or have created different sites in subdomains, you can also set up a different version for each site.

With Bluehost, PHP version 7.4 and higher are supported, and you can change the one in use from the control panel.
Staging
SupportHost offers the staging feature with all plans. You can create a test environment of your site to test updates and changes in complete safety.
With Bluehost, however, you will not be able to stage the site with all plans.
About Bluehost Shared Plans:
Basic and Plus do not include staging;
Choise Plus and Pro include staging.
Backups
Backups are indispensable on many occasions, for example when you are encountering errors or want to restore changes made to the site.
We believe that a good hosting service must ensure automatic backups, which is why SupportHost offers free daily backups in all plans. We will keep the last 30 backup copies of your entire account for you, so you can restore them should the need arise.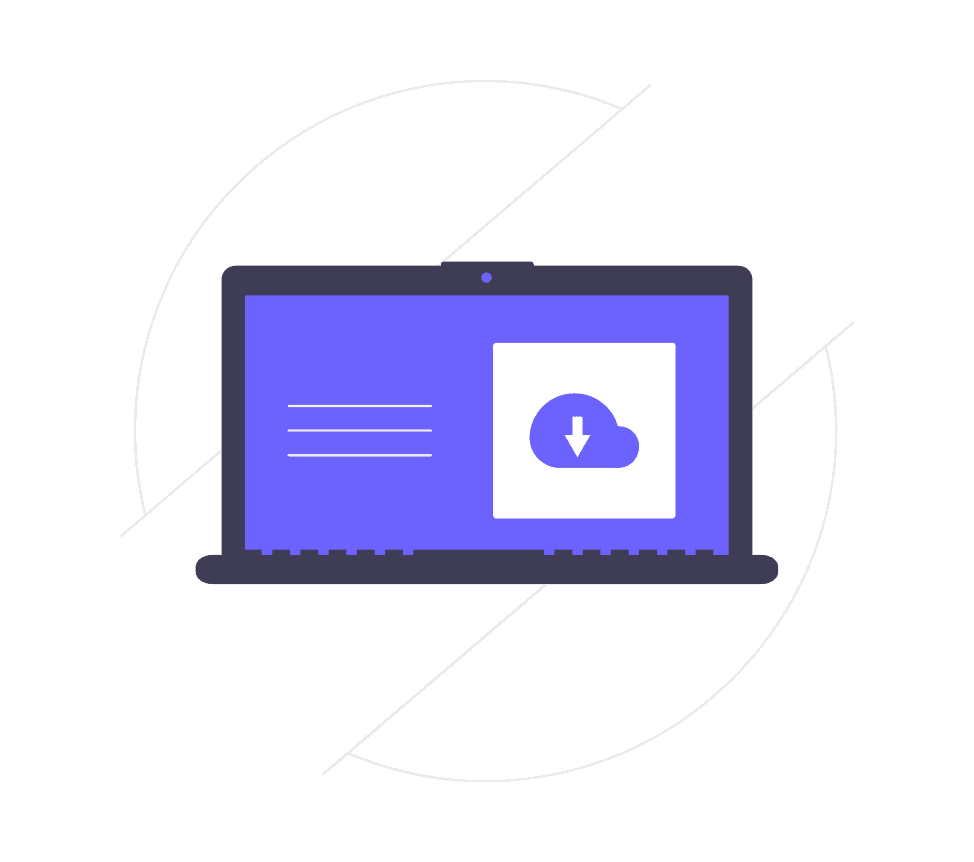 Bluehost does not offer the automatic backups included in all hosting plans.
The backup service is not provided for the shared "Basic" and "Plus" plans.
The "Choise Plus" shared plan includes the backup service only for the first year, while to have automatic backups you must subscribe to the "Pro" plan.
If you want reliable hosting, SupportHost is just the Bluehost alternative you've been looking for.
Availability of addons
SupportHost offers you hosting plans complete with all the essential features and in addition also extra features that other providers will charge you for such as backups and SSH access.
If you want to add other features, such as Dedicated IP for example, you are free to select it when ordering the plan.
We do not adopt upsell strategies to make you buy services that you may not need, in the cart you will only find the services you have chosen and there will be no other pre-selected options.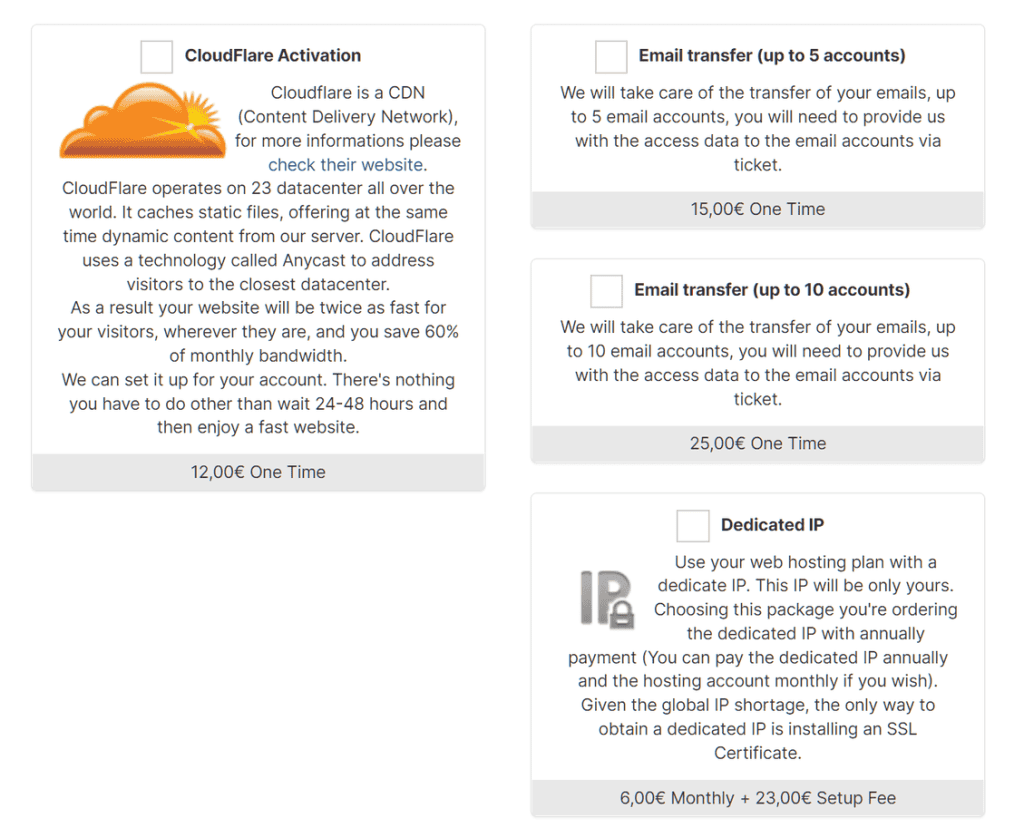 Like other providers, Bluehost allows you to choose extra services to combine with your hosting plan.
When you order a plan with Bluehost though, you will find some addons already pre-selected and added to your cart.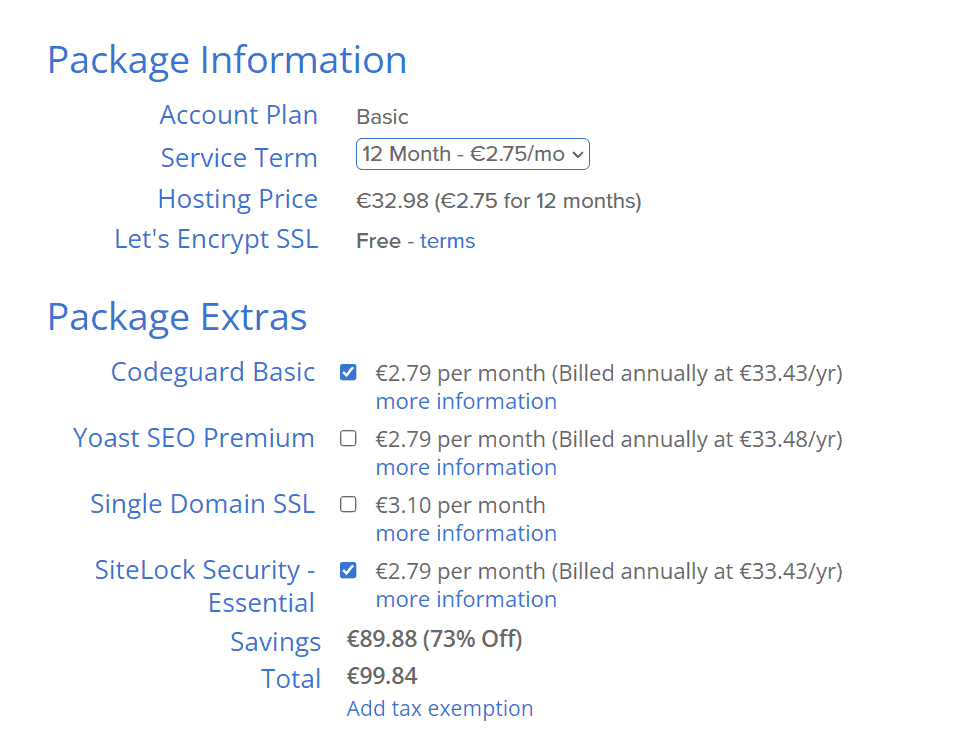 Bluehost cart with some extra packages added to the default cart.
It's important to be careful before checkout as adding these add-on packages triples the base price of the plan.
More advanced options
If you are looking for developer features, SupportHost is the best alternative to Bluehost.
We've included SSH and Git access in all plans along with advanced features for WordPress site owners like WP-CLI. As we have seen before, each plan includes the staging option to allow you to work on a copy of the site and test the changes before the actual update.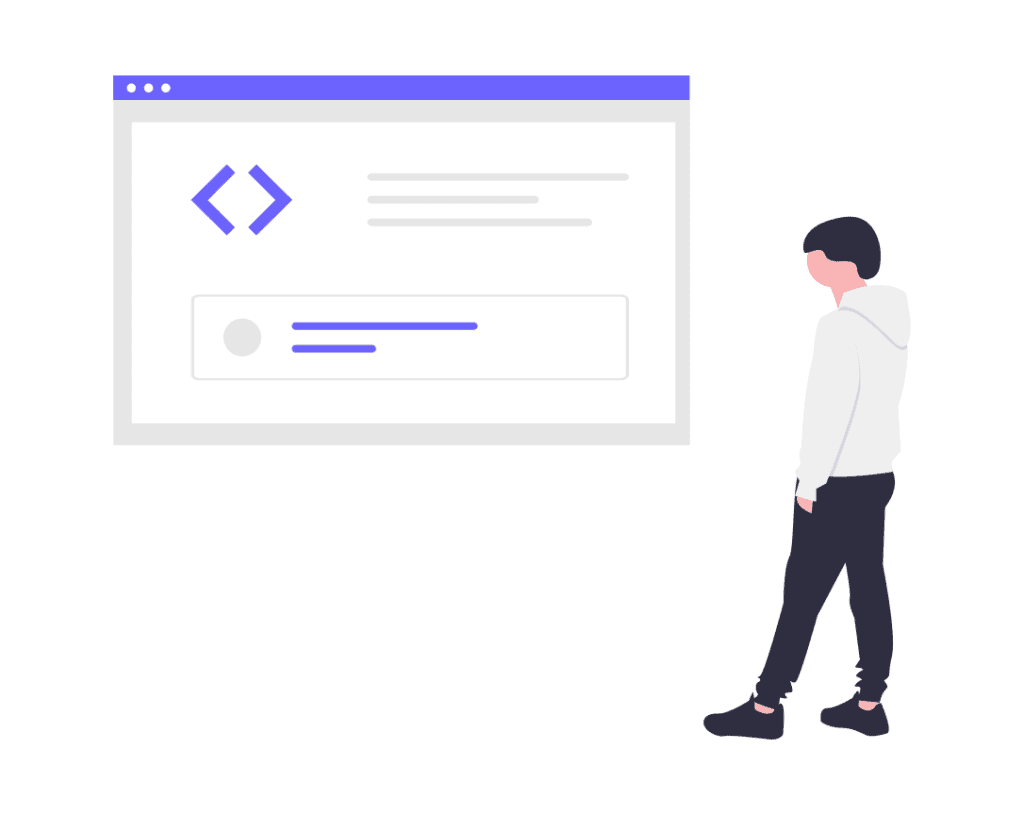 With Bluehost, you'll get SSH access, but you won't find any other advanced features.
Guaranteed uptime
SupportHost guarantees uptime on all plans: we guarantee 99.9% uptime for shared plans and with cloud VPS plans you will get 99.9% uptime of the site and cloud infrastructure.
Bluehost does not offer precise guarantees on server uptime, it only refers to the fact that "most problems will be resolved in about 15 minutes" and it is also specified that in some cases longer times are required.
Choice of data center
With SupportHost when you order a plan you can choose the data center you prefer to use between our locations in Europe or the USA.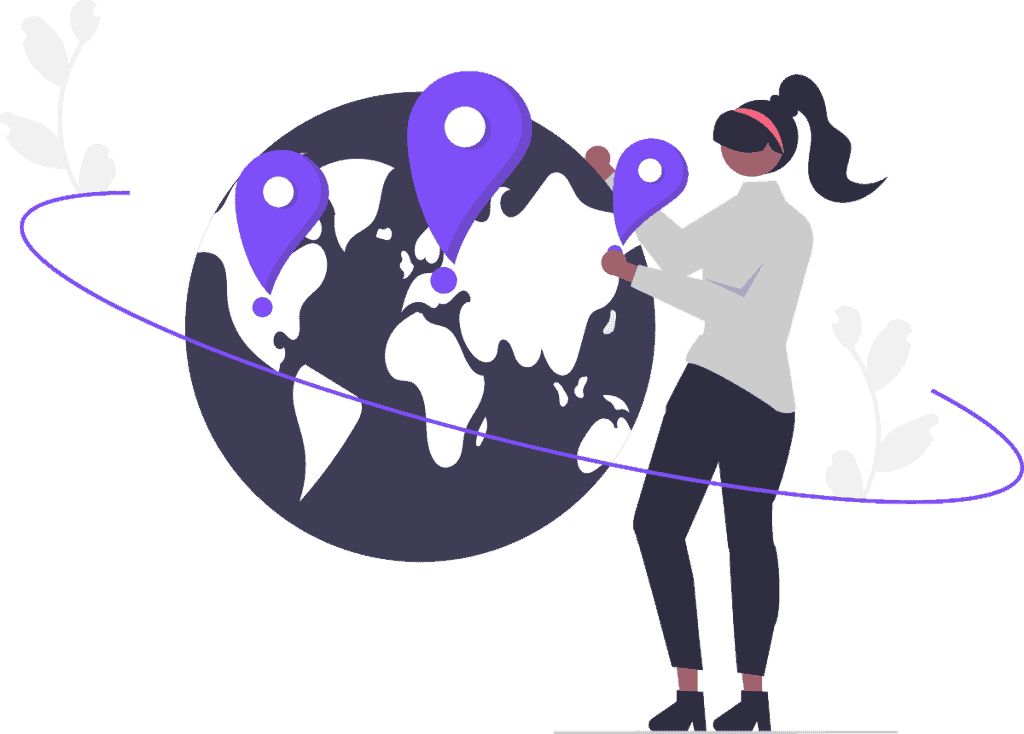 The ideal is to choose based on the location of the majority of users who visit your site.
Bluehost doesn't allow you to choose which datacenter to use, and they also don't indicate the location of the datacenters on their site.
Hosting features: SupportHost vs Bluehost
To give you an overview of the shared hosting service offered by the two providers, we compared the entry level plan of SupportHost (Shared 1) to that of Bluehost (Basic).
Characteristics
Shared 1 (SupportHost)
Basic (Bluehost)
Regular price

34 €/year

113.04

€/year
Monthly visits

10,000 visits

Not indicated
Web space
15GB SSD
10GB SSD
Hosted sites
1
1
Monthly traffic
Unlimited
Unlimited
Free domain
Included for the first year only
Hosting features
Email accounts
Unlimited
Not indicated
MySQL Databases
Unlimited
20
Subdomains
Unlimited
25
FTP accounts
Unlimited
Not indicated
cPanel
Free SSL Certificate
PHP version of your choice
Advanced features

Staging

GIT
Not indicated
SSH connection
Free automatic backups

Free secondary MX

WP-CLI
Uptime

99.9%

Not indicated
Antivirus and Antispam (email)
Resources allocated by account
Inodes

No limit

200,000
Maximum mailbox size

No limit

Not indicated
Let's summarize the main differences, by choosing SupportHost shared hosting you will have several functions not included in Bluehost plans including:
free domain forever, while with Bluehost it is only included for the first year;
unlimited email accounts and FTP accounts;
no limits on the number of files or the size of email accounts;
advanced tools like staging, WP-CLI and Git;
guaranteed uptime (99.9%);
free automatic backups performed every day;
SSL certificate activated and automatically renewed, with Bluehost it seems that you need to contact support to activate the certificate.
Bluehost Alternative: Features of Cloud Plans
We compared cloud VPS plans from SupportHost and Bluehost to see what the differences are.
SupportHost allows you to choose between two levels of service:
Managed, this is a fully managed solution. You have maximum power for your site, while our team takes care of all the technical management of the virtual machine.
UnManaged, the solution suitable for those who want to have Root access and manage the server independently.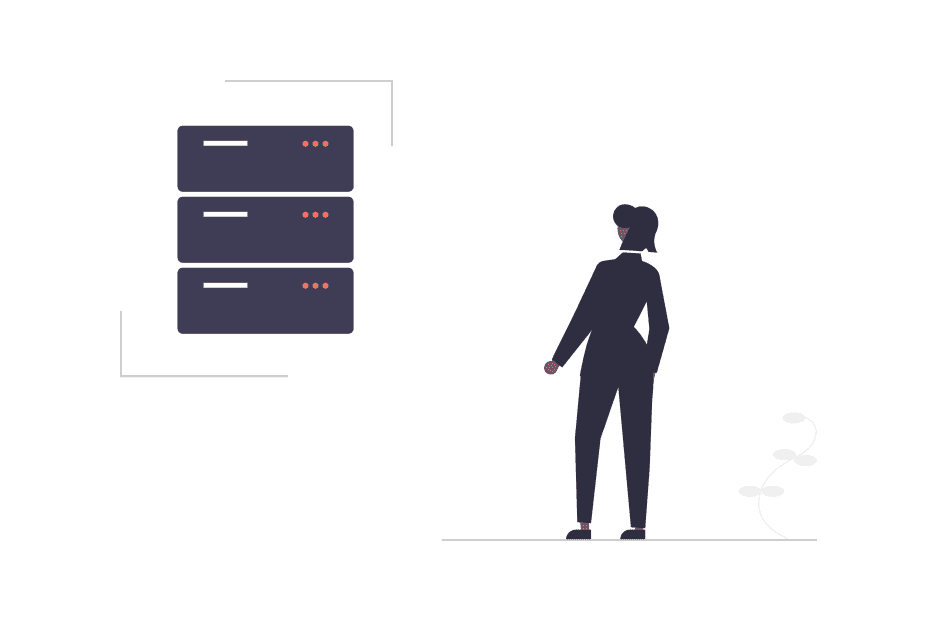 With Bluehost, on the other hand, you can only choose one type of solution and it is not clear whether it is fully or partially managed.
In this table you can see a direct comparison of the resources of the VPS plans.
Features
Cloud 1 Managed (SupportHost)
Enhanced (Bluehost)
Monthly price
68

.99

€

55,89 €

RAM
4 GB
4 GB
CPU
3 vCPU
2 vCPU
Disk space
80 GB
60 GB
Traffic
20 TB
2 TB
Backup
Daily, stored for 7 days
Control Panel
cPanel
cPanel
Fully managed
Not specified
Free domain
Features
Cloud 2 Managed (SupportHost)
Ultimate (Bluehost)
Monthly price
79

.99

€

111,79 €

RAM
8 GB
8 GB
CPU
4 vCPU
4 vCPU
Disk space
160 GB
120 GB
Traffic
20 TB
3 TB
Backup
Daily, stored for 7 days
Control Panel
cPanel
cPanel
Fully managed
Non specificato
Free domain
Free migration
Every day we take care of transferring websites of those who have decided to change hosting. We offer free migration, so if you decide it's time to switch from Bluehost to SupportHost you can leave the site transfer to our technical team.
We will take care of the migration and update you as the site moves. You can request the transfer right away.
With Bluehost the situation is different. If you decide to move your site, you will need to go through several steps to figure out if you can get the free migration. Otherwise you will have to take care of the site transfer yourself.
Reliable support and always online
Support has always been our strength. On SupportHost all customers are helped proactively, our staff does not limit itself to responding to requests, but offers decisive answers in a short time.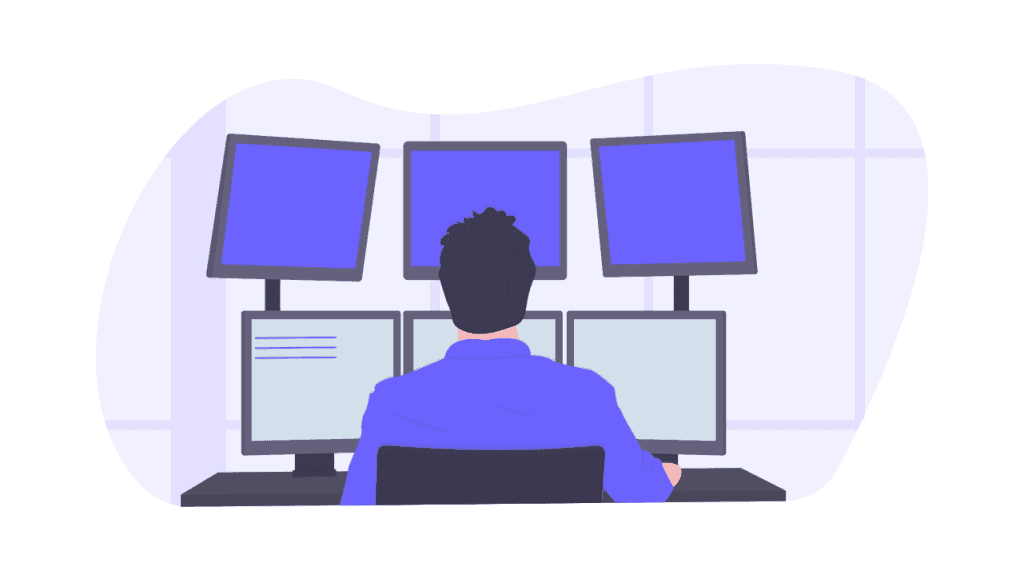 You can contact us 24 hours a day and we are the only ones to offer guarantees on response times: if we don't keep this promise, you will be entitled to a refund.
It seems from the reviews that customers are not happy with Bluehost's support. Among the most used words are "Bluehost terrible customer service" accompanied by "don't use Bluehost" and "Bluehost worst web hosting".
With SupportHost you can count on Italian and English support.
Affiliation
SupportHost affiliate program is one of the most beneficial you can find. You can choose whether to have a recurring commission of 15%, which will be paid to you every time the service you recommend is renewed.
Alternatively, you can choose to receive a one-time commission on your first sale of 40%. Check out all the details of our hosting affiliation.
Bluehost has an affiliate program that only provides one-time commissions of up to $65 for each referred order. However, you must consult the terms to understand how the program works and what the clauses are.
The differences between SupportHost and Bluehost
We have briefly summarized the fundamental differences between the two hosting services.
| SupportHost | Bluehost |
| --- | --- |
| All prices are clear and do not change upon renewal. | Prices are discounted for the first term and triple upon renewal. |
| Based on the plan you will see what resources (CPU, RAM, etc.) are associated with it. | It does not specify which resources are associated with the plan. |
| You can choose the datacenter. | It is not possible to choose the datacenter. |
| Staging is included with all plans. | Not all plans include staging. |
| With all shared plans you get daily backups. | Automatic backups are not included in all plans. |
| You can choose whether to add addons before completing the order. | Some addons are automatically added to your cart. |
| Advanced features: SSH connection, Git, WP-CLI and more. | You only have SSH access, the other tools are not present. |
| Guaranteed uptime for shared plans and dedicated services. | There are no firm guarantees on uptime. |
| Support in English and Italian, with guaranteed response times. | Technical support in English only. |
Choose SupportHost
Now that we have seen the main reasons why SupportHost is one of the best alternatives to Bluehost, let's give you another good reason to switch hosting. By switching to SupportHost you will be entitled to a 30-day money-back guarantee. If you change your mind, you will be able to request a refund and you will not have to pay a thing.
Do you want to try our zero-risk service and without having to share payment details? Get started today with the 14-day free trial. At the end you can decide whether to subscribe to a paid plan or simply let the trial plan expire without having to deactivate anything.