La maggior parte degli script più comuni sono compatibili con il nostro servizio hosting. Offriamo dei servizi hosting specifici con script preinstallati:
In questo articolo forniamo una lista non esaustiva degli script compatibili con l'hosting SupportHost.
Se lo script che vuoi utilizzare non è nella lista non disperare. Apri un ticket indicandoci i requisiti di sistema del tuo software e ti faremo sapere quanto prima se questo è compatibile o meno con i nostri servizi.
Nel caso non fosse compatibile potrai sempre optare per un VPS cloud managed o per uno dei nostri server dedicati in modo da poter installare sul server tutto il software di cui hai bisogno per far funzionare il tuo script.
Tra i principali ricordiamo:
Joomla, WordPress, Drupal, Opencart, Prestashop, Magento, phpbb, smf, mybb, moodle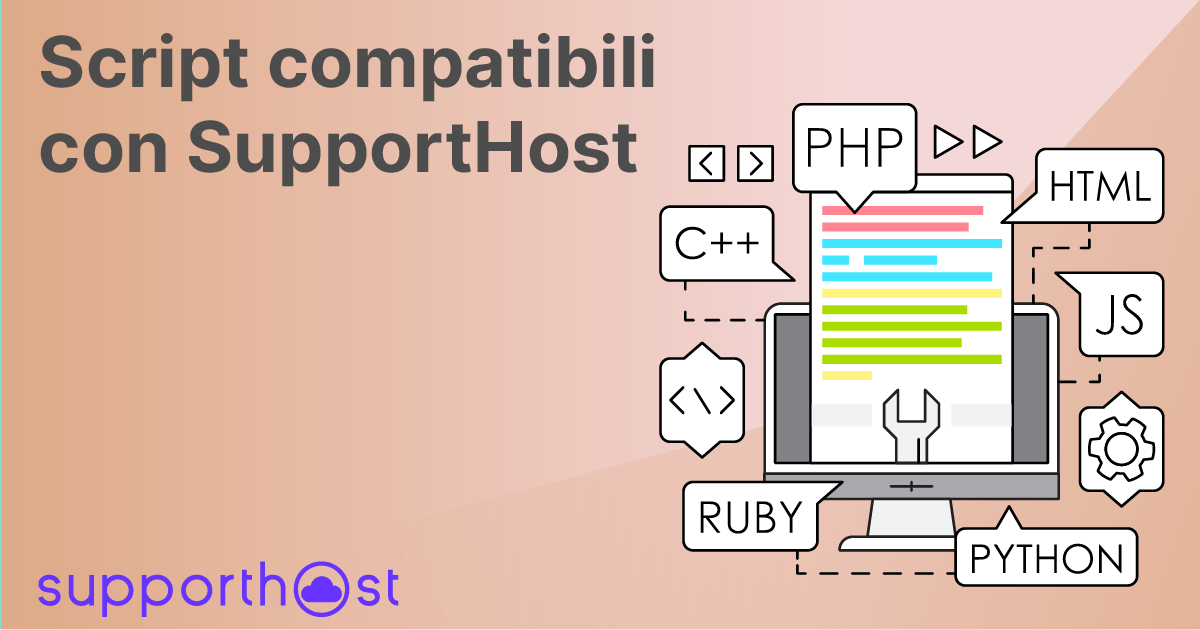 Per una lista completa:
Blogs
WordPress, Open Blog, Serendipity, Dotclear, b2evolution, Textpattern, LifeType, Pixie, Nucleus, Chyrp, eggBlog, Nibbleblog, PivotX, Ghost
Micro Blogs
Sharetronix, StatusNet, PageCookery, Storytlr
Portals/CMS
Drupal, Joomla, Concrete5, CMS Made Simple, MODx, Xoops, Zikula, e107, Website Baker, PHP-Fusion, PHP-Nuke, PyroCMS, Pligg, ocPortal, Mambo, Geeklog, Subrion, Contao, sNews, SilverStripe, jCore, Typo3, Open Real Estate, ImpressPages, phpwcms, Silex, ImpressCMS, Quick.CMS, Redaxscript, Saurus, Monstra, Fork, Mahara, Tribiq, Pluck, Pimcore, Tiki Wiki CMS Groupware, BIGACE, Bolt, Croogo, Sitemagic CMS
Forums
phpBB, SMF, MyBB, AEF, Vanilla, PunBB, XMB, FluxBB, Phorum, bbPress, FUDforum, miniBB
Image Galleries
Gallery, Piwigo, Coppermine, ZenPhoto, TinyWebGallery, phpAlbum, 4images, Pixelpost, Plogger, iGalerie
Wikis
MediaWiki, DokuWiki, PmWiki, WikkaWiki
Social Networking
Dolphin, Oxwall, Jcow, Elgg, Beatz, Etano, PeoplePods, pH7CMS
Ad Management
OSClass, Noahs Classifieds, OpenX, GPixPixel, OpenClassifieds
Calendars
WebCalendar, phpScheduleIt, ExtCalendar, phpicalendar
Gaming
BlackNova Traders, Shadows Rising, Multiplayer Checkers, Word Search Puzzle
Mails
phpList, Roundcube, poMMo, SquirrelMail, WebMail Lite, Webinsta Maillist, ccMail, OpenNewsletter
Polls and Surveys
LimeSurvey, Piwik, LittlePoll, phpESP, Aardvark Topsites, Advanced Poll, EasyPoll, Simple PHP Poll, Open Web Analytics, CJ Dynamic Poll, Logaholic, Little Software Stats
Project Management
qdPM, Feng Office, eyeOS, Collabtive, dotProject, ProjectPier, Mantis Bug Tracker, PHProjekt, TaskFreak, The Bug Genie, phpCollab, Mound, todoyu, Traq, SiteDove, Eventum, Admidio
E-Commerce
OpenCart, PrestaShop, WHMCS, Magento, AbanteCart, osCommerce, Zen Cart, TheHostingTool, TomatoCart, BoxBilling, Loaded 7, Avactis, Quick.Cart, AlegroCart, CubeCart, Axis, phpCOIN, LiteCart, Open Source Point of Sale, Zeuscart, Blesta
ERP
Vtiger, SugarCRM, Dolibarr, OrangeHRM, FrontAccounting, SimpleInvoices, EGroupware, Tine 2.0, Zurmo, Group Office, X2CRM, webERP, OpenBiz Cubi
Guest Books
Advanced Guestbook, Lazarus, BellaBook, phpBook, VX Guestbook, PHPKode Guestbook, RicarGBooK
Customer Support
osTicket, HESK, Open Web Messenger, Help Center Live, phpOnline, iQDesk, Crafty Syntax, Trellis Desk, ExoPHPDesk, phpMyFAQ, Vision Helpdesk, Maian Support, HelpDEZk
Frameworks
CodeIgniter, yii, Zend, Bootstrap, Laravel, CakePHP, Kohana, Smarty, PHPDevShell, HTML Purifier, PRADO, FuelPHP, WideImage, DIY, Webasyst, UIkit, Symfony
Educational
Moodle, Claroline, Chamilo, eFront, DoceboLMS, ATutor, TCExam, Omeka, Dokeos
DB Tools
SIDU, phpMyAdmin, MyWebSQL, Adminer, SQLiteManager, Chive, Vty, phpLiteAdmin
Music
kPlaylist, Podcast Generator, AmpJuke, Impleo
Video
ClipBucket, VidiScript, videoDB, Prismotube Express, CumulusClips
RSS
Gregarius, Feed On Feeds, selfoss, Tiny Tiny RSS, SimplePie
File Management
ownCloud, ProjectSend, PHPfileNavigator, Pydio, eXtplorer, Arfooo, LetoDMS, OpenDocMan, eSyndiCat
Altri
Seo Panel, phpFreeChat, WeBid, YOURLS, phpLD, phpFormGenerator, Soholaunch, Form Tools, SPIP, Question2Answer, PASTE, ArticleSetup, PhpGedView, Open Journal Systems, PHP QR Code, jobberBase, Hablator, JoobsBox, Privacy Policy Generator, GLPI, PHPWeby, OpenBiblio, webtrees, Codiad, Open Conference Systems, phpDocumentor, Commentics, XCloner, SVNManager
* Tieni presente che nonostante supportiamo questi script l'uso di alcuni di questi potrebbe violare i nostri termini e condizioni o i limiti di risorse imposti per ogni account.